Do you find it difficult to create a healthier, lower calorie Shabbos menu? I put together a list of all of my favorites so you can enjoy a healthy Shabbos with all the foods you love.
Find it hard to figure out a way to have your "oneg Shabbos" without getting your diet derailed? Then you'll find this list super handy. It's my master list of healthful Shabbos foods. I find it's a great reference for planning a balanced Shabbos. Pick and choose your favorites and you'll enjoy your Shabbos, diet or not. Note that while all options might not be "low-calorie," they're all more nutritious than some of typical Shabbos standards and will keep you feeling energized vs. that sluggish feeling you get after getting filled up on junk.
Challah
The Feel Good 5 Grain Challah—Whoa! This really leaves me feeling energized. It's so delicious and tasty without giving you that sluggish, tired feeling usually felt after eating white flour challah. The taste and texture win over even my die-hard white challah fans!
Really Good Whole Wheat Challah—Get Renee Muller's recipe. It's delicious and nutritious and will leave you feeling so much better than the classic white.
A note about portions: if you're the type that waits to wash the entire week on fresh homemade challah, try to at least be aware of how many slices you're eating, rather than just eating infinitely. Awareness is a wonderful tool for healthy eating. For those that wish to watch portions, something I love doing is making individual challah rolls and putting one by each setting. This way I allot myself my challah for the evening without being tempted to go for more.
Dips
The goal here is to stay away from mayonnaise-based dips. Aside from being high in calories and low in nutritional value, there are so many delicious dips to enjoy that don't include mayo!
Sun-Dried Tomato Dip— I buy the Pereg brand, which doesn't contain any sugar or other additives. It's so delicious and refreshing, we even eat it during the week as a dip for veggies and crackers.
Garlic Confit—Renee Muller's wonderful recipe (Our Table page 148) is so warm and comforting on a cozy Friday night.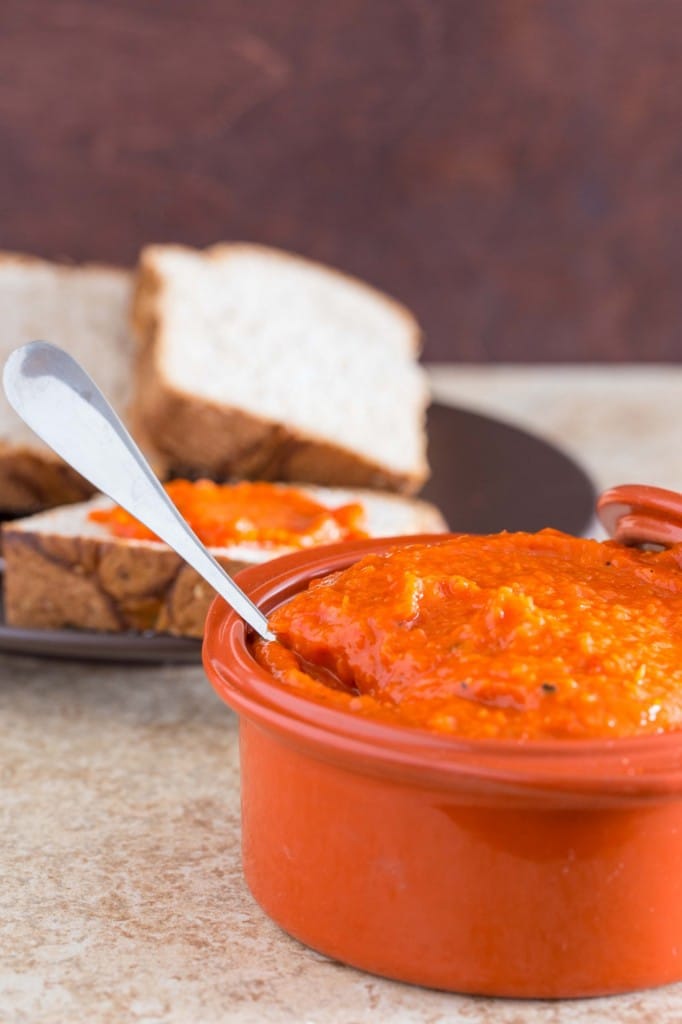 Roasted Red Pepper Dip—See Miriam Pascal's recipe here. It's so fabulous, I even eat it plain! You'll see what I mean when you make it.
Pesto—I love pesto because I can repurpose it for salmon, chicken and other dishes later on in the week. Get a recipe for an easy version here.
Spicy Avocado Dip—Blend ripe avocado with lemon juice, red onion, salt, pepper, and chili flakes. The spiciness will definitely get your metabolism going!
Romanian Eggplant Dip – so easy and delicious. This will quickly become your go-to favorite. Find the recipe here. 
Fish Course
I'm always disappointed when I see fish recipes that include ketchup, mayonnaise, sugar or soup mix. Aside from the health benefits, fish is so flavorful on its own that these unnatural additives seem so unnecessary! Unless it's not Friday night for you without Gefilte Fish, try to stay away. It's usually full of sugar and barely has nutritional value.
Trader Joe's Spice Rubs—I love to use a Trader Joe's spice rub for my salmon. My favorites are the Coffee BBQ (which you can easily make on your own) or Chili Lime.
Pesto Salmon—Spread some pesto dip onto your salmon and broil for a delicious and creamy piece of fish.
Herbed Salmon—Making any type of herbed salmon brings out the true flavors in the fish. Doing so will leave you feeling satiated yet energized from all the wonderful nutrients.
Silan, Mustard and Honey Salmon—Renee Muller's exotic salmon (from Our Table) is beautiful to present and scrumptious to eat. People have a hard time believing it's really so healthy!
Salads
I like to put out four types of salad by the fish course and leave them there throughout the rest of the seudah. Munching on all the vegetables fills me up in a good, healthy way. Everyone enjoys the variety and the healthy accompaniment to the dips and challah.
Tomato Salad—Many people have their classic recipe they make that isn't really a recipe but more like a little bit of this and a little bit of that. Here's one you can try. So delicious! Dress up the salad with multicolored tomatoes for beautiful presentation.
White Cabbage Salad—I love preparing an Asian slaw. The tangy dressing and toasty nuts and seeds make it almost addictive! Here's a quick cabbage slaw to try. 
Red Cabbage Salad—See a delicious exotic recipe here. I make my own candied pecans by toasting them with some olive oil, silan and maple syrup.
Cucumber Salad—Many people include sugar in their cucumber salad recipes, though I find it really unnecessary. In Daniella Silver's The Silver Platter, there's an excellent cucumber salad with baby radishes and herbs that is just so refreshing!
Beet Salad—The pre-cooked packaged beets make any beet salad so easy to prepare. I love the texture and taste of beets at any meal.
Soup
Soup is probably the healthiest part of the meal, unless you use soup mix! Although it's tempting, chicken soup is so flavorful without it. If you feel like your soup needs that oomph, try adding the leaves from celery, fresh parsley, dill, turkey necks or flanken for a flavor boost.
Lukshen—Spaghetti squash noodles or vermicelli (aka rice noodles) are a great low- calorie option to the classic lukshen. They're both so good that you can hardly taste the difference.
Crouton Alternatives— The classic soup nuts contain all sorts of things you'd rather not subject your digestive system to. If you really need that crunch, try adding flavored baked chickpeas, edamame, or toasted nuts. You can buy 'em or make 'em. See a recipe for Roasted Chickpeas by Esti Waldman here.
Mains
Meats are delicious, flavorful and comforting, perfect for a Friday evening. Many contain natural flavors that can be beautifully enhanced by different spices, vegetables, broths (I love the organic Imagine brand) and wines. Try to look for recipes that aren't smothered in sugars, duck sauce, BBQ sauce, or soup mix. Marinate your meats overnight to let the flavors absorb, or massage in a spice rub and let it stand. If you love BBQ sauce and can't give it up, consider trying Efrat Libfroind's recipe so you can avoid the preservatives and sugars. I love braised red wine ribs (I use the recipe from Celebrate), pistachio lamb chops (simply some crushed pistachios and olive oil, then broiled), coffee London broil, maple mustard French roast (both from The Silver Platter) or overnight flanken (I put the meat on a bed of sliced garlic & onion and then season with garlic salt & lemon pepper, and bake at 200ºF for 12 hours).
Letting chicken on the bone cook for hours allows all the flavors to meld beautifully. Once again, the soup mixes, duck sauces and sugars are unnecessary. Flavor can be achieved in many alternative ways. I love using my mother's recipe (below), or a crispy recipe chock full with dried herbs like rosemary, thyme, oregano and basil.
Mommy's Shabbos Chicken—Place the chicken on the bone on a bed of sliced onion. Wedge sweet potatoes cut into rings around the chicken. Season with salt, pepper, garlic powder, onion powder and paprika. Pour orange juice till the chicken is covered midway and bake till soft. Uncover a little to crisp up the chicken. I like to broil a few orange slices separately to serve with the chicken for a nice presentation.
"Healthy" Poppers—While I wouldn't call these super healthy, they're definitely a better alternative to regular fire poppers. Beat an egg and season with spices of choice. Crush Terra chips and add salt and pepper. Bread chicken breast cut into bite size pieces in the egg then crushed chips. Spray with olive oil. Bake at 350⁰F until golden. Make a sauce of hot sauce and honey, and pour over the chicken. Serve hot.
Chicken Skewers—Chicken skewers are a fun, kid-friendly way to serve chicken and can be healthy too! I like to marinate the chicken in pesto and serve on a skewer with cherry tomatoes. Alternatively, you can make a delicious spice rub, add some oil, and marinate, then serve with a zesty avocado dipping sauce.
Sides
Kugels—For potato kugel, try substituting half of your potato mixture with cauliflower. I love making tasty broccoli kugel with eggs, garlic, assorted spices and sautéed onions. I make them in muffin tins for little soufflés that make a pretty presentation.
Sweet Potato Gratin is easy, delicious, and healthy. I cook sweet potato, mash with maple syrup, vanilla, and cinnamon and top with granola for crunch. Put it in ramekins for individuals servings.
Vegetable Sides—I personally don't love roasted vegetables on Friday night because they don't work well when reheated, so I serve lots of fresh salads instead. However, ratatouille, cauliflower 'popcorn', green beans, marinated veggie stacks, tri-color baby peppers, and stuffed mushrooms are some great ways to incorporate vegetables into your seudos.
Desserts
It's better for digestion to eat fruit on an empty stomach, however, dessert inevitably comes at the end of the meal and therefore it's far better to ingest fruit-based desserts rather than sugary alternatives. Here some fruit ideas and other healthful options.
Fruit Compote—Compote is a delicious and refreshing dessert. Combine fruits such as strawberries, apples and pears, put water to cover, cook and blend. If the end result is too tart, add a bit of honey or silan. Compote is also delicious as ice pops, and you can dip the ends in bittersweet chocolate.
Healthy Apple Crumble—Chop up some apples, sprinkle with cinnamon and orange juice. Mix 1 cup rolled oats, 1⁄2 cup of whole wheat or almond flour, 1⁄2 cup of nuts (like pecans, almonds or walnuts), 1⁄4 cup of coconut oil or melted Earth Balance, 1⁄4 cup of maple syrup (or to taste) and sprinkle generously with cinnamon and a bit of salt. Put the crumb topping on your apples and bake until golden. I make a lot of these crumbs and keep them in the freezer.
Fruit Skewers—Delicious and easy to eat. Get creative with the presentation and utilize the beautiful colors of fruit to your advantage.
Sorbet Sundaes—Find the healthiest, most fruit-filled sorbet you can where you live and make sorbet sundaes. You can top with melted chocolate (left on top of urn), shredded coconut, mini chocolate chips, granola, chopped fruit, or nuts.
Fruit Salad—Chop any fruit of choice and pour orange juice to cover to ensure it stays crisp. Distribute into martini glasses to increase the appeal.
Chocolate Covered Pretzels—Buy spelt pretzels (if you buy the right type, no one will taste the difference) and dip in good quality bittersweet chocolate. You can add any of the toppings mentioned above to the pretzels too.
Savory Popcorn—Savory popcorn flavors are a yum way to end the meal and usually require minimal olive oil and basic spices. Pop your popcorn, spray with olive oil spray and sprinkle with spices. Try for a delicious light snack.
Dried Fruit—So long as there is no added sugar, another great snack to serve at the sweet table.
Assorted Nuts—Great for crunching and munching, just stay far from the ones that have things added, like salt, sugar and preservatives.