Change up your slaw with this fun, spicy twist on coleslaw from Kim Kushner's newest book The Modern Table.
Editor's Note: We shared Kim's 15 Minute Herb Crusted Fish…and we thought what better to pair it with than a new, fresh slaw? This slaw, from Kim's new book, The Modern Table, is such a nice change from the typical overly sweet versions! If you have a family that loves a little kick, we know they'll love to crunch on this creative, refreshing version.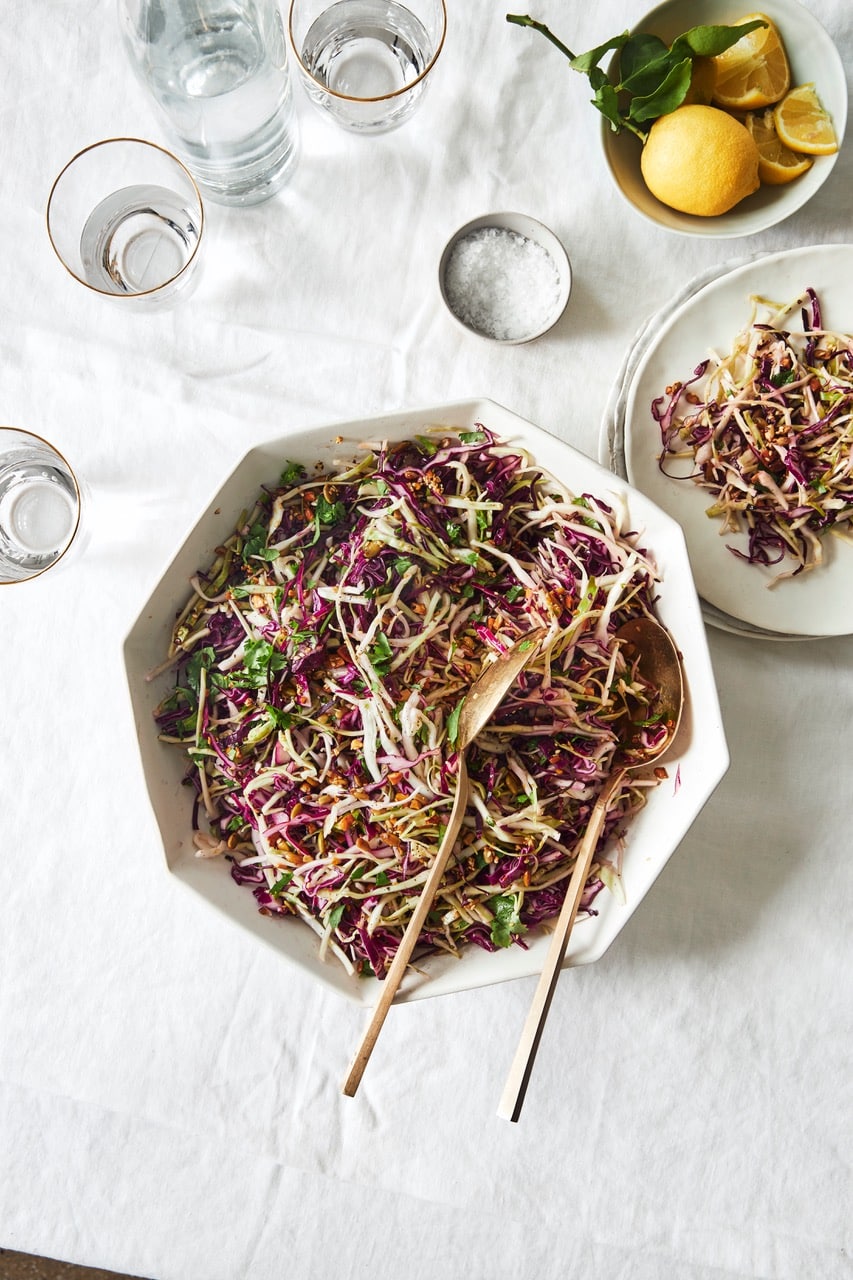 Can you handle the heat? I LOVE spicy food—and funny enough, all my favorite people in this world love spicy food too. Coincidence? A little heat and a hint of crunch perk up this hearty salad—it's a blast of flavor and texture with every mouthful.

Cabbage, Cilantro, Salted Cashews, and Crunchy Chili Oil
Ingredients
4 cups shredded red cabbage
4 cups shredded green cabbage
¼ cup rice vinegar
2 tsp coconut sugar or brown sugar
½ tsp kosher salt
¼ tsp freshly ground black pepper
2 Tbsp neutral oil such as avocado oil, vegetable oil, or rice bran oil
1 clove garlic, minced
1 tsp chili flakes
¼ cup crushed roasted salted cashews
1 Tbsp roasted salted sunflower seeds
1 Tbsp roasted pumpkin seeds
1 Tbsp roasted sesame seeds
½ tsp toasted sesame oil
¼ cup cilantro leaves, roughly chopped
Instructions
In a large bowl, combine cabbages, vinegar, and sugar. Season with salt and pepper. Using your hands, toss to combine. Set aside to marinate.
Meanwhile, heat oil in a large nonstick skillet over medium-high heat. Add garlic, chili flakes, cashews, and seeds and sauté for 5 minutes, until golden. Transfer mixture to a small bowl, then stir in sesame oil.
Scatter cilantro over the cabbage. Drizzle with chili oil and toss well. Serve immediately.
Good to Know: You can double or triple the recipe for the crunchy chili oil. It is delicious on almost everything! Make It Ahead: The shredded cabbage can also be marinated for up to 5 hours in the refrigerator. Storage: Crunchy Chili Oil can be stored in a glass jar in your pantry for up to 2 weeks.
Excerpted from The Modern Table: Kosher Recipes for Everyday Gatherings by Kim Kushner. Photography by Kate Sears. Copyright © 2022 by Kim Kushner. Excerpted with permission from Figure 1 Publishing. All rights reserved. No part of this excerpt may be reproduced or reprinted without permission in writing from the publisher.
FOR EXCLUSIVE CONTENT AND A PEEK BEHIND THE SCENES, MAKE SURE TO JOIN OUR WHATSAPP STATUS HERE. JOIN OUR WHATSAPP GROUP AND WE'LL LET YOU KNOW WHEN A NEW POST IS UP!