Pesach doesn't need to equal panic. You can sleep while your slow cookers do the work for you.
Cooking for a holiday, even in large quantities, does not need to be super time-consuming. Just ask my robots.  Ok, they are really slow cookers (and one huge Instant Pot, but more on that in another article…). Cooking in 2-3 slow cookers, on a table near the laundry machines, they (not me!) produce multiple soups, meats, chickens, and even meatballs, matzah balls, potato kugel, applesauce, chocolate nut candies and sorbet. Using a slow cooker is especially useful through Chol Hamoed when you're out all day, so you can have delicious, zero maintenance, warm food waiting for you and your family upon arriving home.
While most of my recipes appear in my book, Pesach While You Sleep, I'm sharing a new recipe today exclusively on Between Carpools!
Simple Roast (aka Yehudah's Favorite)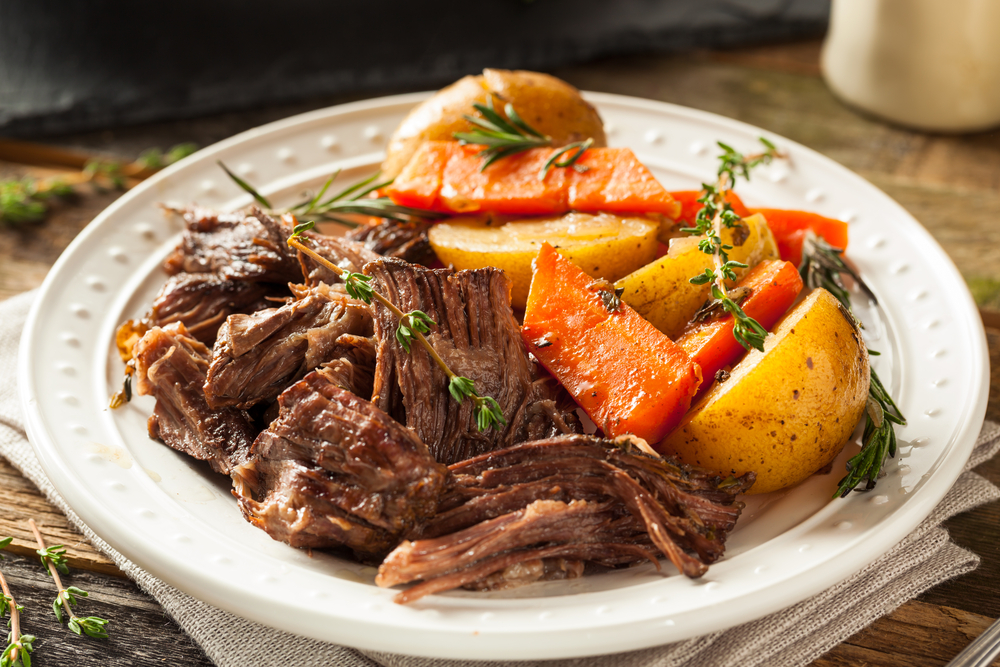 Even if you have to squish the meat into your slow cooker like packing an overful suitcase, it will come out delicious and tender!
Simple Roast
Ingredients
1 (5 pound) roast, really any kind
1 sauteed onion* (see note below)
4 carrots, peeled and chunked
4 potatoes, peeled and chunked
¾ teaspoon oregano
3 pinches paprika
½ teaspoon onion powder
½ -  ¾ cup red wine
¼ cup orange juice
Instructions
Line slow cooker with slow cooker liner or parchment paper, if desired.
Add vegetables and meat to slow cooker. Season meat with spices, and pour red wine and orange juice over everything.
Cook overnight on low for about 10 hours.
Let cool for 1-2 hours before freezing with the liquid. While you can, you don't have to slice before freezing as it will be moist and easy to cut when reheating.
How to Use Your Slow Cooker to Saute All Your Onions
If anyone offers (!) to help you,  give them the job of peeling and slicing a bunch of onions (like 10-12 at a time). Leave them in the slow cooker overnight with 1-2 tablespoons of olive oil, and voilá, you have your own pre-packaged sautéed onions. Freeze them in snack-size Ziploc bags or freeze them in an ice cube tray and you can pull them out one at a time, as needed.
Matzah Balls (Gebroks)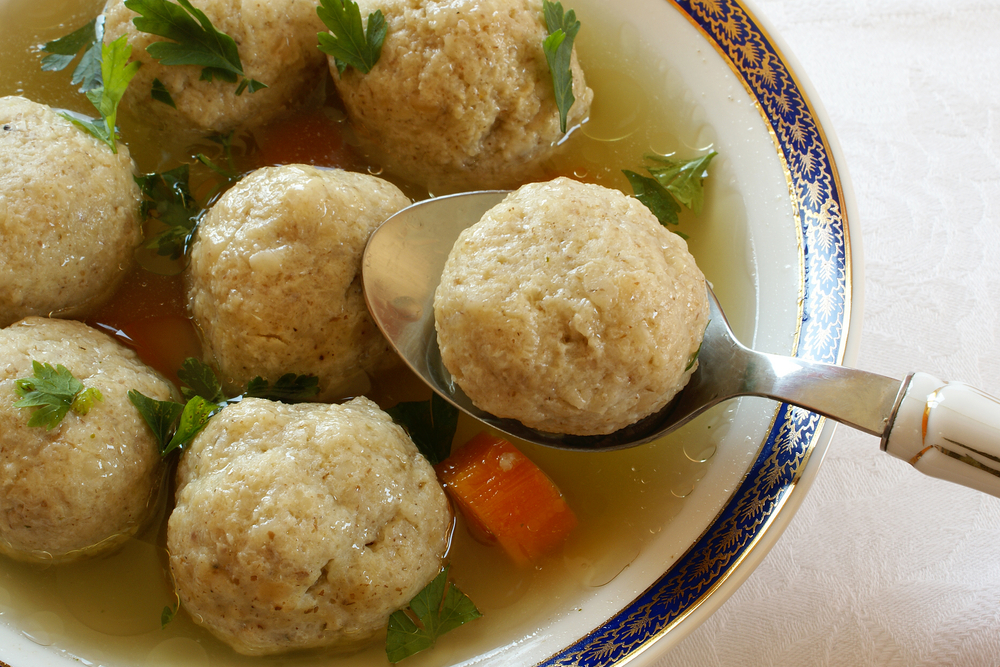 Yes, you can make matzah balls in the slow cooker! (And potato kugel, too!)
I usually double this recipe (everything besides the salted water — that does not need to be doubled), and it still fits in a slow cooker. This is one of the only recipes I don't cook through the night.

Matzah Balls (Gebrokts)
Serves:
about 15 medium balls
Ingredients
4 eggs
¼ cup oil
¼ cup ice water
1 cup matzah meal
1 teaspoon salt
½ teaspoon black pepper
8 cups water
Instructions
Combine water and salt in the slow cooker. Leave on high for 1 hour.
Meanwhile,  in a separate bowl, combine remaining ingredients. Form into balls and rest in fridge for 20 minutes.
Add matzah balls to slow cooker. Cook for approximately 3 hours on low. Allow to cool, then freeze on a cookie sheet lined with parchment paper, for about an hour. (This helps the matzah balls not stick to each other when frozen together.) You can then transfer matzah balls to small loaf pans/containers/ Ziplok bags to freeze in portions.
Want to read more from Julie? Read
4 Refreshing Things You Do Have Time for This Week
and
8 Easy Ways to Teach Your Children Gratitude