This beautiful fish dish is fitting for Yom Tov–but it's also a complete meal for any day of the week.
The truth is, I originally made this because I hadn't planned what to make. I had picked up some fish–but hadn't decided on a recipe. Time was short. Dinner had to be served.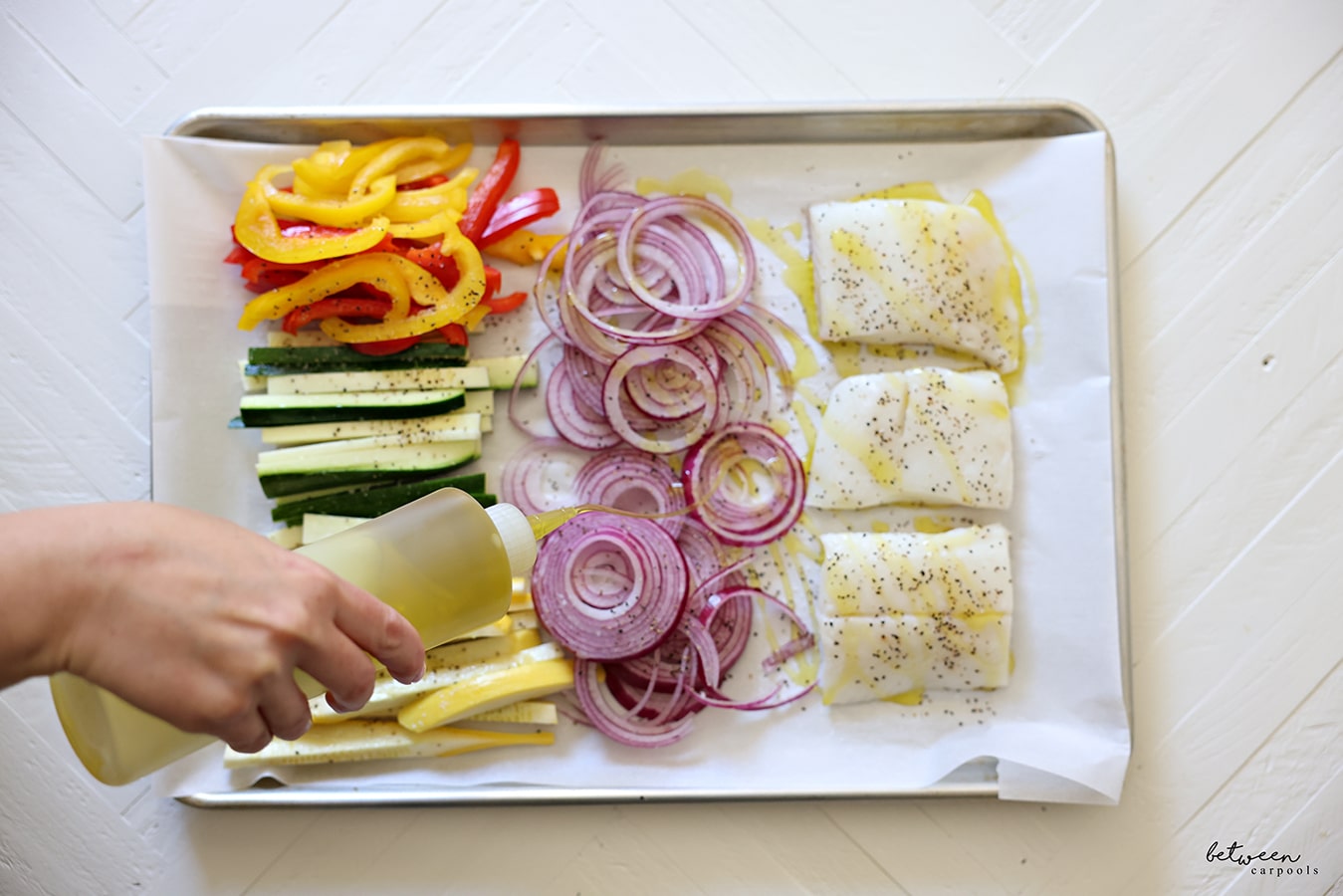 I sliced up whatever veggies I had in the fridge–choosing a nice variety of colors. I put them on one side of the baking sheet. I put the fish on the other side and sprinkled the whole tray with salt, pepper, and olive oil. Twenty minutes in the oven, and we're just about there.
Next–I wanted to add some elements to make it look like I really worked hard–and also make it look like there's no restaurant that's better than home.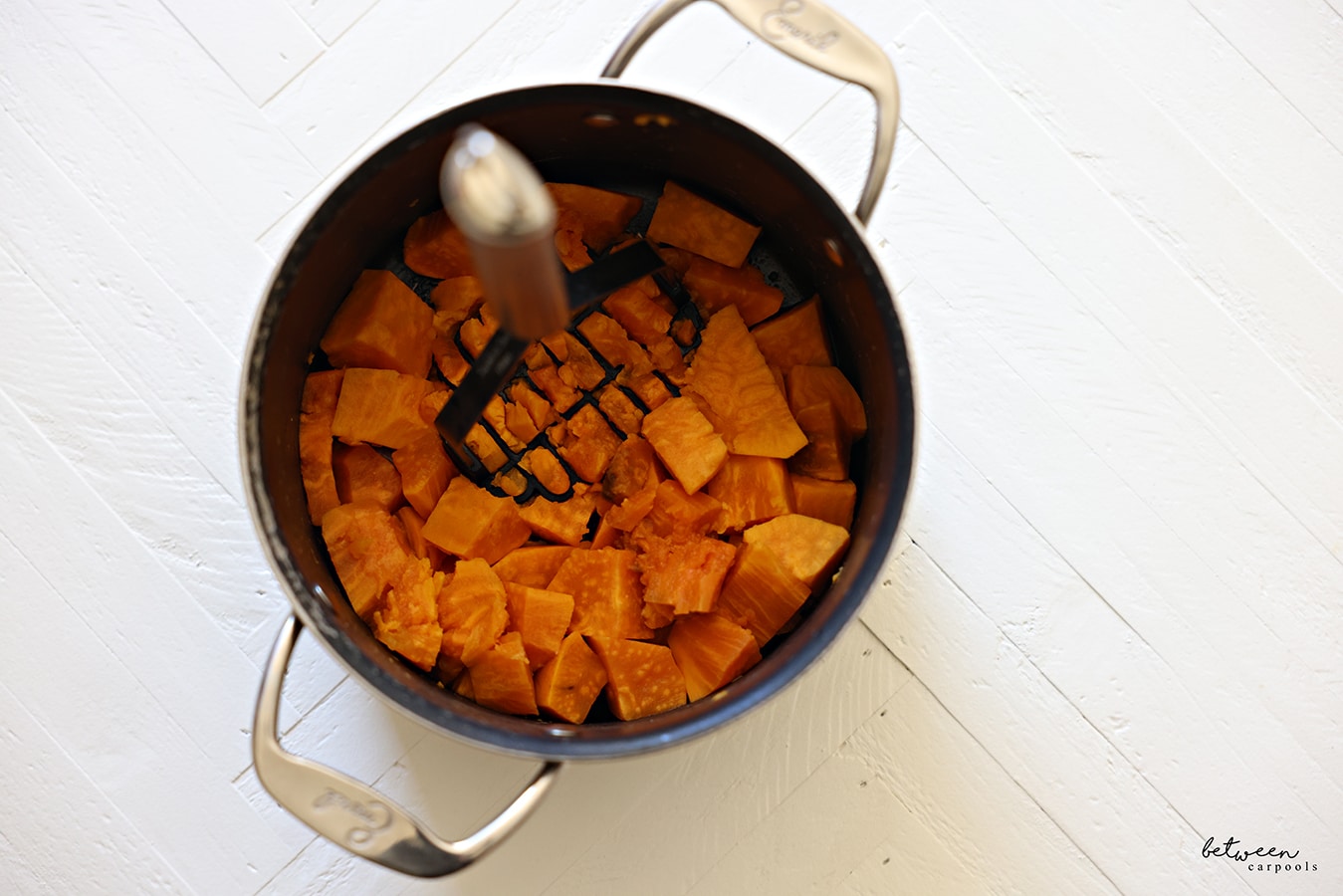 The base of this fish is a simple sweet potato puree. The easiest way to make this? Pick up the pre-chopped sweet potatoes at your local grocery (yes, you can peel and chop, but I want to make this as effortless as possible for you). Boil them in water until they're super soft. Drain, mash, and stir in some salt and olive oil.
That's all you need for a great mash (obviously a lot of olive oil vs. a little olive oil helps).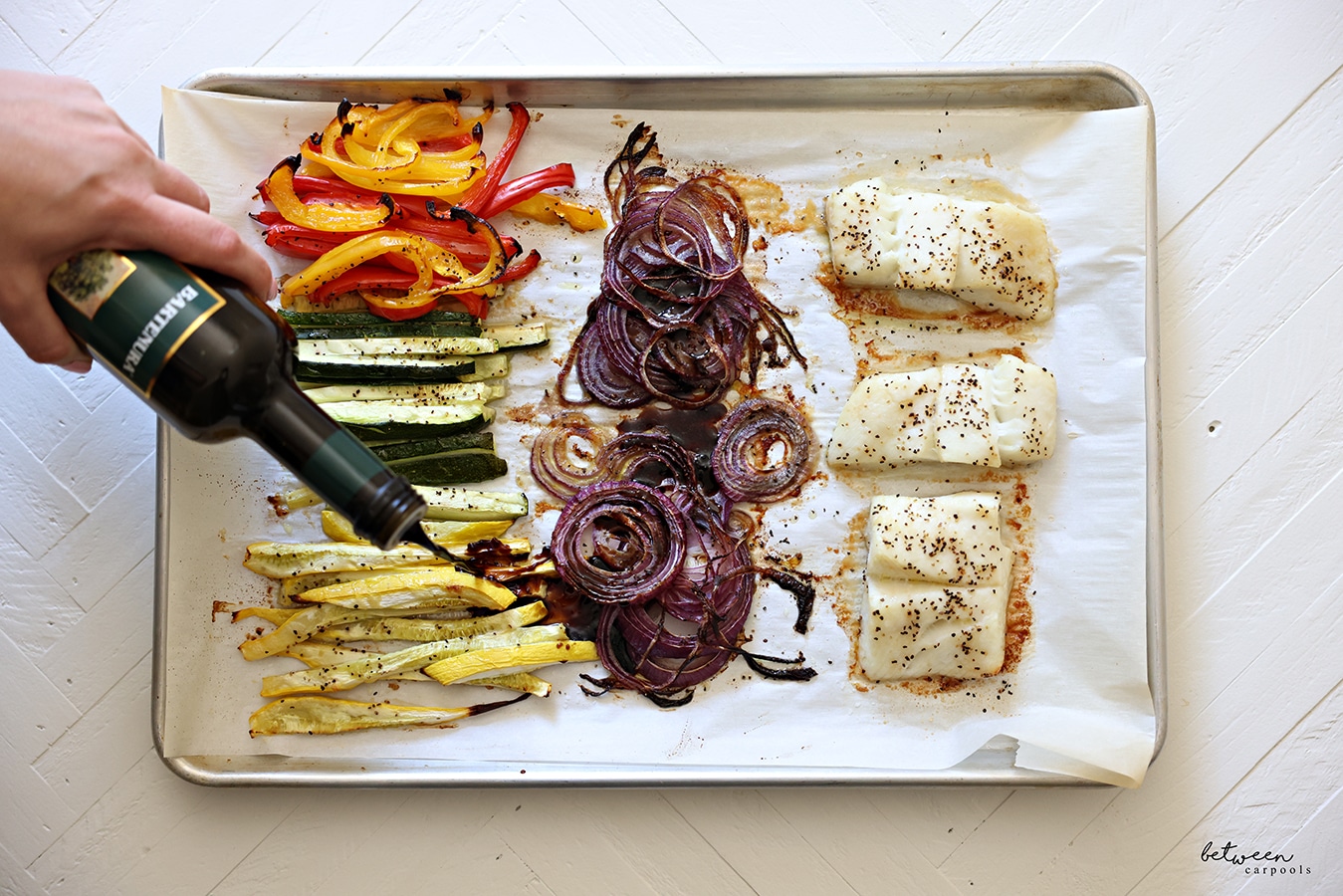 When the fish comes out of the oven, mix the veggie side with a splash of balsamic vinegar.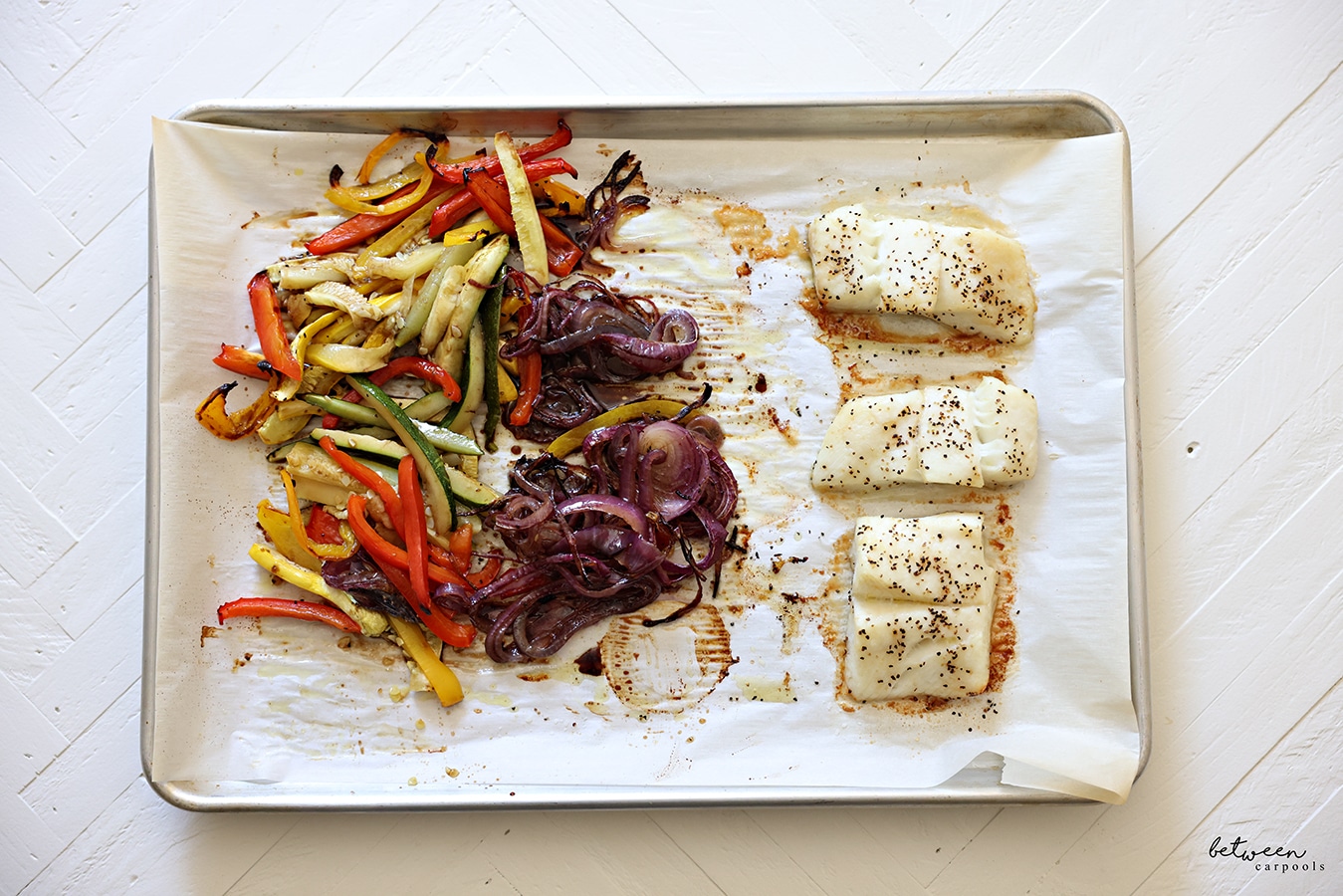 Now it's time to plate.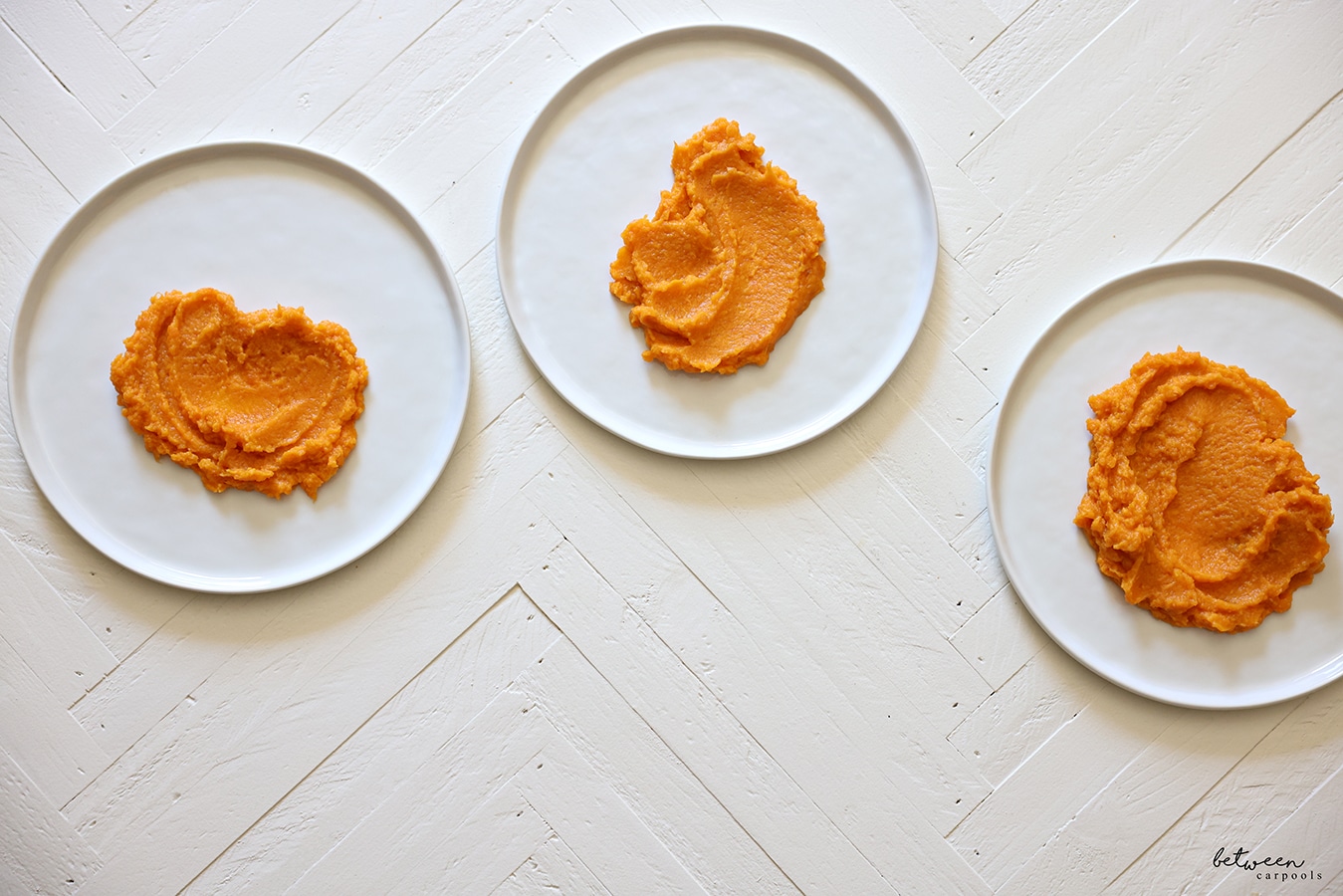 Sweet potato mash gets swirled on the bottom.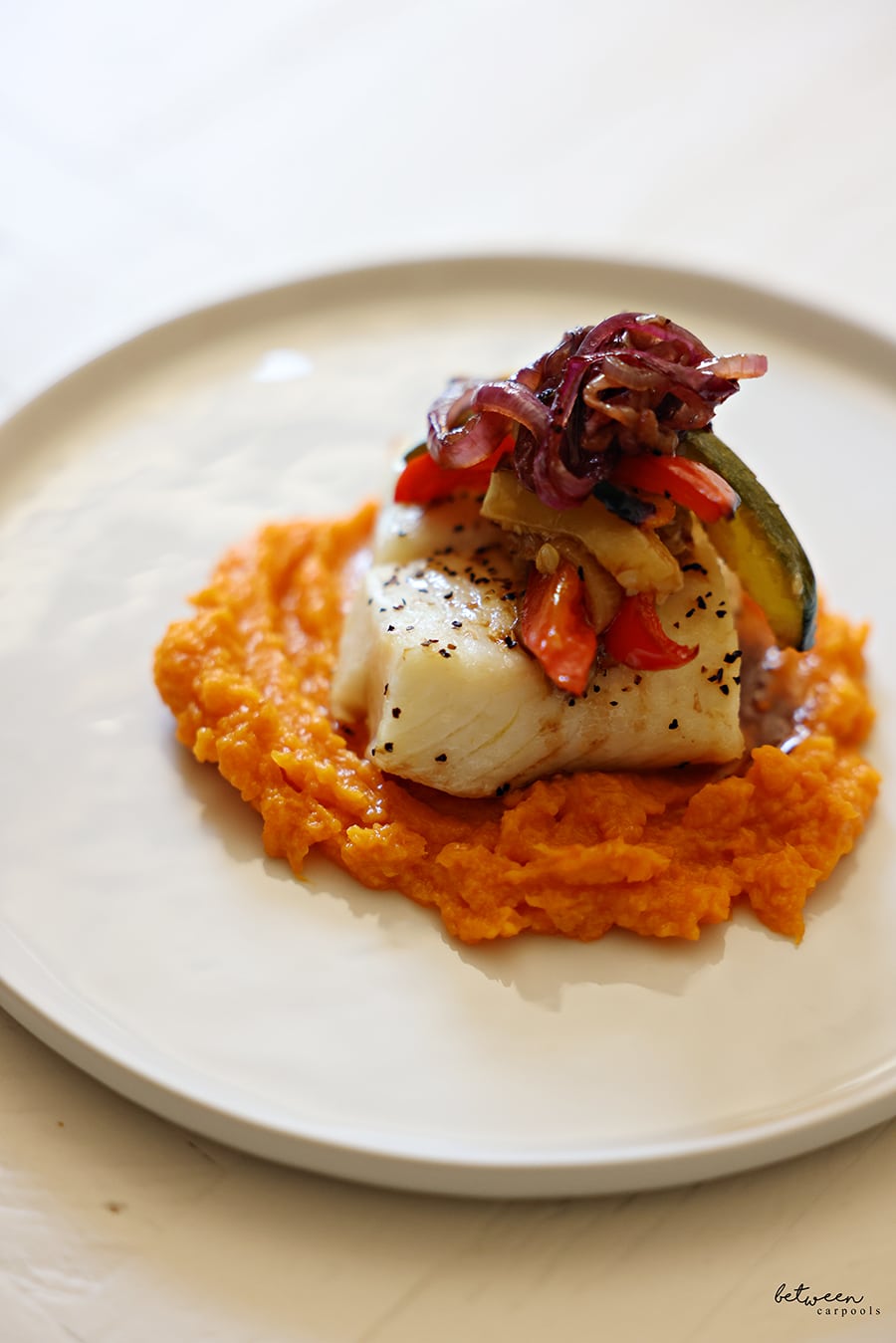 Then comes our fish. Then our thinly sliced roasted veggies.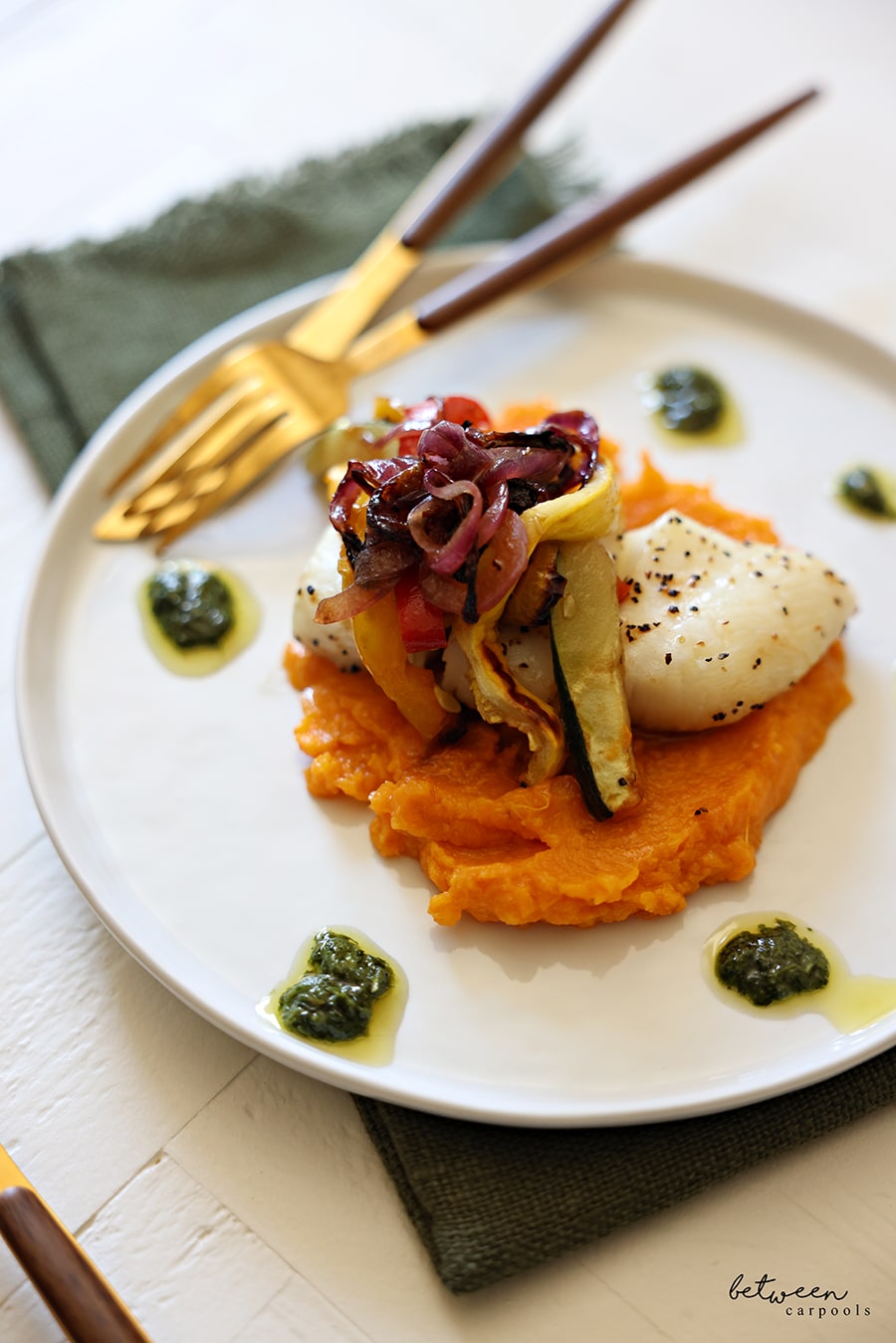 Finally–the finishing touch is the dots of pesto around the plate. You can use prepared pesto or simply mix some basil cubes with olive oil, salt, and perhaps garlic. There's an actual recipe for basil cube pesto in this post. (If your prepared pesto is too thick for drizzling, thin it out with some olive oil or a bit of water).
That's it–your fish is ready to serve. And it's more beautiful than a restaurant dish. And–this fish is completely customizable. Use ANY fish you like, they'll all work. Use ANY size fish you like–depending on if you want small, appetizer-sized portions or main dish portions. I don't, though, want to choose fish that is too thin–then it's ready before the veggies.
The most important thing to note about this dish is: Yes, YOU can plate like this. Want to know how to warm your puree up on Yom Tov? See this post.

Turbot with Roasted Veggies & Sweet Potatoes
Ingredients
1 ½ lbs turbot fillets
1 small zucchini, cut into thin strips
1 small yellow squash, cut into thin strips
1 red onion, cut into thin strips
1 red or orange pepper, cut into thin strips
Salt, black pepper, and olive oil, for sprinkling
Sweet Potato Puree:
1 lb sweet potato cubes
Olive Oil
Salt
Prepared pesto
Instructions
Begin by boiling sweet potatoes in a saucepan until they are very soft and easily mashable. Drain. In a bowl, mash sweet potatoes with olive oil and salt to taste until smooth.
Prepare the fish. Preheat oven to 425F. Line a baking sheet with parchment paper.
Place veggie strips on one side of the baking sheet. Place fish on the other. Sprinkle the whole baking sheet with salt, pepper, and olive oil. Bake for 20 minutes. Once tray comes out of the oven, splash veggies with balsamic vinegar and mix.
Plate the dish. Swirl sweet potatoes on your plate. Top with fish, then veggies. Dot plate with some pesto.
FOR EXCLUSIVE CONTENT AND A PEEK BEHIND THE SCENES, MAKE SURE TO JOIN OUR WHATSAPP STATUS HERE. JOIN OUR WHATSAPP GROUP AND WE'LL LET YOU KNOW WHEN A NEW POST IS UP!