This is the way to turn chicken into an important main again.
I love when i get a recipe from Ruchi D. in my inbox, i know its going to be something easy yet classy and will taste amazing. The original recipe was traced back to her sister in law's mother in law who got it from a friend.
Chicken steaks is basically a partially deboned chicken leg quarter -it used to be a special request from your butcher but lately it can be found at most large supermarkets.  We love how even though it's chicken, it feels different and a step up from your regular chicken dish. And–it's pretty to plate and smells amazing when it's baking.
Can't find chicken steaks? This recipe works really well with dark (baby) chicken cutlets.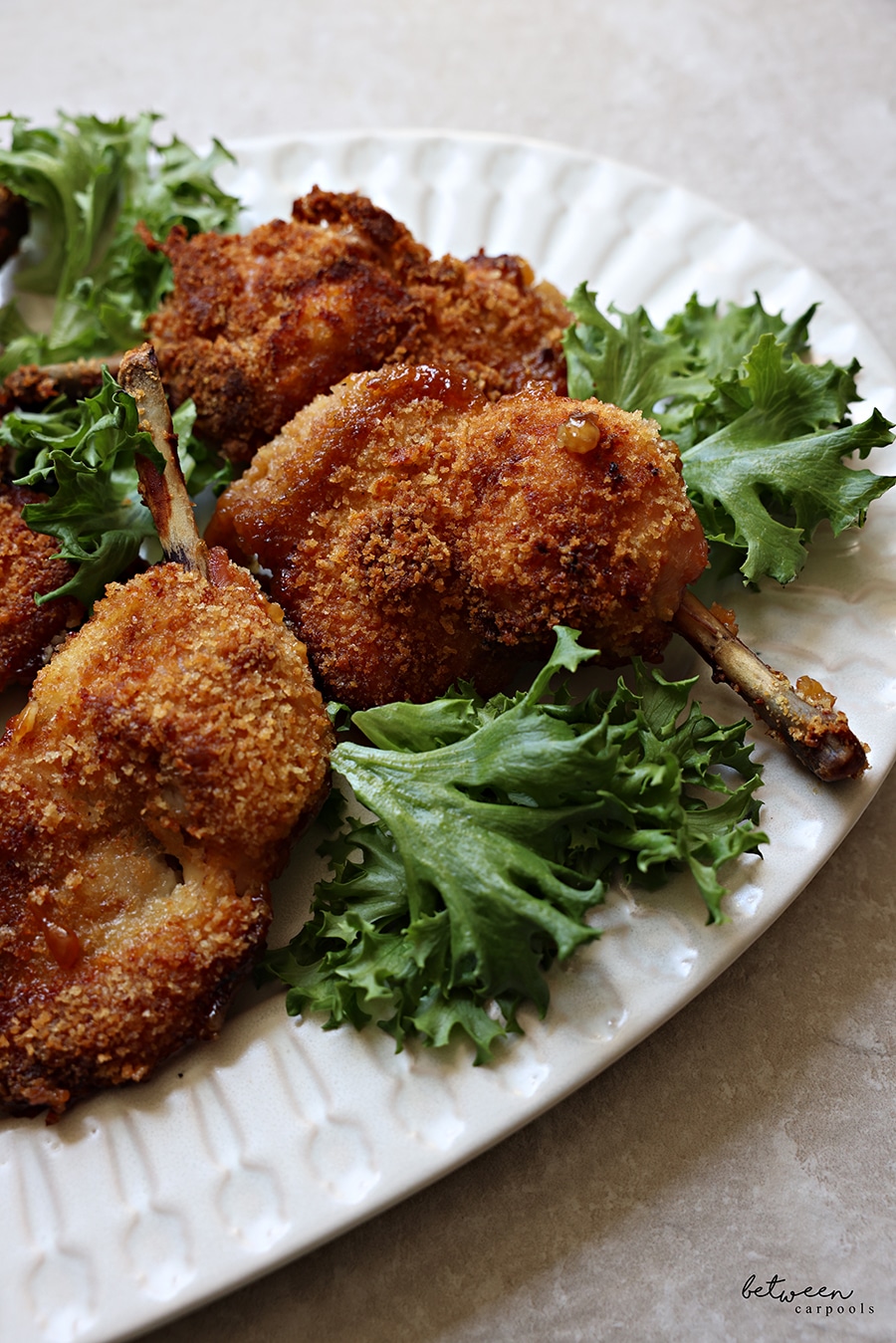 Breaded Chicken Steaks
Ingredients
6 chicken steaks
1 egg and 1 egg white or 2 egg whites
salt, garlic powder & onion powder
1 cup panko
1 cup cornflake crumbs
Sauce
4 Tbsp mayonnaise
4 Tbsp apricot jam
4 Tbsp onion soup mix
5 Tbsp chicken soup
Instructions
Preheat oven to 350F.
In a shallow dish, whisk together eggs, salt, garlic & onion powder. Place panko crumbs mixed with cornflake crumbs in a second dish.
Dredge chicken in egg mixture, then in panko crumbs.
Heat oil in a frying pan. Once hot, add chicken and flash fry for just 2 minutes on each side until only the outside is crisp and golden.
In the meantime prepare the sauce. Combine all ingredients and mix well. Pour the sauce into the bottom of a 9x13 baking pan. Place the chicken on top of the sauce and bake for 1.5 hours uncovered.