If you're making challah, you can make a babka, too. Just prepare a large batch of dry babka filling and you'll have fresh chocolate babka every week!
Babka is a big job, right? Make a dough, make a filling, make a mess – you know what I'm talking about. But it doesn't have to be. I've got it down to such a simple process that I don't hesitate to make a fresh loaf whenever we're in the mood.
I make challah just about every single Friday. It's how I transition from the work week to Shabbos mode. I rotate between a couple of different dough recipes to satisfy every member of the family. The best dough for babka is one that has a larger amount of eggs, so when I make Leah's challah, I make sure to use some of the dough for a couple of babkas. (If your recipe does not have many eggs, consider adding just one egg. This could take a couple of attempts with some trial and error. Or just use Leah's recipe…)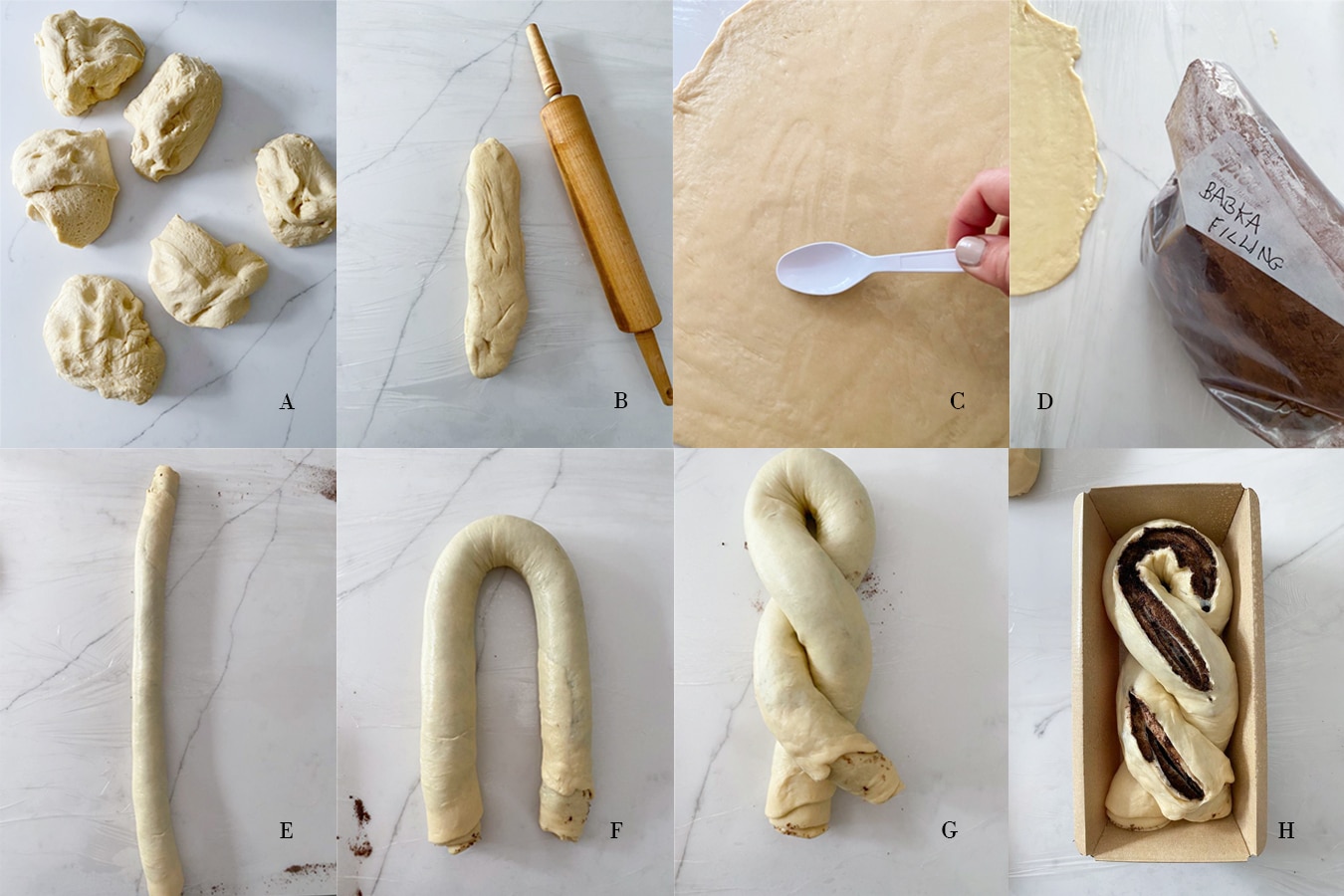 I split my dough in six. [A] I make five sections into challah and then split the remaining piece of dough into two pieces for babka. Before you go any further, make sure you're lining your countertop! 
I like to start with the dough shaped in a thick snake which I roll into a rectangle. [B] Once you've rolled your dough as thinly as possible, spread a thin layer of neutral oil (like canola) over the dough [C] and then just add the dry babka mix that you've prepared in advance [D] (like we've discussed in this post). Roll up the dough [E], bend into a horseshoe [F], twist and place in your loaf pan [G]. I like to slice into the twist about half an inch down to get a more oozy gooey babka! Then brush the babka with an egg wash and sprinkle some sweet challah crumbs on top. Bake about 5 minutes less than you'd bake your challah. By the time the challah is ready to go into the oven, the babka will be cooling on the countertop!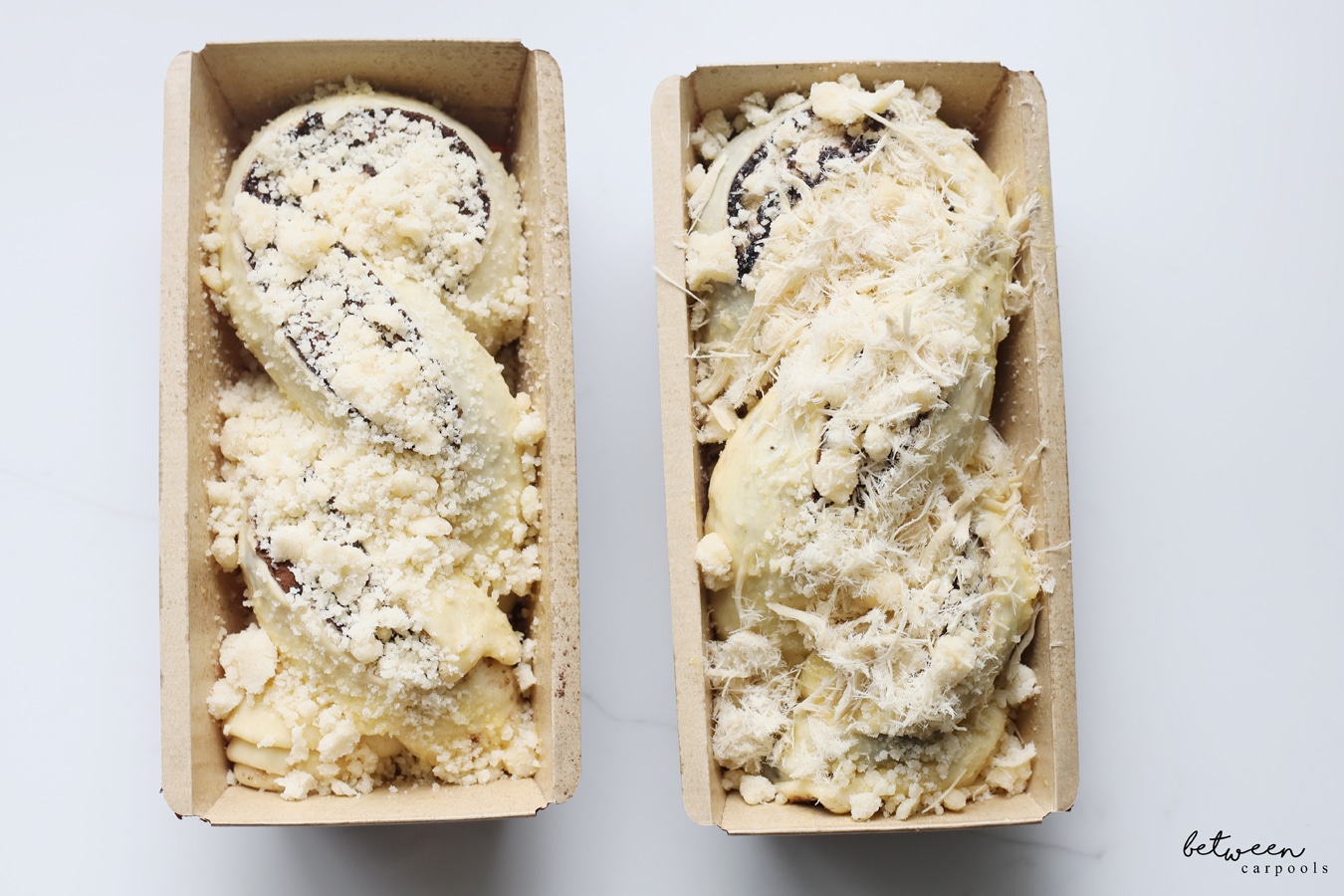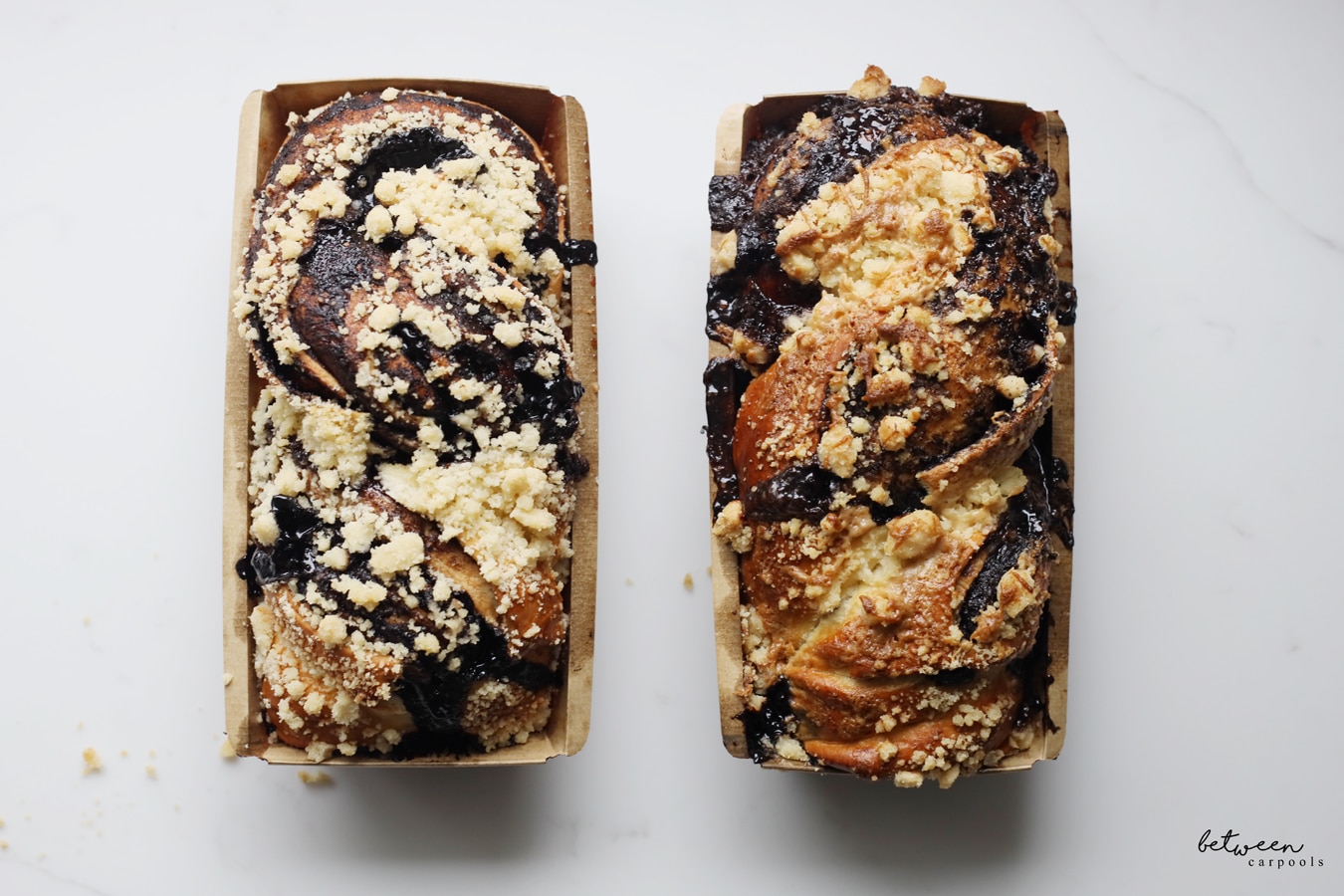 This is the dry mix recipe I got from a friend. No need to multiply – it's already a very large batch. I keep it in a container in my pantry along with the flour, sugar and other baking ingredients.

Babka Dry Mix
Ingredients
5 cups sugar
2 cups cocoa
½ cup flour
1 Tbl vanilla sugar
1 Tbl instant coffee
1 tsp cinnamon (optional)
Instructions
Combine in a large ziploc bag and shake it all around. Store in the bag or in an airtight container in your pantry.
Bonus variation: After spreading the dry babka mix, add a layer of shredded halva and then continue from rolling the dough as above. After adding the crumbs, sprinkle some more shreds on top. This is just next level!