You don't need to fight or overpower a child when they're not listening. This is what to do instead. 
In our last discussion in this post we wrote that being firm can be good for a child. We also wrote that fighting with a child is not chinuch. We explained the difference.
Fighting means when the child retaliates, and you have to consistently increase your efforts to overpower the child. Overpowering a child who is defying you is not chinuch; it will not help and will only make things worse.
Being firm means that when you voice a request or a command, and the child does not want to fulfill your request, then instead of beginning to enforce your request with threats, punishments, forcing, and so on, simply stand your ground, firmly and with confidence. Do nothing more than voice your request calmly and firmly until the child complies.
Even if the child does not like what you want him to do, and even if he protests, remain firm and confident. The child will comply, be'ezras Hashem.
Does this apply for all children equally?
Absolutely not! As we have mentioned, there are different types of children and different types of reactions from children.
When a child does not like what you are doing and voices this, either in the form of verbal protest or through body language, or even through a mild tantrum, you need not be fazed. Remain firm.
Keep calm, stand your ground, and the child will eventually give in.
In this case the discipline is good for the child and he benefits from it.
But when a child begins to throw things or turn things over or slam doors or try to hurt you, or other such behaviors, then the answer is not to keep being firm or to try and overpower the child, because now it is a fight. And a fight is not chinuch; it is anti-chinuch.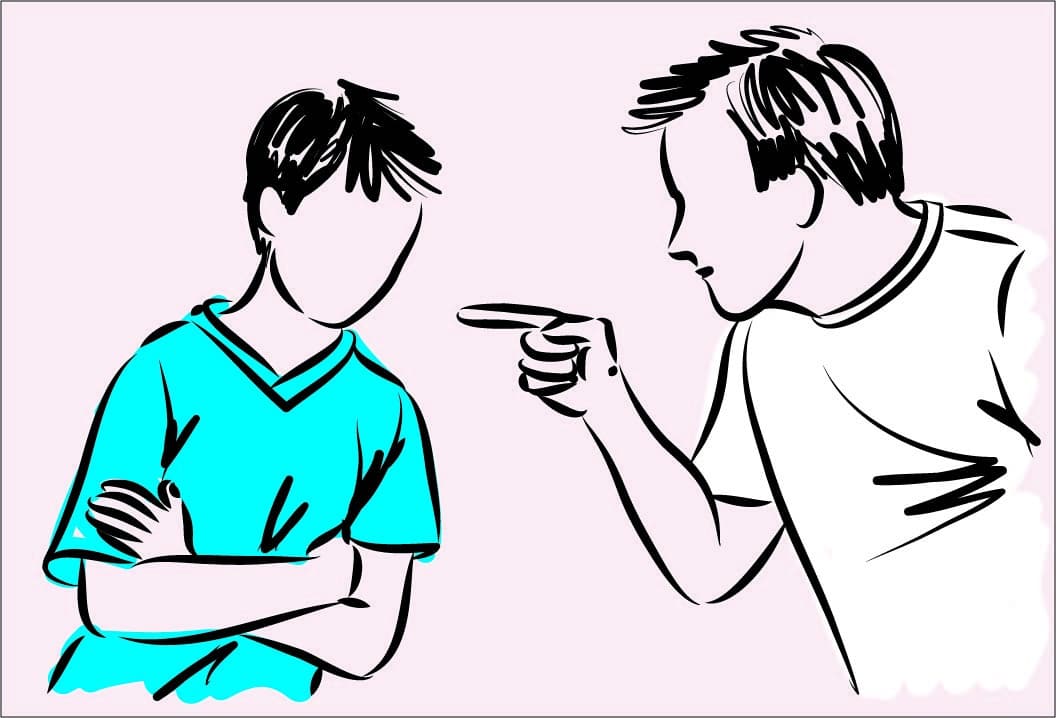 Can you give some more practical examples of this?
A father recently shared with us that his eight-year-old son did not want to stay in shul for Minchah on Friday afternoon. He wanted to go out and play. In the past, this boy had been going out to play and had stayed outside. This time, however, when the boy started to go outside his father said, calmly but firmly, "You're staying inside and we're davening now." The boy did not like it, and he pushed up against the wall next to him in protest, but the father was not fazed. He just held his ground confidently, and the boy stayed and davened Minchah. The father told me that by the time Kabbalas Shabbos began the boy was already into the davening and was singing along with the tzibbur.
So because the father was calm, confident, and firm, the boy accepted the discipline and davened well.
Exactly. This boy needed his father's discipline, and when he received it he responded very well to it.
A mother shared with us this week that she has tried many different ways to be nice to her six-year-old daughter, but the child never listens to her. This time she decided that she was going to be firm. She told her daughter to help clean the table after the daytime meal on Shabbos. The girl said no. Normally, the mother would have tried to convince her, to be warm to her, to compliment her, and so on, but these techniques have not worked in the past. So the mother was firm and confident. She held out a tray that had been on the table and said, "Take this in, please." The girl said no, but the mother was insistent, with confidence, remaining calm all the while. Finally, the girl said, "Okay, I'll take in the tray, but that's all I'm going to take in." The mother wasn't fazed, and she handed the girl a number of other things to take in as well.
The girl took everything in and cooperated very nicely.
This girl was waiting for her mother to discipline her. That's what she needed, and that's why she accepted it.
I still can't believe you're saying this. You always talk about being positive and how you have to be warm to children and be on their side.
Be warm when it's good for them. Be positive when it's good for them. And discipline when it's good for them.