Want a healthier way to serve up a burger? How about creating a Burger in a Bowl!
Bowls, Bowls, Bowls, this day in age we are all about the bowl! Whether it's a smoothie bowl, a ramen bowl, or even a poke bowl. Who can complain, it's trendy, it's fun, and it makes our food so flavorful when it's all mixed in one. This chicken patties quinoa bowl is full of flavor and can also be a super quick and easy grab and go lunch!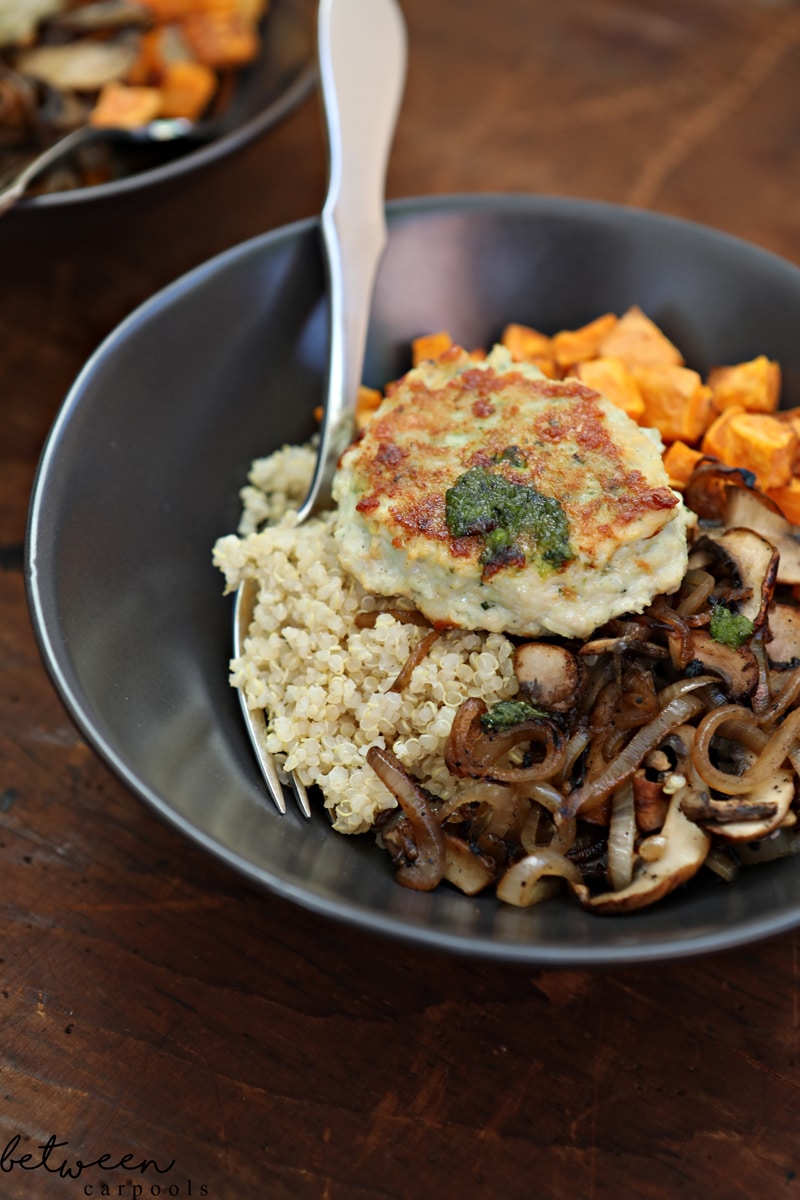 Pesto Chicken Burgers with Quinoa Salad in a Bowl
Ingredients
2 pounds ground chicken
1 recipe pesto paste
1 egg
1 cup cooked quinoa
1 sweet potato, diced
8 ounces sliced Cremini or baby bella mushrooms
3 large shallots, sliced
Salt and pepper, to taste
Instructions
In a large mixing bowl combine ground chicken, pesto paste, and 1 egg. Mix lightly just to combine ingredients. The more you mix ground meat, the tougher it gets, so mix as little as possible.
With a large wet ice cream scoop, measure out about 6 scoops of the ground chicken mixture. Then with wet hands, shape the scoops into about 1-inch thick burger disks. Place on a parchment lined baking sheet.
Set the oven to broil. Place the baking sheet in the oven and broil for 2 minutes on each side, or until they are firm but with a little give to the touch.
Preheat oven to 350⁰F. On a separate parchment-lined baking sheet, place the diced sweet potatoes. Spray with some cooking spray and sprinkle with some salt. Bake for about 15-20 minutes, or until potatoes are nice and golden.
In a well heated frying pan, place 1 tablespoon oil. Add mushrooms and a sprinkle of salt to extract the juices. Sauté mushrooms until nice and golden. Add shallots and cook until translucent.
Prepare individual bowls. Place quinoa at the bottom, then top with the roasted sweet potatoes, mushroom and shallot mixture, and pesto chicken burger. Sprinkle some salt and pepper to taste.