It makes sense that we always prepare slow-braised meats for Shabbat. But is it even possible to have a medium-rare steak? Actually, yes. 
I remember, years ago, when my children were very young and not yet meat eaters, I would prepare a steak for my husband for the main dish on Friday night. We definitely moved on since then to larger cuts of meat that can feed a whole family, but lately my kids have been making special requests for steak again. So, I pulled out some old tricks. Most will say that you can only serve braised meats on Shabbat, since they rewarm well. And that's mostly true. But a while back, I had made it a mission to figure out how to get my Delmonico steak to a perfect medium-rare and be warm for Shabbat without getting overcooked. 
To heat my food on Friday night, I put everything covered into the oven about 20 minutes before Shabbat. Before Shabbat starts, I turn the oven off. The food stays warm in the hot oven until I need to serve it. If I would sear steaks and put them into the oven to finish cooking at this time, they would always get overcooked while waiting in the "hot but off" oven.
Now, I assumed I could not put a seared-but-not-cooked steak in the "off" oven before Shabbat. But I was wrong. After asking my own LOR (and please ask your own), I learned that, halachically, it doesn't matter how cooked or not cooked my steak is if my oven is off, but that I should not open and close the oven until my steak is done as closing the oven is an action that helps the cooking process.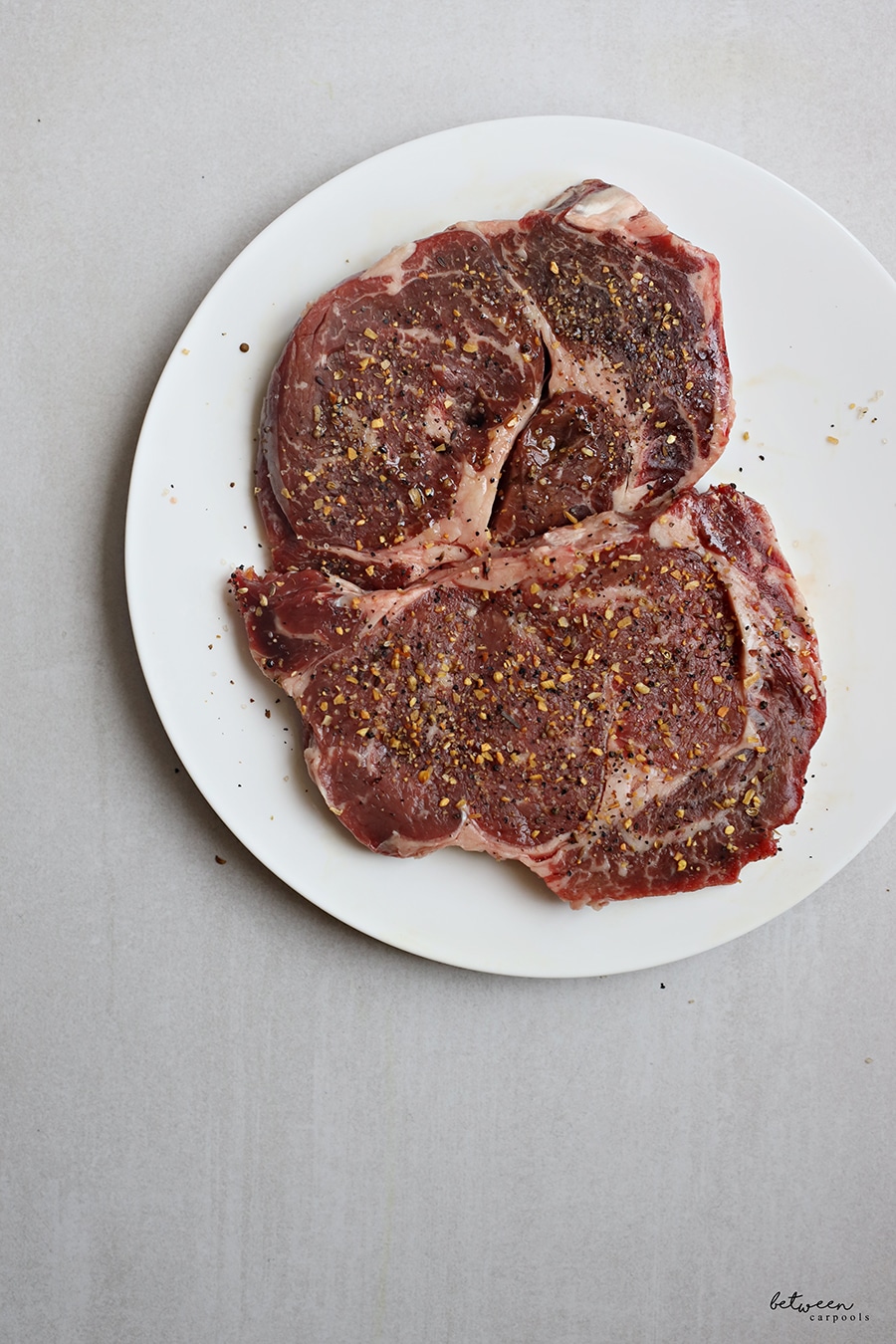 Rather than just a rub, I'm serving these steaks with some sauce so they're still nice and juicy for the meal.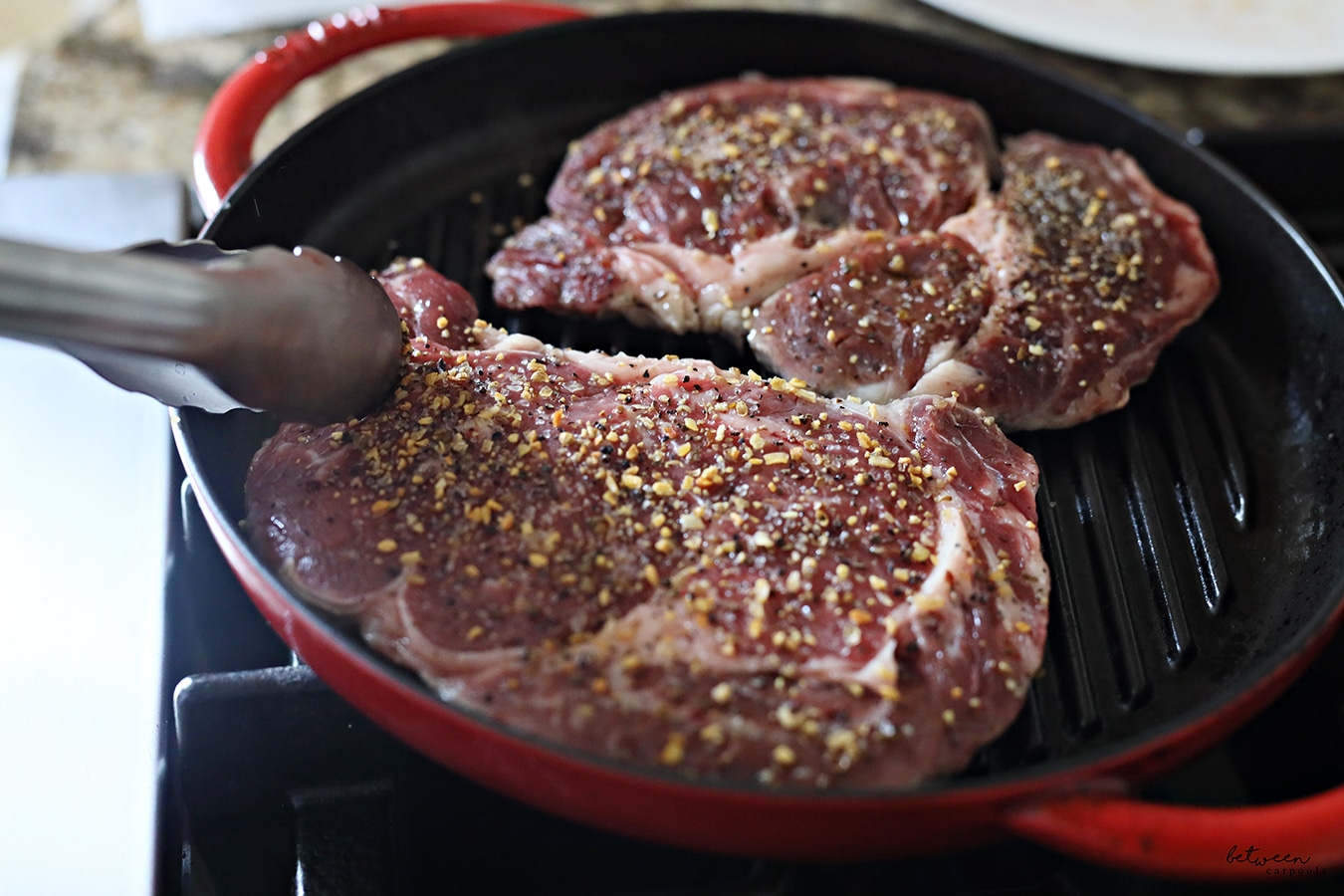 Season generously with Montreal steak seasoning (salt and pepper will also do) and sear for a few minutes per side. I usually use a regular saute pan for this recipe. We used this grill pan simply because it was pretty for the photos.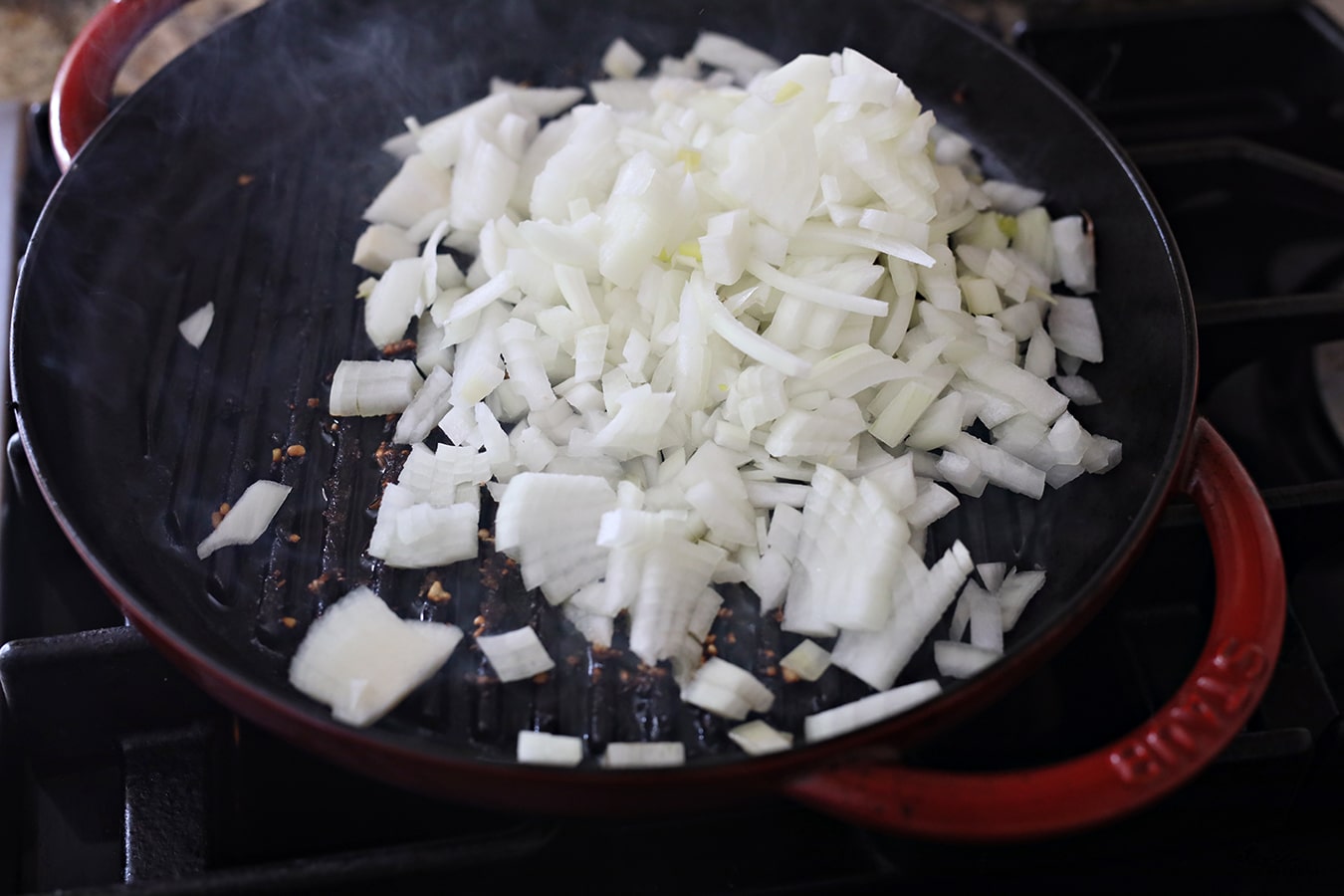 After searing the steaks, set aside and saute a finely diced onion and some garlic until browned. Add a couple cups of beef stock and a squirt of Dijon mustard and cook until the sauce thickens a bit.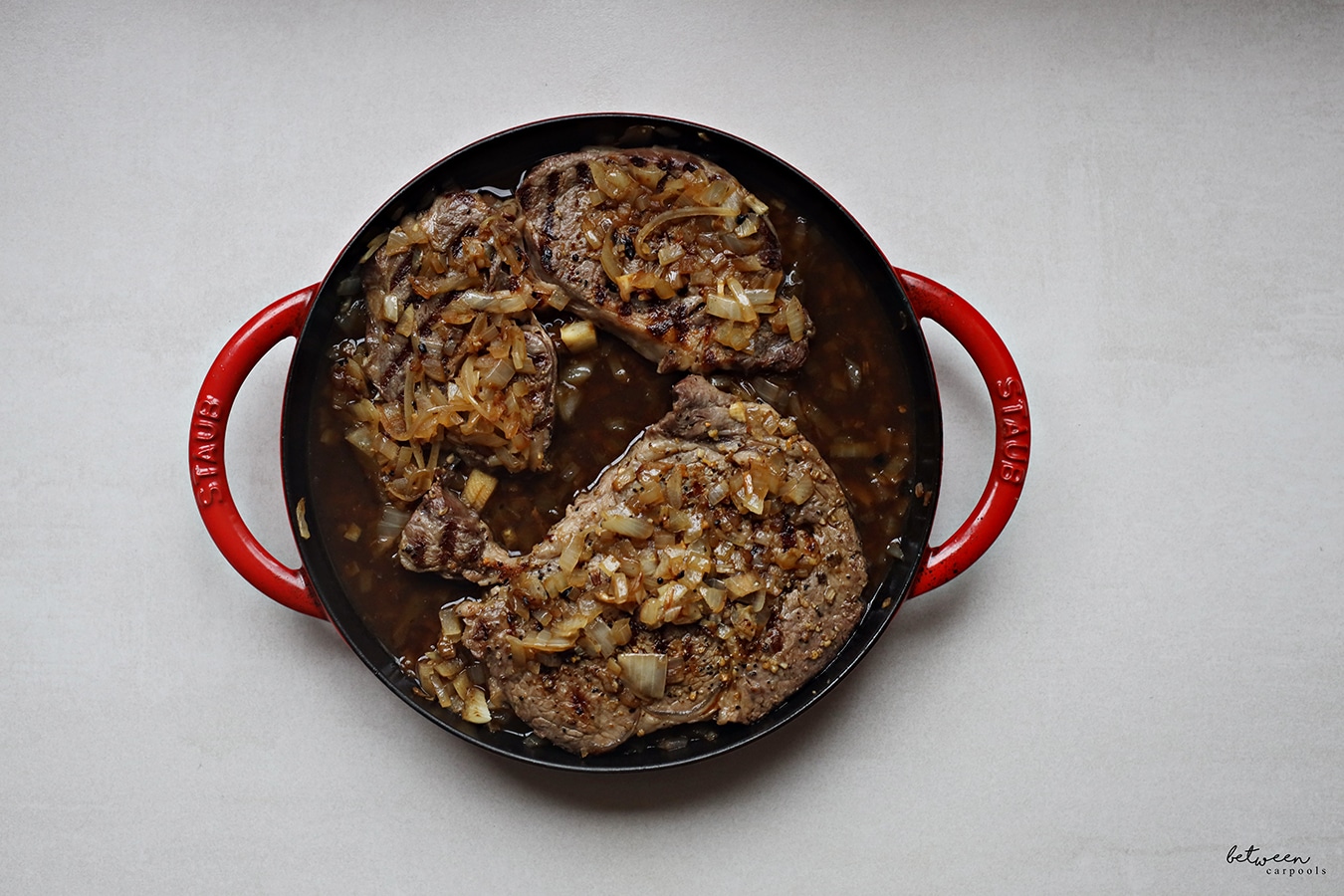 That's it! Return the steaks to the sauce so they're ready to pop in the oven at the last moment. Of course, this technique will work with any steak recipe. It doesn't matter how you season or sauce it, as long as you are searing first.
The next time I made a Delmonico steak, I slipped my next seared steak into the oven and turned the oven off. The result? When it was time to serve the meal, I had perfectly cooked steak. If a steak is very thick, you can put it in a few minutes before turning it off.

Note: This works when it's typically 90 minutes between turning the oven "off" and when you're serving the meal. If you're making an early Shabbos as many do in the summer (and the men are coming home from shul at the same time you light candles!) then it won't work. In that case, it will need more time in the "on" oven.

Shabbos Steaks
Ingredients
2 steaks (I used Delmonico)
1-2 tablespoons oil
Montreal steak seasoning, for sprinkling
1 onion, finely diced
3 garlic cloves, crushed
2 cups beef stock
1 squirt Dijon mustard
Instructions
Season steaks with Montreal seasoning.
Heat oil in a saute pan or grill pan over high heat. Add steaks and sear until deeply browned on both sides. Remove and set aside.
Add onion and garlic to pan and cook until onion is deeply golden. Add beef stock and mustard and whisk to combine. Cook for a couple of minutes to allow the sauce to thicken a bit.
Return steaks to pan and return to "hot but off"