It's quick, it's easy, it's a really good challah, it mixes in a Kitchen Aid, and bonus: it uses 7 oz plastic cups to measure.
I had called a friend for a dip recipe.
And she was telling me how her family loves the dips course combined with the "soft, fluffy challah." They sit over the challah and dips for a long time. It's their favorite part of the meal.
"Really? More than the meat?" I asked. I was a little incredulous. Yes, she confirmed, the challah and dips/salatim are their favorite. It must be that her challah is really good.
And then, she mentioned in passing,
"Oh, I make challah in my KitchenAid."
Now I needed to know what she does. Good challah in a KitchenAid? It's not even that she makes challah in her KitchenAid because that's all she has. She makes challah in the KitchenAid because she prefers the KitchenAid over her Bosch, which is collecting dust. I remember the days when I was a newlywed and I tried to make challah repeatedly in my KitchenAid. I had heard through the grapevine that my challah was like rocks. I hence retired from challah until my mother in law bought me a Bosch. 
"What's your recipe?" I asked my friend. I am always looking for better challah.
And so, as she quickly rambled off the instructions, I took notes.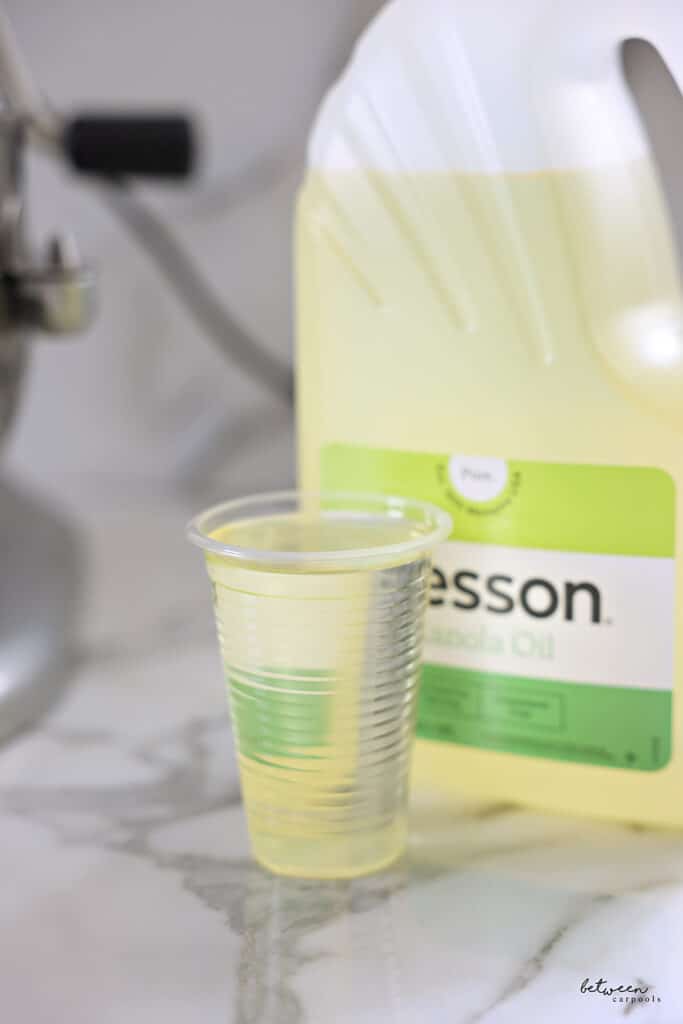 The most unique thing about her recipe was that she uses 7 oz plastic cups as measurements.
That's when I knew you'd absolutely love this. I loved this recipe even more once I made it. And then more when I tasted it. It was the sweet type of dense challah I had been searching for.
Here are more reasons why I love this recipe.
It's amazing for those who only have a Kitchen Aid. Even though I can make 5 lbs of dough at once in my machine (a larger, 7 quart KitchenAid), I like this recipe better. It just feels more manageable and the dough comes together quickly. I like that the machine doesn't have to work too hard, and that it's stable so I can walk away while it's mixing.
This is great when you realize on Friday that you need more challah and you don't have a full bag of flour available. You can make this recipe quickly!
Sometimes I buy a 12 lb bag of flour from BJs. What happens when I want to make challah and I only have this huge quantity and not 5 lbs? This recipe comes to the rescue because I can measure the 7-8 cups for each batch.
It's egg-free. Which is great because there's one less ingredient to worry about. And that's also great if anyone is allergic (if you want to know what to use instead of egg for your egg wash, see this post).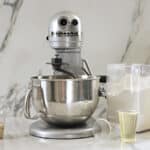 Print Recipe
Kitchen Aid Challah (Egg-Free)
Ingredients
1 ½

cups

warm water

2

tbsp

dry yeast

2

tbsp

sugar

½

5 lb bag flour 

(7-8 cups)

1

7 oz cup oil

1

7 oz cup sugar

1-2

tbsp

salt

1

cup

water

(you might not need all, see instructions). 
Instructions
In the bowl of your Kitchen Aid, combine warm water, yeast, and sugar. Let sit for 5 minutes to proof.

Mixing slowly, add the flour. You can either use a measuring cup, or just guesstimate half the bag. Add oil, sugar, and salt and continue to mix. Slowly add in the water. The amount of water you add now (whether it's less than the full cup, or more) depends on whether you added a little more or a little less than half the bag… so add water slowly and watch your dough. Knead for a few minutes (it doesn't take long) until nice and smooth. Remove to a greased bowl, cover.

Form and bake your challahs however you like.

You can now repeat the recipe again! A 5 or 6 quart KitchenAid does not fit a full bag of flour at once. Note that the second time you add the final remaining cup of water, you will need more or less than last time because the flour won't be exactly half and half. One batch will have a bit more or less than the other. Add dough to same bowl and let rise.
FOR EXCLUSIVE CONTENT AND A PEEK BEHIND THE SCENES, MAKE SURE TO JOIN OUR WHATSAPP STATUS HERE. JOIN OUR WHATSAPP GROUP AND WE'LL LET YOU KNOW WHEN A NEW POST IS UP!