I love the convenience of kosher supermarkets. But I'm not giving up my mainstream markets. Here's some reasons why.
Groceries, direct to my door? To me, that's a dream that only in-town dwellers enjoy. Being able to find everything on my list at one stop? That's another dream. In town kosher supermarkets might seem to have it all, but there's some items I still love to find at mainstream markets. I'm inviting BCP readers with me on a shopping trip through the aisles of Wegmans in Ocean Township (about a 7-8 minute drive from my house in Deal) to pick up some of my favorites.
Specialty Gourmet Products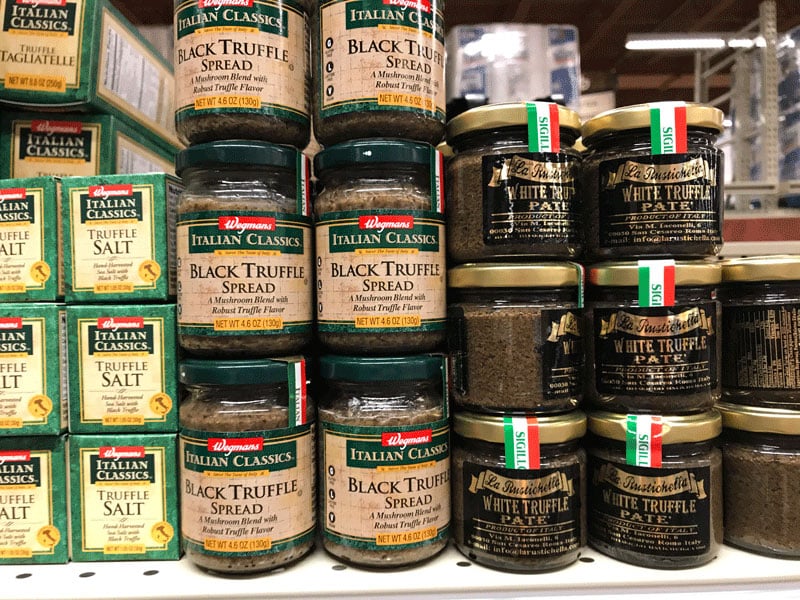 One of the fun parts of shopping in a regular supermarket is the thrill of discovery. When most items in the aisles are not kosher, it's extra exciting when you find a cool product that is…like this black truffle spread. It's become a staple in my house for Shabbat (I turn it into a dip), and if I'm out, that's one item I'm running to Wegmans to replenish. Note that the pate on the right isn't certified kosher, but there is a kosher version available.
Soy Products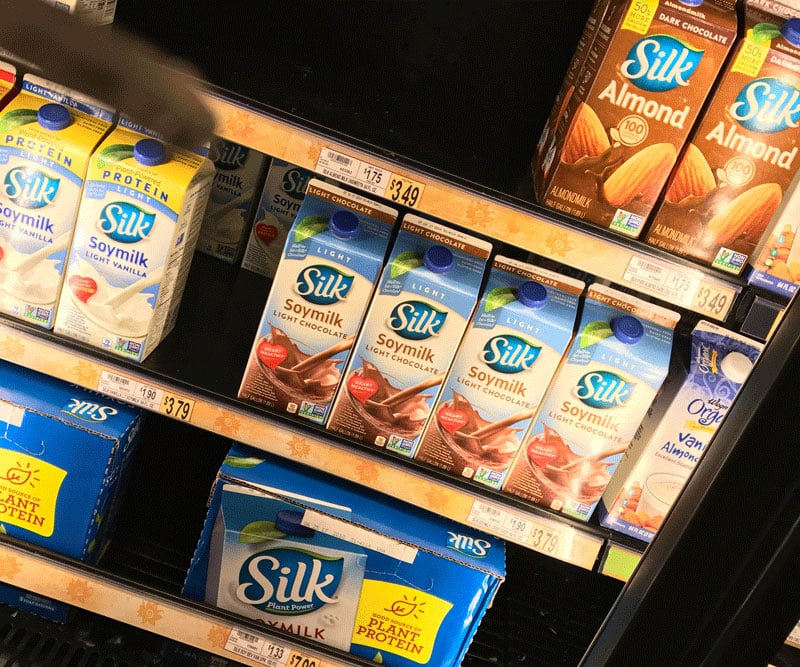 We use a lot of soy milk in my house. I prefer it over dairy milk in my coffee, and we all heat it up in the evening to enjoy with chai tea (another one I discovered at Wegmans. They no longer carry it and now I buy it on Amazon). I usually buy a 3-pack of Silk half gallons for $7.99. Those small shelf-stable cartons are just too small for us, and I find that half gallons of soy milk are much more expensive at kosher markets. If you're not a soy fan, there are soooo many other non-dairy options. Note that the Silk brand contains no dairy but is produced on dairy equipment. For Sepharadim, this is the equivalent of pareve, for others, ask your own Rav.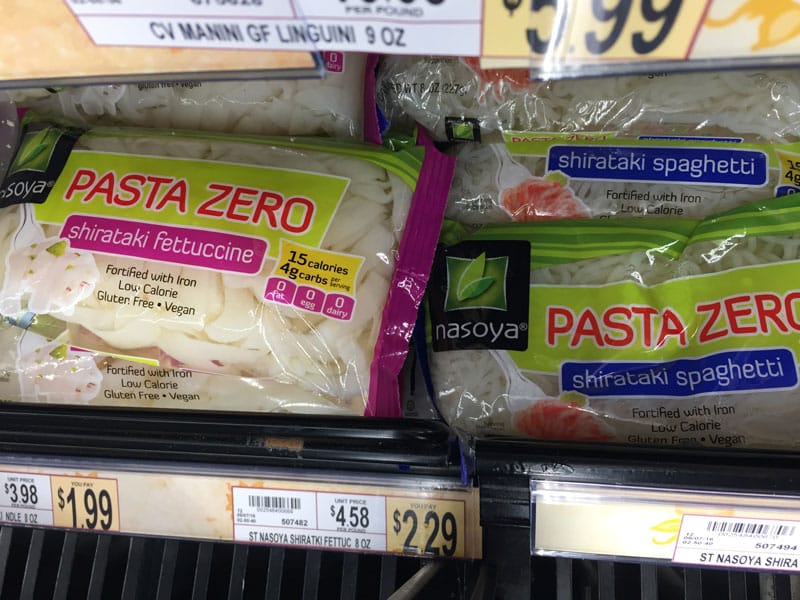 The same aisle in the supermarket also has other soy and related products. You won't find shirataki noodles at kosher supermarkets, but they're another cool item I sometimes pick up.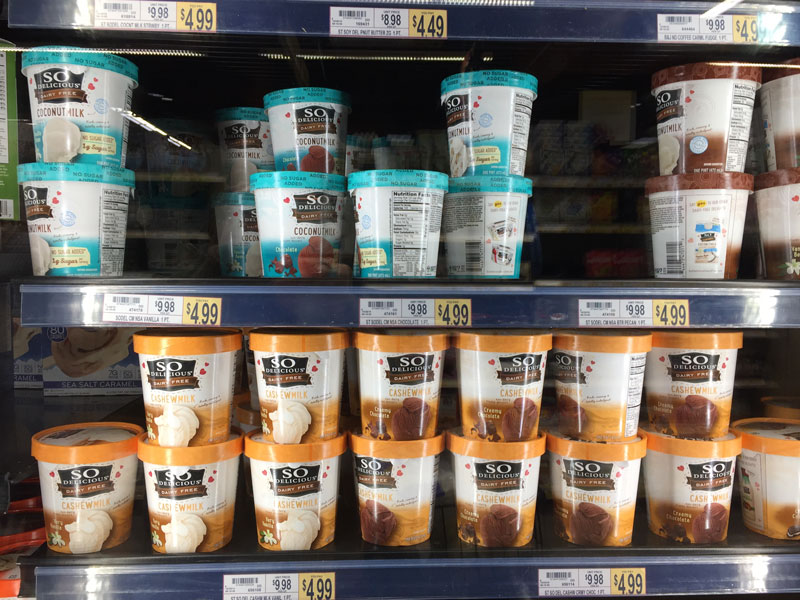 That same health food aisle also has lots of non-dairy ice cream options, and most of them are kosher certified.
Produce Like This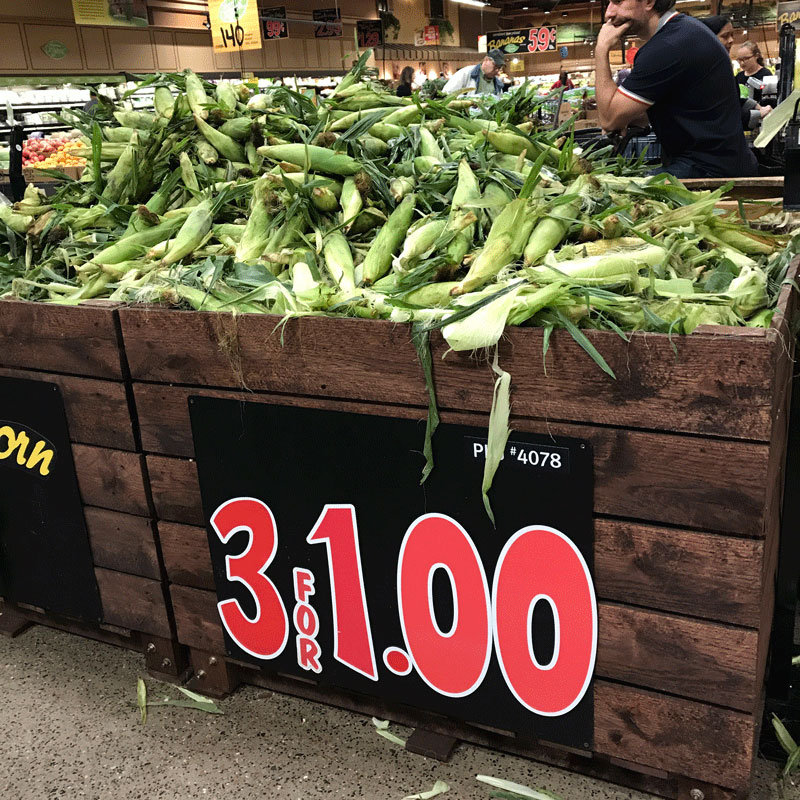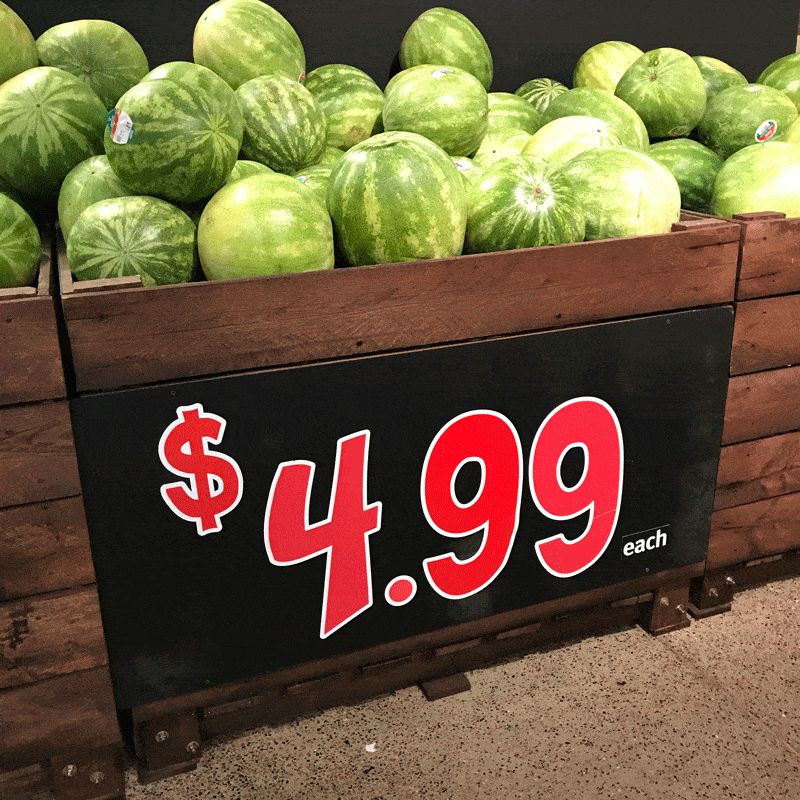 Mainstream markets really excel when it comes to in-season produce, which lots of it coming from local farms. (Out of season produce? Not as much. Pomegranates disappear at the end of January, while kosher supermarkets tend to carry them for longer.) All summer long, watermelons are $5 or $6. That can't be beat. I also like to buy my corn in the husk. Just like this. I take it home and cook it in the husk (see my cooking method in this post). For those who want to bring home their fresh corn husk-free, there are large garbage cans next to these bins to get rid of it in store.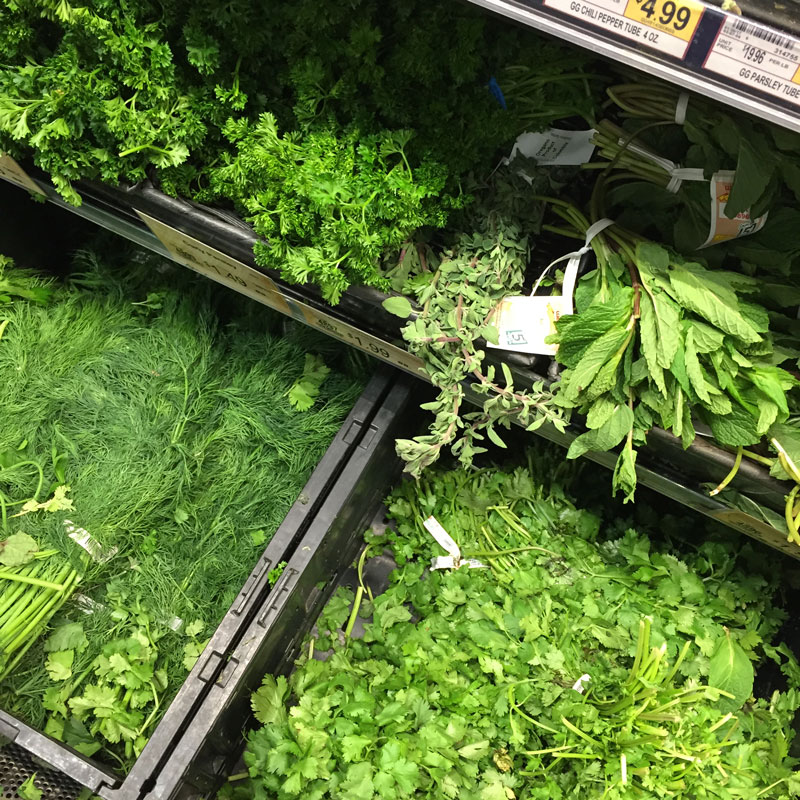 And those herbs? When I need herbs for actual consumption, I buy the insect-free versions at kosher supermarkets. When I need really pretty herbs for photoshoots, I buy these.
Healthy Snacks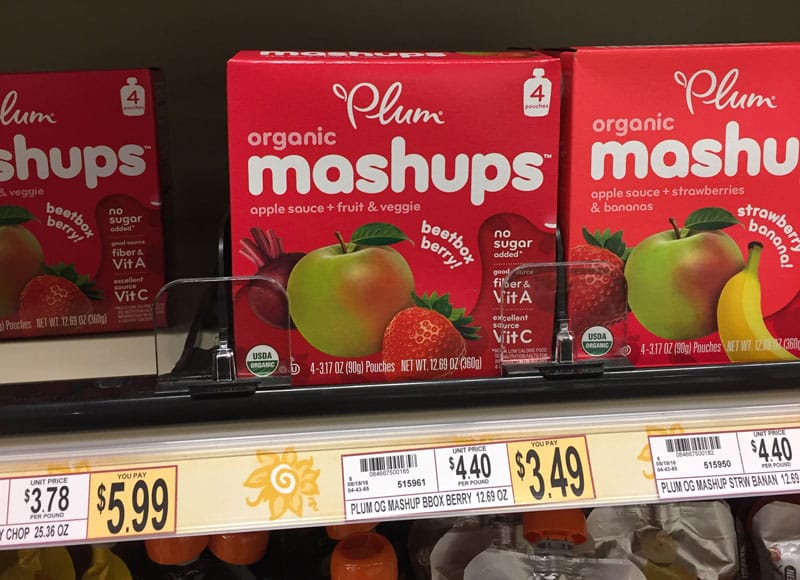 I've been seeing versions of these Mash Ups pop up in kosher supermarkets recently, though my kids have been enjoying these for years. I find lots of other "healthyish" types of snacks to supplement the "snack bag" stash here too. For more snack ideas, see this post.
Kitchen Products, Appliances, & Other Odd Items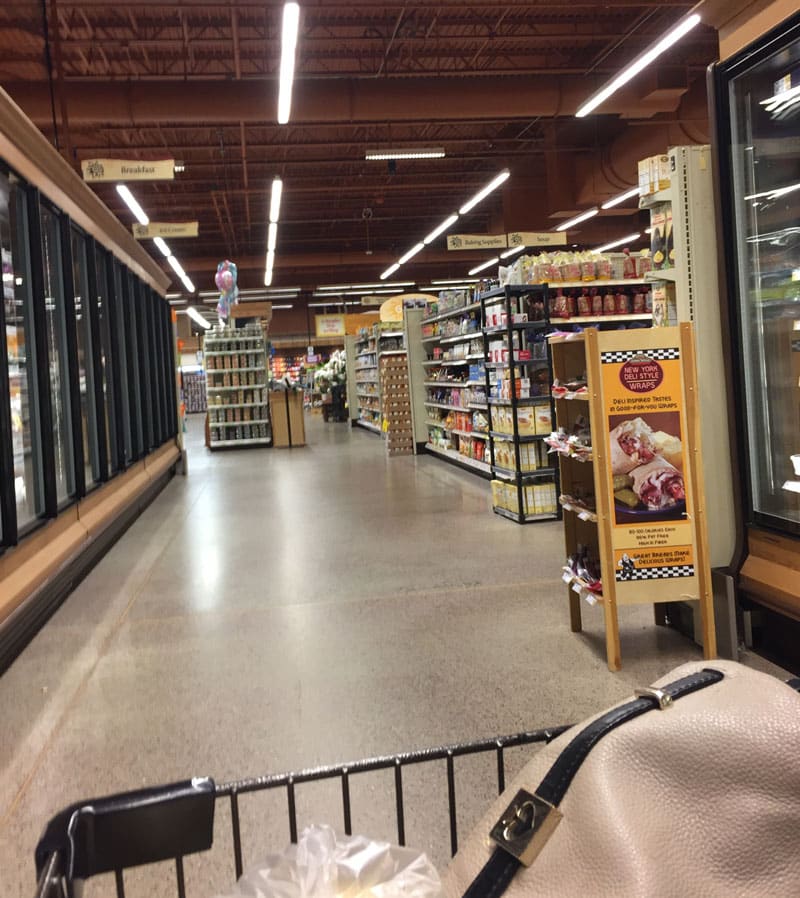 It's fun to shop for things that aren't food, and if I'm in need of a gadget, I don't need to make a special stop. Kids need a thermos for school? There's lots of selection. Need a new panini press? Throw it into the grocery budget. Sometimes I pick up cool props for photoshoots and I even bought the terrariums for my succulents at the supermarket.
What Else?
What else do I specifically buy at mainstream supermarkets? Diet Snapple is usually on anywhere between $5.99 (when on sale) to $9.99 (when not on sale) for a case of a dozen glass bottles (often it's somewhere in the middle). I also pick up my Ziploc storage containers like these.
And Lastly, Inspiration
When there are lots of non-kosher products around, it's a prime source for ideas…what would I like to make in a kosher version?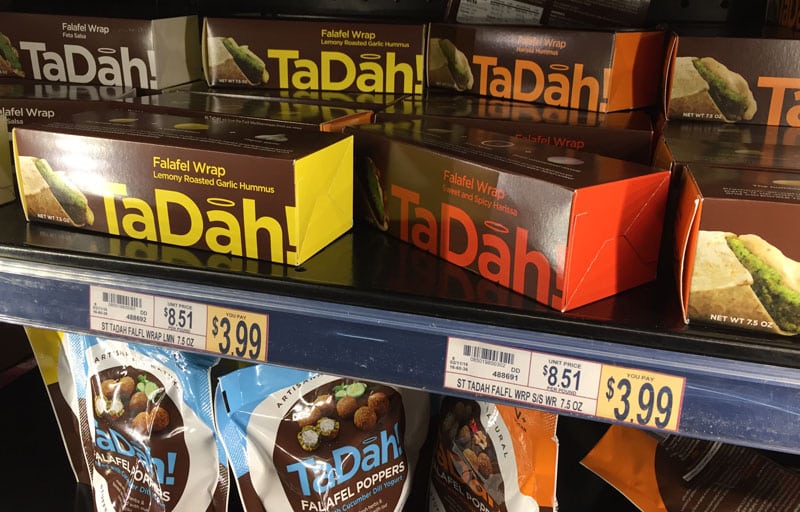 Aren't these falafel wraps a good idea? How about those falafel poppers below, with yogurt inside? I got the idea for the Rice Krispie Ice Cream Sandwiches in Kids Cooking Made Easy after spotting an ice cream-stuffed Rice Krispie treats in the freezer aisle at Wegmans and they're still one of my favorite summertime treats.
What do you like to pick up at mainstream markets that you wish kosher supermarkets carried? Let us know here!
Want to know our favorites at Target? Click here.