Should you buy an Instant Pot? Here's what to know (and what to cook) in this new appliance.
Instant pot. I'm sure you've heard a friend or two mention it at a simcha or event; with the details of how she prepared dinner in 20 minutes, and even used frozen chicken out of her freezer to create the magic! But let me tell you, it ain't so magical at all…
Being a foodie, I was all hyped up when I saw this amazing gadget.
The Instant Pot hit the U.S. market in 2016 and sold over 200,000 units in Amazon in one day. It cooks foods that usually take longer super quick (even if they're frozen). If soft and tender is the goal, the Instant Pot is supposed to do the job perfectly. It's similar to a pressure cooker, but has a wider range of functions and can cook in a safer, more controlled atmosphere.

Spicy Italian Meatballs
Ingredients
Meatballs:
1 ½ pounds ground beef
2 tablespoons dried oregano
1 tablespoon Italian seasoning
1 tablespoon garlic powder
1 tablespoon onion powder
2 tablespoons ketchup
1 tablespoon mustard
1 egg
Sauce:
30 ounces Tomato sauce
15 ounces Tomato juice
3 cups water, divided
¼ cup ketchup
2 tablespoons dried oregano
1 tablespoon basil
1 teaspoon smoked paprika
2 tablespoons sugar, or substitute
2 tablespoons garlic powder
2 tablespoons onion powder
1 teaspoon kosher salt
1 teaspoon black pepper
4 ounces raw spaghetti noodles
Instructions
Mix meatball mixture and form into balls.
Combine sauce ingredients. Pour half of the sauce into your Instant Pot. Place formed meatballs on top. Pour remaining sauce on top.
Add noodles with remaining water. If the noodles aren't fully covered, add more water.
Press the manual button and set the timer for 10 minutes. Release pressure. Mix before serving.
I added it to my Chanukah gift wish list and was overjoyed when it arrived. The first
dish I made in
my Instant Pot
was cholent, and I used the slow cooker mode. Unfortunately, the Instant Pot doesn't work the same as your Crock-Pot.
My second dish was an amazing chicken dish, and I used frozen cutlets. Dinner was ready in half an hour and I couldn't be happier. But when I opened the lid, I realized the chicken had fallen apart and my fussy kids did not want it. The adults had shredded chicken on a bun and licked the plate clean.
I wasn't planning to quit so fast, so I did my research and found that meatballs and spaghetti is usually a winner in every household. I tried the recipe above and was overjoyed when my entire family gave me great reviews.
As you can see, it takes trial and error to learn what cooks well in the Instant Pot. Not all your family favorites can be prepared in one. Before rushing out and getting one, I'll share my own experience and the pros and cons.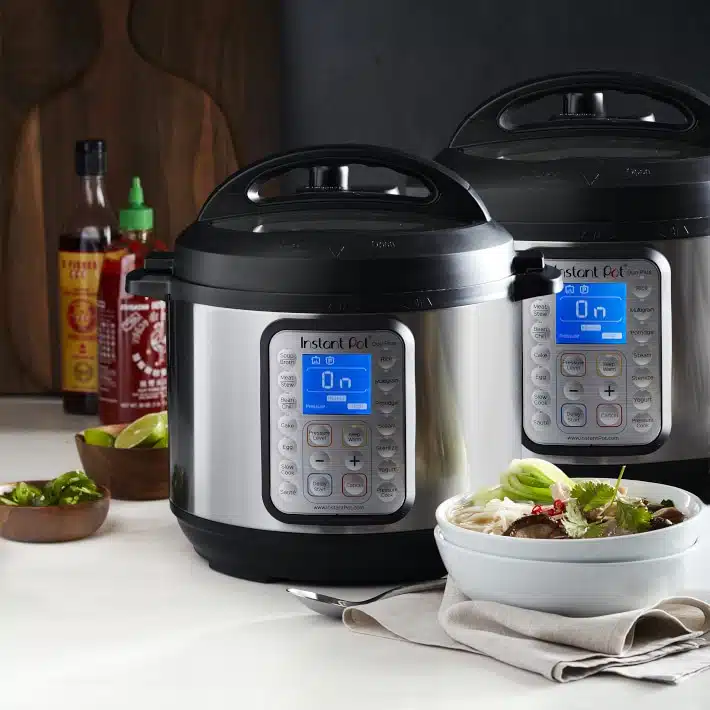 PRO:
Dinner can be made in less than 30 minutes.
You can use frozen cutlets or chicken and still have dinner ready in an hour.
If your family enjoys meat sauce, spaghetti and meatballs, chicken soup, or stews, this product might be for you.
You can use the outside base for dairy and meat, and just replace the lid and bowl (ask your LOR, but most allow it).
It's great for working people. You set the timer and forget about dinner. Once the timer goes off, the setting switches to warm.
CONS:
Most dishes get mushed up and shredded so if you have picky eaters you might not enjoy this gadget.
The lid is not dishwasher safe and is not easy to clean. The silicone ring gets a smell that's hard to get rid of. You'll need to replace it every few months.
The lid beeps every time you open and close it (only the latest models) so you can't use it Shabbos.
It is a big appliance, so if you don't have extra space you'd consider it a klutz.
I hope these tips will help you decide if the product is worth for you.
To buy the instant pot click
here
.
Correction April 12: This post originally stated that lid gets a smell. It was the silicone ring.