Make dairy night super special with Sweet Pea Basil Soup
The frigid weather is just about here…but it can't arrive until you've stocked up your repertoire with some good soup recipes. I find soup to be the perfect first course. It's warm, filling, comforting, and best of all, easy to put together. This sweet-pea basil soup is a fresh take on your typical pea soup, updating it with the refreshing flavors of Italy, including fresh basil and fresh mozzarella cheese.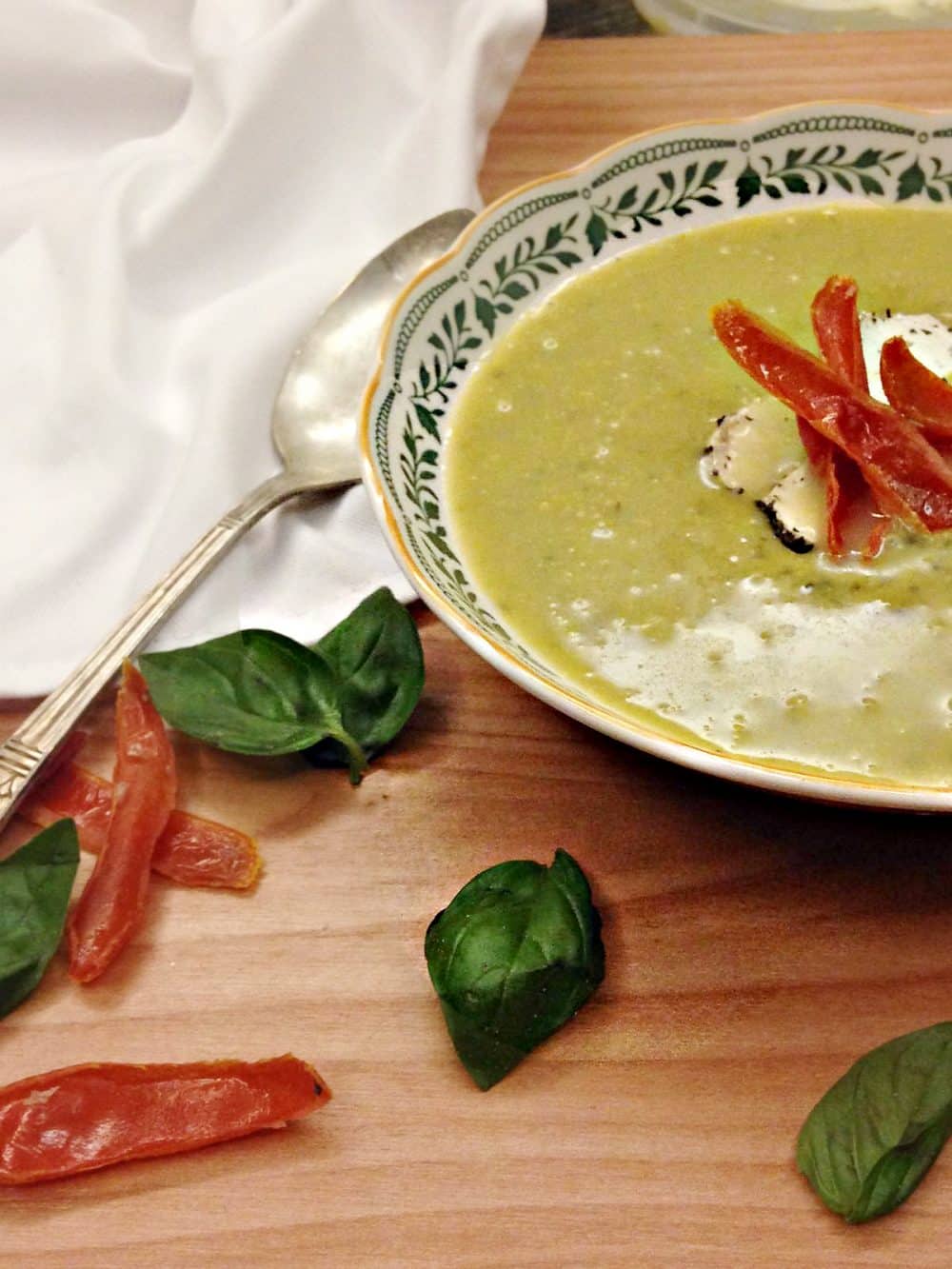 Dairy Sweet Pea Basil Soup
Ingredients
Soup:
1 cup chopped shallots
1 tablespoon extra virgin olive oil
2 tablespoons butter
3 garlic cloves, minced
1½ teaspoons salt
freshly ground black pepper
1½ pounds (24 oz) frozen sweet peas
¾ cup chopped fresh basil leaves
2 cups non-chicken broth/vegetable broth
½ cup white wine
2 cups heavy cream
Fresh mozzarella cheese, thinly sliced
Fried Tomato Skins:
2 large tomatoes, skinned
Flour
Olive oil
Salt
Instructions
Place a soup pot over medium heat. Add olive oil, butter, shallots, garlic, and pepper. Cook until the onions are soft and translucent, about 5 minutes.
Soup:
Add peas and basil, and saute until the peas are thawed. Add broth and wine; let cook for 20 minutes over medium heat. Remove from heat and puree using a hand blender, then slowly stir in the heavy cream. Return the pot to medium heat and cook until hot.
To serve, place the soup in bowls. Add a slice of fresh mozzarella cheese on top of each soup and garnish with fried tomato skins. (see recipe below).
Fried Tomato Skins:
Dredge skins in flour.
Heat oil in a pan over medium heat. Add tomato skins and pan fry the skins until crispy. Drain on paper towels and enjoy as a crispy garnish on top of your soup.
p.s.
Did you try Susie Fishbein's favorites yet?