No-fuss delicious chicken and potato dinners like these simply make life easier. If it wasn't for the amazing aroma, your kitchen wouldn't even know that you cooked a thing.
This chicken recipe might be basic. But don't let that fool you.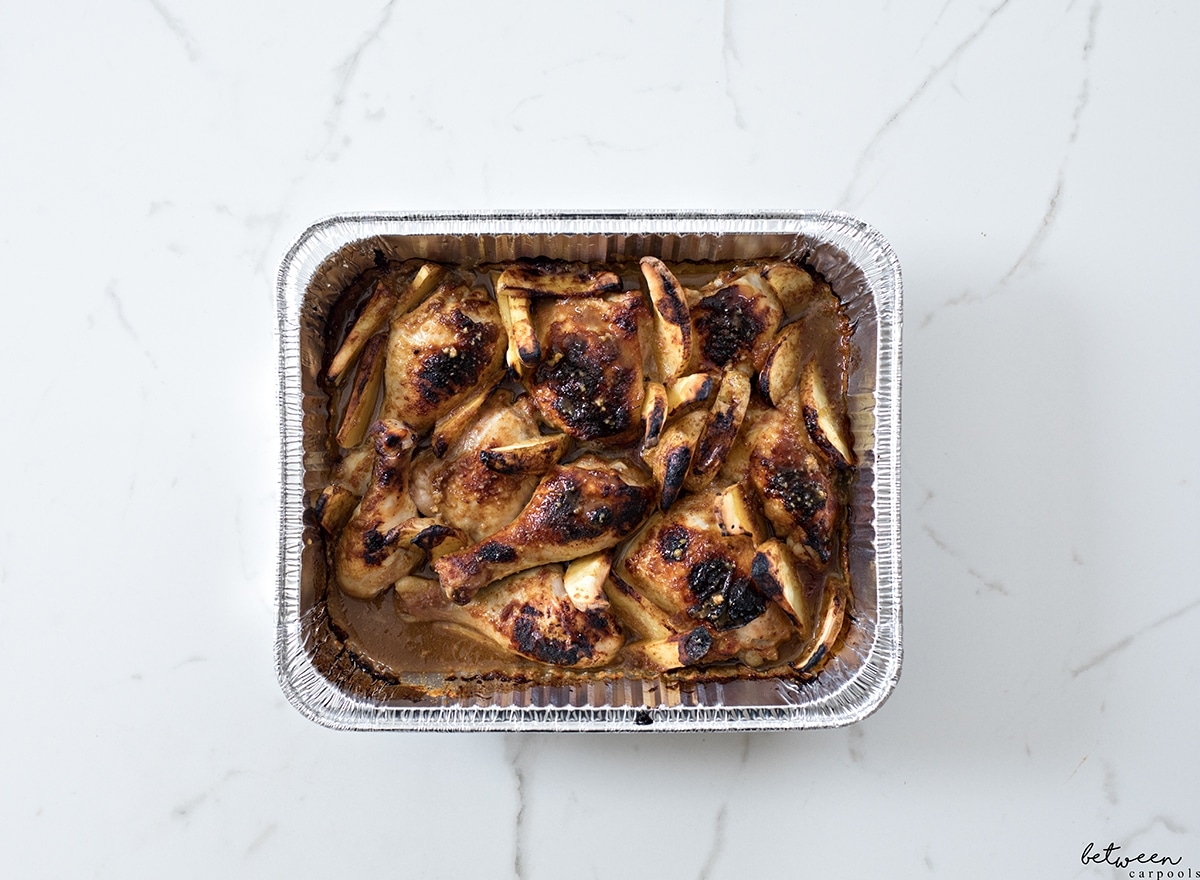 This is the one chicken-on-the-bone recipe that my entire family will agree upon. It's comfort food, with a twist of umami. And, best of all, it's ready in just over an hour. In a 9×13 pan.
Garlic Chicken and Potatoes in a 9 x 13
Ingredients
4 chicken bottoms or 1 whole chicken cut into eighths
4 yellow or red potatoes scrubbed and thinly sliced (almost like fries)
1 tray (16 or 20 cubes depending on brand) frozen cubes garlic (the entire tray, yes!)
¼ cup honey
¼ cup mustard (any, but I like to use Spicy Brown)
¼ cup soy sauce
Instructions
Preheat oven to 375⁰F. If your oven has a roast setting, use it.
Arrange the chicken and potatoes in the 9x13 pan. The secret here is to make sure the potatoes are sliced thin, so that they bake through.
Pop out all the garlic cubes into a small bowl. Add the honey, mustard and soy sauce. Mix until well combined and no garlic cubes are visible (you might need to wait a few minutes for them to defrost).
Pour over and make sure it covers as much as possible. Use a spoon to coat every piece.
Cover and bake for 30 minutes. Uncover and continue baking for another 45 min to an hour, depending on your oven. Once uncovered you will need to baste the chicken every 20 minutes or so. Your chicken is ready when it will appear nicely browned, almost dark. And when your house smells incredibly delicious.

Disclaimer: While 9×13 pans are a great convenient option, all of the recipes featured in this series can also be made in a non-disposable (i.e. glass, ceramic, or metal) baking pan (cooking/baking times may be a little shorter).