A wow presentation and the flexibility guests love (take as much or as little as you like!). This is the winning side of salmon dish.

People can't seem to agree. Is it better/nicer to serve buffet style so that everyone can choose what they like, or is it better to plate each person's plate individually. Personally, as a guest, while I prefer to be able to take doubles or chose my own food, there is something beautiful about plated plates.
While this recipe will work really nicely on slices of salmon fillet, there is something "wow" about serving the entire side of salmon. You can ask your fishmonger (just a fancy name for the man behind the fish counter at your local supermarket) to give you a full side of fillet salmon. It's usually cheaper than fillets.You can ask them to trim both ends so that the whole side fits into your baking sheet and platter. Don't waste those ends; bake them for yourself for lunch!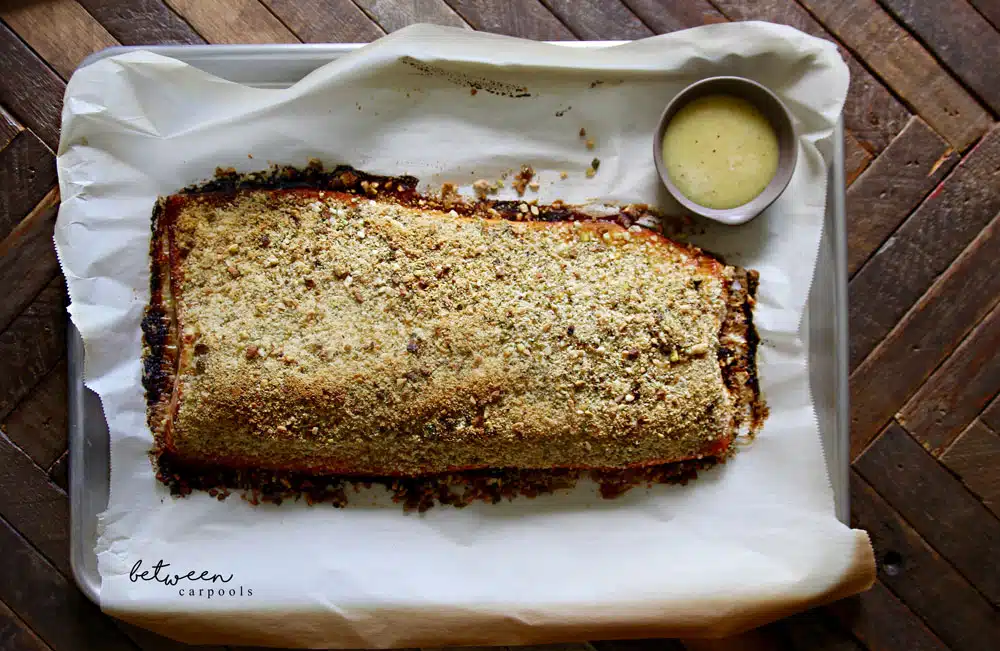 While I wrote that this serves 10-12 servings, when serving buffet-style with a lot of food options, you can figure this serves closer to 20, as when there are plenty of choices, not everyone will take a complete full slice.

Side of Salmon
Ingredients
1 side of salmon (about 14-18 inches long)
lemon juice
Fish Marinade:
¼ cup lemon juice
1½ tablespoons mustard
½ clove garlic
1½ teaspoons honey
1½ teaspoons olive oil
Crumbs:
1 cup breadcrumbs
1 clove garlic
½ bunch fresh parsley
½ teaspoon salt
dash black pepper
¼ cup almonds
¼ cup pistachios
(or any combination of nuts totalling ½ cup)
Dressing:
¼ cup oil
¼ cup honey
2 tablespoons vinegar
½ teaspoon vinegar
½ teaspoon salt
1 garlic clove
dash black pepper
Instructions
Preheat oven to 425ºF.
Soak salmon in lemon juice for 10 minutes. Wash with cold water. Pat dry and place on a baking sheet lined with parchment paper.
Combine all marinade ingredients. Pour over salmon.
Combine all crumb ingredients in a food processor. Blend until just combined. Crumbs can be prepared in advance and frozen until needed. Any leftover crumbs can also be frozen and used on individual slices of salmon. Top salmon with a generous layer of crumbs.
Bake for 30-40 minutes. After 10 minutes, place a loose piece of aluminum foil over the fish so that the crumbs don't burn.
Prepare the dressing. Blend all ingredients together using an immersion blender or food processor.
Serve fish on a platter at room temperature with dressing on the side.
Like one-pan dishes? Try Kim's One Pan Chicken recipe.