It's not easy to choose a gift for him or her! Find inspiration here in our latest roundup.
For More Gift Ideas, see these posts:
2021 Chanukah Gift Guide
11 Gifts Any Host Would Appreciate
2020 Chanukah Gift Guide for Men & Women
2019 Chanukah Gift Guide for Men & Women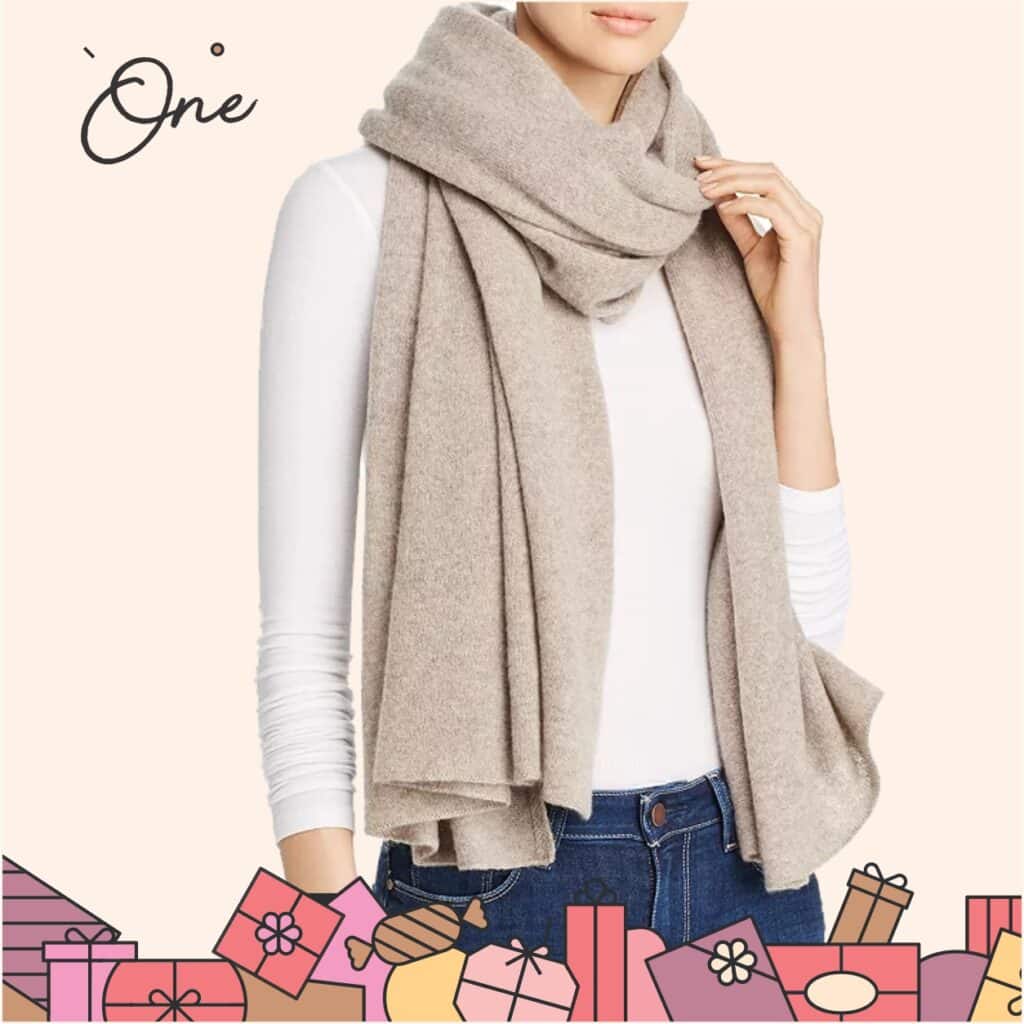 Cashmere Travel Wrap
Cozy like a sweatshirt, yet completely elegant. One of us received this as a gift and we just love. It's luxe and practical at the same time and it will get more use than you could ever believe! This version is slightly smaller but there are more neutral colors available.
---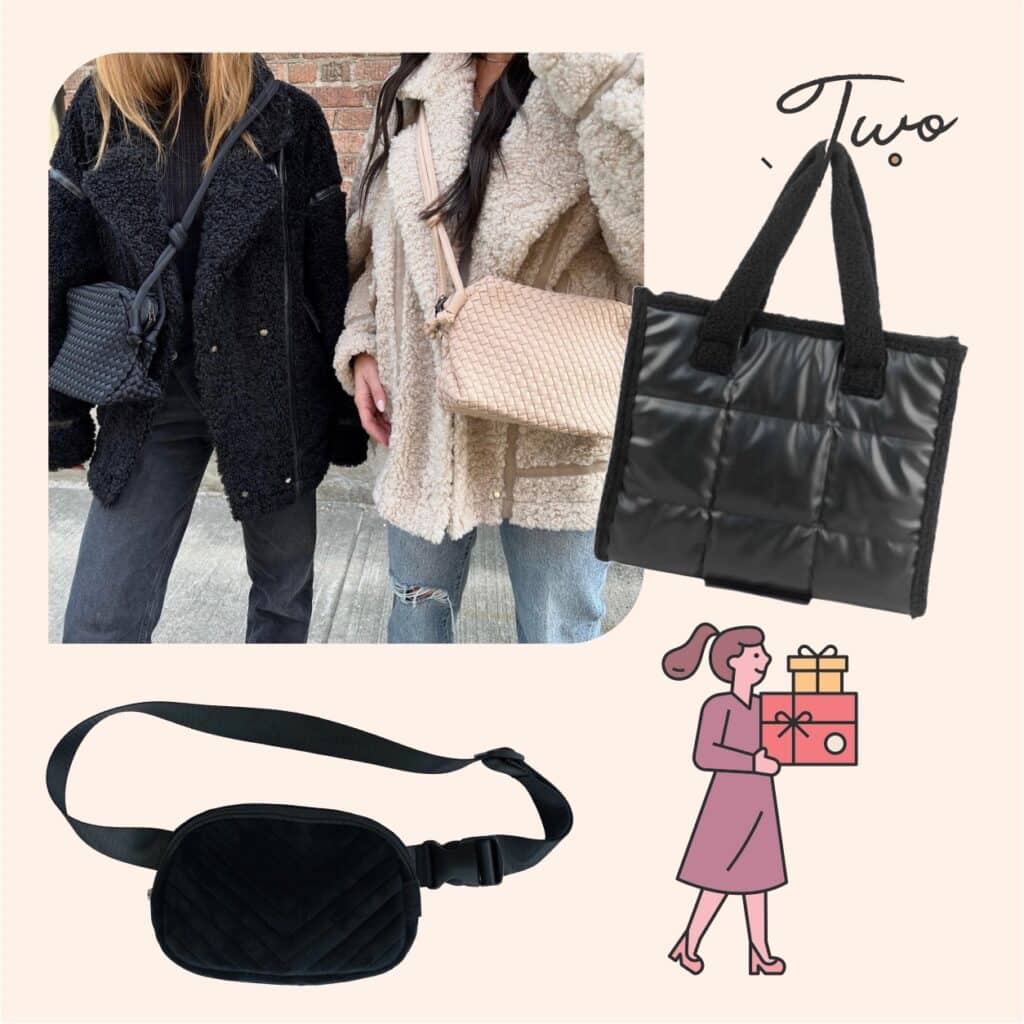 Bag & Bougie
Love these bags! Bag & Bougie has two new products that you'll love. The Bag & Bougie Puffer Tote is durable and ultra-versatile (we think it's the perfect mommy bag!), with lots of room for all your everyday essentials. It's made with buttery soft faux leather and faux shearling lining on the sides and double straps. Need a smaller bag? Mini Woven Crossbody is also super stylish and practical. It easily goes from day to evening and includes a secure zippered inner pocket.
(Psst…we also love this velvet belt bag for your teens.) Bag and Bougie can be found on Instagram at @bagandbougieto or on their website at www.bagandbougie.com.
---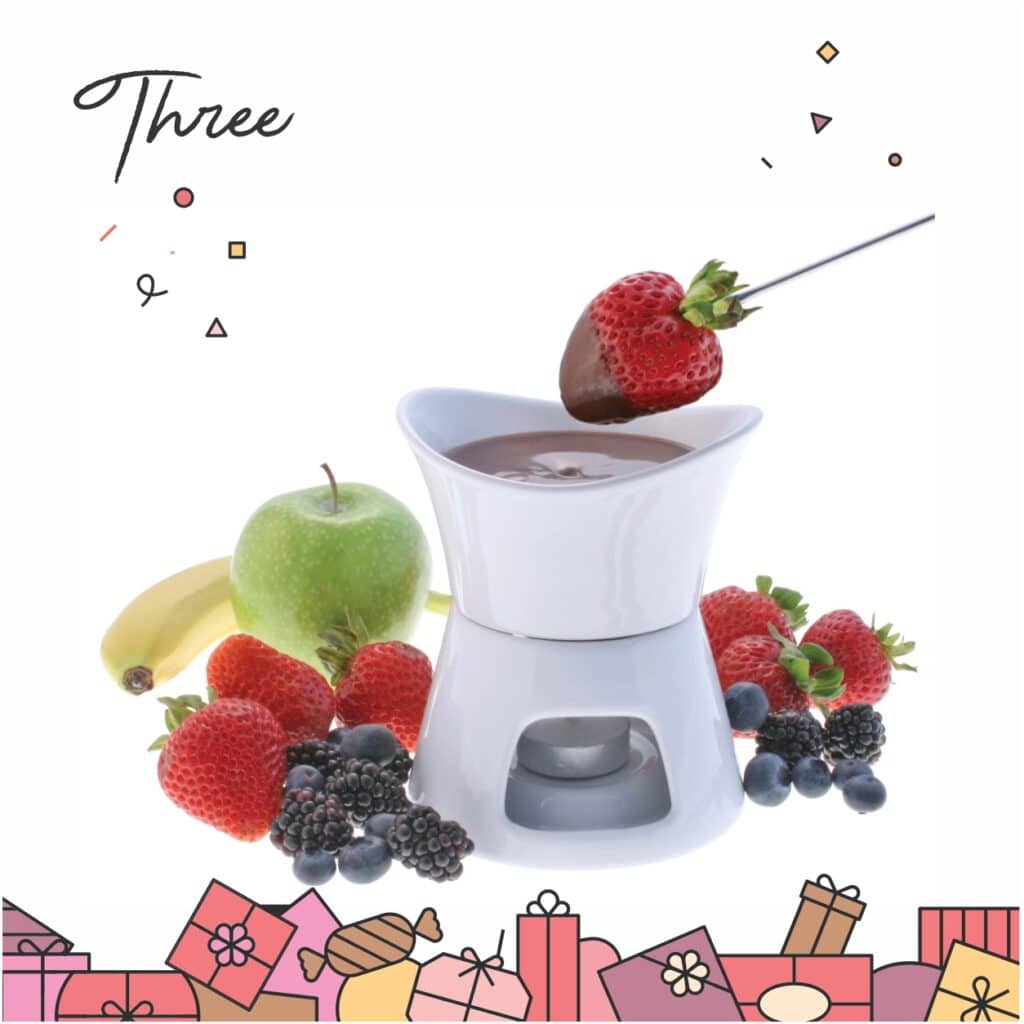 Fondue Set – $15
Party fun! You don't need to worry about dessert when each guest has their own personal chocolate-filled mug for dipping (no worries about double dipping either). The Peppermill also carries all the items you need for your Chanukah baking and treat making (from chocolate lollipop molds to the most delicious donut fillings!) The Chanukah-themed sugar decorations are also perfect for those cookie cakes. For cookie cake instructions, see this post.
---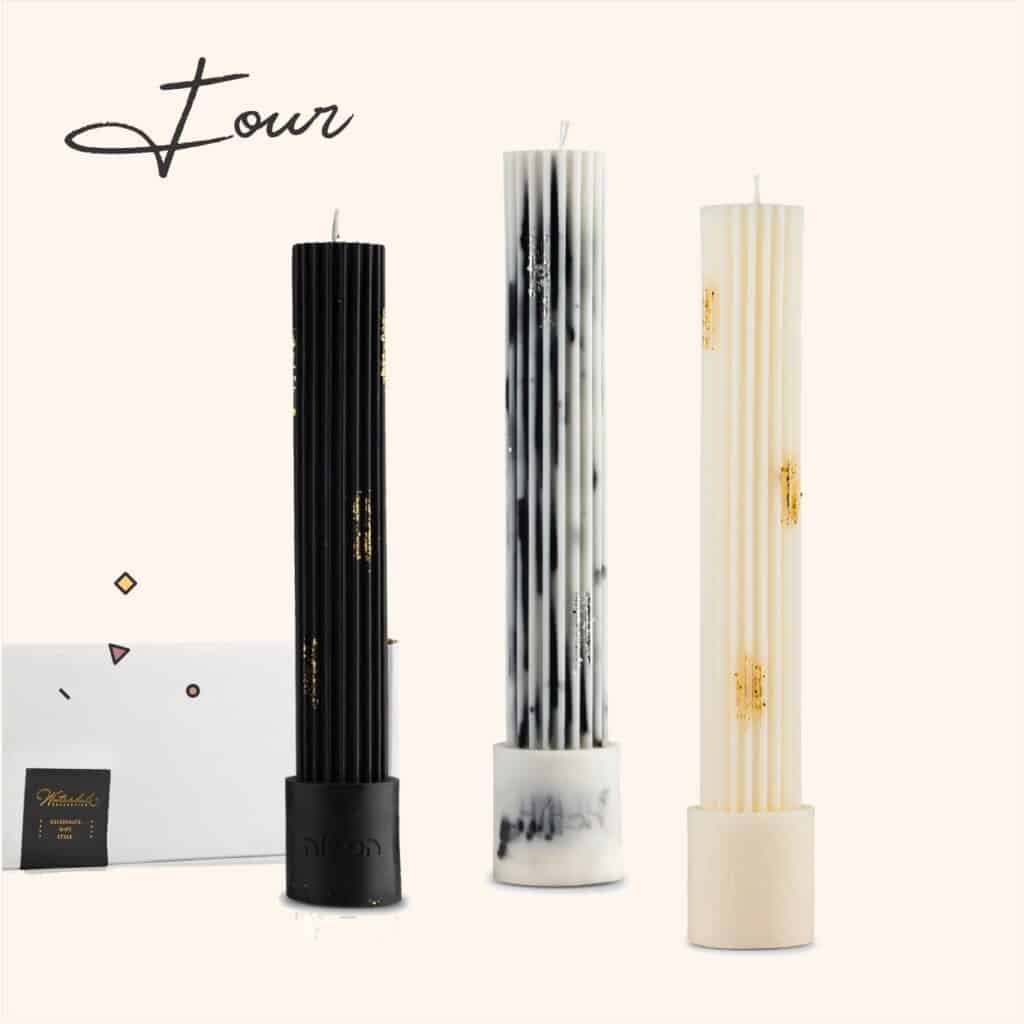 Ribbed Havdalah Candle – $36
We love this new havdalah candle from Waterdale! It's so pretty and so sleek, and we're looking forward to gifting it (and perhaps include one for ourselves). Comes in black, white, and marble with discounts available for bulk gifting. You'll want to make this havdalah candle last extra long with the tips in this post.
---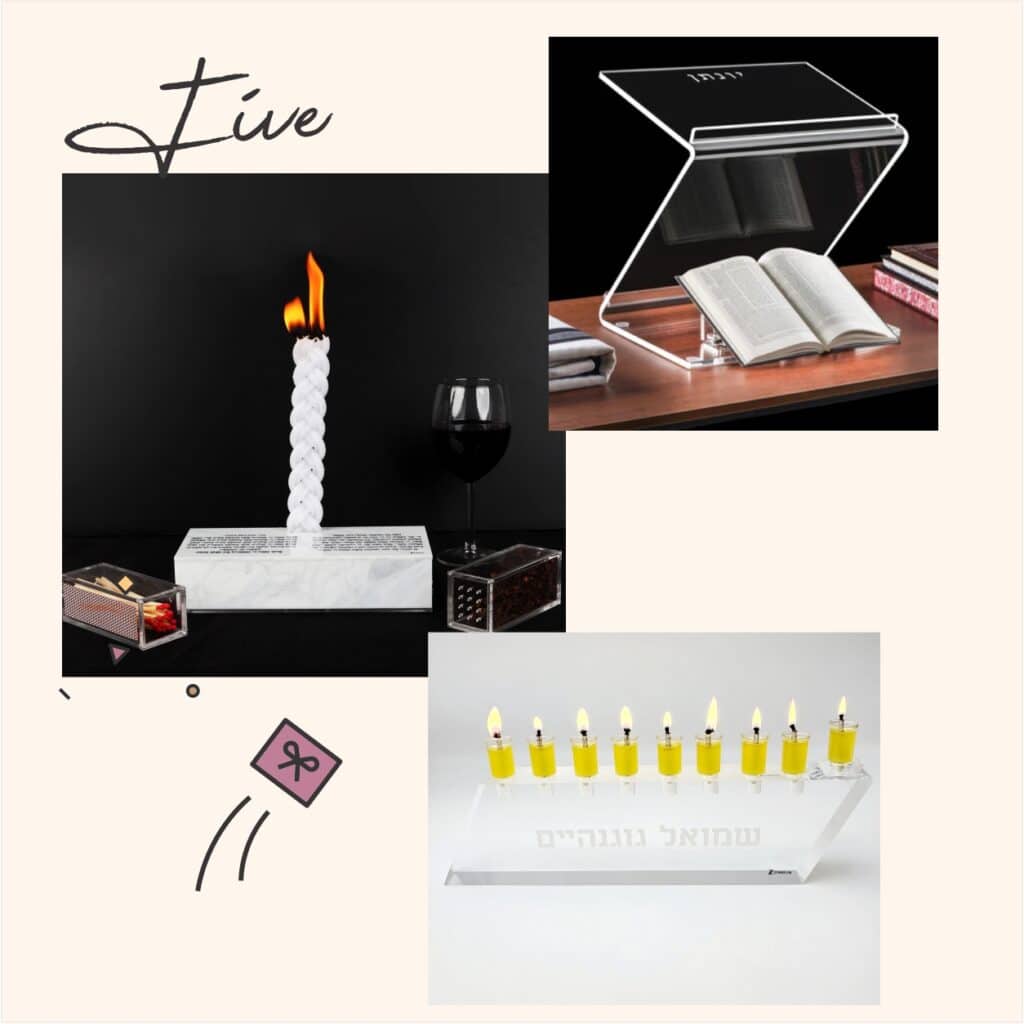 4-in-1 Havdalah Box & Personalized Lucite Menorahs – $95
When we first introduced you to ZStander products in the 2020 Gift Guide, the Lucite Shtender was one of the most popular gifts that year (especially since it suits an especially hard to gift teen boys-and-men demographic). ZStander's newest item is a 4-in-1 Havdalah Box which includes text and candle holder, besomim box, matches box, and 2 candles, all in customizable lucite storage boxes. The new lucite menorah is also beautiful and customizable. Use code BCP10 for either these items or any of the other personalized gifts available at ZStander.
---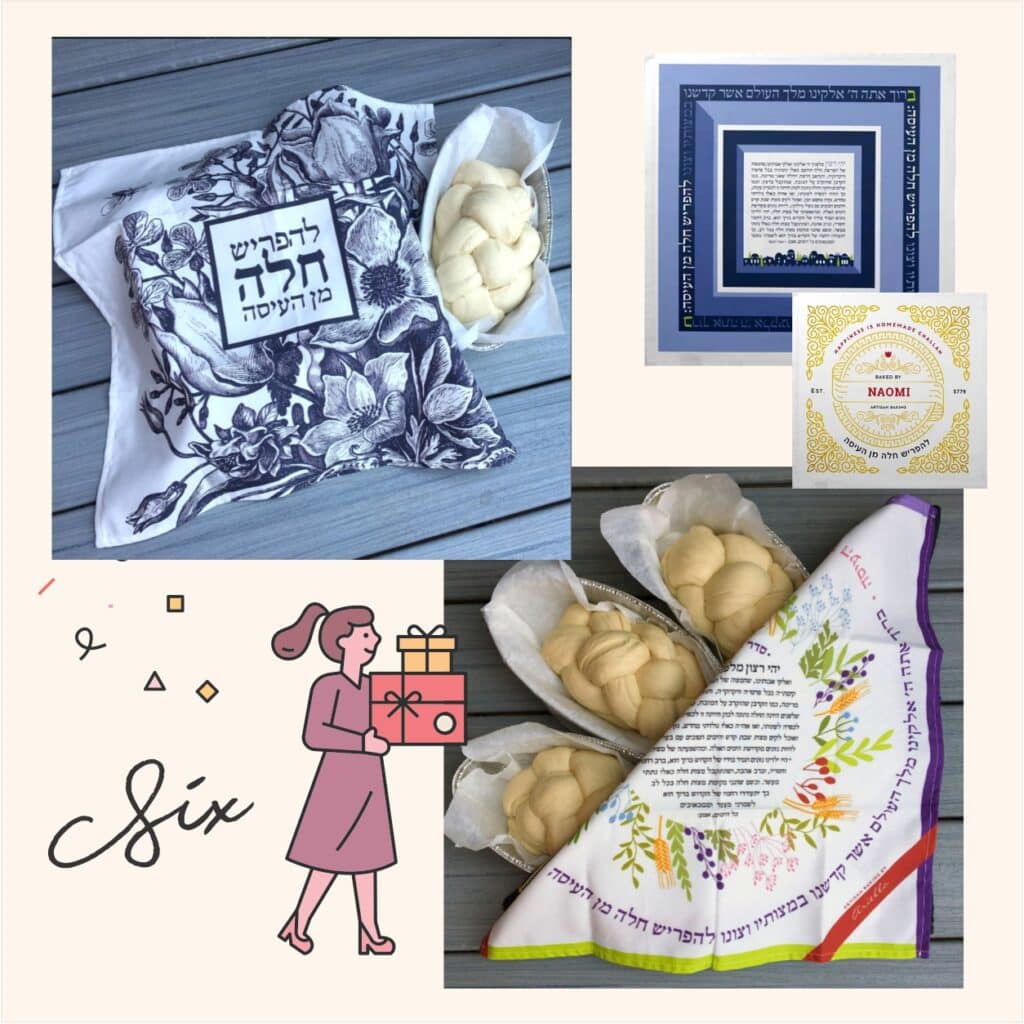 Best Dressed Bread Covers -$16
For the avid challah baker in your family. Practical and beautiful, Best Dressed's bread cover cover your challah dough while it's rising. Best Dressed Bread Covers were created to beautify the mitzvah of baking challah, by covering your dough with something beautiful rather than any ol' dish towel. Discover many, many more designs on their website: www.bestdressedbread.com
Wholesale orders welcome. Plan ahead for Chanukah delivery (personalization takes time!) Special request or inquiries please email: bestdressedbread@gmail.com
---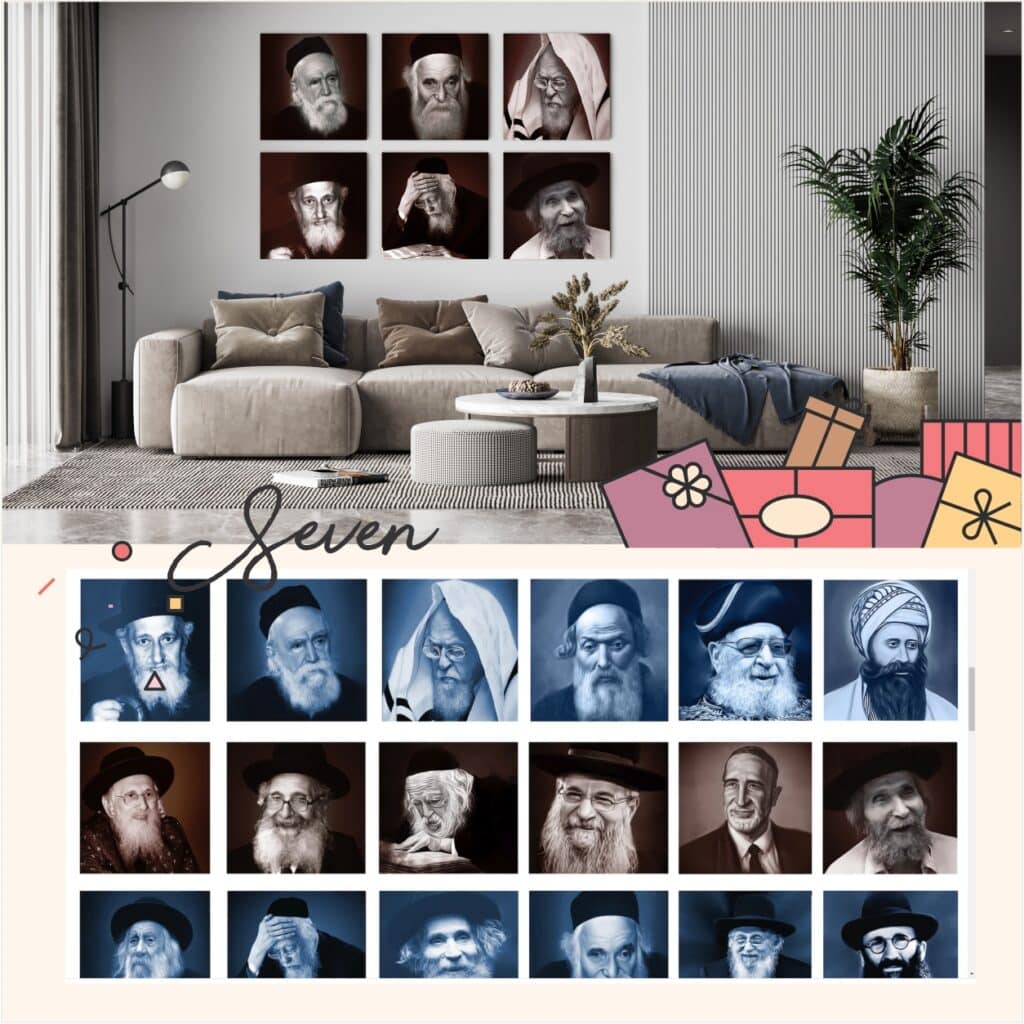 Elevate Your Walls
These are just beautiful, and it's exactly what they'll want on their walls. Gorgeous, modern acrylic Gedolim pictures will bring meaning and inspiration to your space. They're also fully customizable and available in different sizes. Choose from black and white, sepia, or a gorgeous blue tint, or customize your own colorway to perfectly complement your decor.
See more at www.Elevateyourwalls.com. Shipping is complimentary on 3 or more. Elevate your walls can also custom make any size or include artwork of your loved ones. You can also read more about Elevate Your Walls on this post!
---
Judaica Fine Art
Judaica Fine Art is the source of original traditional art by renowned artist Chava Roth. Yes, you can buy originals! But you can also enjoy art on your budget with prints available on many medias, including Canvas, Paper, Acrylic, & Hand Embellished (prints are also available in many sizes). View the gallery over here. Or, call 718-610-9381.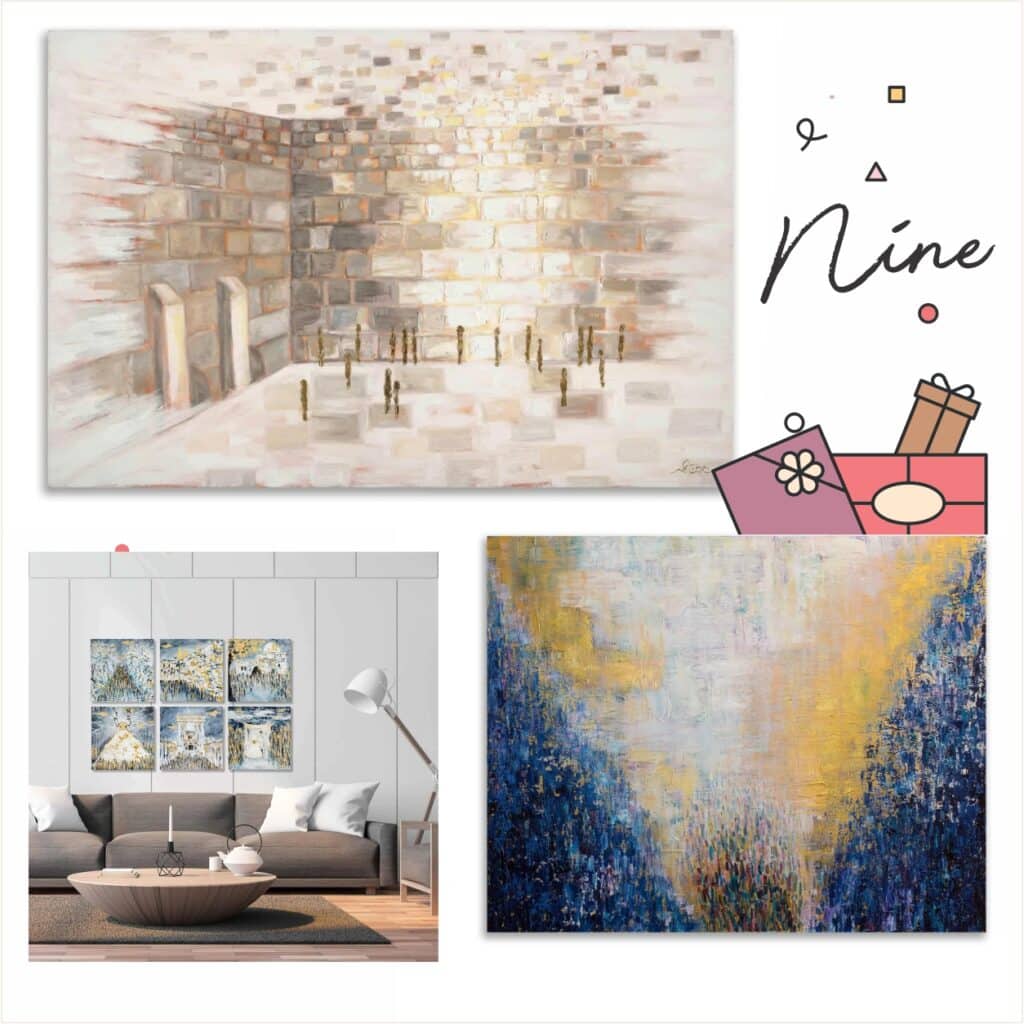 Acrylic Creations
The beautiful, perfectly giftable acrylic wall art from Acrylic Creations features prints on acrylic from renowned Jewish artists. Prints are available in a variety of sizes to suit your space–and a variety of materials, including acrylic, aluminum, or canvas. See the whole collection over here, and while you're there, see the art-inspired Chanukah gift items!
---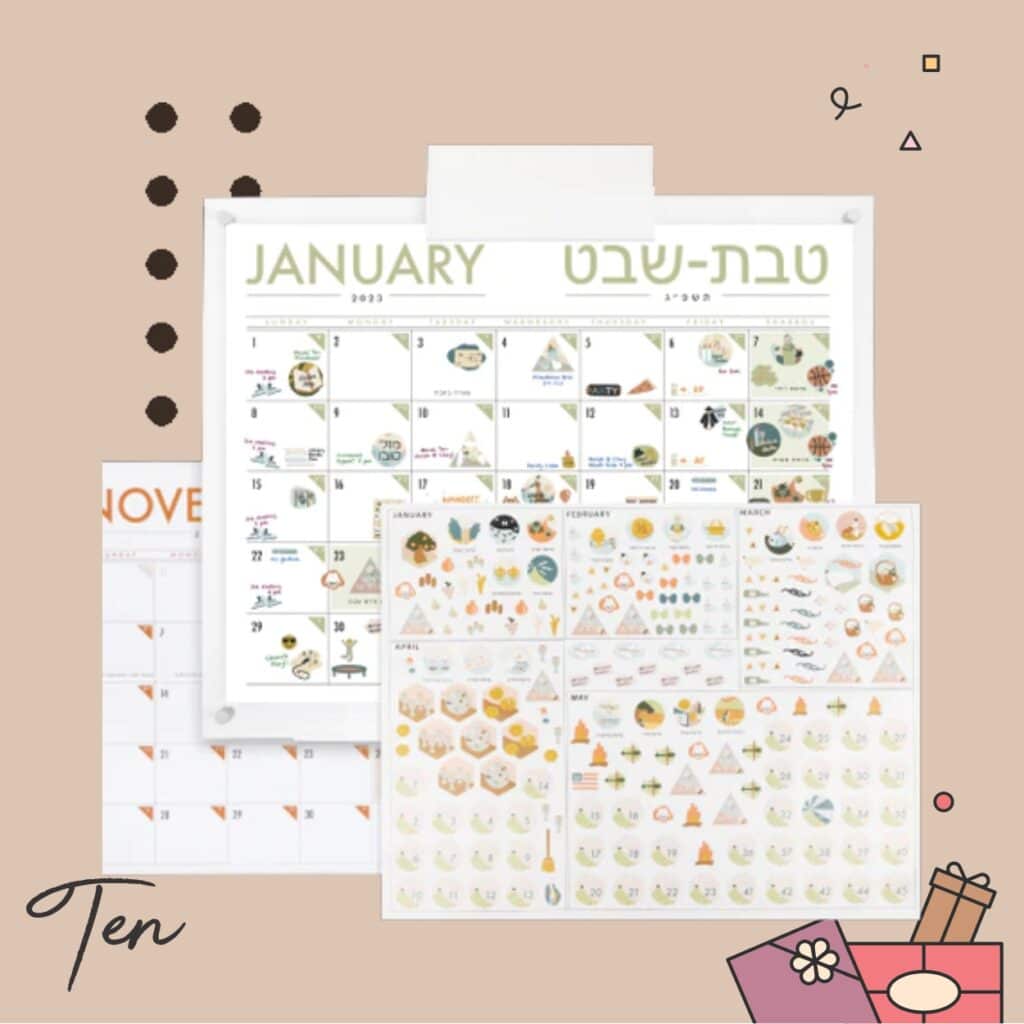 Dacor Calendar
"There's something so soothing, so steadying, about a wall calendar. It never moves; it's always there, organized, and waiting to prove to me that, no, my schedule isn't that overwhelming. " The Dacor Calendar is the calendar that makes all the days of our month so exciting for the whole family. Fill out the calendar with all the cute stickers in the beginning of the month. Learn about the value of time and look forward to life events (and don't be surprised by those appointments). We've been enjoying the creativity and ingenuity of the Dacor Calendar ever since it was first featured in this post. See more at https://dacorjudaica.com/ or Whatsapp
7326009258. Use coupon code BCP15 for 15% off.
---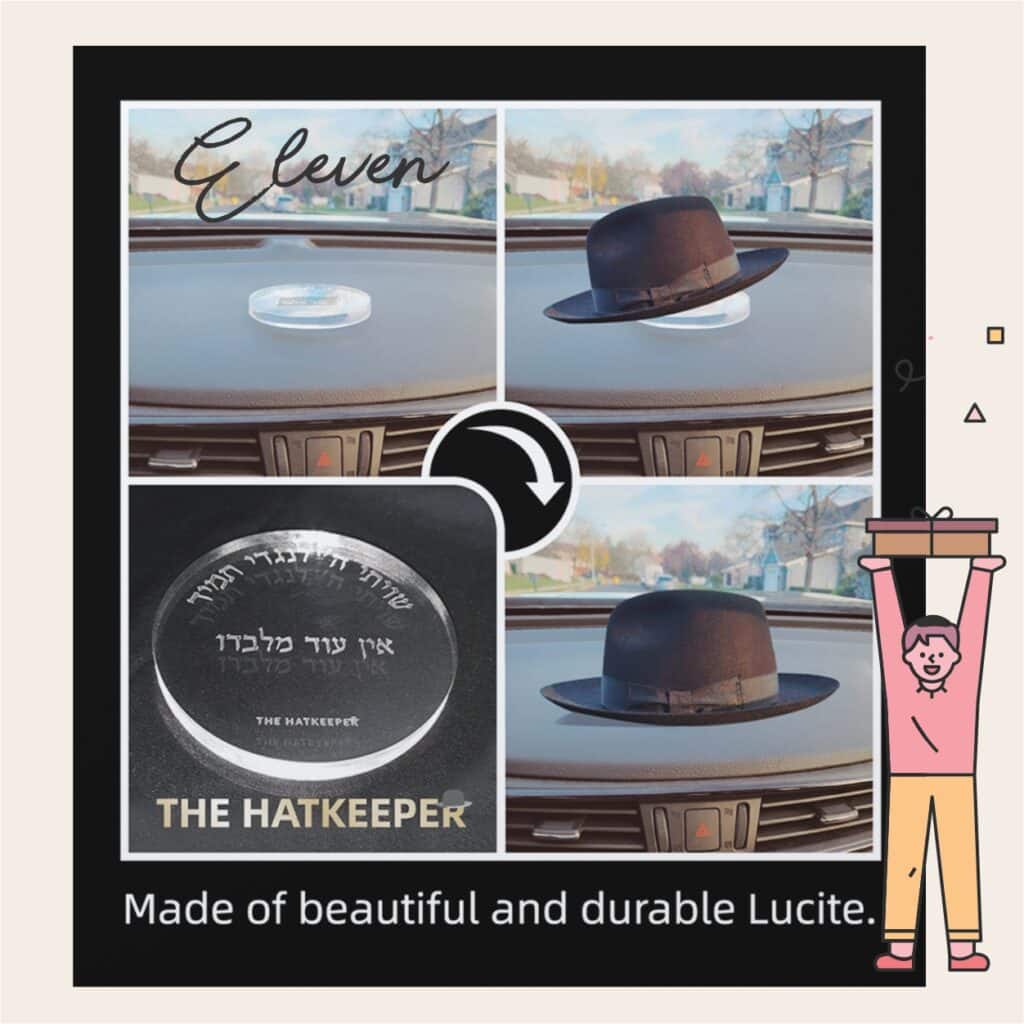 HatKeeper -$25
The Hatkeeper is an engraved lucite disk that sits on the dashboard of a car and holds a hat in place! It might look small, but for anyone who ever had a squished hat (or always has a seat occupied by a hat), this is a game changer! It's the perfect, practical gift for any man who wears a hat. Can also be personalized with a name or engraving of your choice! For text/call inquiries, contact 732-779-7185 or visit thehatkeeper.square.site.
---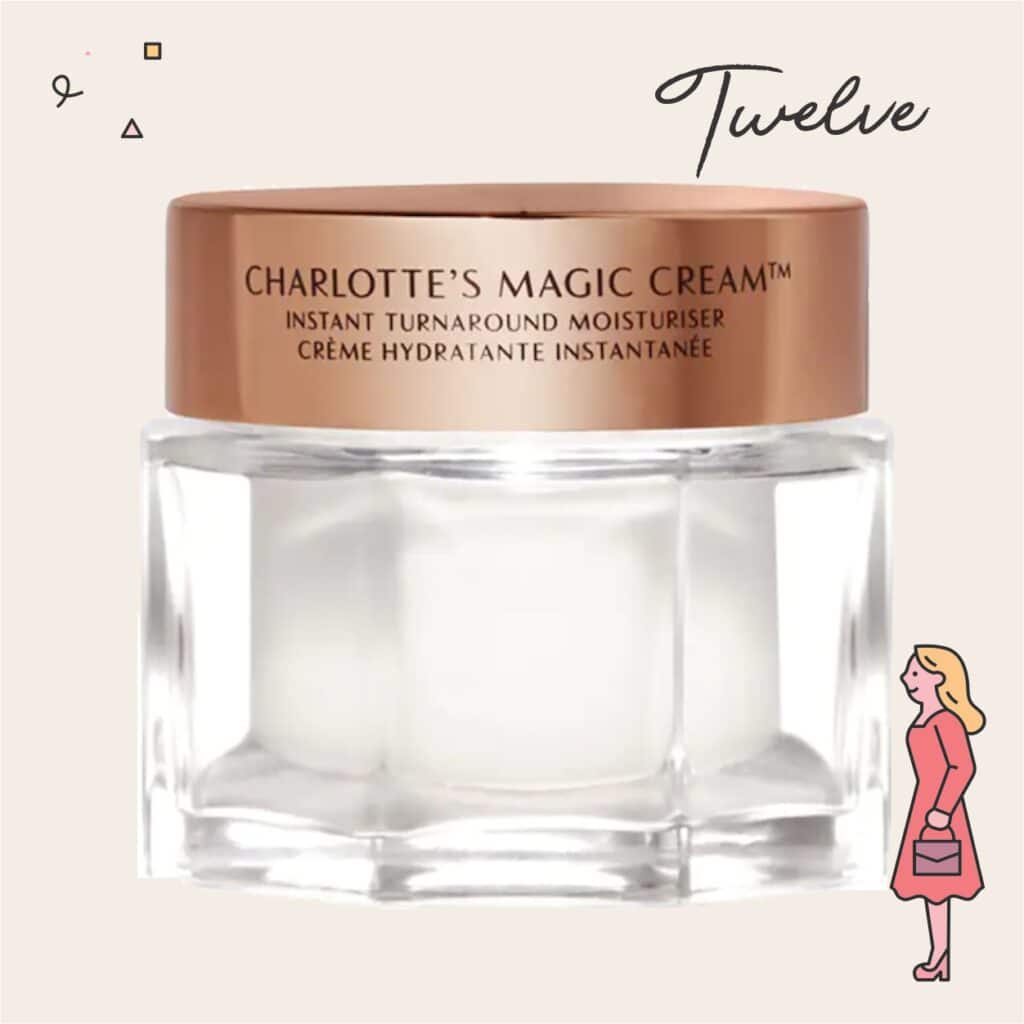 Charlotte Magic Cream $100
A makeup artist favorite, giftable because it comes in a beautiful container. This age-defying moisturizer diminishes the look of wrinkles, leaving your complexion visibly glowing and prepped for flawless makeup. It's luxe and magical.
---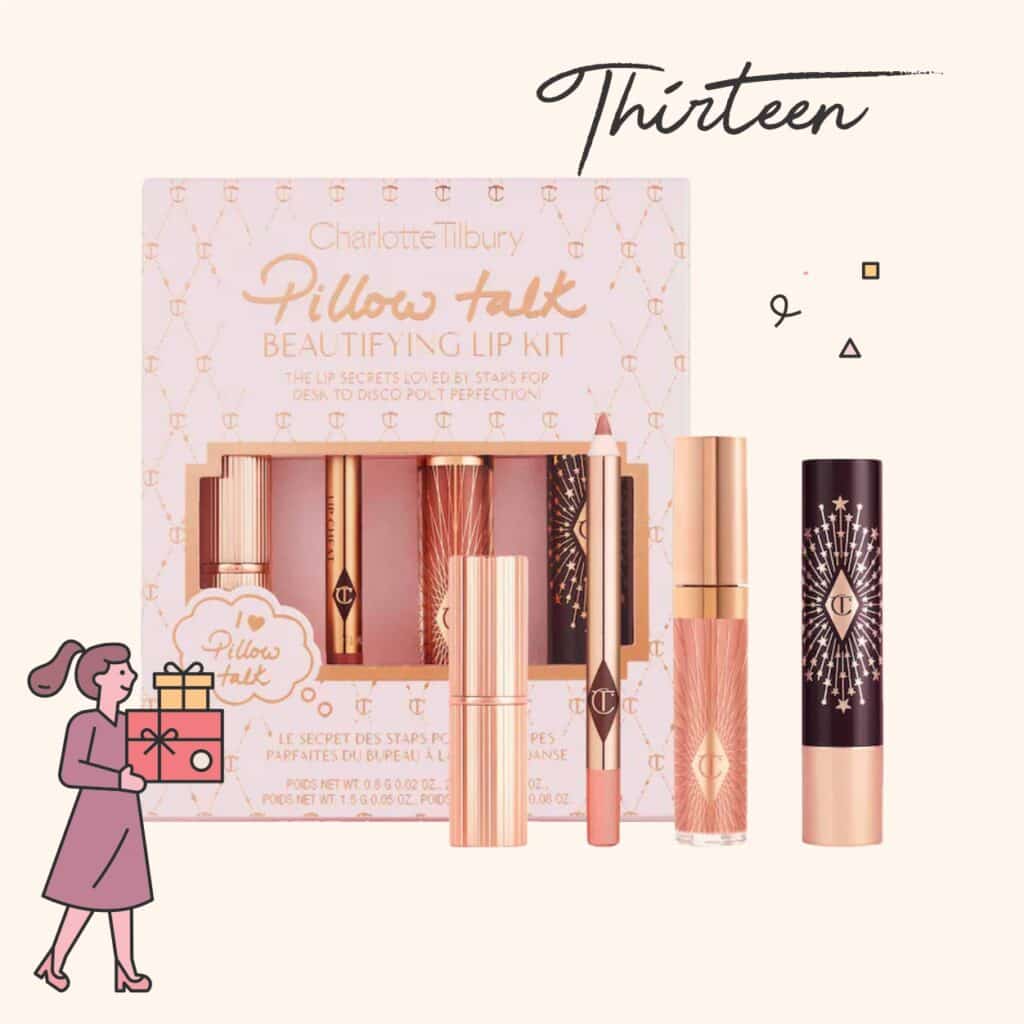 Pillowtalk Lip Set
Another gift recommendation from makeup artists! All you need for your lips–in shades that simply look amazing on everyone. The set includes everything you need for day to night looks, whether you're at home or on the go.
---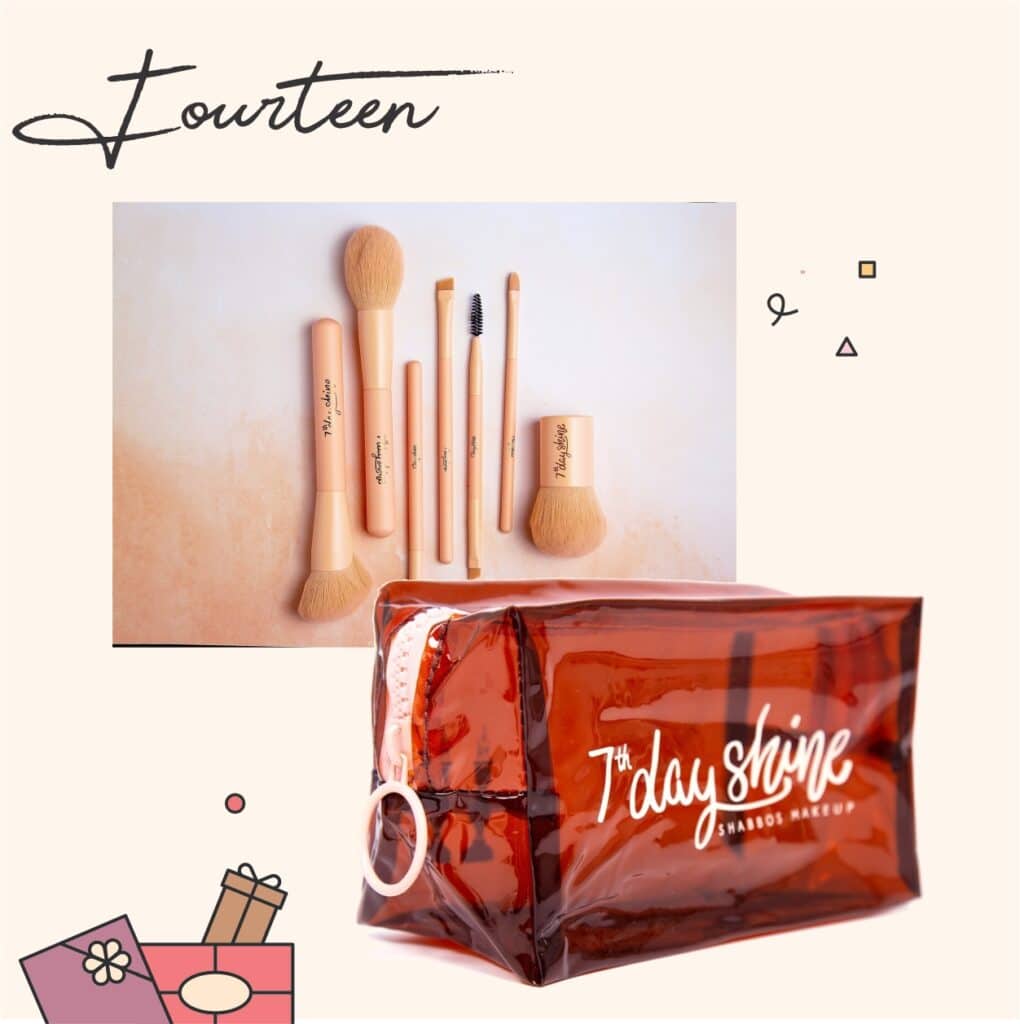 Makeup Brush Set
$89. Another great beauty pick! 7th Day Shine, the creators of Shabbos makeup, created a new line of beautiful and high quality makeup brushes for use during every day of the week. Lots of work and testing and tweaking went into creating the brush line. They're pretty and luxuriously soft–and the perfect gift for any woman, to teens who are first beginning to wear makeup. Good quality brushes like these are a long lasting item and ensure makeup looks its best when you apply it! The brushes individually are a value of $154, and they're sold as a gift set for $89! See more of 7th Day Shine's kits over here. Visit them on Instagram at @7thdayshine.
---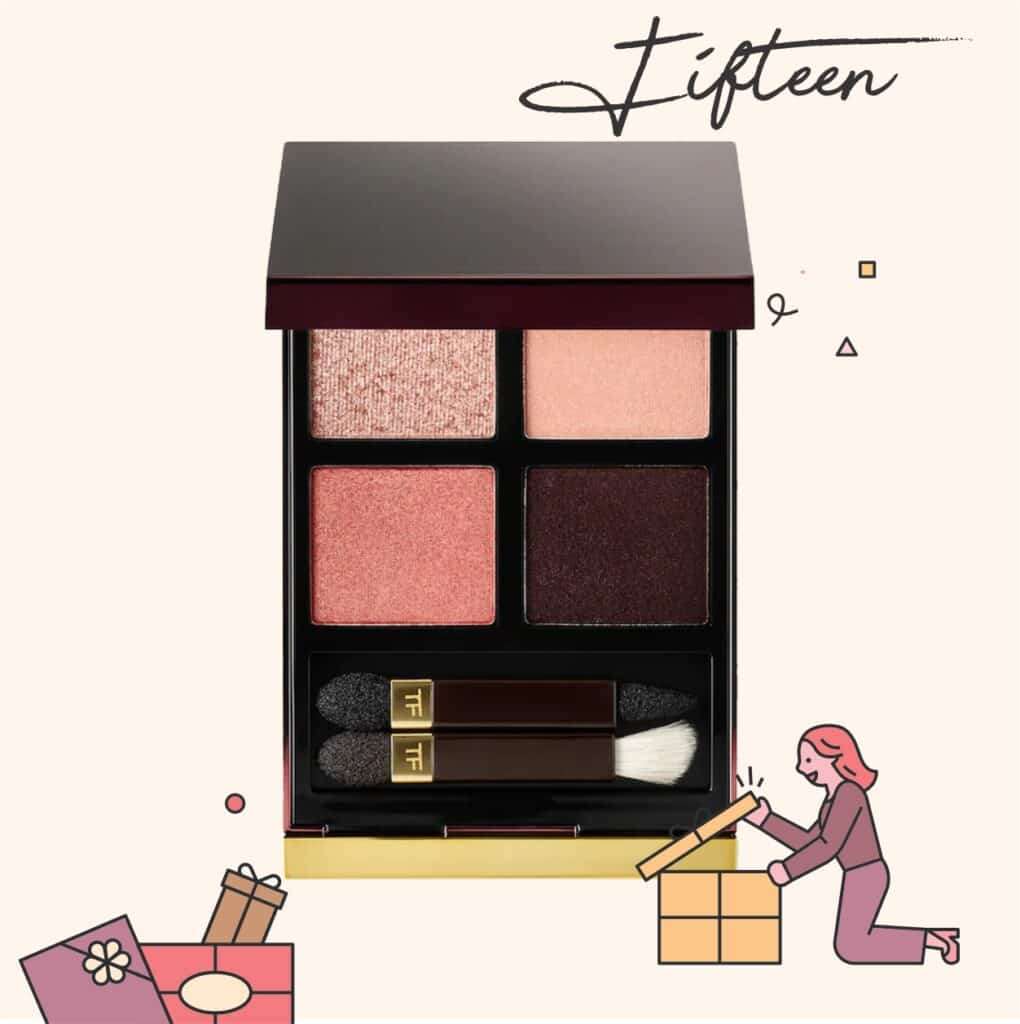 Eye Color Squad -$90
Our makeup artist's eyeshadow pick is the perfect quad that includes soft-to-bold colors. It's the luxury gift to pamper the girl you know who loves makeup.
---
The Paint Box
The Paint Box was created as the perfect at home date night. Perfect for parties or for couples to paint together, The Paint Box will create memorable evenings of fun and bonding. All boxes comes perfectly packaged with all the supplies you need, plus a detailed instruction booklet to guide you in creating the painting of your choice. This is also super fun for family Chanukah parties. For delivery of Chanukah party boxes, order by December 11th. Couple boxes will continue to ship after that.
---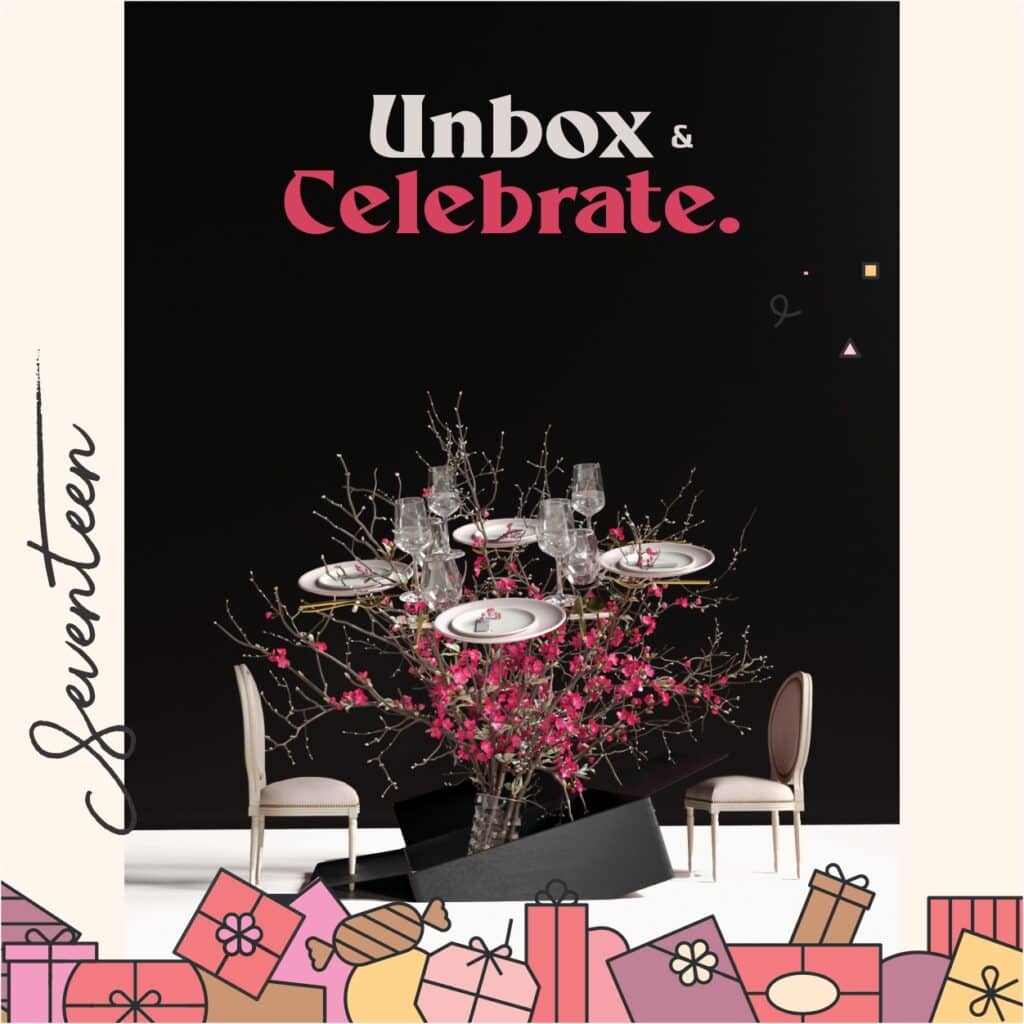 Soiree Party Gift Cards
Set a beautiful Chanukah party tablescape and you don't need to do a thing (just cook!). Party Soiree's inclusive party decor rental packages are available for occasion. Select one of their complete party tablescapes & receive it all delivered to your door to the last detail, including: tablecloth, vases, florals, place settings, glassware, paper goods, candlesticks. The tablescapes are brilliantly designed to suit parties of any size! Book your Chanukah tablescape today or for any upcoming event. Soiree also offers 'Party Gift Cards'- Gifting someone with one of their ready all- inclusive party boxes to their door for any occasion. See more at partysoiree.com or on Instagram @partyitsoiree. Or, click here to see their Whatsapp status.
---
Iced By Goldie
Prices vary. Great for teachers! Iced by Goldie's specialties for Chanukah are chocolate truffle donuts and hot cocoa bomb kits. The square platters are especially perfect for sending a custom message–perfect for corporate gifting with the inclusion of your logo! The paint-your-own cookie kits in new packaging are also an adorable and fun Chanukah activity! See more of the latest creations by Iced by Goldie on Instagram @IcedbyGoldie or order online at www.icedbygoldie.design.
---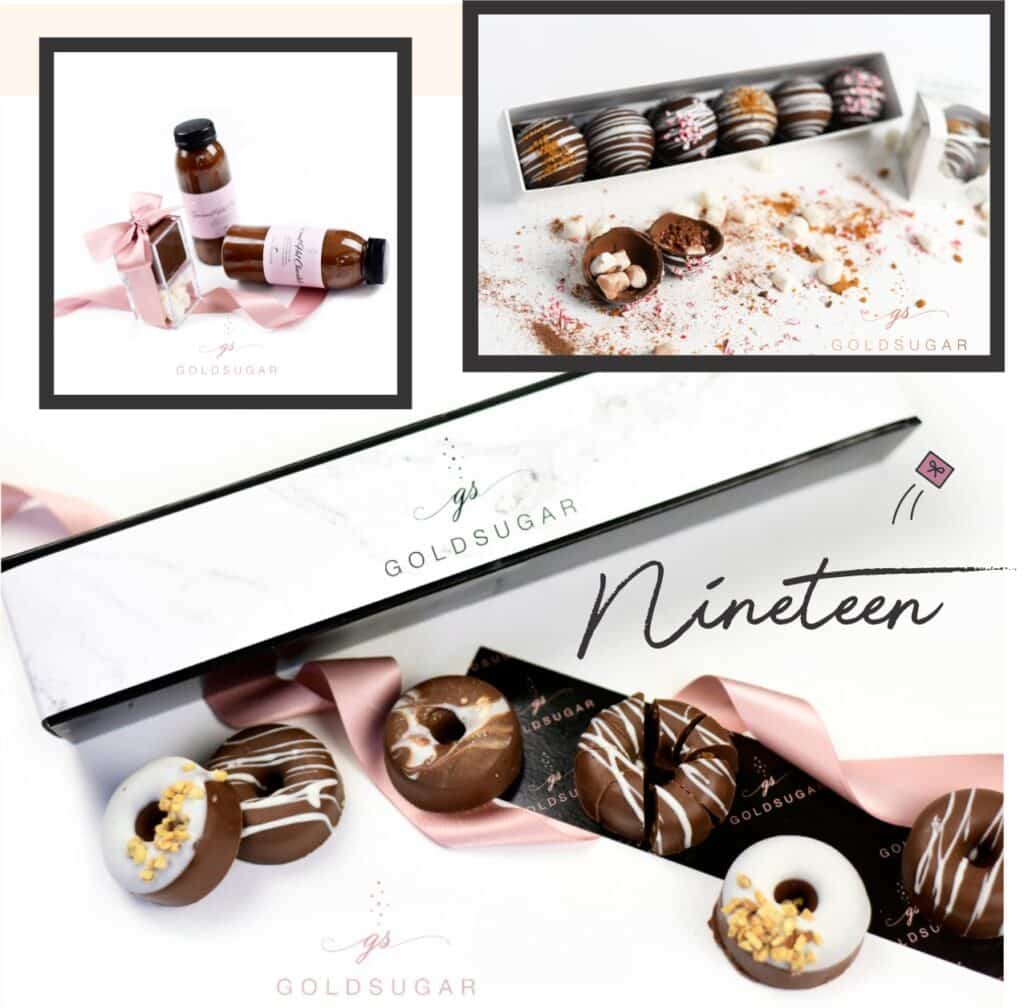 $16 (varies by product). Finally, taste and elegance meet. At Gold Sugar, chocolate doesn't just look good; the rich and delicious chocolates taste even better! They're great as gifts, and also great to serve at your Chanukah party. All chocolate products are parve (but you'll find that hard to believe when you bite in) and are certified Kosher Parve under the KCL. Your recipients will eat them slowly and savor the flavor. See more on Instagram at @goldsugarconfections or click here to fill out the order form. Located in Toms River with delivery available to Lakewood and the surrounding areas. For more info or to order, contact goldsugarconfections@gmail.com or call
516-906-8002.
---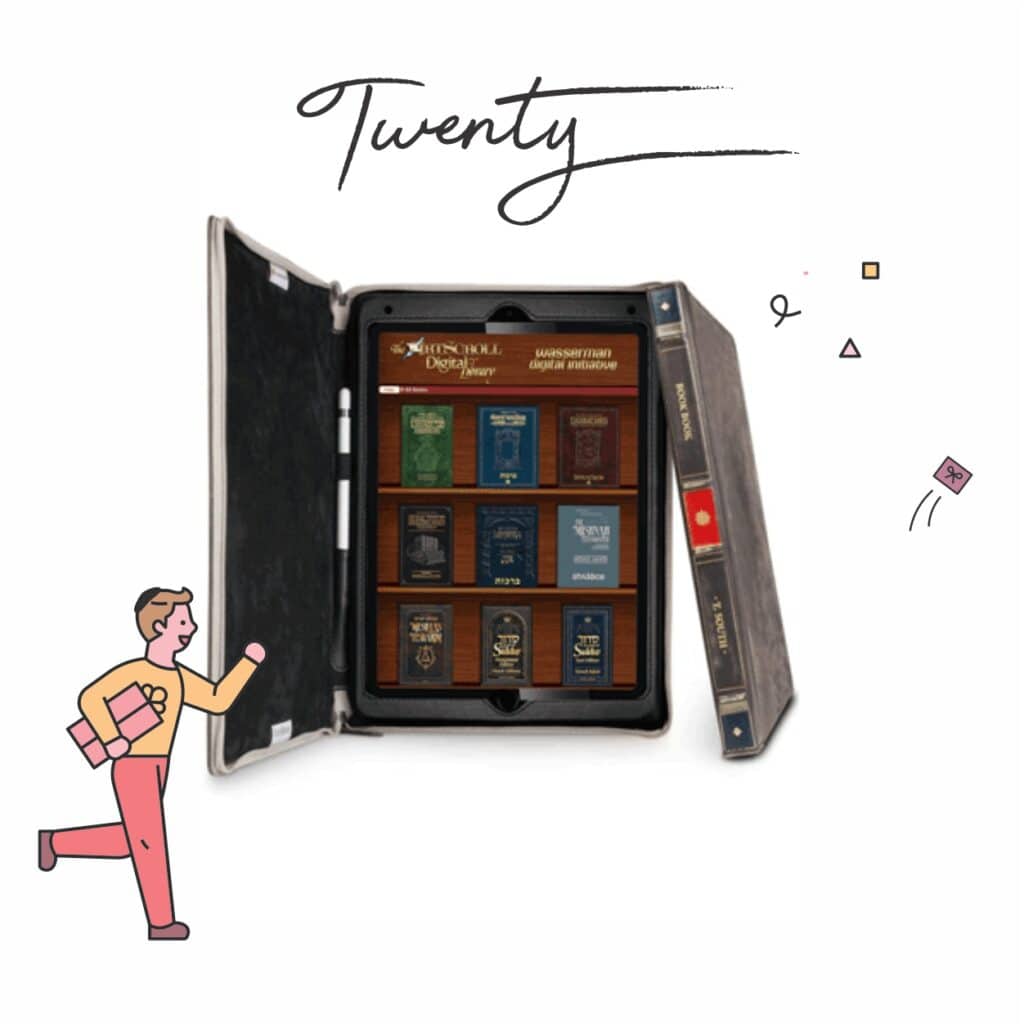 $750. This is the first time ever this has been offered at 50% off. The Artscroll iPad comes loaded with the entire Artscroll Digital Library! It includes all Artscroll sefarim, including Chumash, Siddur, Tanach, Gemara, Mishnayos, Rashi, and much more! Comes with a beautiful leather cover. Offer ends this Tuesday, 11/29. Also available in the larger screen size.
---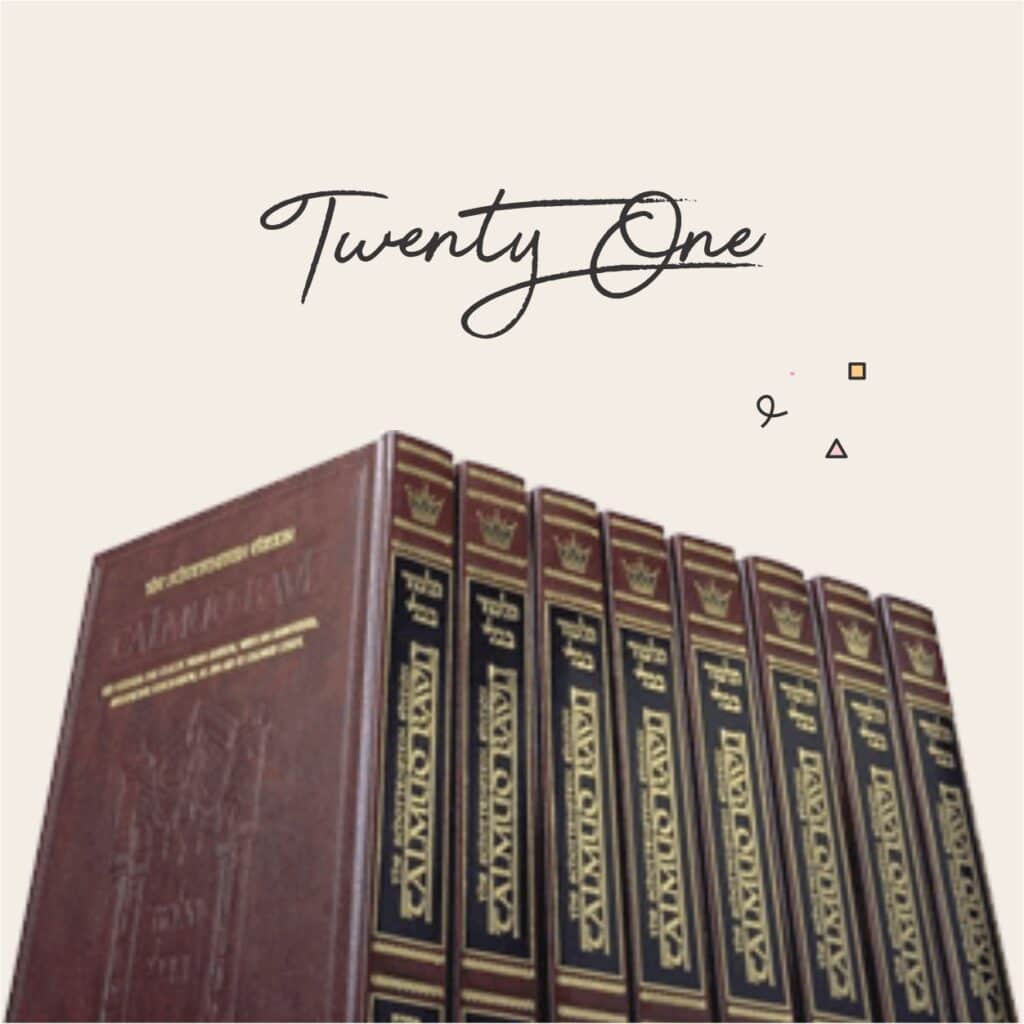 Artscroll Shas – $1975
If you've been wanting to gift an Artscroll Shas, this is also the time to get it at the lowest price ever. The sale price is available on all sizes, includes free shipping, and ends 11/29.
---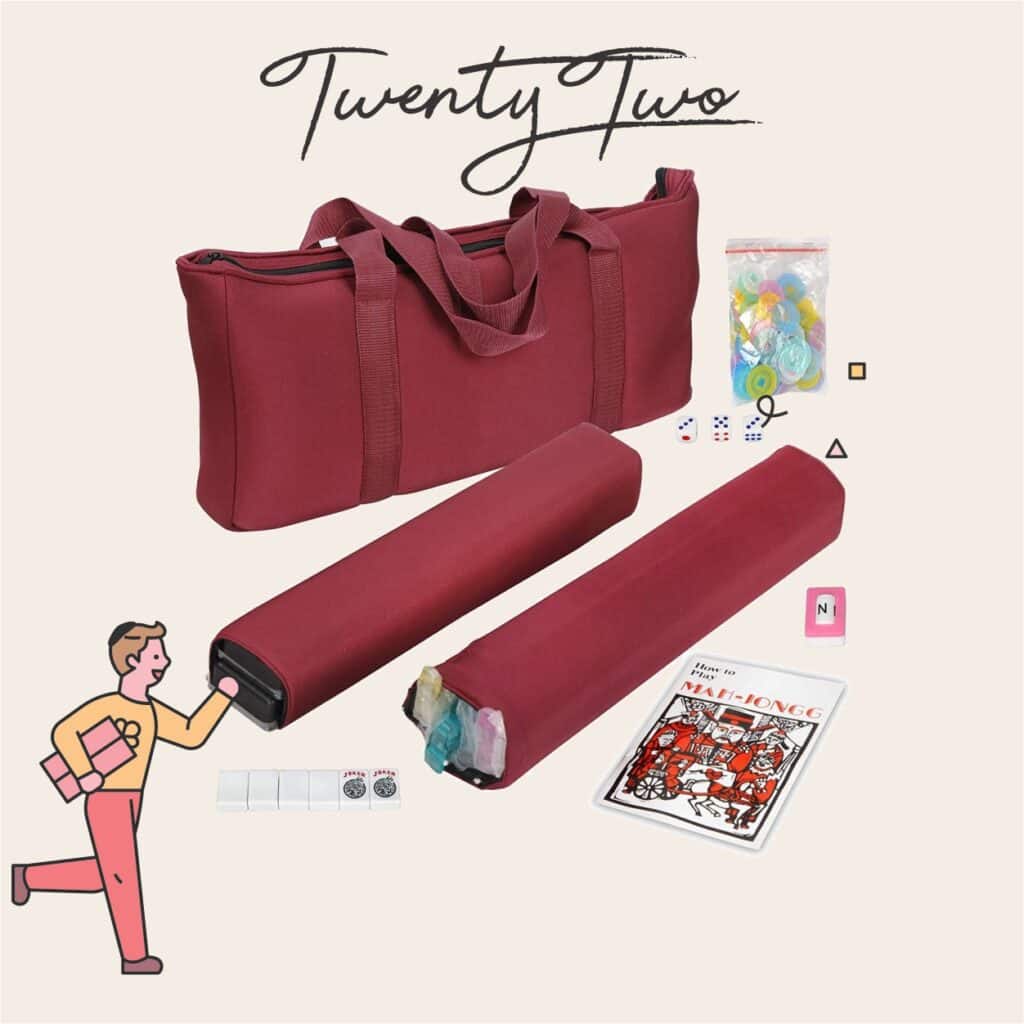 Mah Jong Set $56
Yes, Mah Jong is back in style. If you're never played before–it's like a more sophisticated version of Rummy-Q. There's so much strategy and so much fun. This is a perfect easy-to-store first set. You'll also need a set of Mah Jong cards to start playing.
---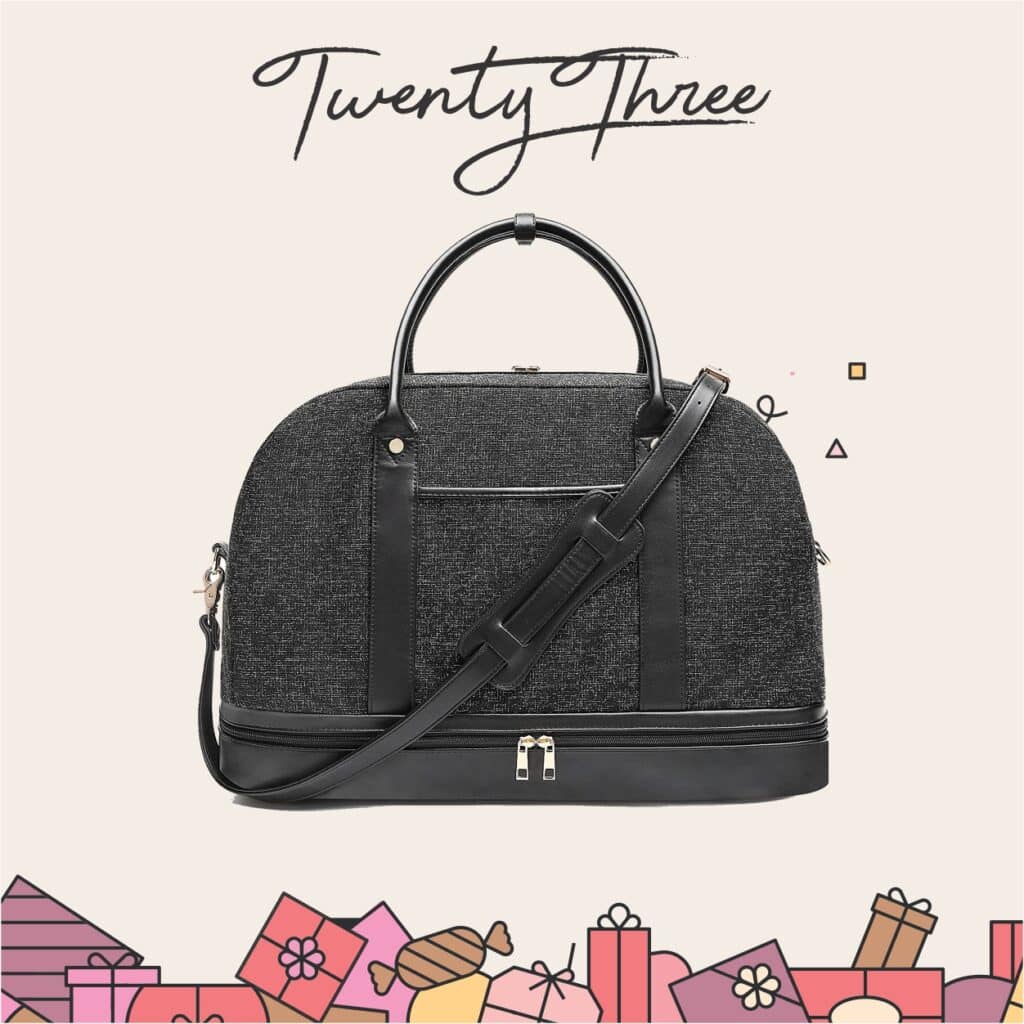 Weekender Bag
$30. Really, we can't believe the price on this bag. It's perfect and convenient for those who go away for Shabbos often.
---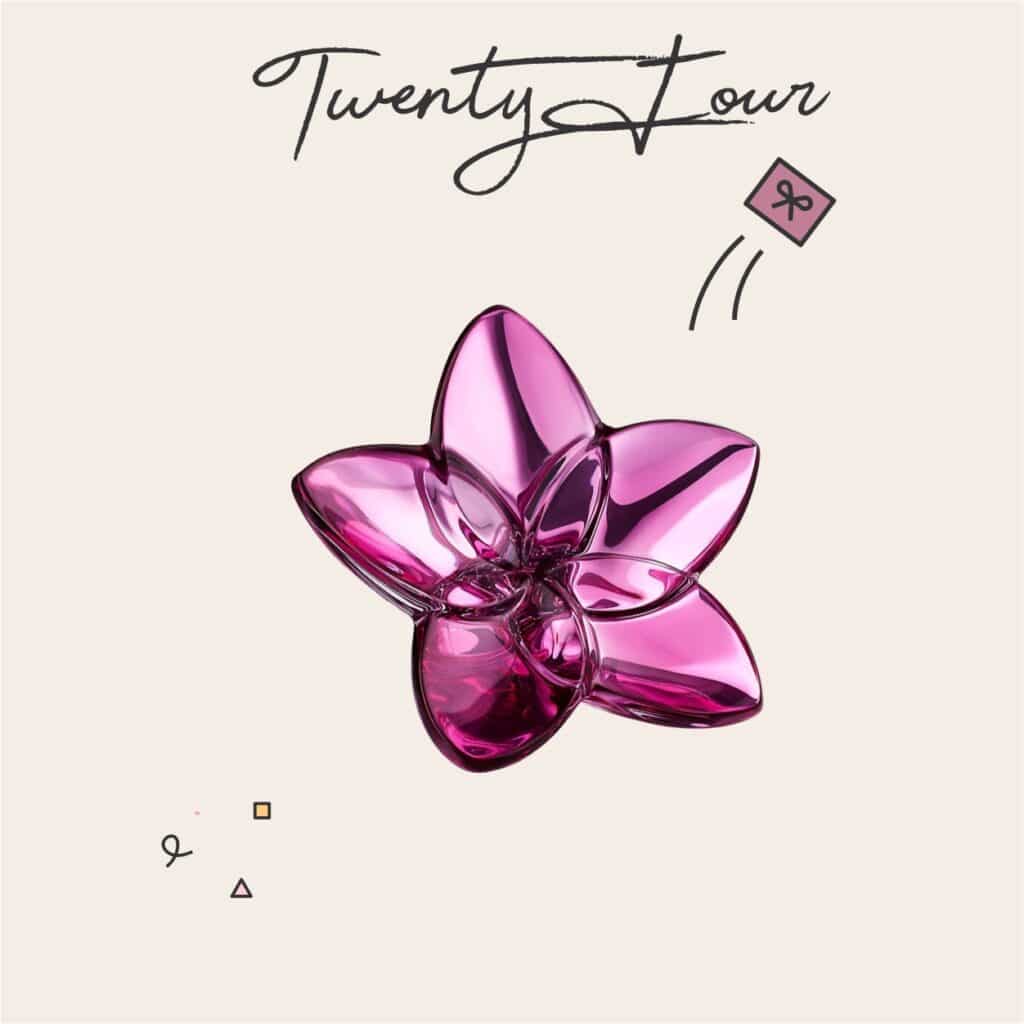 The Baccarat Bloom – $190
If you know a hard-to-gift woman that appreciates the Baccarat Butterflies, the Bloom another beauty that she'll enjoy.
---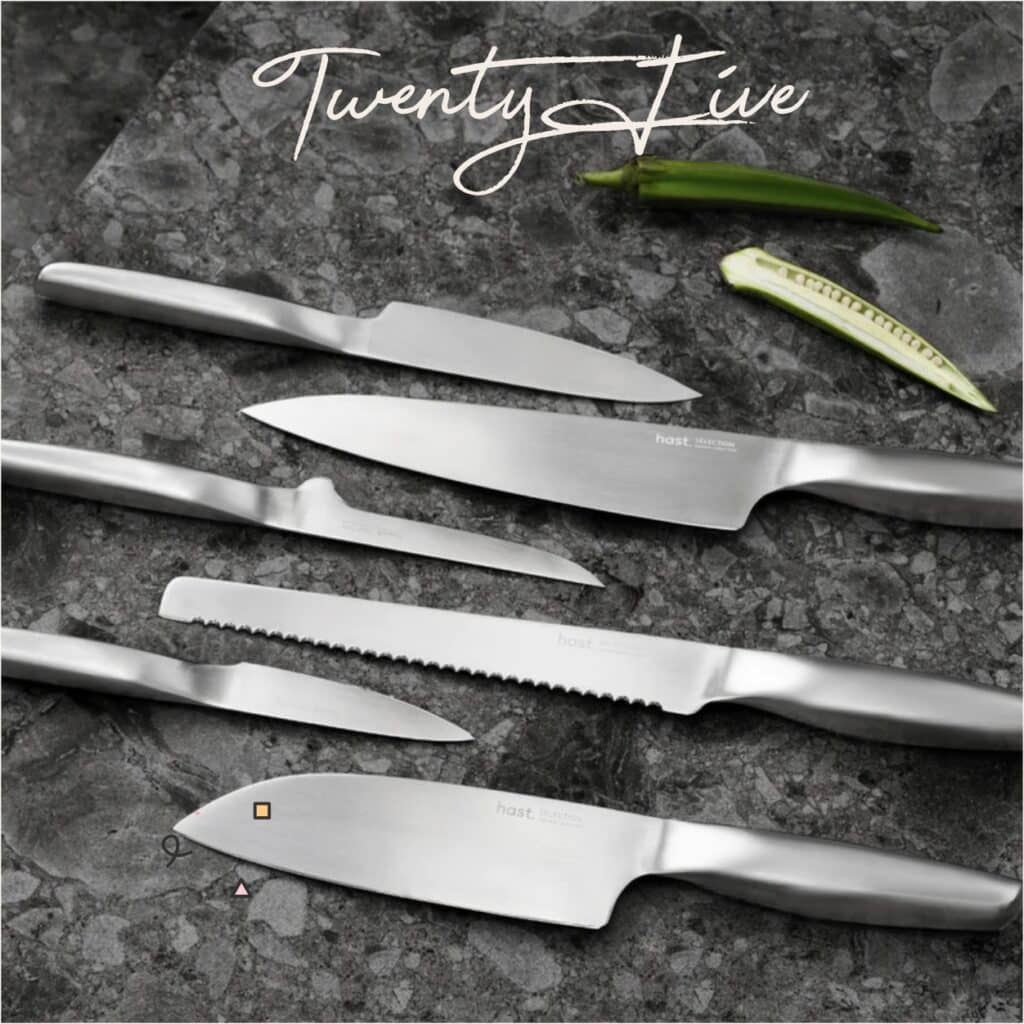 The Hast Knife -$99
for the Chef Knife. Yes, we believe it's truly the item that every woman wants to receive as a gift. It's fun to cook with pretty items, and there's finally a beautiful knife that you won't mind bringing to the table.
---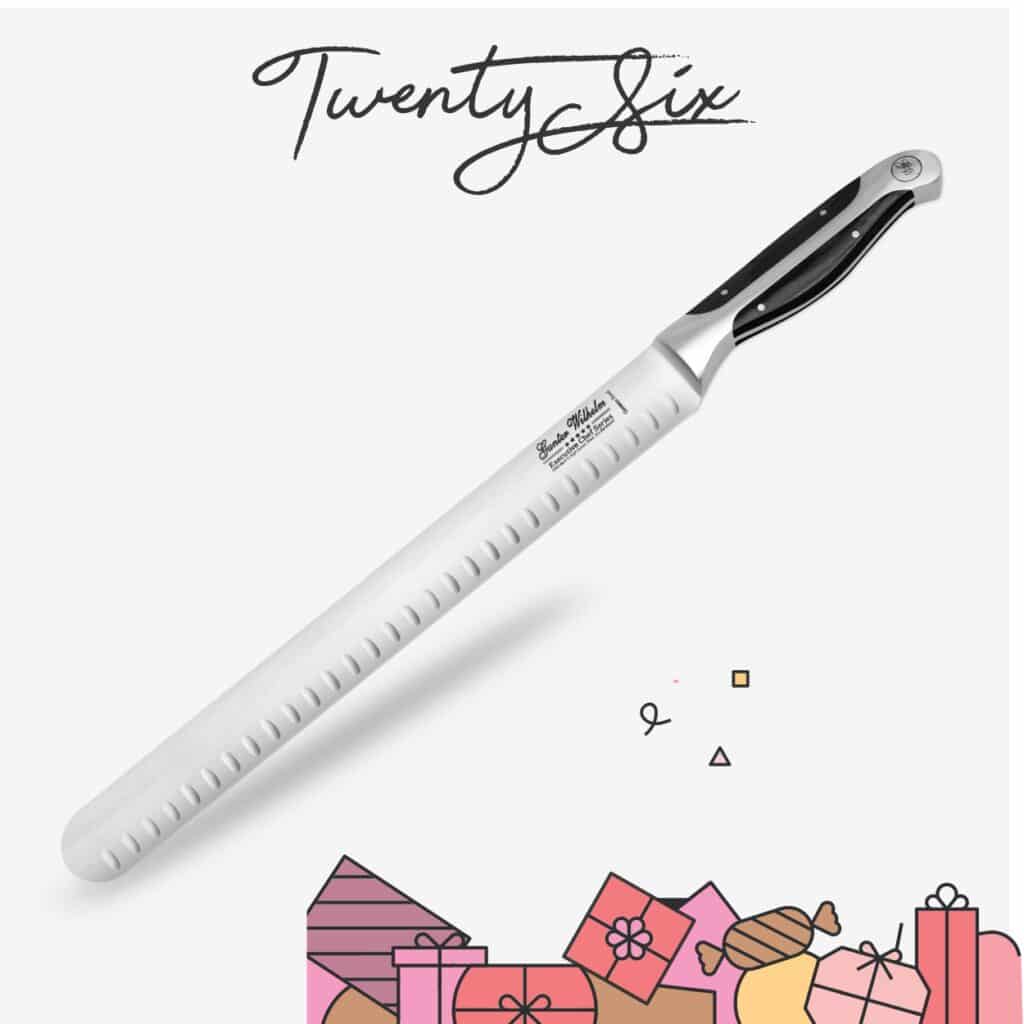 The Brisket Knife -$50
This is a totally different type of knife, but one the cook will enjoy just as much. It's perfect for slicing large pieces of meat (if you've ever had trouble slicing them neatly, then it's only because you didn't have the right tools).
---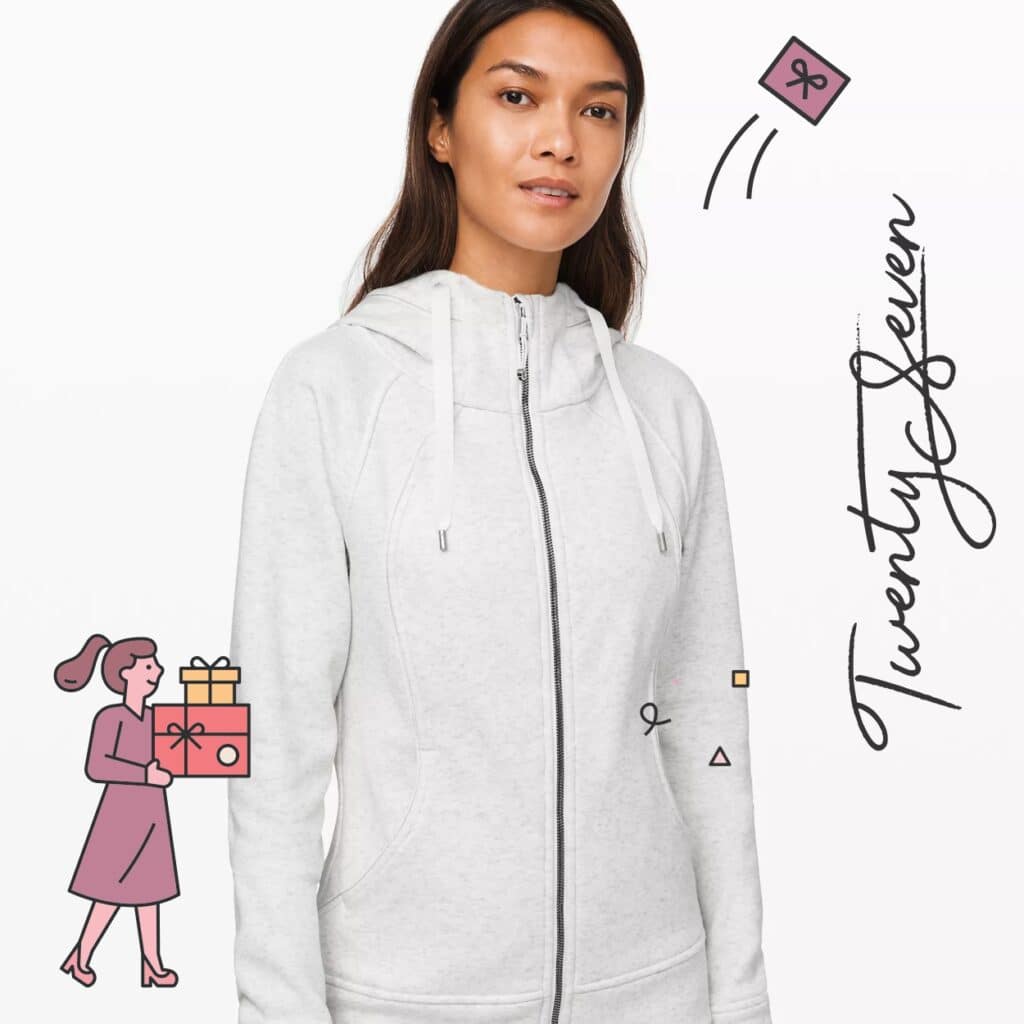 LuluLemon Scuba Hoodie – $128
We first posted this in our Post on Baby Gifts That Aren't Clothing, but if you weren't searching for a baby gift, then you probably missed it. This zip-up hoodie is pricey, but she'll love and enjoy it for years to come. It has the perfect combination of plushness without being slouchy.
---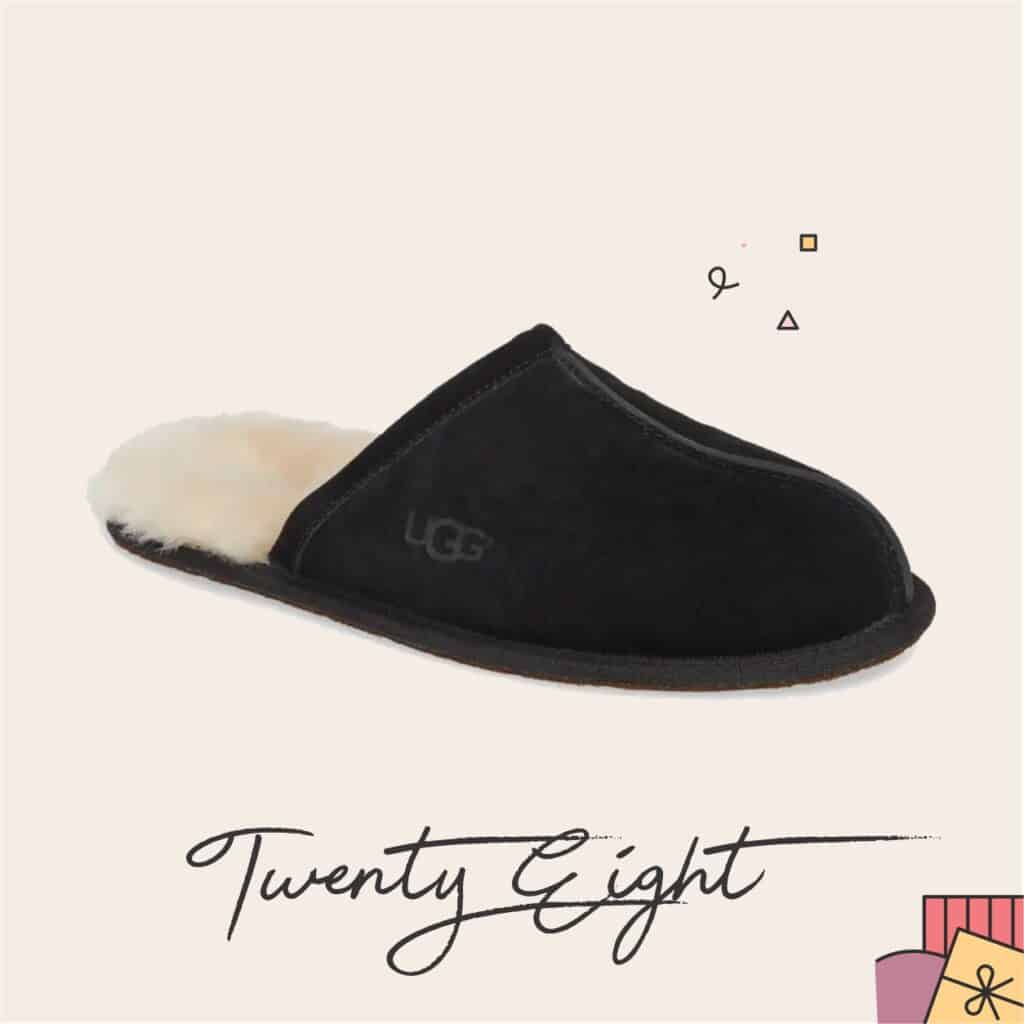 UGG Scuff Slippers – $90
One of the better-looking UGG styles for him, semi sleek, masculine and perfectly cozy.
---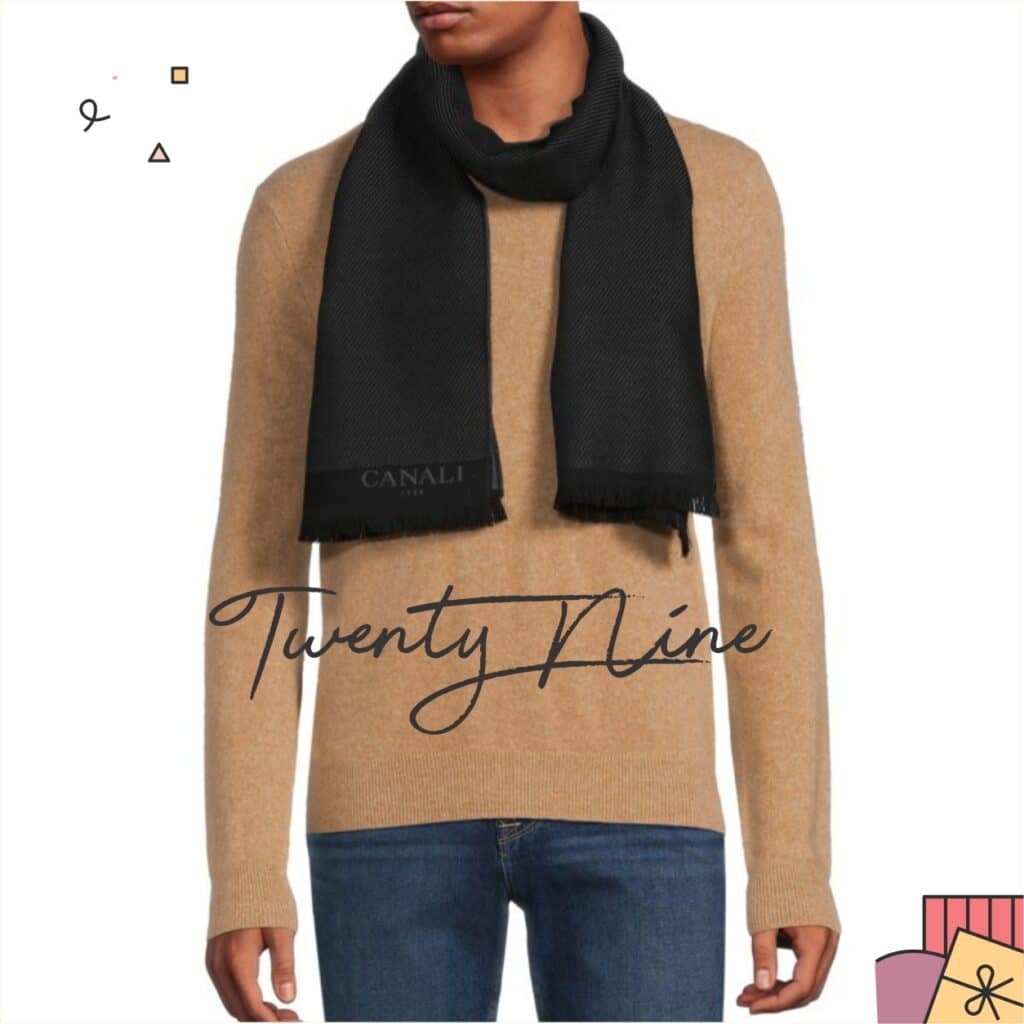 Canali Frayed Wool Scarf – $75
There's some beautiful designer finds for him at Off Saks, like a big selection of Canali scarves (normally $250, now $75 with Black Friday coupon code). If you prefer cashmere, there's also some great options? A note when searching for ties: Off Saks lets you search by width, but most ties at off-price retailers are the wider type, rather than the slimmer versions that most prefer nowadays.
---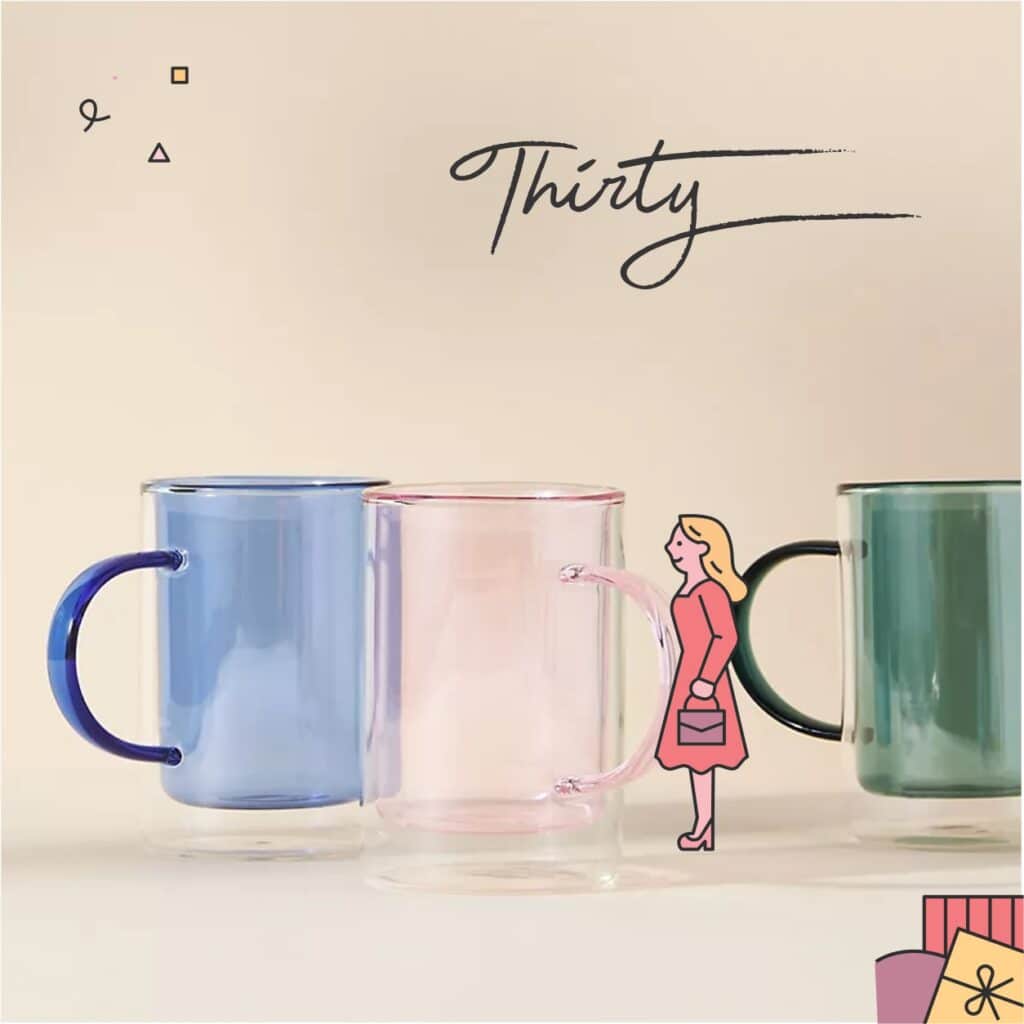 The Chester Glass Mug. -$18
No, mugs are not overdone. Especially when they look like this. These double walled glass are suitable for both hot and cold drinks. Get one for him and one for her and look forward to cozy nights ahead. See more beautiful drinkware over here.