This meat recipe uses pantry ingredients…and you'll be sure to hear a "wow."
I think I know my ribs. Short ribs is one of the favorite cuts of meat in my house, and I like it because I can purchase the specific quantity I need to feed my specific crowd…no huge roast necessary. Some people like to simply throw sauce on their ribs in a baking pan, cover, and throw in the oven. Sure, that'll work, as most good cuts of meat typically entail little effort.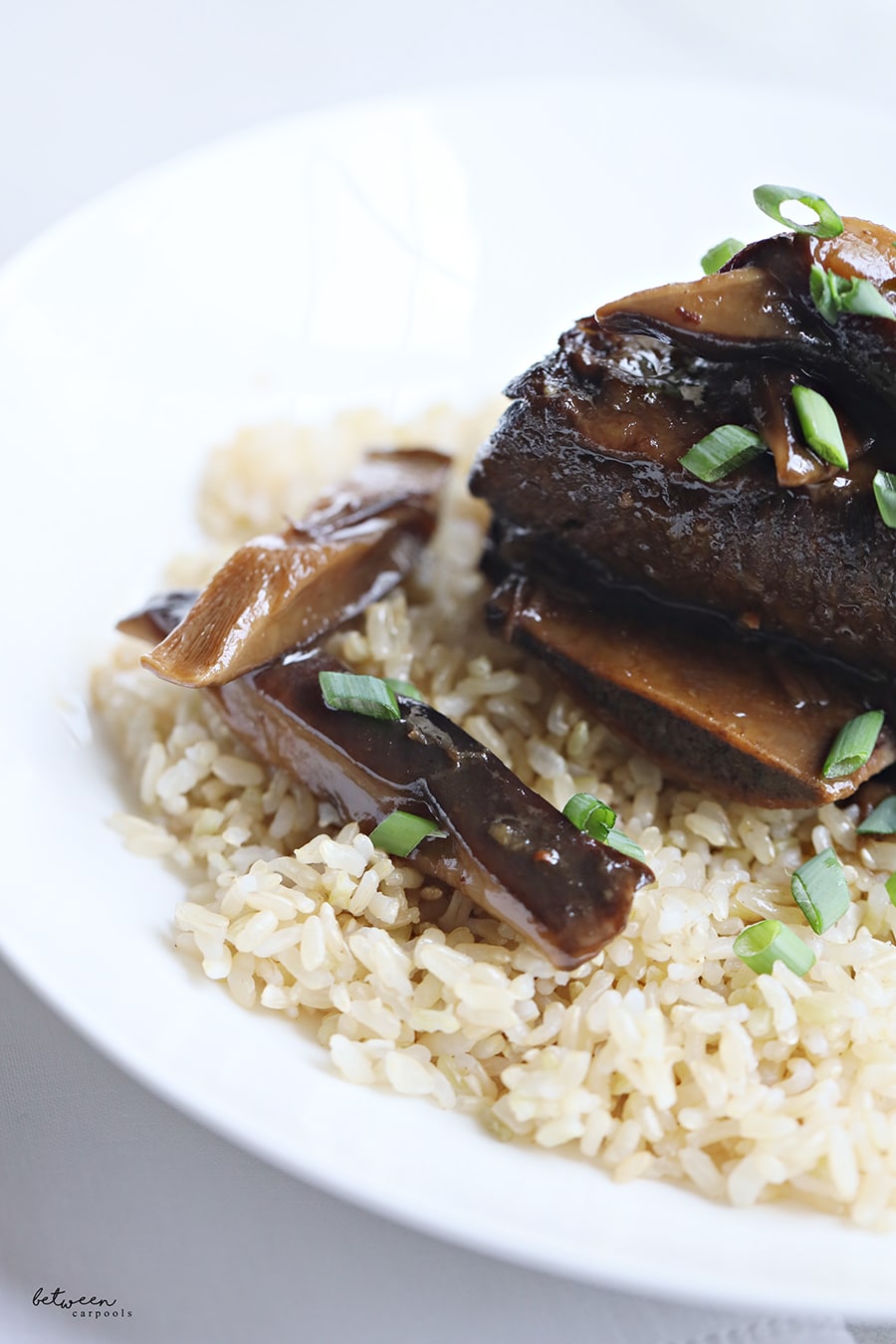 But I like to give ribs, first a sear, then a nice, slow braise.
Of course, it doesn't have to be ribs! You can use this recipe for a brick/French roast, Flanken/Rib Roast, or any cut of meat that will benefit from the "low and slow" method. The cooking times, though, may need to be adjusted.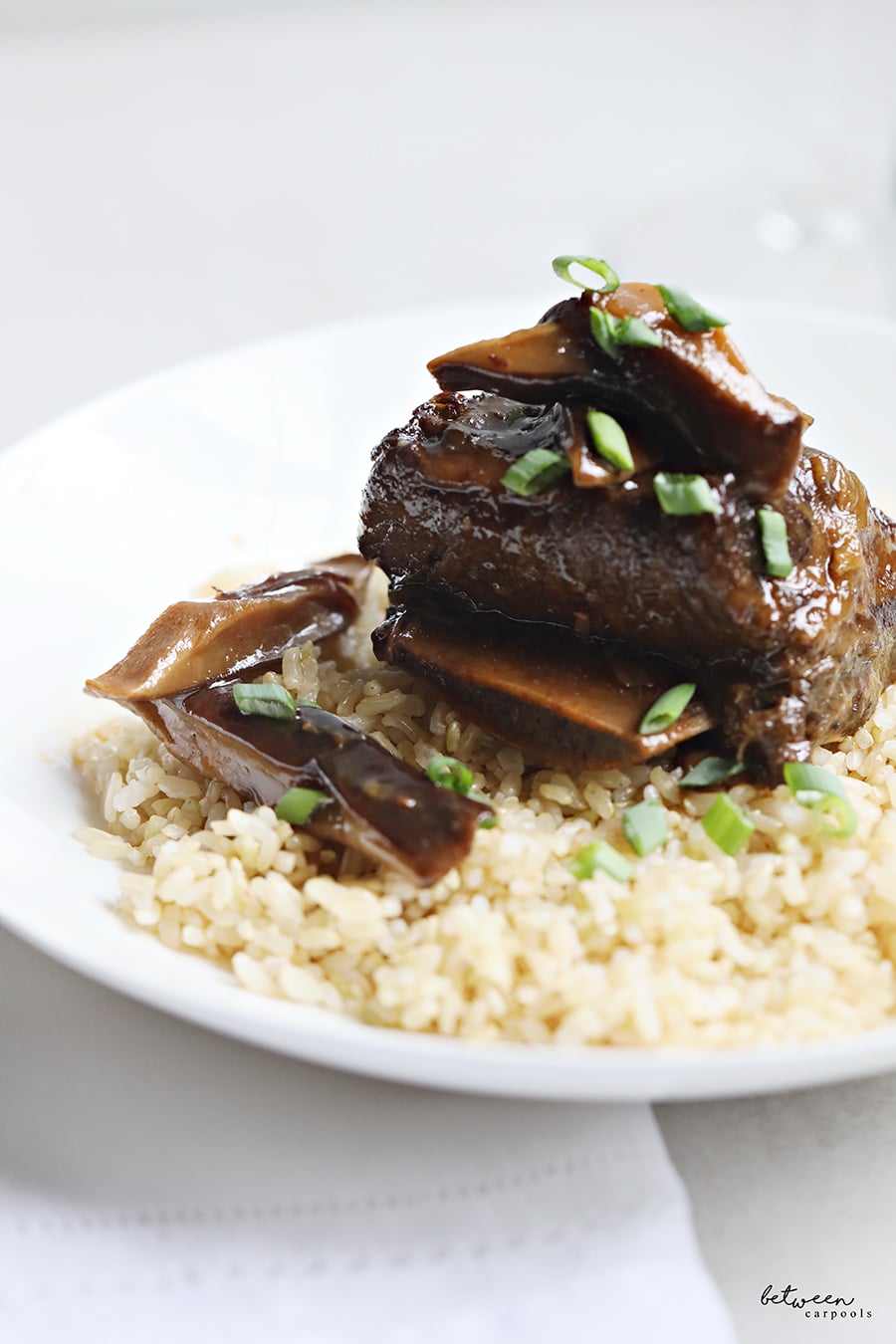 If you (or someone you know) don't like mushrooms, you don't have to serve them with the meat (although they soak up all the flavors and taste great), but don't skip them. The mushrooms add a lot of umami flavor to the meat while cooking; they're a big part of this recipe's flavor. The scallions at the end are also part of the overall flavor and aren't simply a garnish. 
(If your fam doesn't like mushrooms at all, then perhaps this recipes isn't for you. Instead, try these beer-braised ribs. That recipe also works with roasts.)

Shiitake Ribs
Ingredients
2 - 4 lbs short ribs or roast
Montreal steak seasoning, for sprinkling
1-2 tablespoons oil
1 onion, sliced
3 garlic cloves, crushed
1 tablespoon minced ginger (or 3 frozen cubes)
8 ounces shiitake mushrooms
½ cup soy sauce
¼ cup brown sugar
¼ cup honey or agave nectar
2 tablespoons rice vinegar
3 cups beef broth or water
2 tablespoon cornstarch dissolved in ¼ cup water
Instructions
Preheat oven to 300⁰F.
Season ribs liberally with Montreal steak seasoning. Salt and pepper is also fine, (I like the all-in-one flavor the seasoning mix offers).
Heat oil in a Dutch oven over medium-high heat. Add ribs and sear for a few minutes on each side (I usually sear just the top and bottom, I don't get to all of the surface area). Remove ribs from pot and set aside.
Add onions, garlic, and ginger. Cook until onions are soft, about 7 minutes. Add mushrooms and cook for another minute. Add soy sauce, brown sugar, honey, rice vinegar, and beef broth (I use water + beef consomme. You can also simply use water. You'll still have lots of flavor. Just adjust seasoning/salt if using water instead of broth).
Bring liquid to a boil. Return ribs to pot. Cover and bake for 3 hours. Ribs will be fall-off-the-bone tender.
Remove ribs from pot and place the dutch oven back on the stove. Bring to a boil. Add cornstarch slurry and cook for a couple of minutes, until liquid thickens a bit.
Top with scallions when serving (not just a garnish, the flavor really complements!).