This light and refreshing tuna appetizer is fun to make, fun to assemble, and fun to eat.
Our Pulled Beef Tacos have become almost a weekly staple in my house. And this lighter version, where the wontons are baked and not fried, is popular too! Serve it for seudah shelishit, a sheva brachos appetizer, or simply serve it with more tuna for a fun, light summer dinner. The dish is very low in calories (compared to its Pulled Beef Taco cousin for sure!), but company will love and appreciate it just the same. I've also made this with pulled chicken and it was just as popular! Other times, I use pineapple instead of mango too.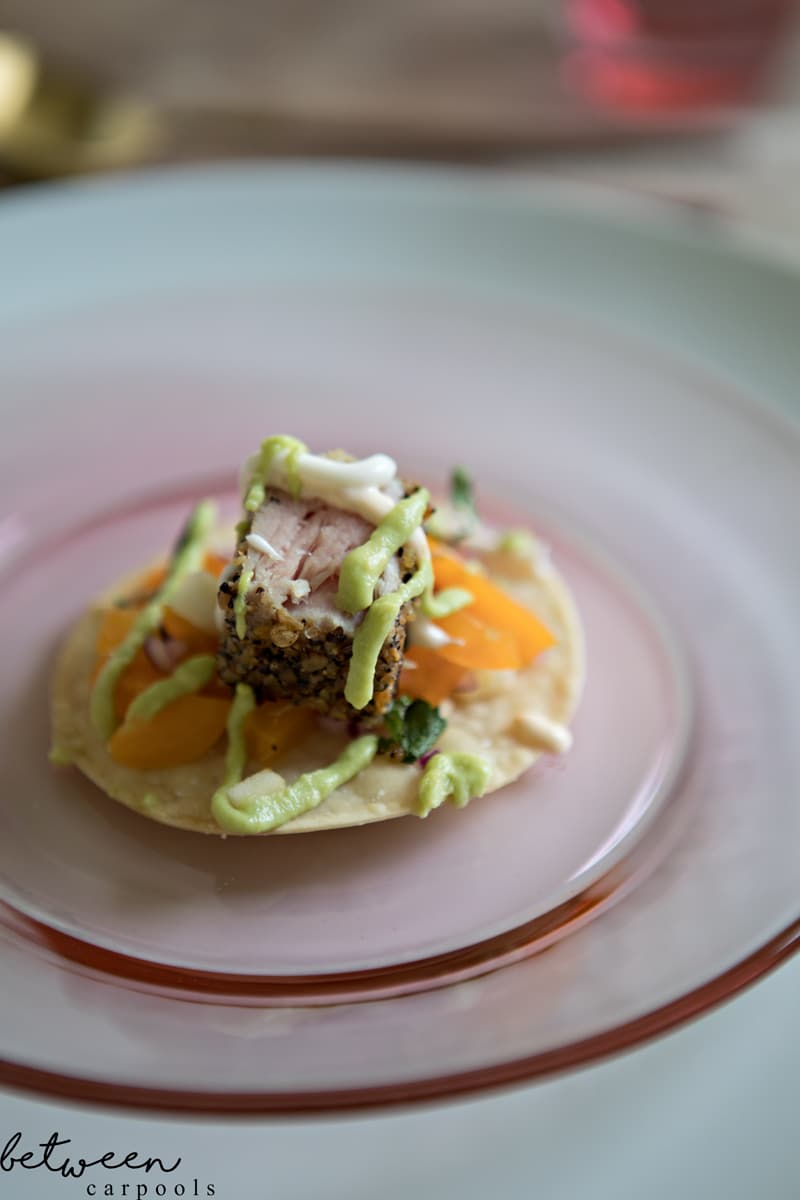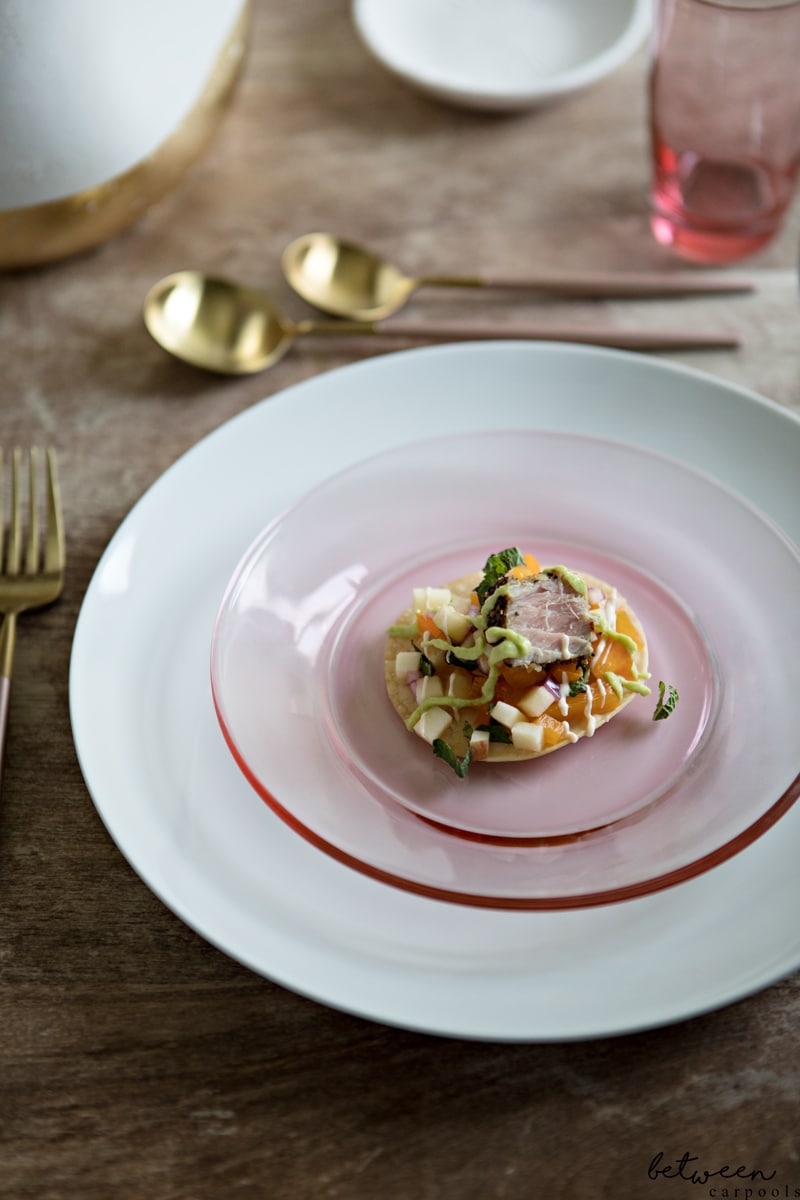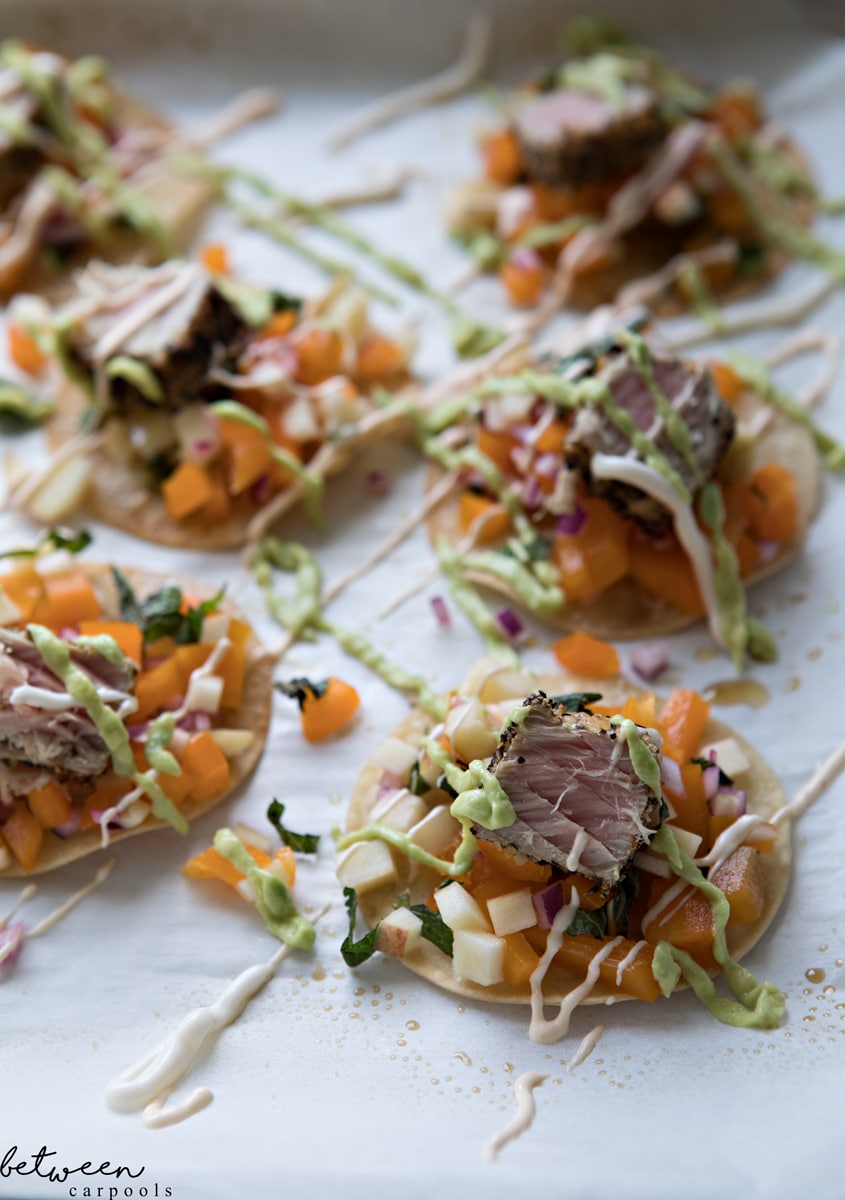 Tuna Bites
Ingredients
½ pound good quality fresh tuna steak
Sesame oil, for brushing
Montreal steak seasoning, for sprinkling
Round wonton wrappers
Avocado-Basil Sauce:
1 ripe avocado
3 tablespoons light mayonnaise
2 frozen basil cubes
Juice of ½ lime
1 teaspoon salt
Spicy Mayo:
4 tablespoons light mayonnaise
1 teaspoon sriracha sauce
1 tablespoon soy sauce
Pinch paprika
Lime Aioli:
4 tablespoons light mayonnaise
Juice and zest of ½ lime
2 garlic cloves, crushed
½ teaspoon salt
Instructions
Preheat oven to 425ºF.
Prepare the wonton chips. Place wonton wrappers on a parchment lined baking sheet. Spray with nonstick cooking spray and sprinkle with salt. Bake for 6 minutes.
Prepare the salsa. Combine all ingredients. This can be done ahead.
Prepare the tuna. Slice into rectangle shapes. Brush tuna with sesame oil and sprinkle with Montreal steak seasoning.
Grease a frying pan with cooking spray and heat over medium-high heat. Add tuna and sear, for just a few seconds until only the surface is cooked but not any of the inside. Flip and repeat on other side and remove from pan. Slice into rectangle-shaped slices.
Prepare the sauces. For each sauce, combine all ingredients. For the avocado sauce, you'll need a small blender.
Have fun with the presentation! Place a little of the salsa on the wonton chip, top with a tuna square, then some aioli, them drizzle with sauces. I like to assemble these on a parchment-lined baking sheet and drizzle away. Then I remove the tuna bites, discard the parchment, and place them on a clean platter.
You don't need to prepare all the sauces when preparing this dish, it just looks pretty to have 3 different colors.