Chocolate Coffee Crust. Creamy Coffee Cheesy Filling. Chocolate Ganache. And then, the Most Awesome Coffee Crunch Topping. This cheesecake is worth the time and effort.
Coffee lovers will totally rejoice, especially when they have a reason to enjoy this cheesecake for breakfast well beyond Shavuos morning. There's just so many dreamy elements we don't really know where to begin (well, if we were sticking our fork in this, we'd begin with that espresso bean-chocolate-Rice Krispie-coffee crunch).
The coffee crunch is great on ice cream, mousse, or as a crunchy topping on your favorite dessert!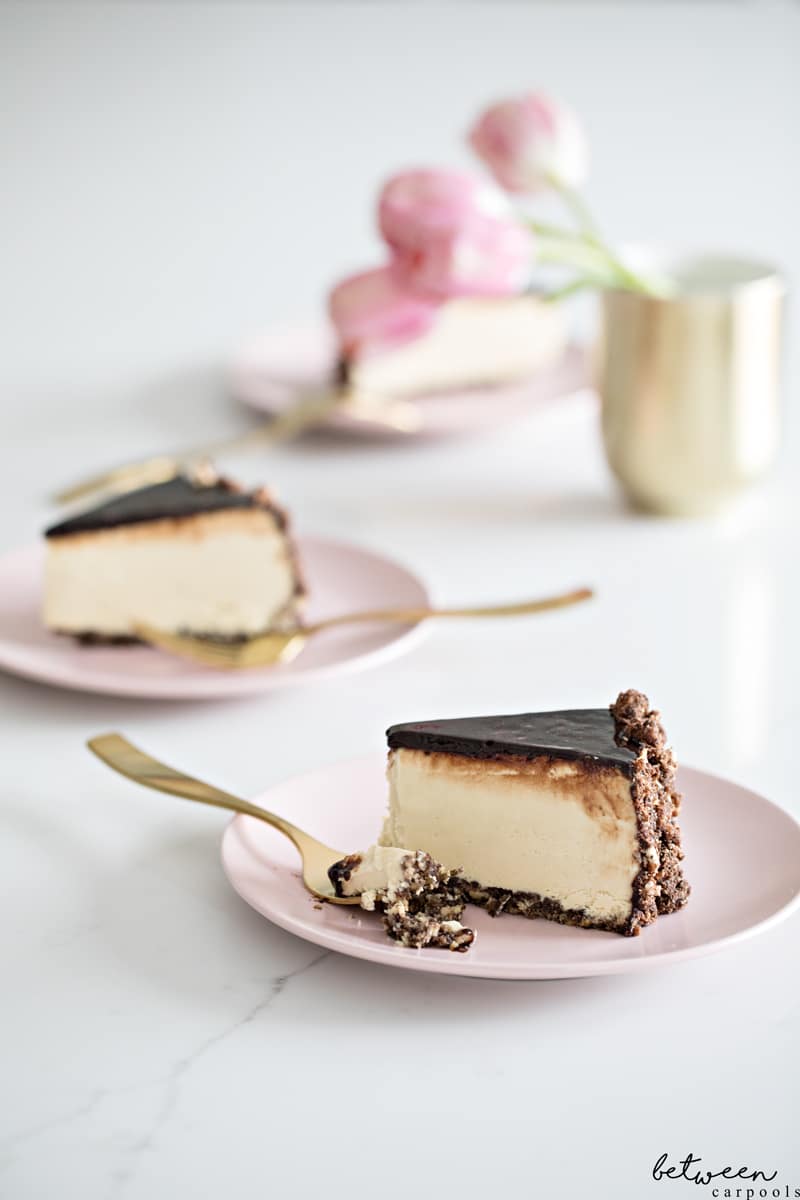 Coffee Crunch Cheesecake
Ingredients
Crust:
8 ounces or 1 ¼ cups crushed chocolate sandwich cookies
4 tablespoons melted butter
1 tablespoon MISCEO Coffee Liqueur
Cheesecake:
3 (8 ounce) bars cream cheese
¾ cup granulated sugar
1 teaspoon vanilla extract
4 large eggs, at room temperature
½ cup sour cream
½ cup MISCEO Coffee Liqueur
Ganache:
12 ounces bittersweet chocolate, finely chopped
1 ½ cups heavy cream
2 tablespoons light corn syrup
2 tablespoons MISCEO Coffee Liqueur
Crunch:
4 tablespoons margarine/butter
½ cup flour
½ cup sugar
¼ cup chocolate covered espresso beans, crushed
½ cup Rice Krispies
3 ½ ounces bittersweet chocolate
2 tablespoons MISCEO Coffee Liqueur
Instructions
Make the crust:
Position rack in the center of the oven and preheat to 350ºF. Butter bottom and sides of a 9-inch springform pan. Crush cookies in a food processor. Toss with melted butter and coffee liqueur until wet crumbs form. Press crumb mixture firmly into bottom of prepared pan. Double wrap the outside of the pan using heavy duty aluminum foil. Bake for 10 minutes until fragrant and set. Let cool.
Make the filling:
Beat cream cheese in a large bowl on medium speed until smooth and creamy. Slowly add in sugar, beating until blended. Add in vanilla extract. Add eggs one at a time, beating well between each one, making sure to scrape down the sides of the bowl frequently. Add coffee liqueur and sour cream and mix well. Pour into cooled crust and place in a large roasting pan. Fill the roasting pan with hot water to reach halfway up the sides of the springform pan. Bake the cheesecake in the water bath in the preheated oven for 60-70 minutes, until just set. Remove the cake from the oven and let cool completely on a wire rack. Then cover with plastic wrap and freeze.
Make the ganache:
Place chocolate in a heatproof bowl. In a small saucepan, heat the cream, corn syrup, and liqueur, just until it's softly boiling. Pour over the chocolate and let stand for 1 minute. Whisk until smooth. Allow ganache to cool until its thickened but still a pourable consistency.
Make the crunch:
Preheat oven to 350ºF. Mix margarine/butter with flour and sugar until coarse crumbs form. Spread on a parchment lined pan and bake for 15-20 minutes until streusel crisps. Let cool, reserving the pan for later. Then crumble the streusel into a bowl. Add the crushed espresso beans and Rice Krispies. Melt the chocolate with the coffee liqueur is a double boiler until smooth. Pour the melted chocolate into the dry mixture and mix well until the entire crumb mixture is coated. Spread onto the lined pan and bake for 10-15 minutes. Cool then crumble.
Store in a Ziplock bag.
Assemble the cake:
Unmold the cake from the pan. Place on a wire rack over a sheet pan. Pour the ganache over the cake allowing it to run over the sides coating the entire cake. Let it set for 3-5 minutes then press the crunch up the sides of the cheesecake. Freeze the cheesecake until 3-4 hours before serving.
---
About Gitty:
Gitty Halberstam is the founder of MISCEO liquors, a brand new coffee liqueur that's gotten rave reviews. The liqueur came about years ago when Gitty was blending in her own kitchen, looking to create a liqueur for family and friends. The resulting recipe was so popular that she perfected it and had it produced commercially. MISCEO is perfect straight up, in cocktails, or to take desserts to a new level. Learn more on Instagram @MISCEOliqueurs or visit www.misceoliqueur.com