We're finally going places again! If you or anyone in your household leaves the house really early, it can be hard to send them off with a wholesome meal or snack. These ideas make it easy. 
There's no need to turn to junk! These healthy and filling breakfasts are easy to prep and can be kept in the fridge…perfect to grab-and-go. 
Note: These containers keep all the components of your meals and snacks separate so they stay fresh. They're inexpensive and can be purchased in bulk. We found these at Center of Town in Lakewood. (24 oz cups, 16 oz cups and 5 oz cups with lids available on Amazon. 16 oz cups with dividers and lids are sold as a set.)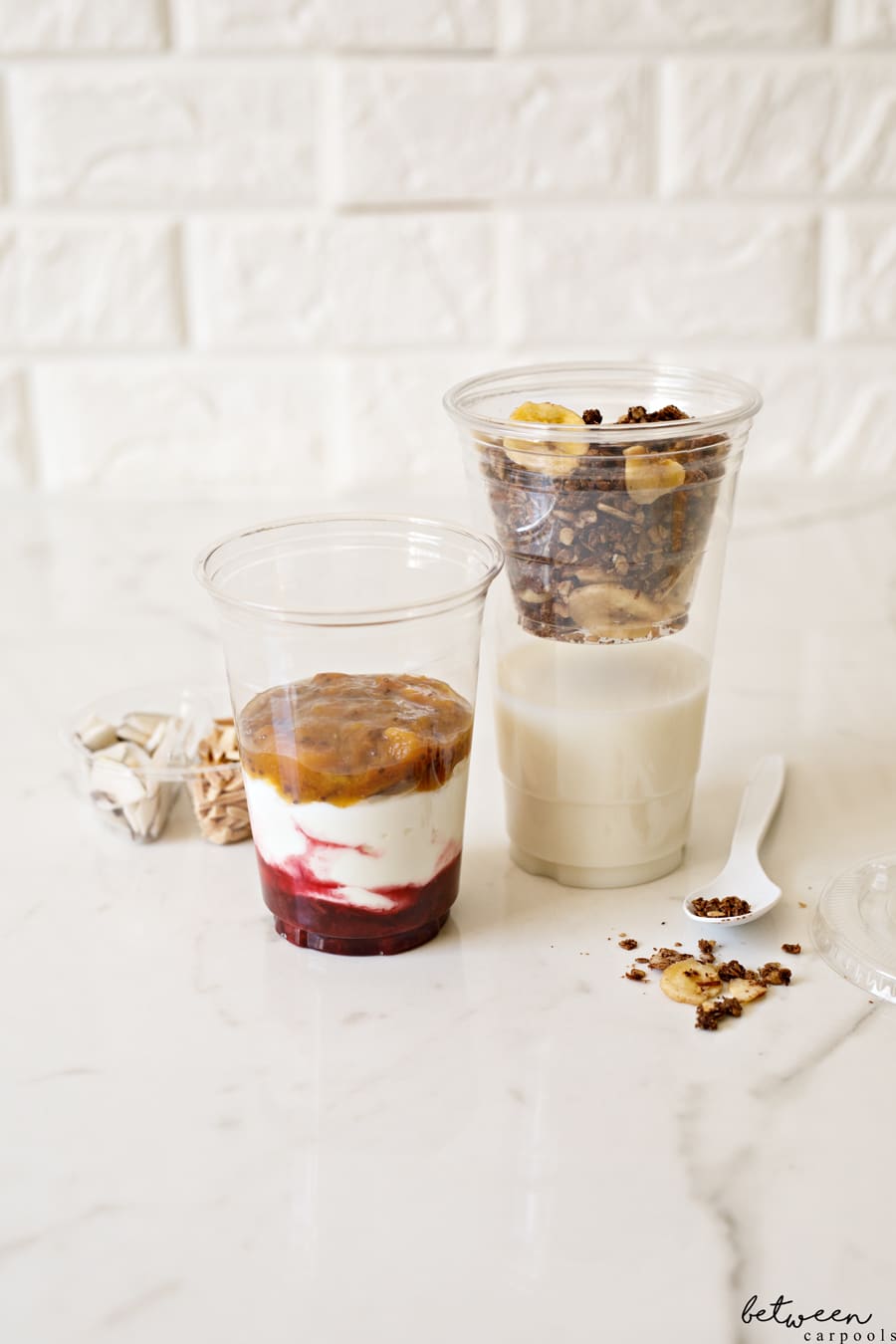 Chocolate Granola & Milk
The cool thing about this granola is that you'll be left some chocolate-flavored milk to drink when the cereal is done. Include the milk (or yogurt) in the bottom of the cup and the granola in the insert. Get the chocolate granola recipe here. 
Yogurt with Fruit Blends, Nuts, and Coconut
You don't have to be busy chopping fresh fruit each day! These fruit blends can be kept in the fridge either on their own or layered in a yogurt or overnight oats parfait (a more filling option). We stored the nuts and coconut in a 2-compartment insert so they stay crunchy, even in the fridge. Assemble a few breakfasts at once so they can be grabbed each day. Fruit Blends + Vanilla Yogurt + Nuts + Coconut = Really delicious. 
How to Make a Fruit Blend: You can use the fruit coulis recipe here or try this easy version which uses up extra fruit: Chop any extra fruit in your fruit drawer and add it to a 9 x 13-inch pan. If the fruit is very sweet, adding extra sweetener isn't necessary (although you can if you want a sweeter fruit blend). Cover the pan and bake at 350⁰F for hours (our peach blend took about 4 hours), until the fruit falls apart. You can leave it chunky or blend it using an immersion blender. Our red sauce is made from frozen strawberries, cherries, and cranberries. Our orange sauce is made from peaches with some chia seeds thrown in. This is the hands-free easy way to make a compote! Plus, since it cooks covered in a disposable pan, you can keep it pareve for different uses. 
Originally appeared in NShei HaSiyum Magazine