Who knew cauliflower could be so, so good?
While walking down Shuk Machene Yehudah with my children, nieces, and nephews, we heard someone shout, "Gush Katif Cauliflower. Try it!" I stopped in my tracks. Technically, after the disengagement, all the farms relocated and are not in Gush Katif anymore (Gush Katif  produce were bug-free greenhouse farms located in Gaza before the disengagement, but the name "Gush Katif" is still associated with bug-free produce). 
When we stopped to see what the woman was talking about, we realized she was selling Cauliflower Fries from a tiny two person storefront. What else did they sell? 
Not much.
Besides for the cauliflower fries, they offered a choice of beer. I wasn't ordering beer, so we asked for a portion of Cauliflower Fries. 
"Don't you want to try a sample first?" I looked around at the gaggle of  kids and said, "Isn't that a bad business move? All the kids will want to sample the fries." 
She laughed and answered me, "Everyone who tastes it orders a large portion." 
Large portion it was! Pudgy little fingers began dipping and eating their cauliflower.
My sister whispered to me, "Please don't let my kids know they are eating a vegetable."
And then, of course, like I always tend to do, when I got home, I tried to duplicate the fries myself. I also serve these with sweet chili sauce mixed with mayo.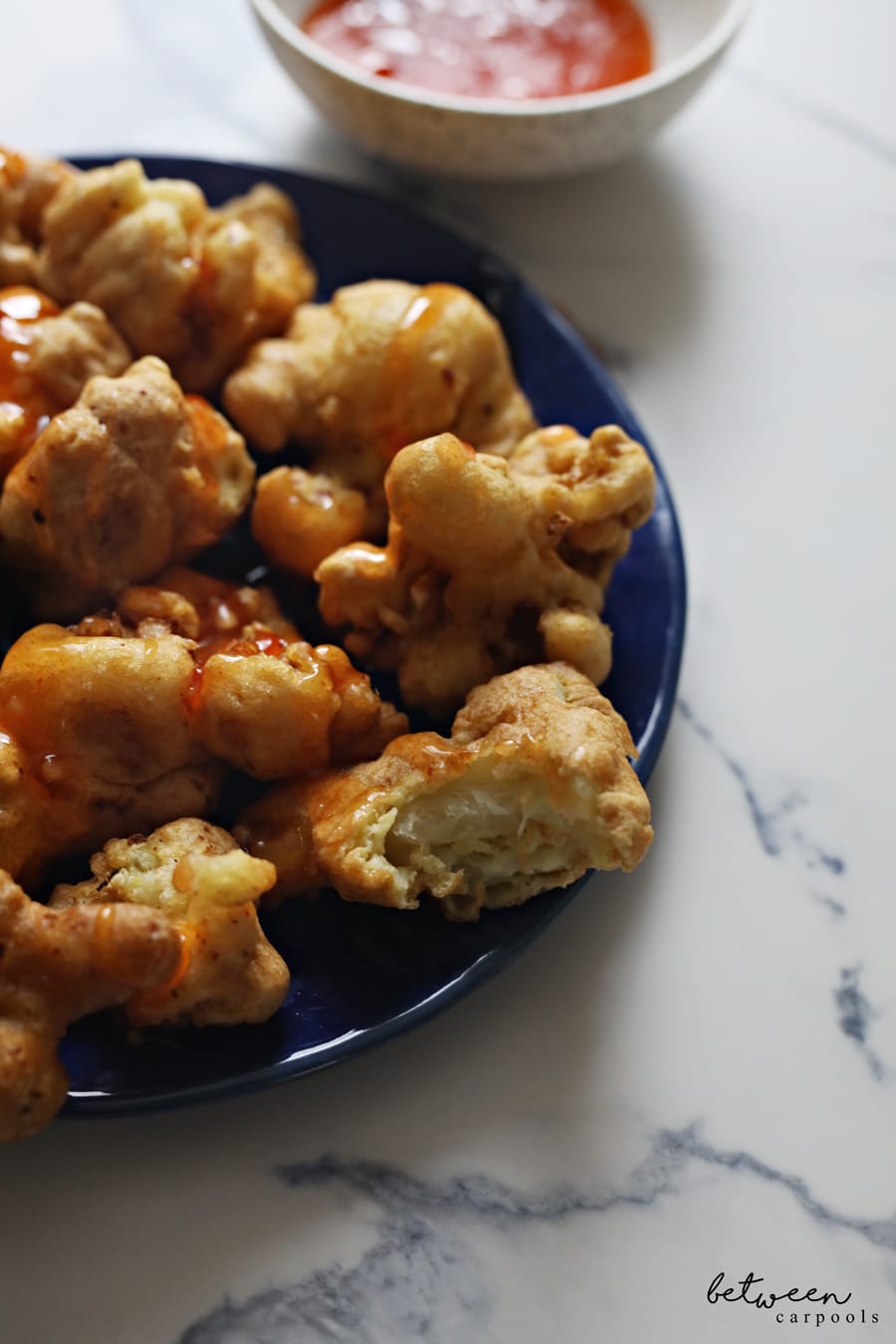 Cauliflower Fries
Ingredients
2 pounds frozen or fresh cauliflower florets
Oil, for frying
1 tablespoon lemon juice
Kosher or sea salt
Batter:
2 eggs
1 cup flour
½ cup cool water
1 teaspoon salt
1 teaspoon baking soda
Instructions
If using frozen cauliflower, fully defrost the cauliflower and pat dry. You can microwave it for 2 minutes, drain and pat dry.
In a pot or deep fryer, heat oil to 350ºF.
In a medium bowl, combine batter ingredients. Toss a few pieces of cauliflower in batter at a time. Add to hot oil and deep fry until golden. Sprinkle with lemon juice and salt. Serve with mayo dipping sauce (below) and or sweet chili sauce.
Mayo Dipping Sauce
Serves:
1 cup dipping sauce
Ingredients
⅔ cup light mayonnaise
2 tablespoons lemon juice
2 to 3 tablespoons water
3 cloves garlic
⅛ teaspoon coarse black pepper
¼ to ½ teaspoon salt
Instructions
In a blender or using an immersion blender, blend all ingredients together.