We asked Rivky what her family loves and what her fans love…and discovered one more little culinary secret. 
We're fans of Rivky Kleiman's new book, Simply Gourmet, styled by Between Carpools' our very own Renee Muller. Rivky launched her career in food by being the main cook behind the wildly successful Bais Yaakov Cookbook, and has been a popular columnist with Mishpacha's Family Table ever since. Simply Gourmet is her debut cookbook. 
BCP: What is your family's favorite recipe? 
Rivky: That's so hard to choose! There are so many recipes that have become family classics. Some of my choices are Maple BBQ Salmon, Creamy Mushroom Pasta, Crispy Orange Beef, and Limonana to name a few.
BCP: What recipe do you think is the most popular from all your cookbook? 
Rivky: I've received the most feedback from the Simple Suppers chapter in "Simply Gourmet." These recipes were developed with the fast-paced lifestyles we lead in mind. They are all short in prep time with gourmet results and will be on your table in under an hour. These include recipes such as Oven Southern Fried Chicken, Garlic-Mayo Skirt Steak Dinner, General Tso's Chicken and Broccoli Bake, Cranberry Chicken Sheet Pan Dinner, Sweet and Tangy Meatballs, Poached Meditation Flounder, and Quinoa-Crusted Branzino.
BCP: Is there a dish you make that's not really a recipe but you make all the time? Something that your family loves but you couldn't put in a cookbook because it's either embarrassingly simple and/or uses ready-made or store-bought ingredients?
Rivky: One of my great no-fail, "no actual recipe" dish is pouring some bottle Italian dressing  (Wishbone Robusto Italian) over lightly seasoned fish or chicken cutlets in a baking pan. Sprinkle with Corn Flake crumbs and bake on 350F, 20 minutes for fish or 30 minutes for chicken cutlets. Voila! Moist, delicious perfection every time.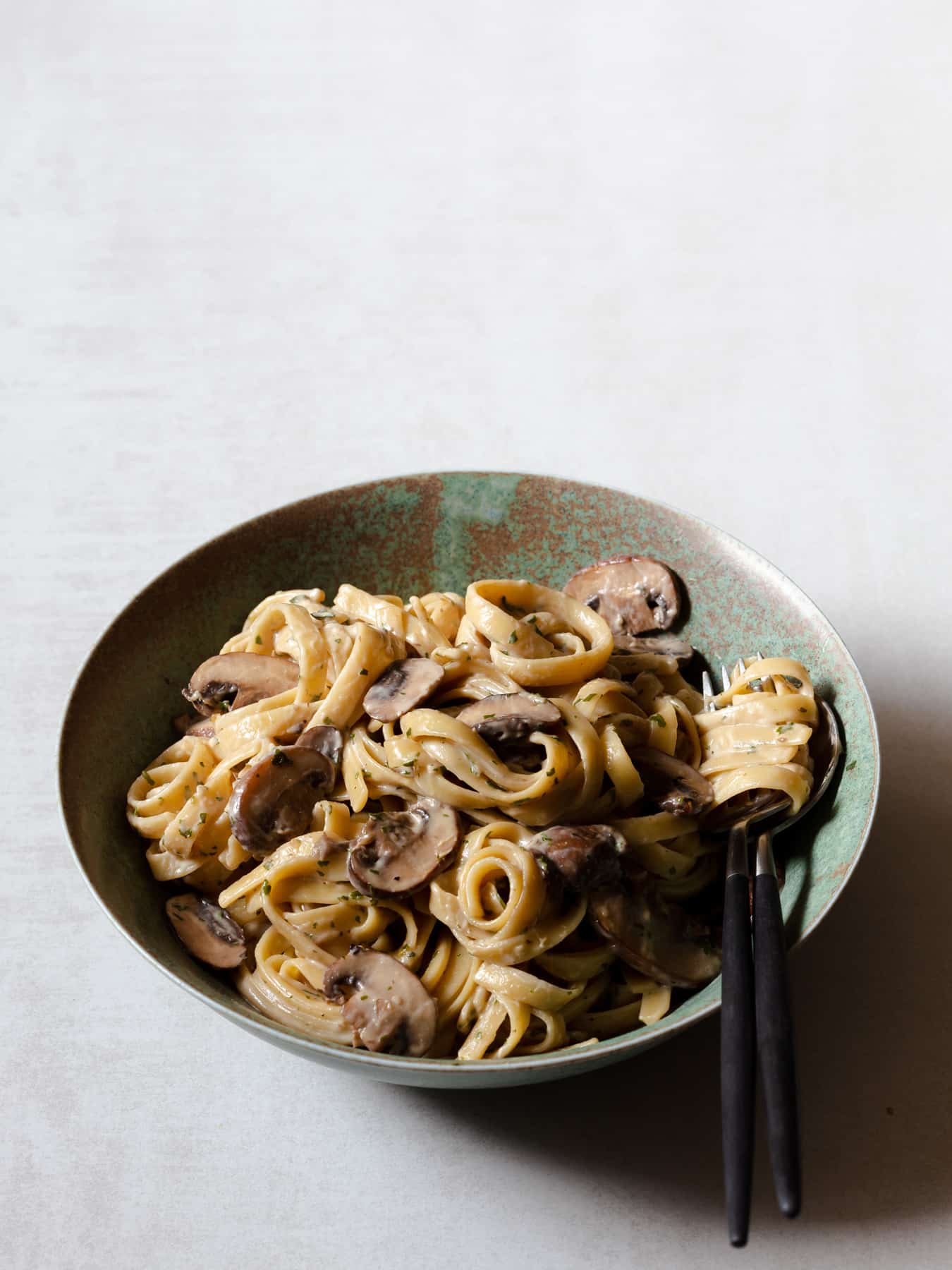 Creamy Mushroom Pasta
Ingredients
This truly is a restaurant-worthy dairy delicacy.
8 ounces fettucine
2 tablespoons butter
1 pound sliced steak mushrooms or large baby bella mushrooms
2 garlic cloves, crushed
1 teaspoon pareve beef broth powder, dissolved in ⅓ cup water
⅓ cup semisweet or dry white wine
1½ teaspoon low sodium soy sauce
1 teaspoon cornstarch
2 teaspoons Dijon mustard
1 teaspoon sea salt
¼-½ teaspoon black pepper
½ cup heavy cream
1 tablespoon dried parsley flakes
Instructions
Prepare pasta according to package instructions. Drain; rinse and set aside.
Melt butter in a large skillet over medium-high heat. Add sliced mushrooms and garlic. Stir until well coated. Sauté for 10-15 minutes until all mushrooms are slightly browned. Transfer to a bowl.
Combine pareve beef broth, wine, soy sauce, cornstarch, mustard, salt, and pepper in a small bowl. Add mixture to the skillet; bring to a boil. Stir until mixture begins to thicken, about 1 minute. Add cooked pasta and mushrooms; stir to coat.
Add heavy cream and parsley flakes. Stir until well combined. Remove from heat and serve.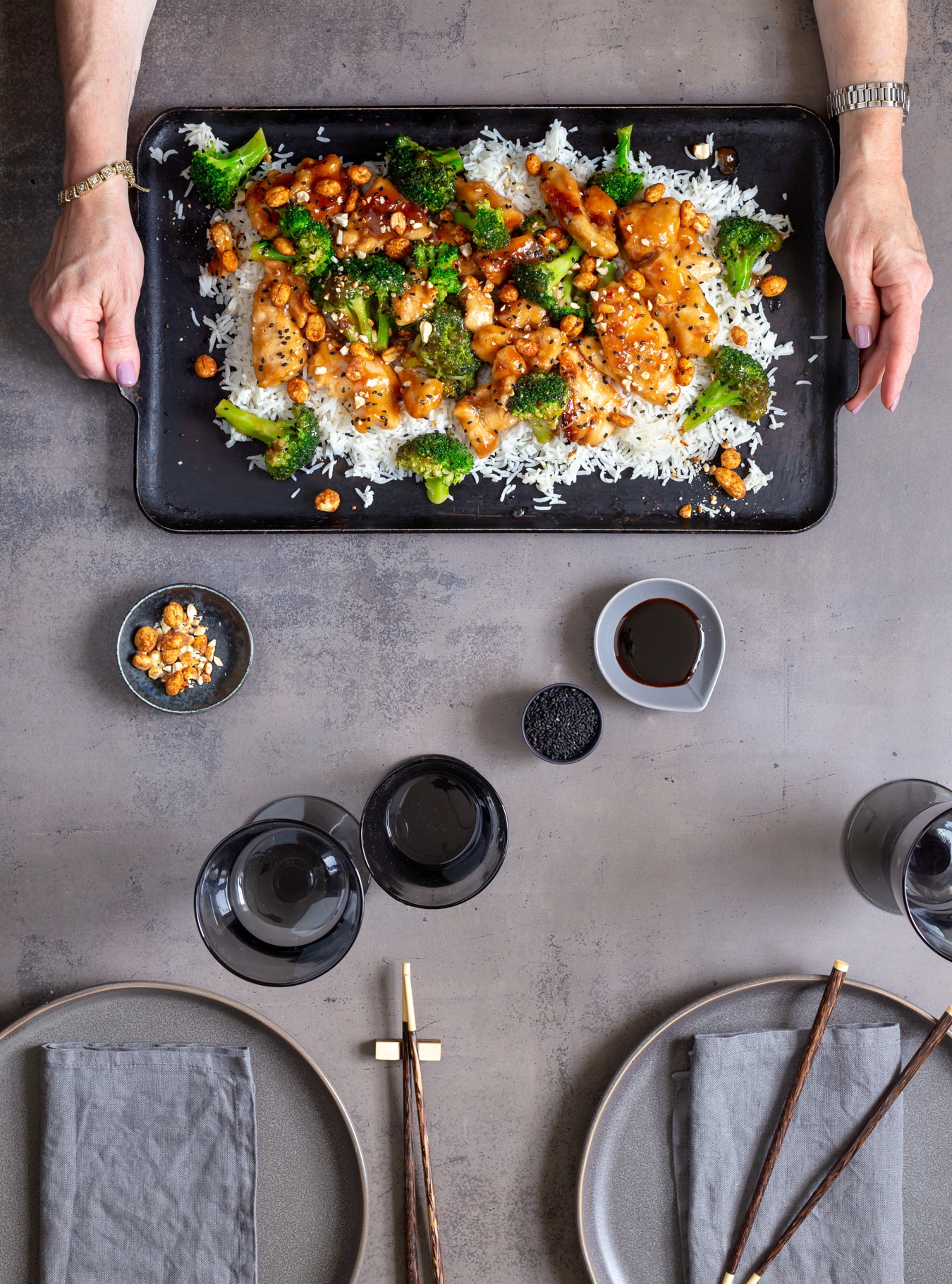 Want to learn how to make this General Tso's chicken? When Rivky shared it with us, we realized it'll work perfectly in a 9×13! Learn how to make it and get the recipe here.