Crazy day ahead? Prepare this the night before and enjoy a one-bowl lunch (or one jar), whether at home or on the run.
In this three-part series, Danielle Renov shares how she prepares breakfast, lunch, and dinner and serve the complete meal in one bowl. Check out the other posts here. -BCP Staff
Full disclosure: I am addicted to this stuff.
The broth that makes up these soups is so good. It is the perfect lunch for mothers. It's filling and satisfying but still so light. The worst thing that can happen to me in the middle of the day is that I eat a heavy lunch. It completely weighs me down and just makes everything I have to do that much harder.
So, when I know I have a crazy day coming up, I take a few minutes the night before to prepare this lunch. This way, all I have to do is find 10 seconds to fill my jar with hot water. Depending just how crazy my "crazy day" actually is I either pour it into a bowl and take a few minutes to eat it like a civilized human being or I grab a plastic fork and spoon and eat it straight from the jar while sitting in my car waiting at the red lights (I know you've all been there).
So, do something nice for yourself this week and make this soup!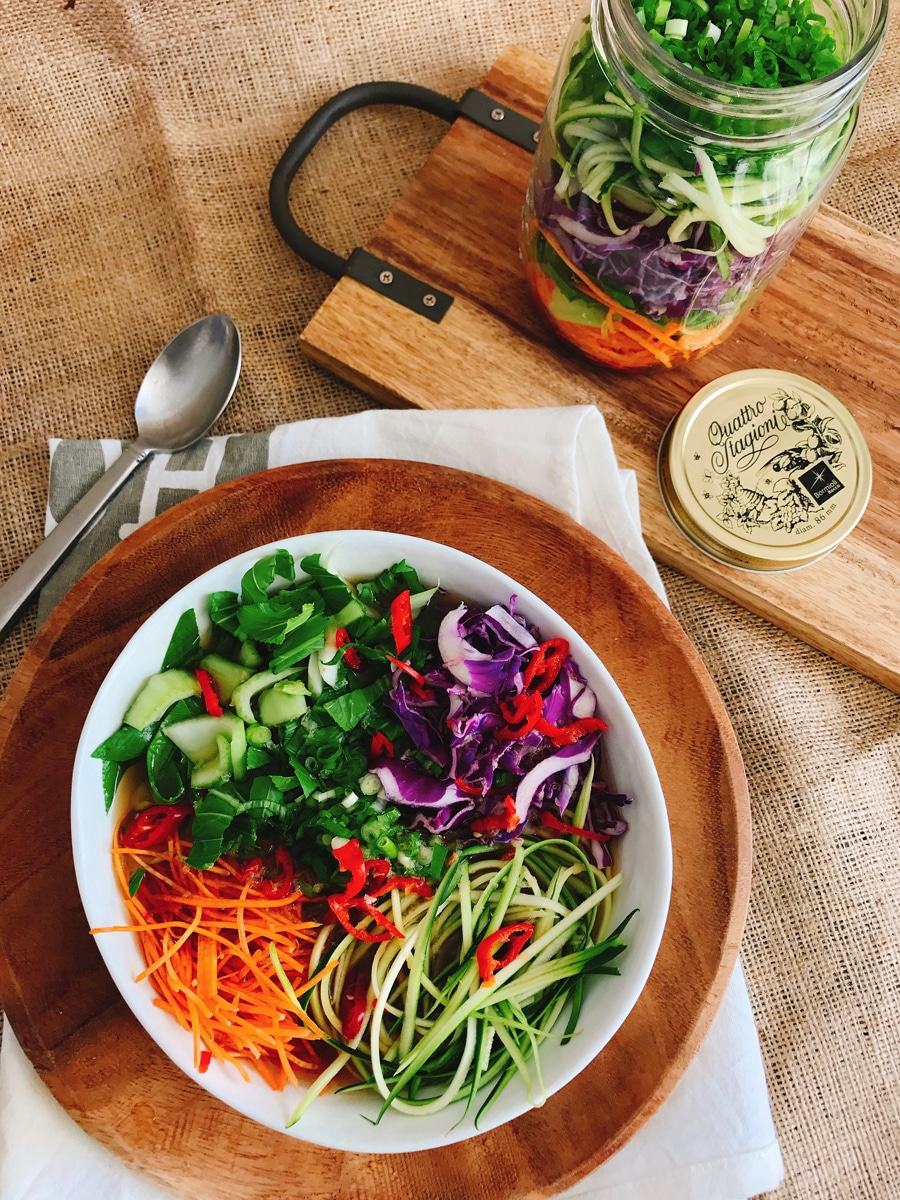 Vegetarian "Pho" in a Jar (or Bowl)
Ingredients
1 empty (32-ounce) jar
¼ teaspoon salt
¼ teaspoon tamarind paste
2 teaspoons lime juice
1 teaspoon sesame oil
¾ beef bouillon cube, smashed (or 2 heaping teaspoons onion soup mix)
1 garlic clove, minced
½ teaspoon fresh ginger, finely minced
2 teaspoons soy sauce
½ cup shredded carrots
½ cup shredded red cabbage
½ cup chopped baby bok choy
3-4 scallions, finely chopped
1 zucchini, spiralized or peeled with a julienne peeler
Instructions
In the bottom of the jar, combine salt, tamarind paste, lime juice, sesame oil, bouillon, garlic, ginger, and soy sauce.
Add vegetables in order (if adding other vegetables, make sure to start on the bottom with ones that won't get soggy). Cover tightly and refrigerate until ready to serve.
When ready to eat, fill jar with boiling water. Cover tightly and turn jar up and down a few times to distribute flavor. Let sit for 8 minutes, until vegetables soften and flavors blend. Pour into a bowl or eat right out of the jar!