Enjoy a well rounded and vibrant breakfast in one bowl with these Golden Chai Overnight Oats
By Danielle Renov of @peaslovencarrots
In this three-part series, Danielle Renov shares how she prepares breakfast, lunch, and dinner and serves the complete meal in one bowl. Check out the other posts here. -BCP Staff
Breakfast at my house is such a crazy time. Between all the different pickup and drop off times, the personalized lunches, the ponytails, shoelaces, and last-minute balls that need to be located, oh, and let's not forget my favorite: the outfit changes for little girls who have opinions even though they are not old enough to technically possess them—the morning time is basically just an hour of me holding my breath going from one task to the next until each kid is safely (most of the time) where they need to be. So, breakfast needs to not be a thing. It has to be quick, easy and most of all something that everyone, including myself, can eat.
When I first heard about overnight oats I was so intrigued because really, I will literally do anything to make my mornings run more smoothly. Cereal never goes over well by me. It either gets soggy, or there's not enough milk, or the bowl spills…it's just more work that I don't need. The fact these are meant to be prepared the night before is a huge win for the mom who is constantly running "Between Carpools" (pun totally intended).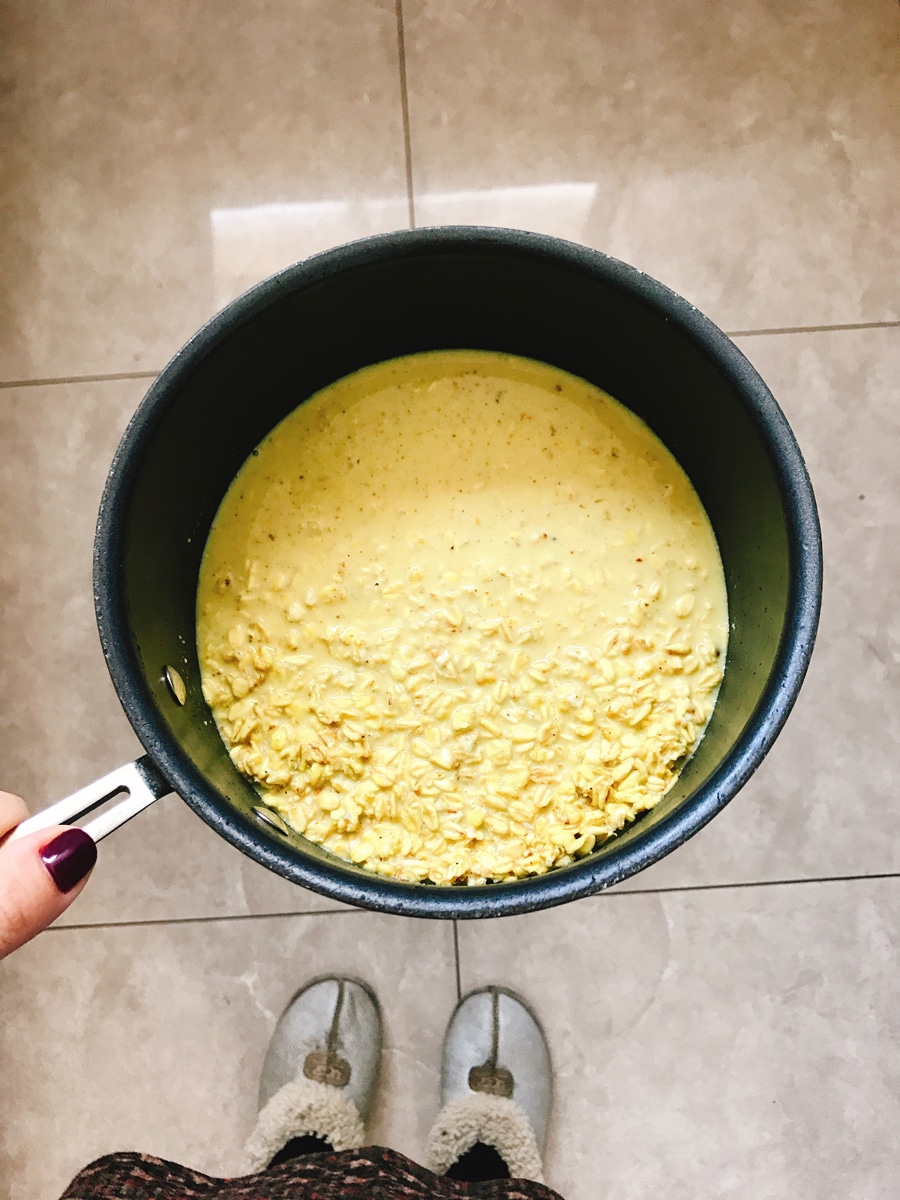 I developed this version because my kids definitely eat with their eyes first. The golden hue of the oats from the turmeric is so beautiful. Little do they know how good for them it is to start their morning off with all the extra nutrients that turmeric has in it. Plus, I love the fact that I can toast all my nuts and coconut at the beginning of the week and have them around every morning so that each child can individualize their oatmeal. I usually make the oat mixture right in a pot and cover it with Saran Wrap so that all I have to do in the morning is stick it on the stove and pour it into to-go cups. Boom. Breakfast in less than two minutes.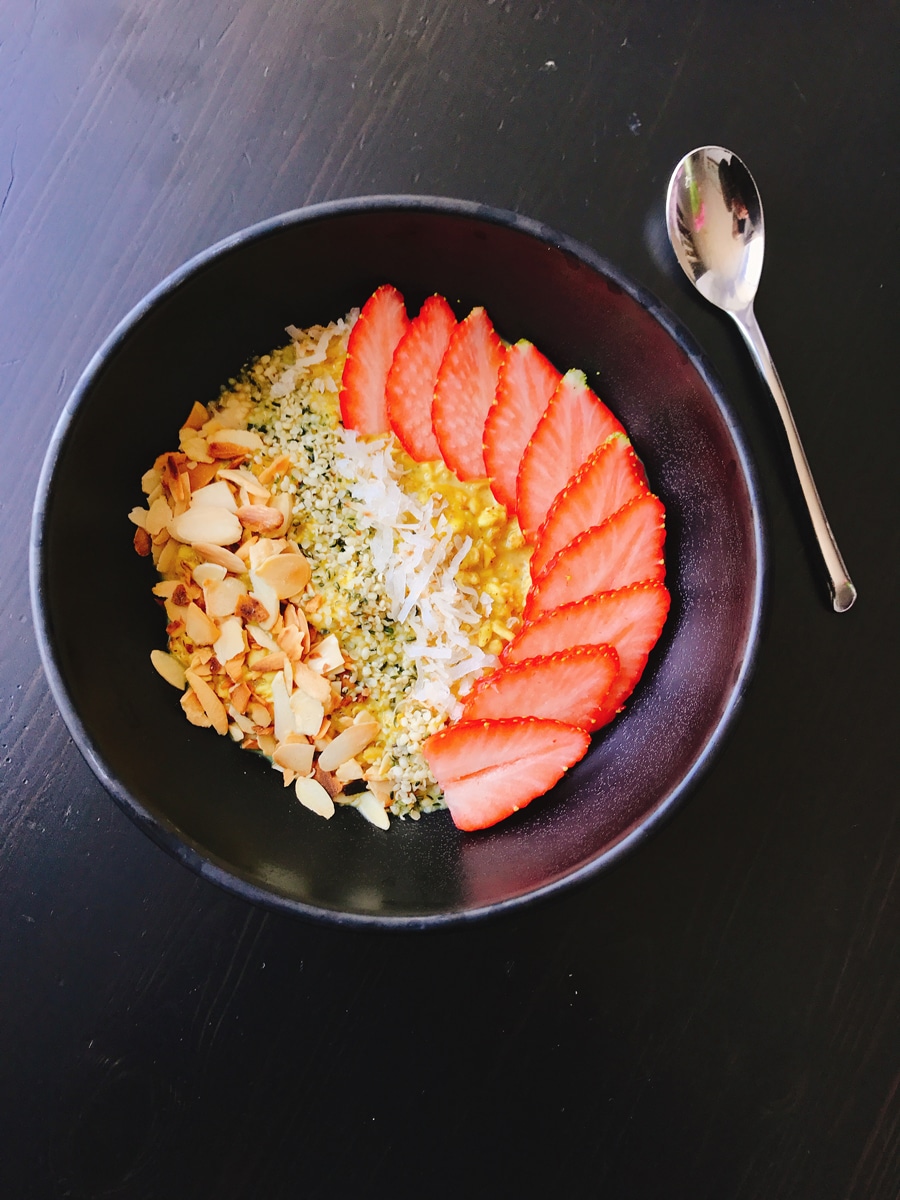 Golden Chai Overnight Oats
Ingredients
1 cup old fashioned or rolled oats
2 tablespoons total of any of the following (feel free to mix and match): oat bran, ground flaxseed wheat bran, chia seeds, Bob's Red Mill 7 grain Hot Cereal
¼ teaspoon salt
½ teaspoon turmeric
½ teaspoon ginger
½ teaspoon cardamom
¼ teaspoon cinnamon
¼ teaspoon good quality vanilla bean paste or ¼ teaspoon vanilla extract
2 tablespoons honey
1 cup milk (I use 1% but any kind is fine)
Optional Garnishes:
toasted slivered almonds roasted pistachios toasted coconut
hemp seeds flax seeds
toasted sesame seeds
fruit: strawberries, bananas, persimmons, pears, blueberries etc.
Instructions
Pour oats, other grains, spices and milk in a bowl or a small pot. Cover tightly with Saran Wrap and place in the fridge overnight.
In the morning, remove from fridge. If eating cold, just top with whatever garnishes you like and eat! If eating hot, place pot over medium heat and gently heat oats. Stir constantly to prevent burning. Pour into bowls and garnish. Enjoy!