A complete balanced meal in one pan? This chicken, rice, and green bean dish will save the day on many occasions. Pick up just 4 ingredients from Evergreen (chicken, green beans, rice, and duck sauce!), grab some spices from your pantry, and in five minutes, dinner is set!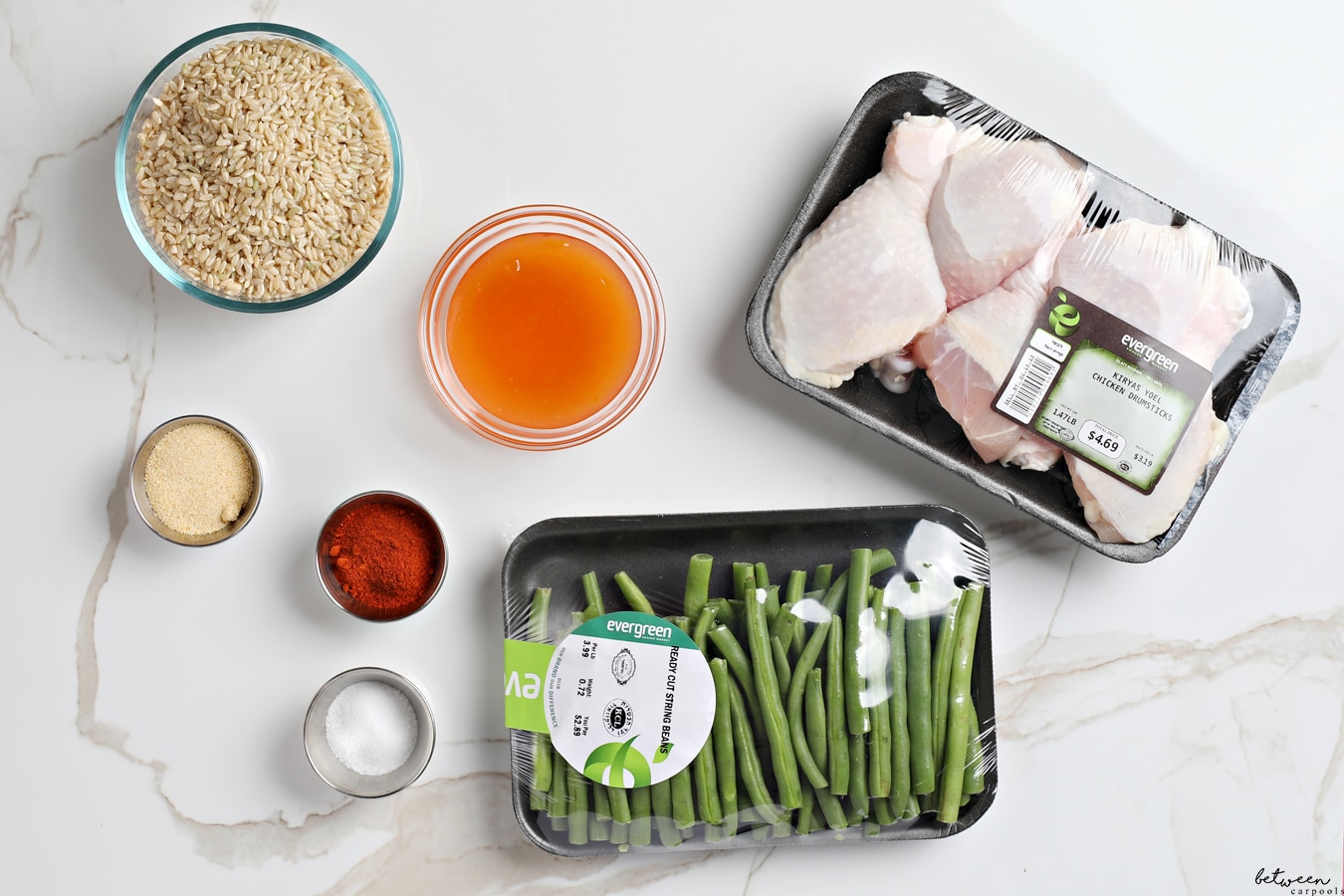 Sometimes the way a recipe travels to us is quite funny.
During the summertime, I lived on the same block as four sisters. One day, they were sitting outdoors in front of one of their homes across the street from mine when I walked by and sat down with them for a minute. One of the sisters was in a midst of a kitchen renovation, and though she did have an oven, she had nothing else. And so, the sisters were discussing recipes she could prepare in a 9×13 when I sat down.
I told them about our 9×13 ziti and she was thrilled.
Then, she said, "I also made Ruchama's chicken in a 9×13" and she described how it's made.
After that short exchange, I was needed at home, so I got up and crossed the street.
Now here's the family connection, please follow along. Ruchama is their sister-in-law, married to their brother. She's also my niece.
And so, I asked Ruchama directly for the specific instructions. After she gave them to me, she added, "Oh, it's Bubbe's recipe." Bubbe, as in my mother-in-law.
So that's how I learned about this recipe of my mother-in-law…from a neighbor's sister.

In the summertime, I live just down the block from Evergreen in Lakewood, so the next day, I headed over to pick up the ingredients. I love the convenience of having such a great product selection and great prices in one place (and so many pre-prepped options that you can take home and cook so you can totally fake your meal for those days you need to).
Chicken with Rice and Green Beans
Ingredients
2 cups white or brown rice
2 teaspoons salt
3-3 ½ cups water (3 for white and 3 ½ for brown rice)
2 pounds green beans
Paprika (I prefer smoked paprika), salt, and garlic powder, for sprinkling
½ cup duck sauce
Instructions
Preheat oven to 350⁰F.
Add rice and salt to a 9x13 pan. Top with green beans and chicken. Season chicken with paprika, salt, and garlic powder. Smear duck sauce on top. Carefully add in water (you can do this before adding the green beans and chicken too). Cover and bake for 2½ - 3 hours. If you're using a real baking pan (a roasting pan or Pyrex) it will be done in 2 hours.