Hot cake and cold ice cream? It's the perfect combination for the best dessert and the easiest to pull off.
In the winter we want hot desserts, but even when it's cold outside, hot desserts are even better with something cold on top. This one is special enough for those long Friday nights when there's lots of time to sit and enjoy everyone's company at the table…and it's easy enough for a weeknight when everyone deserves that extra treat. And it's very impressive with almost no effort at all. Even if you're not a baker, you can serve this dessert!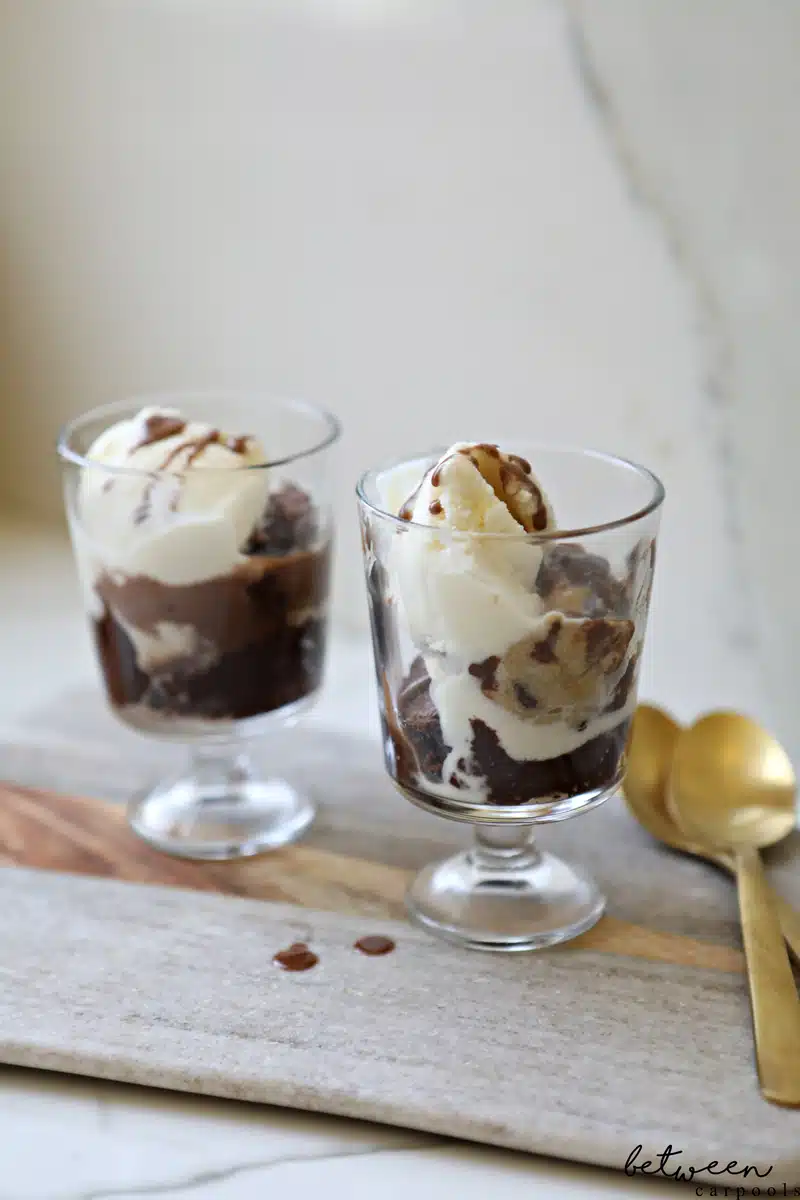 When we sat down to write this post, all of us on the team agreed that our favorite pareve vanilla ice cream is Abe's Ice Cream (the Vanilla Caramel flavor also works well). And there's some big ice cream fans among us, so you can be sure we tasted them all. (Did you know that Abe's is also the brand of ice cream that lots of restaurants prefer?). And sure, while this will also work with any dairy ice cream, when it comes to pareve, don't accept any substitutions!
And so we made this dessert. And then we ate this dessert. And we all agreed the combination couldn't be more classic or more perfect.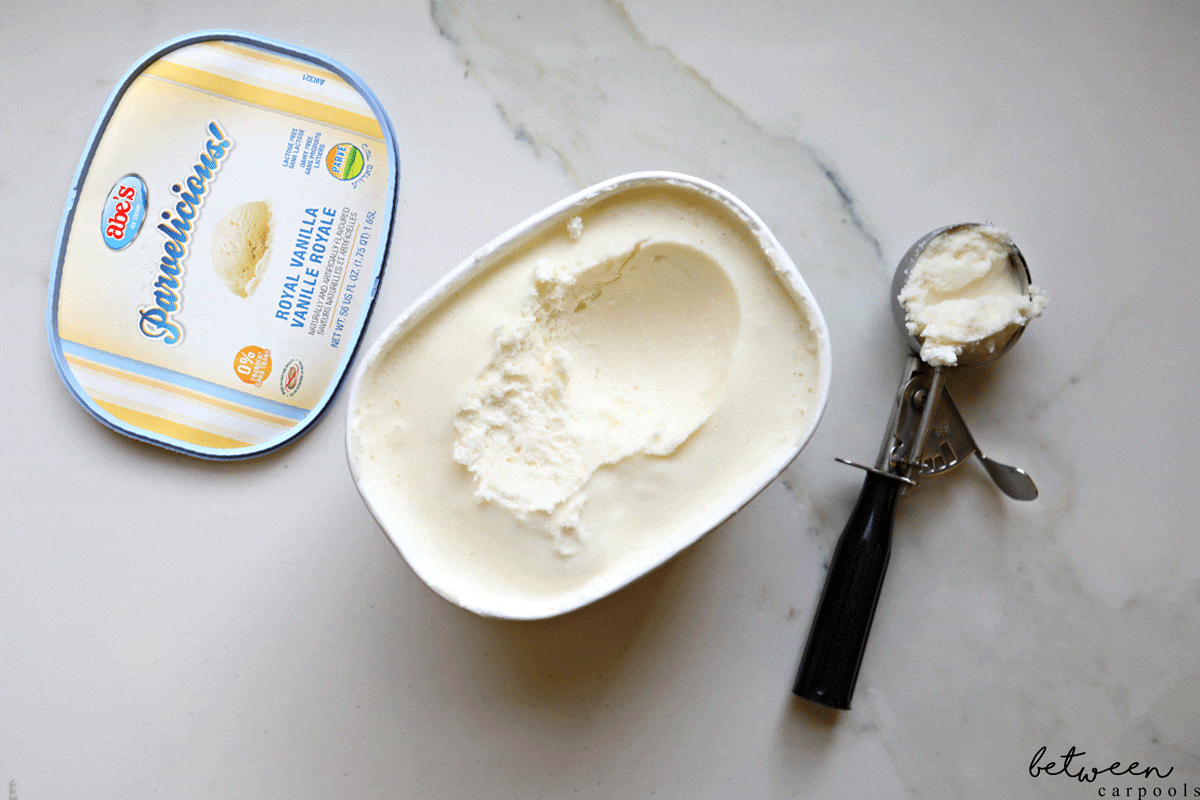 The Hot + Cold Dessert
Ingredients
1 half gallon Abe's Parevelicous Royal Vanilla Ice Cream
Fudge Sauce (bought or make your own. See below)
10-12 balls of chocolate chip cookie dough or raw brownie batter (or both)
Instructions
You can either make this with brownie batter or cookie dough, or for a really rich combo use both. If using cookie dough, place 2-3 homemade or bought cookie dough balls into a greased ramekin. If using brownie batter, use your favorite batter or see recipe below. Use half quantity if combining cookie dough and brownie batter. For each sundae you need 1 ramekin per person.
Bake at 350ºF for 14-15 minutes until it's mostly baked through. If you are preparing this for Friday night, you can bake it for 12 minutes and then keep it warm on a hot plate.
When ready to serve, in a glass or sundae cup, using a spoon, place a spoonful of baked cake. Place a scoop of ice cream and top with some hot fudge. Place another scoop of baked cake, ice cream, and top with a final layer of fudge. If you are using small glasses, make each scoop a small one so you can still layer. If using large ones, use a full scoop.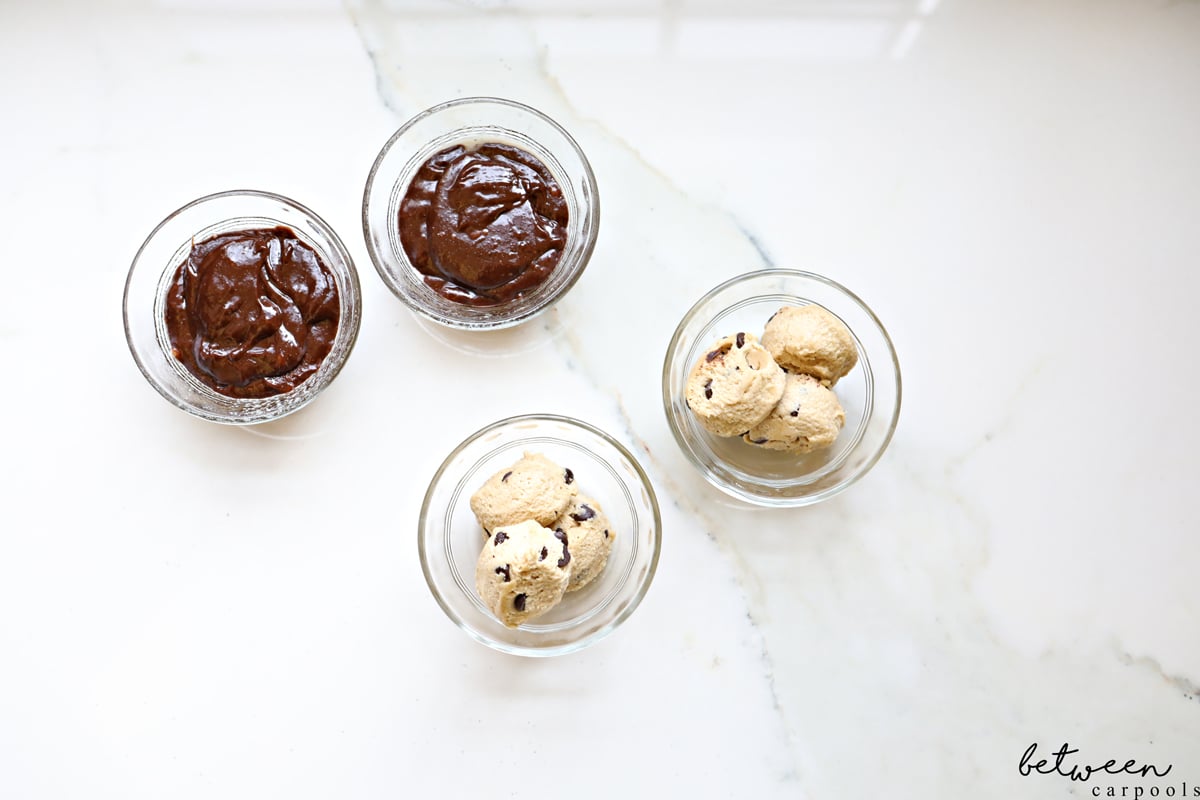 Fudge Sauce
Ingredients
1 3.5 oz bar bittersweet chocolate, chopped
1 container non-dairy whipped topping
Instructions
In a microwave, melt the whipped topping with the chocolate at 30 second intervals. Mix to fully combine.
If you want to keep this warm on Shabbos, transfer it to a plastic container and keep it on top of the urn until ready to serve. Note that you must place the container there BEFORE Shabbos, as liquids cannot be heated on Shabbos.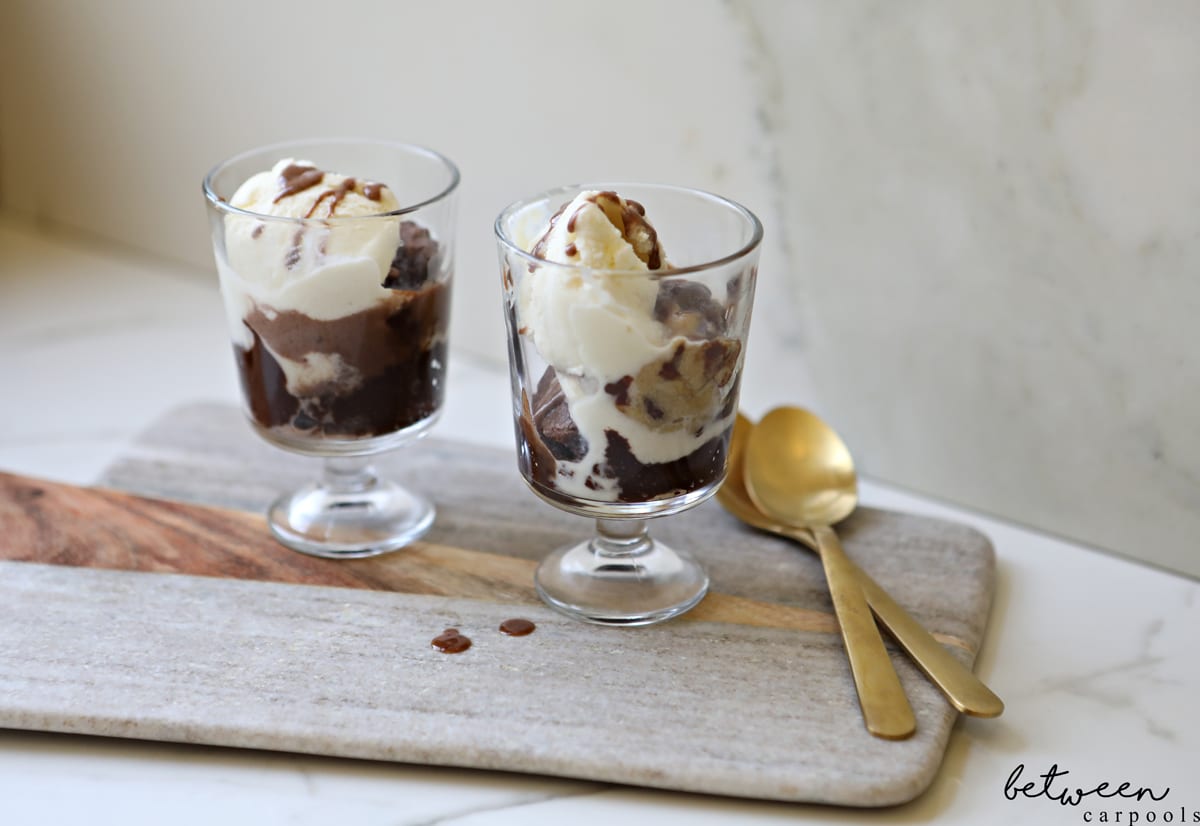 No Mixer Brownie for 4
Author:
Adapted from Everyday secret Restaurant Recipes
Ingredients
5-6 ounces bittersweet chocolate
6 tablespoons margarine or oil
½ cup sugar
2 eggs
½ cup flour
Instructions
In a microwave-safe bowl, melt chocolate with margarine. Microwave for 1 minute and stir until smooth. Microwave for an additional 15-20 minutes if necessary. Whisk in sugar.
In a separate bowl, whisk eggs. Add 1 tablespoons of the chocolate mixture to temper. Add remaining chocolate mixture while mixing. Add in flour.
Grease 4 ramekins. Divide between ramekins and bake for 14 minutes. The top of the cakes should be set with the center still soft.
---
This post is sponsored by Abe's Ice Cream. Find it in the freezer section of your local supermarket.