People say that this is their favorite roast ever. But we save it and savor it on Pesach.
Yes, if you're accustomed to preparing meat with lots of nice sauces, it can be a challenge on Pesach. Before I learned about this recipe, my no-fail Pesach secret was simply to cook meat using the best wine I could find. Then, years ago, my friend Krassie shared this roast recipe with me.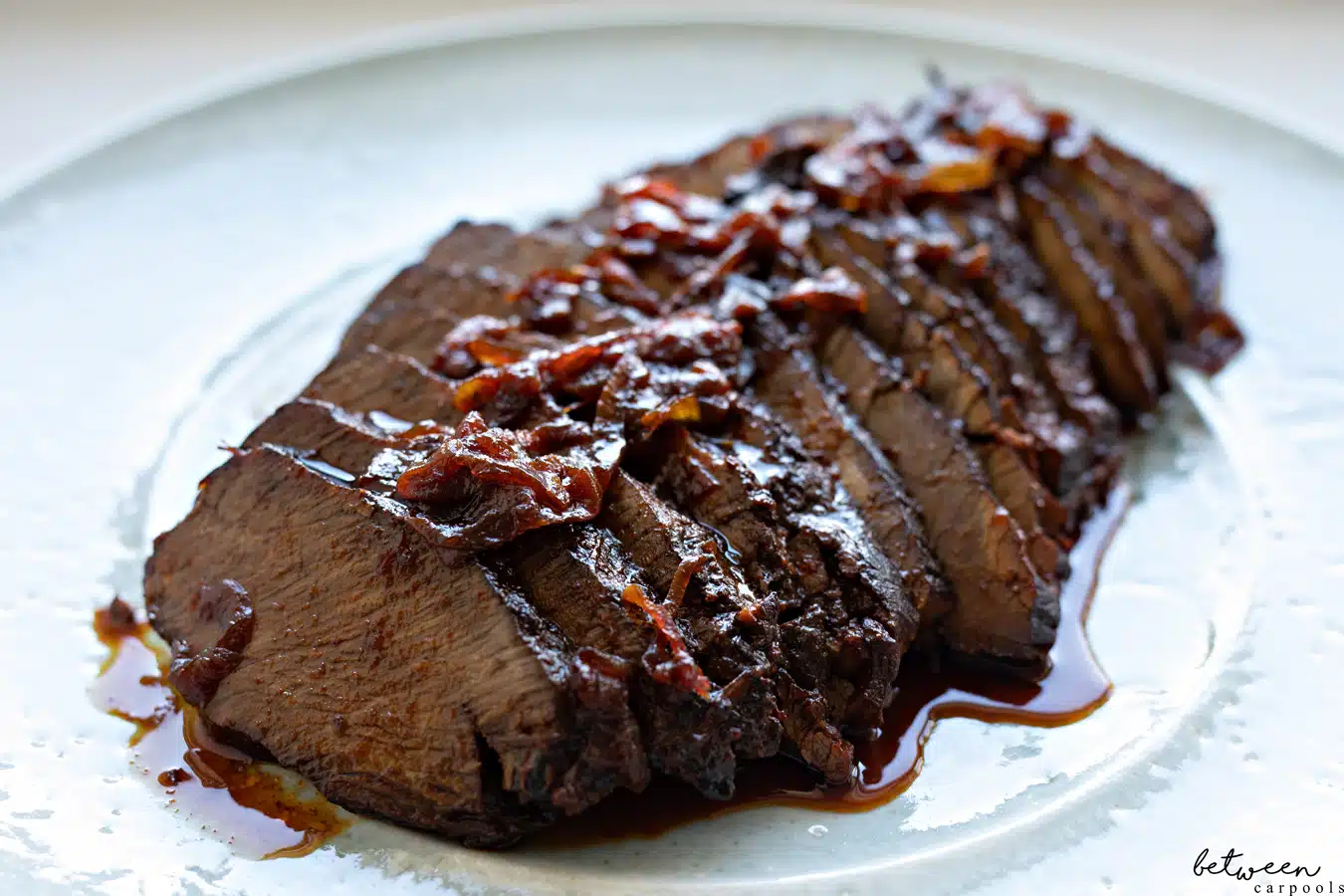 With limited ingredients to work with, cooking for Pesach is a challenge. When it comes to meats, my no‑ fail Pesach secret was to simply cook meat using the best wine I could find. But now I needed a new idea. When Krassie shared this recipe with me, I started dreaming about how delicious it sounded before I even tasted it. That was a while ago, and since then, it's become a favorite in so many homes.

Caramelized French Roast
Ingredients
3‑4 lb French roast
salt and pepper, for sprinkling
Paprika, for sprinkling
1⅓ cup sugar
2 large onions, sliced in rounds
2 Tbsp cold water
2 Tbsp potato starch
Instructions
Rinse the French roast and pat dry. Season well with salt, pepper, and paprika.
Place the sugar in a sauté or braising pot (the pot should also be large enough to fit the meat, covered). Over low heat, cook sugar, stirring occasionally, until sugar melts and turns into a caramel color.
Add the meat to the pan on top of the caramelized sugar. Sear both sides of the meat two times, using a fork or tongs to rotate the meat.
When all surfaces of the meat are browned, lift the roast and place the onions underneath. Cover and let cook over medium low heat for 21/2‑ 3 hours. (Make sure the flame is low enough so as not to burn the meat, but high enough so that the sauce is still bubbling slightly.) Remove meat from pan.
As the onions cook, the water from the onions will mix with the sugar, creating a sauce.
In a small bowl, combine the potato starch and water. Add to the sauce. Cook until the sauce thickens. Slice meat and serve with caramelized onion sauce.
To freeze and rewarm, slightly undercook the roast. Freeze the meat and sugar-onion sauce separately. Rewarm the sauce, only adding the potato starch and water at this point. Slice the meat and reheat with the sauce.
Note: I've skipped the potato starch many times. Just slice cold meat, pour over the onions and sauce and reheat, or freeze and reheat as needed.
Why do you even need any of the bottled stuff when a roast made with simple ingredients like this is just so, so good?
Click here for our Top 26 Favorite Pesach Recipes