There's so much flavor in this (easy to prepare!) ice cream dessert, it's hard to even begin describing it to you.
I have had the concept of a knafeh ice cream simmering in my mind for a while now. But before we begin introducing this amazing dessert, I need to begin by crediting two other amazing desserts:
Our halva ice cream with silan & pistachios and traditional Syrian knafeh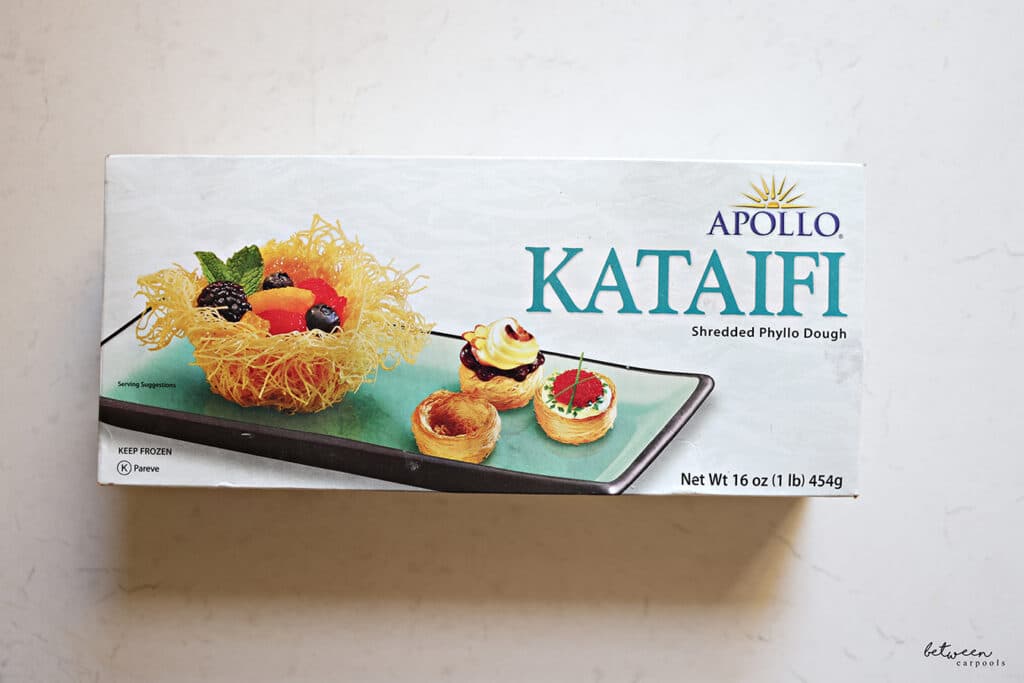 It's almost like a combination of the two. But it's pareve. And simply amazing. A delight to your taste buds. An exciting, dessert party. And super impressive when you bring it out. And, can we add: really, really easy to prep? You almost don't need to do anything.
There's really only two steps that you need to do ahead. The first one is to toast the knafeh/kadaif. I know that we're going to get lots of comments on "Where can I find Kadaif?" It's located in the freezer section alongside the phyllo/fillo dough (Kadaif is shredded phyllo). And no, it won't be in every supermarket, but it's out there and you should be able to find it both in larger supermarkets and groceries that carry Middle Eastern products.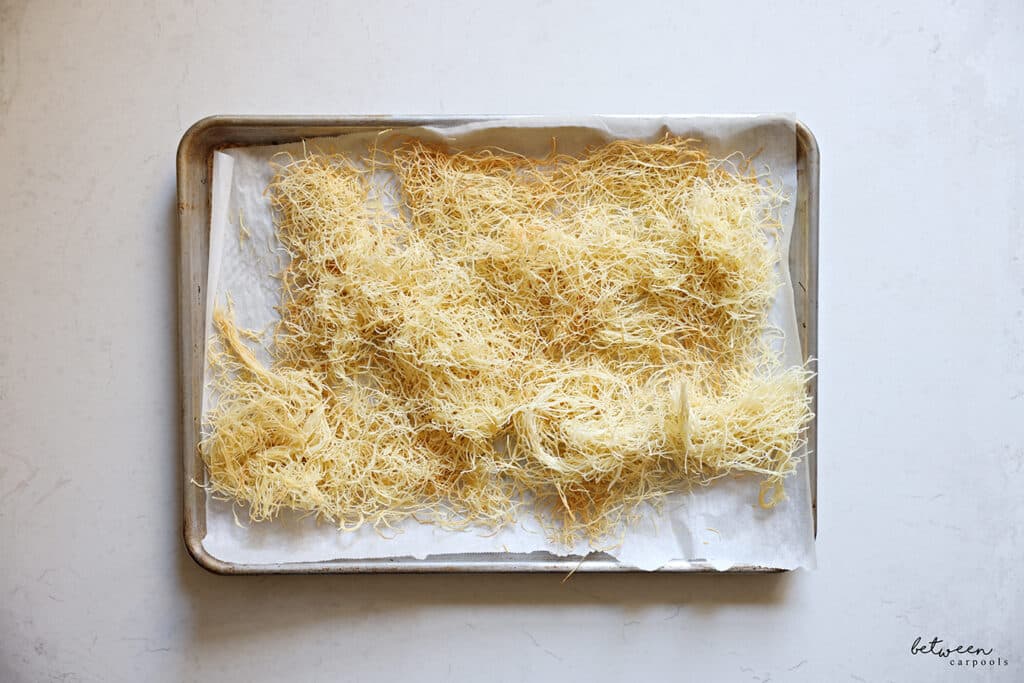 Let the kadaif thaw for about an hour at room temperature. You'll need half the package for this recipe. Spread it out on a parchment-lined baking sheet and toss with a stick of melted margarine. Pull it back into an even layer and bake at 350⁰F for about 10-12 minutes, but please, watch it carefully! Every oven is different and Kadaif is delicate, so you should really set an 8 minute timer than check again every 2-3 minutes. Toss it around a couple times during baking. When it's nicely golden (not brown), it's ready. It's ok if some parts still look white.
The only other item you'll need to do ahead is preparing the orange blossom sugar syrup (simply simple syrup with a spoon of orange blossom water mixed in) . Now, I know this is the part that some of you might skip, but really, you'll be losing out. The flavor it adds is tremendous and fragrant and beautiful. Now, I have seen rose water and orange blossom water in the baking aisles at all different groceries. (Sidenote: We also use this orange blossom water for besamim.)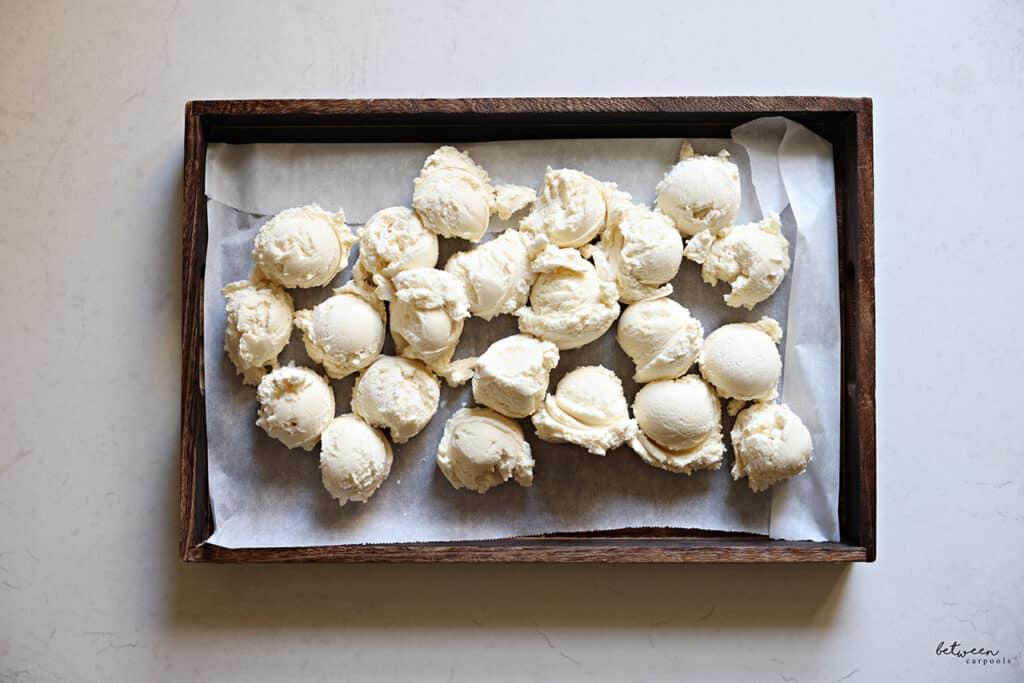 Once you have those two items prepared, you can have fun plating the dessert! You can do this either completely ahead of time, or when you're ready to serve it. I use a wooden tray lined with parchment paper, but you can use any serving platter. First, scoop out your ice cream.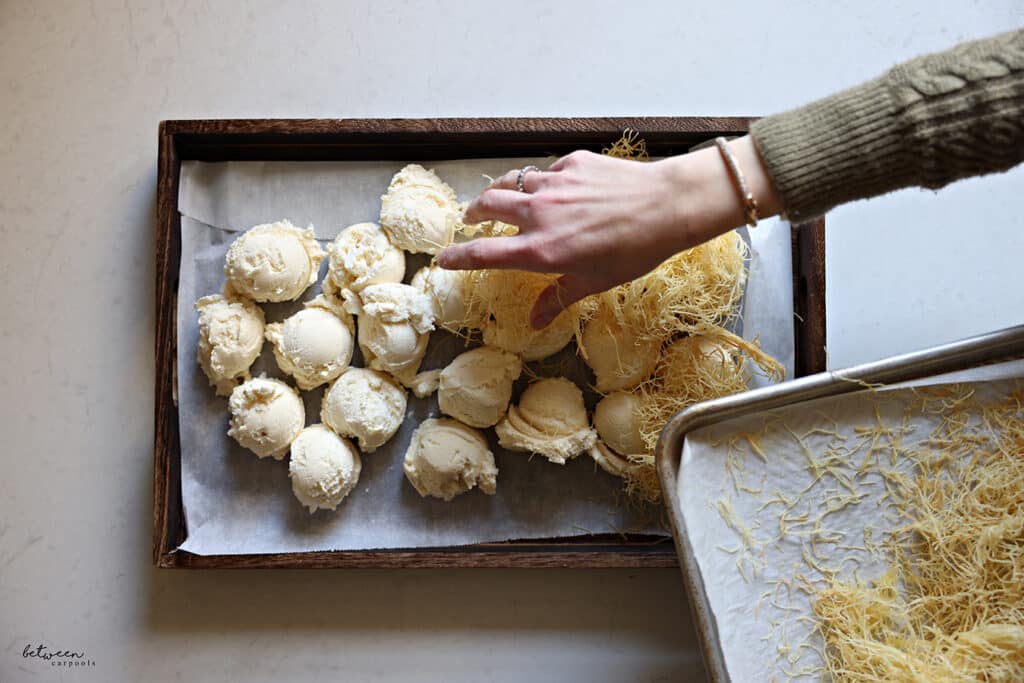 Add your toasted kadaif/knafeh on top to cover.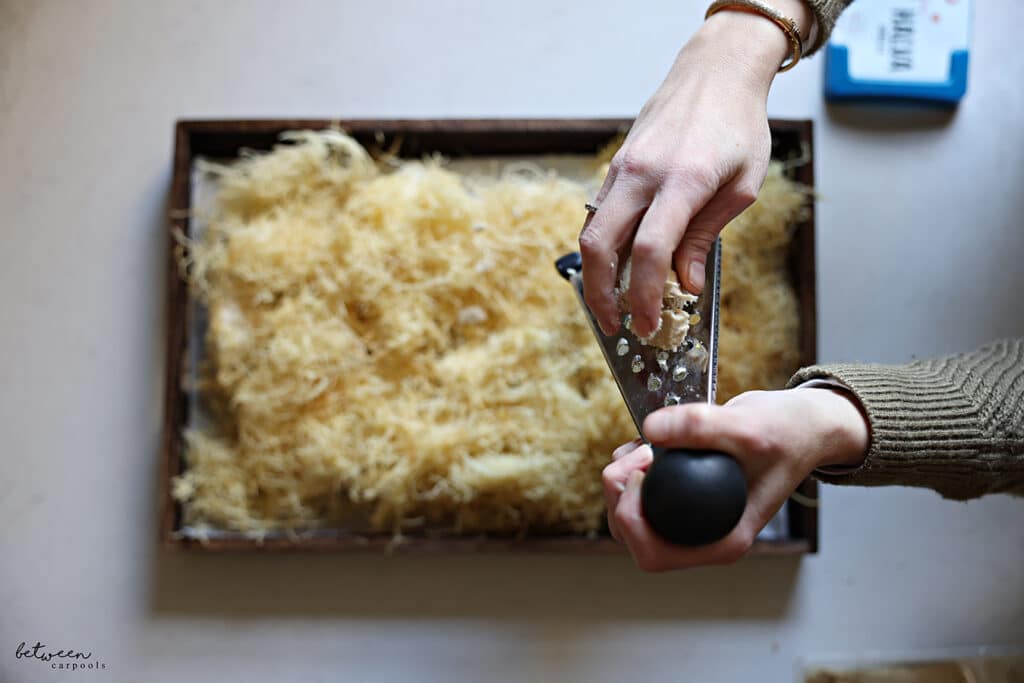 Then, have fun! Sprinkle on that shredded halva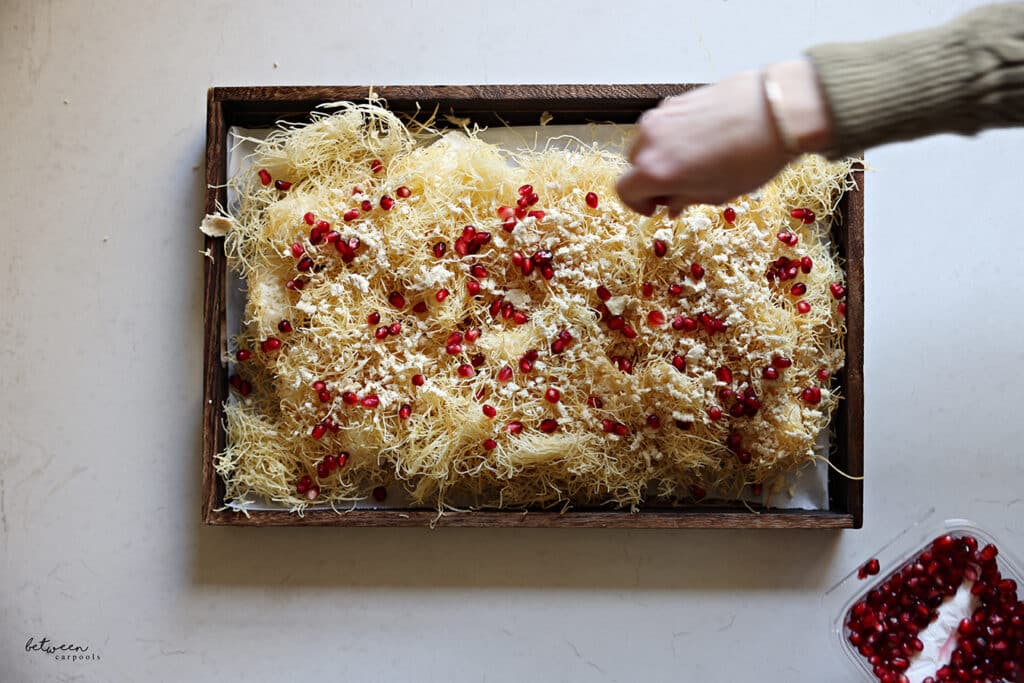 (you can use shredded halva instead if you find it), pomegranate seeds,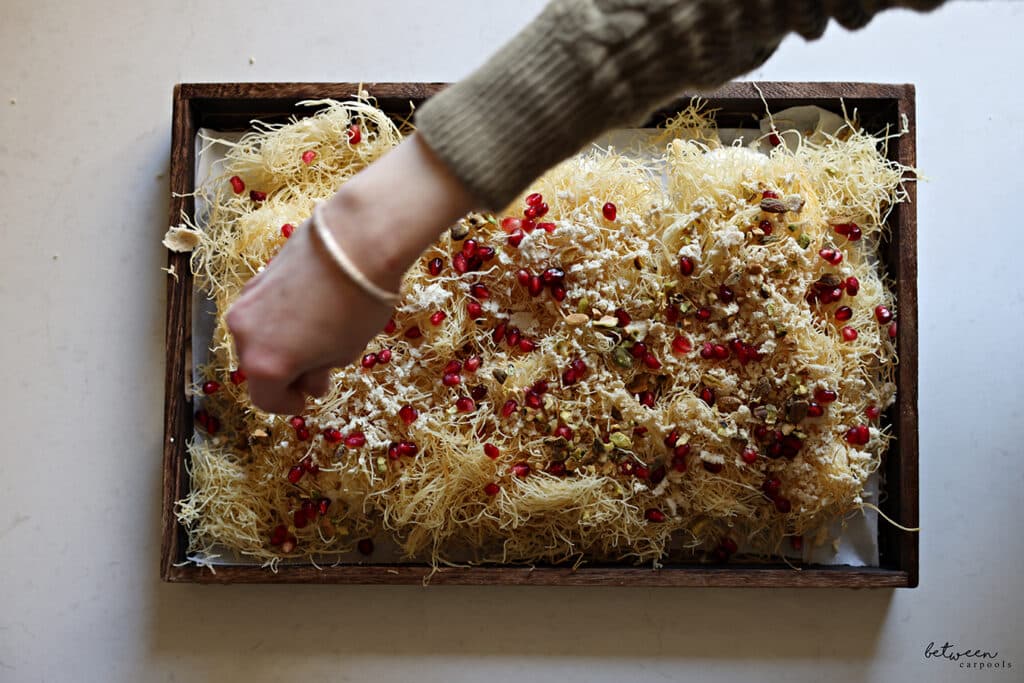 crushed pistachios…
Then drizzle on that silan…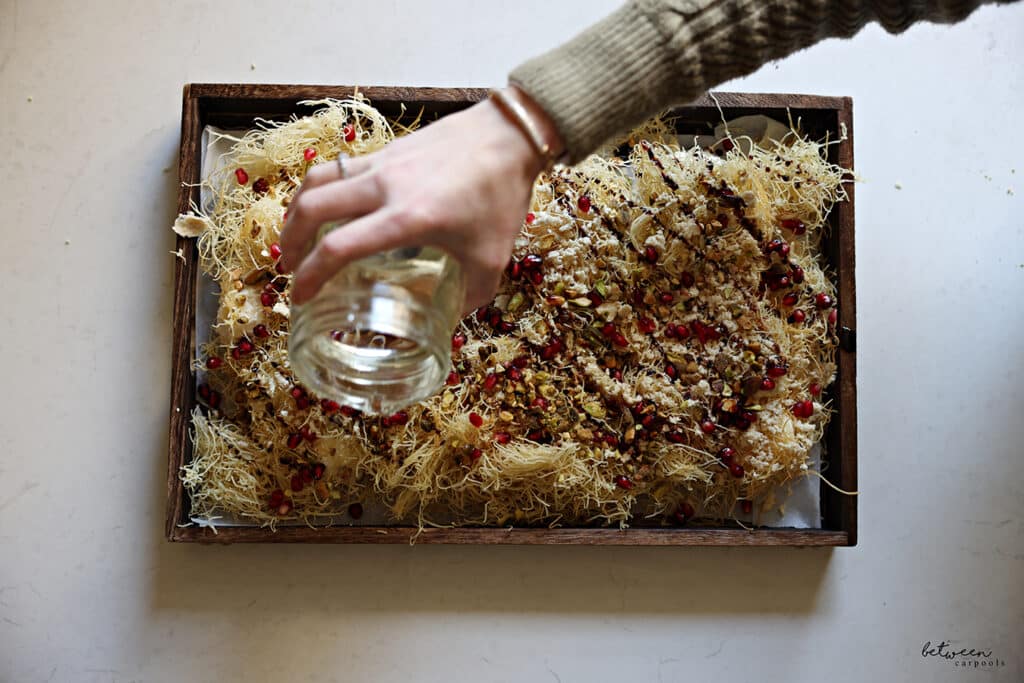 and finally the orange blossom simple syrup (you might not need all).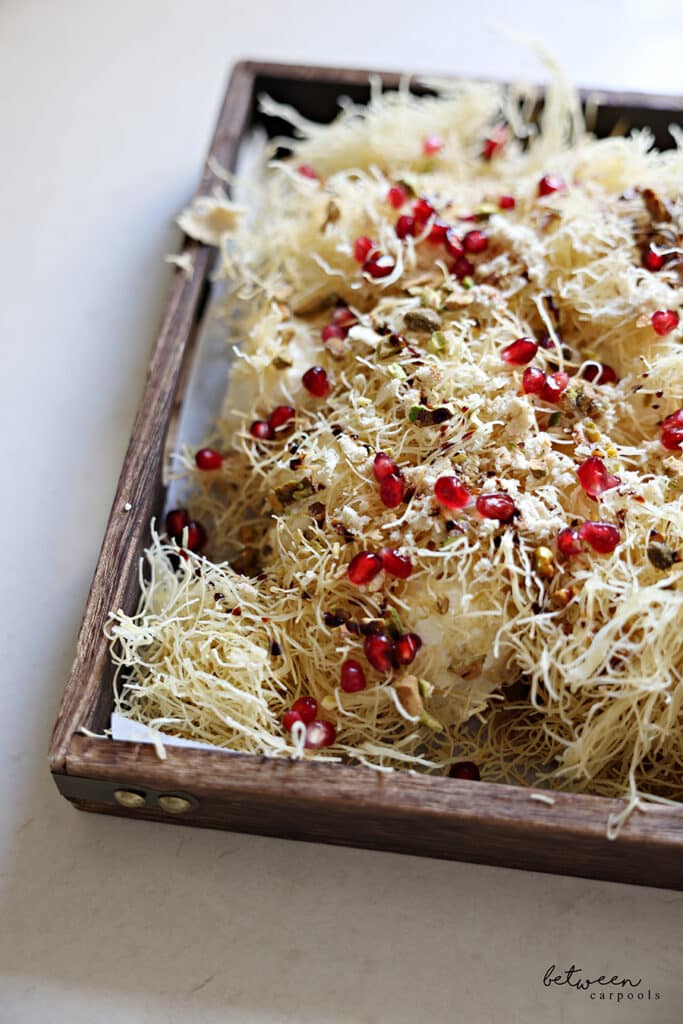 Every single ingredient adds interest and flavor.
A beauty.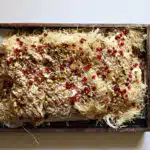 Print Recipe
Kanafe Ice Cream
Ingredients
1 56 oz container ice cream (or pareve ice cream) 

½ package Kadaif 

½ cup margarine, melted 
Simple Syrup
½ cup sugar

3 tablespoons water 

½ tablespoon orange blossom water 

1 handful crushed pistachios 

1 handful pomegranate seeds 

¼ (12 oz container) halva 

Silan, for drizzling 
Instructions
Preheat oven to 350⁰F. Line a baking sheet with parchment paper. Let Kadaif thaw at room temperature for about an hour. On the prepared baking sheet, toss Kadaif with margarine. Spread evenly and bake, for about 10-12 minutes, or until lightly golden. Toss a couple times during the baking so that inner parts get toasted and outer parts don't overcook. Watch carefully! Set aside. 

Prepare the simple syrup. Combine sugar and water in a small saucepan. Bring to a boil and boil until sugar is dissolved. Stir in orange blossom water and let cool completely. Store in a jar until ready to use.

Plate your ice cream! Scoop ice cream onto a tray or platter. (Can be frozen at this point or prepared fully and frozen). Top with Kadaif. Shred halva on top of Kadaif. Sprinkle with pomegranate seeds and pistachios. Drizzle on silan. Finally, drizzle on orange blossom water (careful, as if it's liquidy and not thick, it can drip).

Freeze or enjoy immediately!
FOR EXCLUSIVE CONTENT AND A PEEK BEHIND THE SCENES, MAKE SURE TO JOIN OUR WHATSAPP STATUS HERE. JOIN OUR WHATSAPP GROUP AND WE'LL LET YOU KNOW WHEN A NEW POST IS UP!