From choosing the potatoes, to the way the potatoes are processed…making a great kugel is simple, but the details matter.
The perfect potato kugel means different things to different people. But for a real traditional kugel you want it creamy inside and crispy in the outside. I've tried every trick out there – heating up the oil, mixing the eggs first in the food processor and found it all to taste the same at the end. What does make a huge difference is the kind of potatoes you use and the grate of the potatoes. For crispier potatoes bake it in a glass baking pans (such a pyrex) or in pot thats oven proof (uncovered).
Choosing Your Potatoes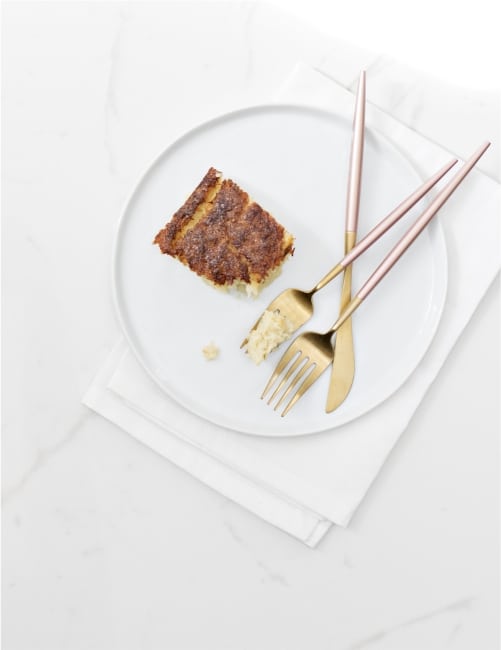 For a potato kugel with the creamiest texture, you need to use golden potatoes. Watch out for  potatoes that are green tinged?using them results in a kugel with a bitter aftertaste. (Green-tinged potatoes are usually a result of exposure to light, which increases alkaloid levels. This is generally not harmful in low amounts, though it can make the potatoes taste bitter.) Peel away all the green skin and surface layers of the potatoes, but if the greening is very deep the potato will taste noticeably bitter and should be discarded. You can quickly look into the bag of potatoes before you buy them. You may also want to smell the potatoes; they shouldn't smell rotten. If you come across a potato in the supermarket that looks fine but smells wrong, don't purchase it.
Once you bring your potatoes home, keep them out of the refrigerator to keep their natural starches from turning to sugar, or you'll be left with a sweet, gritty potato.
If you don't come across golden potatoes, you can use starchier potatoes such as Idaho or Russet, however, then you'll need to add another egg, or a little more oil to achieve that creamier texture.
Choosing Your Grater/Processor
While some prefer the old-fashioned cross-woven steel wires potato grater, I find that it produces a slightly piecey texture, and rather use a grater that has very small holes that produce a fine grate like the smaller holes on the sides of a grater like this one. When using a food processor (highly recommended), I prefer the Braun. Use the "kugel blade" (CombiMax Grating Insert 7000-488) on number 8 speed. When using a processor such as a Magimix with no kugel blade, simply grate half the potatoes, switch to the blade, and put back on the machine for a few seconds. Repeat with the remaining half. 

Leah's Potato Kugel
Ingredients
5 pounds golden potatoes (such as Yukon Gold)
1 large yellow onion
7 extra large eggs (or 8 large eggs)
½ cup oil
1 Tbsp salt
dash of black pepper
Instructions
Instructions
Preheat oven to 350ºF.
Peel potatoes and onion.
In a food processor, process the potatoes and onion on medium speed. (8 on the Braun). (If the speed is too slow, the kugel is too stringy and vice versa if it's too fast.)
Place the potato mixture in a large bowl. Mix in the eggs and oil. Season with salt and pepper. Mix well.
Pour potato kugel mixture into pans. (I like to use 3 loaf pans or 9- x 6- inch pans, so you get more end pieces.)
Bake for 1½- 2 hours.
Need links to our other kugel posts?
And potato kugels first cousin – Potato Latkes