Persimmon season is short but oh so sweet!
The best Costco trip of the year is usually the one when I find the persimmons are back in season. Sometimes they're in 6 packs and sometimes in 9 packs, but I never hesitate to grab a couple of trays. 
While we usually just eat the persimmons in fresh slices, I decided to create a salad using some of the 18 persimmons that were in my fridge. I played around with a little bit of this and a little bit of that and this crazy good salad was born!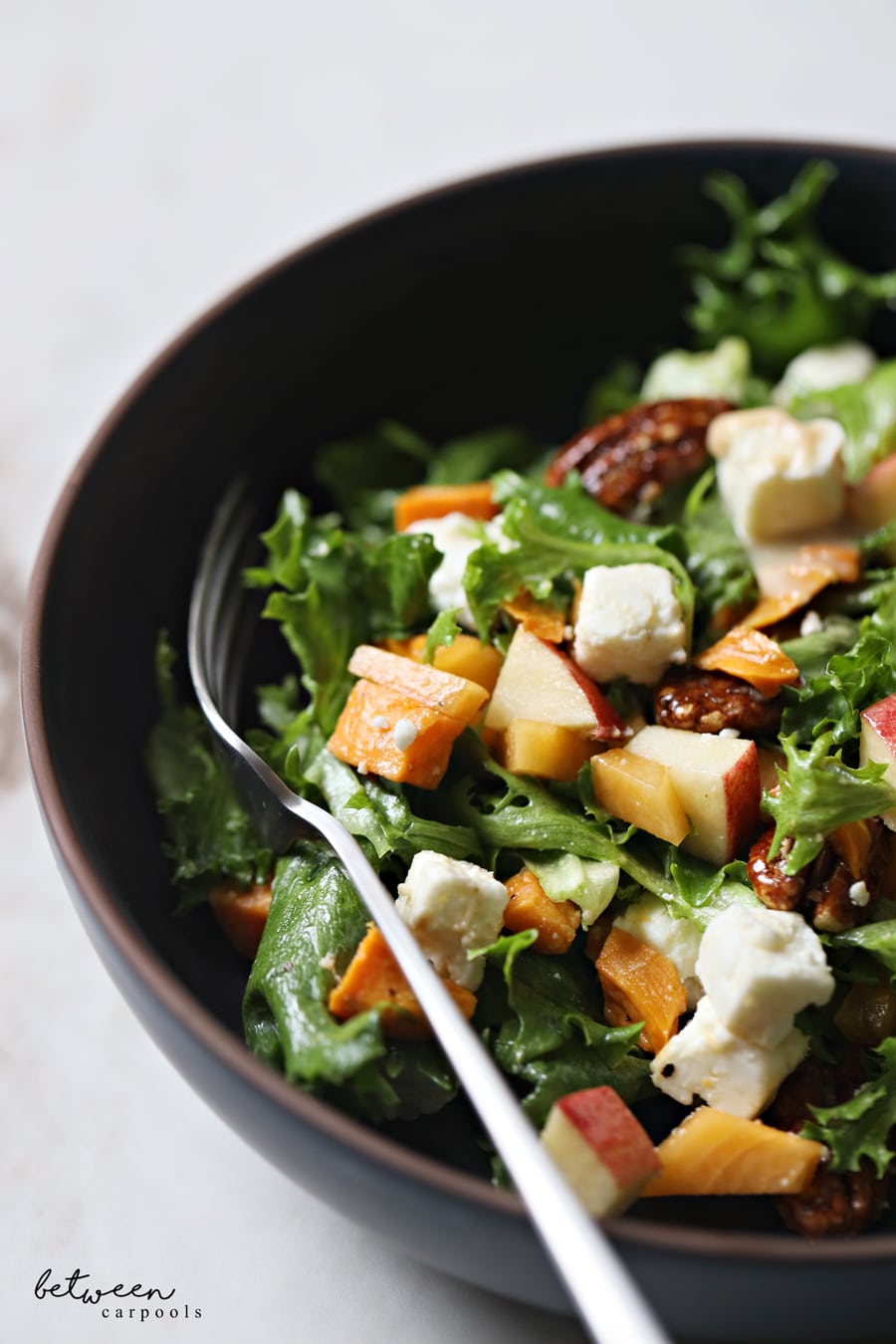 Maple Persimmon Salad
Ingredients
Salad:
4-6 oz greens (choose something substantial to balance the sweet fruit, like baby spinach or arugula)
1 gala apple (or other sweet/tart variety), diced
2 persimmons, peeled and diced
2 small or 1 large sweet potato
1 Tbl olive oil
Salt and pepper
¼-½ cup candied pecans
¼-½ cup feta cheese, cut in small cubes
Shallot Dressing:
6 Tbsp lite mayonnaise
1 shallot
1 garlic clove
2 Tbsp maple syrup
2 Tbsp balsamic vinegar
½ tsp salt
Pinch coarse black pepper
1-2 Tbsp water, optional
Instructions
Preheat oven to 400ºF. Peel and cut sweet potatoes in small cubes. Place on a parchment-lined baking sheet. Drizzle with olive oil, sprinkle salt and pepper and toss. Bake for 30-35 minutes until fork tender and lightly browned. Allow to cool.
Meanwhile, prepare the dressing. Blend together mayo, shallot, garlic, maple syrup, balsamic vinegar, salt and pepper. Add the optional water if you desire a thinner consistency or you need it to get the blender moving.
In a bowl, combine greens, apples, persimmons and sweet potato cubes. Top with nuts and feta. Drizzle with dressing (you may not need all) and enjoy.