If you removed the word "squash" from the title you would have totally had me fooled.
I am seriously craving some comfort food right now. You know, the type of food that makes you really happy and satisfied. Full belly, remove-that-belt-after-dinner kinda food. AKA carbs kinda food.
Anyone with me?
My nutritionist doesn't share my passion for carbs. She thinks I should be munching on cucumbers whenever the need to nosh strikes. Or celery. I bet she felt generous allowing me that cucumber past 8 p.m.
She obviously does not know me. I will eat a cucumber, sure. But then I will also need rugelach to make it all right again.
Winter is here, the temperatures are beginning to drop, and the need for comfort food is real.
Some of you might know that I have recently published a cookbook entitled Our Table. And I am sure you are wondering why, a person like me, who (most probably, and maybe) knows a thing or two about cooking cannot figure out some form of comfort food that will make one happy yet still be guilt-free. Right? I was wondering that myself, to be honest. I was like "Renee, you can do this."
So, as I was standing in the grocery the other day, with a glazed look on my face, facing the meat and poultry display, it suddenly hit me. Spaghetti and meatballs. That's what I'm in the mood for. Did I mention my craving for comfort food??
Right then and there I decided I was going to figure out how to prepare this iconic dish, guilt-free.
And guess what: I nailed it! And here's the icing on the cake: My super picky eater ate these meatballs happily (over spaghetti…. Let's be real, ok?) and licked the plate clean.
So, this one is a keeper.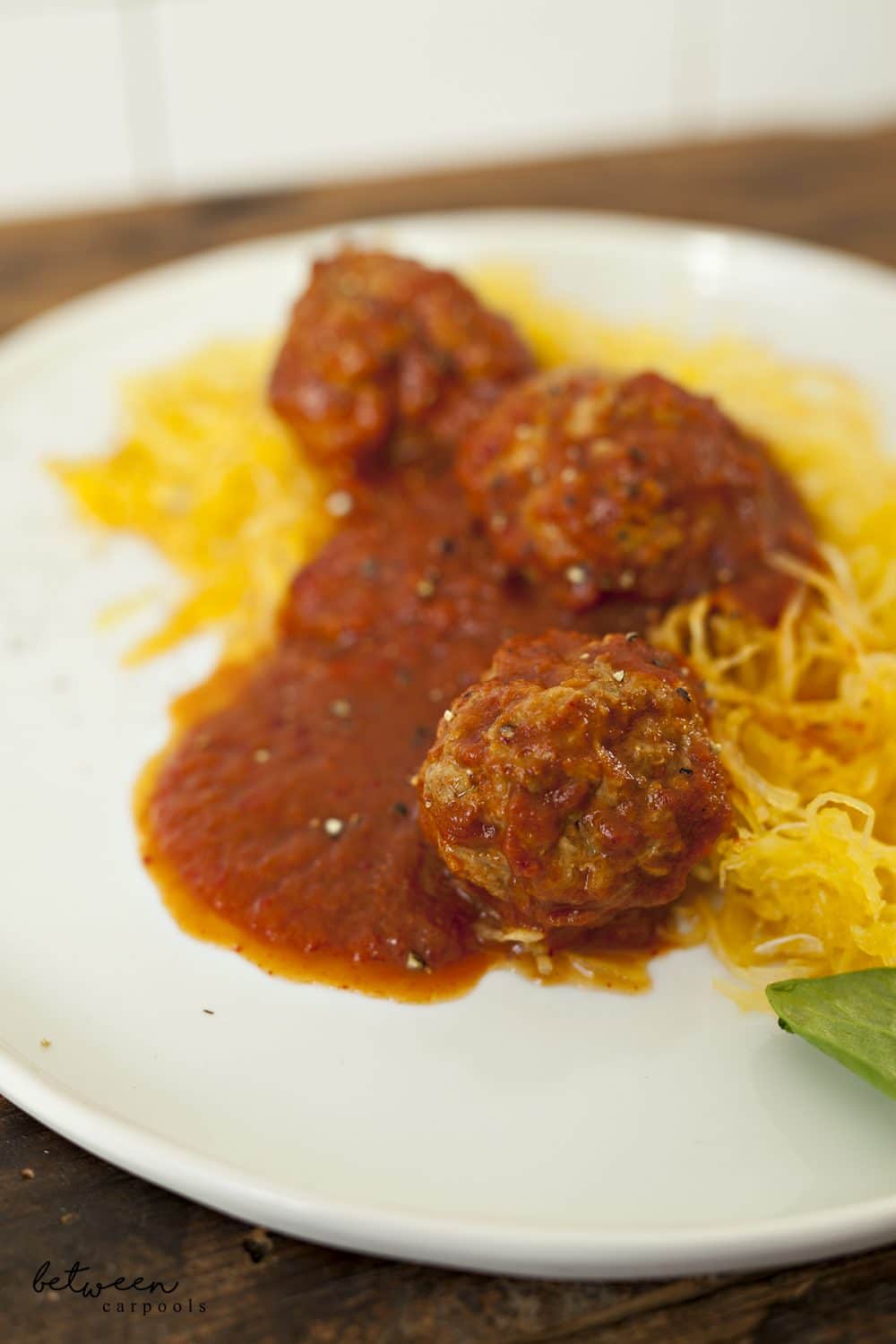 Oh, one more thing: divide this recipe into small containers (use these) and freeze. Dinner is ready in minutes.
Pulling the spaghetti from the squash. This part is actually fun.

Meatballs Over Spaghetti Squash
Ingredients
1 spaghetti squash
Salt and pepper
PAM cooking spray
For the sauce:
2 (28 oz) cans tomato sauce
1 (28 oz) can diced tomatoes
1 (6 oz) can tomato paste
Juice of 1 lemon
3 tablespoons Truvia (or any sweetener you like)
1 teaspoon salt
1 ½-2 cups of water
For the meatball mixture:
1.5 pounds ground chicken
1.5 pounds lean ground meat
1 zucchini, grated
1 small onion, grated
1 small Yukon Gold potato, grated
1 egg
2 tablespoons ketchup
1 teaspoon salt
1 teaspoon garlic powder
Dash of pepper
Instructions
In a large mixing bowl, combine all the meatball mixture ingredients and mix well. Refrigerate (this will help to ensure the balls don't break while cooking).
Preheat your oven to 350ºF. Halve the spaghetti squash lengthwise and sprinkle with salt and pepper. Spray with PAM. Place on a lined baking sheet, cut side down. Bake for 45 minutes.
Meanwhile, get started with the meatballs. Combine all the sauce ingredients in a pot, and bring to a simmer. Let the sauce cook for about 20 minutes, until it thickens a bit.
Working in batches, form meatball mixture into balls and drop into the simmering sauce. Do not overcrowd the pot, or balls might break.
Cook the meatballs for about 30 minutes. Once cooked, use a slotted spoon to remove from the pot and continue with the next round of meatballs. I usually cook the meatballs in 3 batches.
Once spaghetti squash is cooked, remove from the oven and use a fork to shred into "spaghetti" (this part is fun, see photo below).
Serve meatballs over warm spaghetti squash, with lots of sauce. Indulge. Try to forget it's not really spaghetti. And admit it, it is pretty close.