Could a potato side dish possible be colorful, beautiful, and so fun to eat? Well, yes.
Sure, sweet potato fries are easy to make.
They're amazing with simply salt, garlic, and smoked paprika (as we seasoned 'em here).
They're amazing drizzled with silan. You can also prep 'em as we did in this post? But how do you raise the bar even more. And…how do you make them into a gorgeous side dish or appetizer for Yom Tov?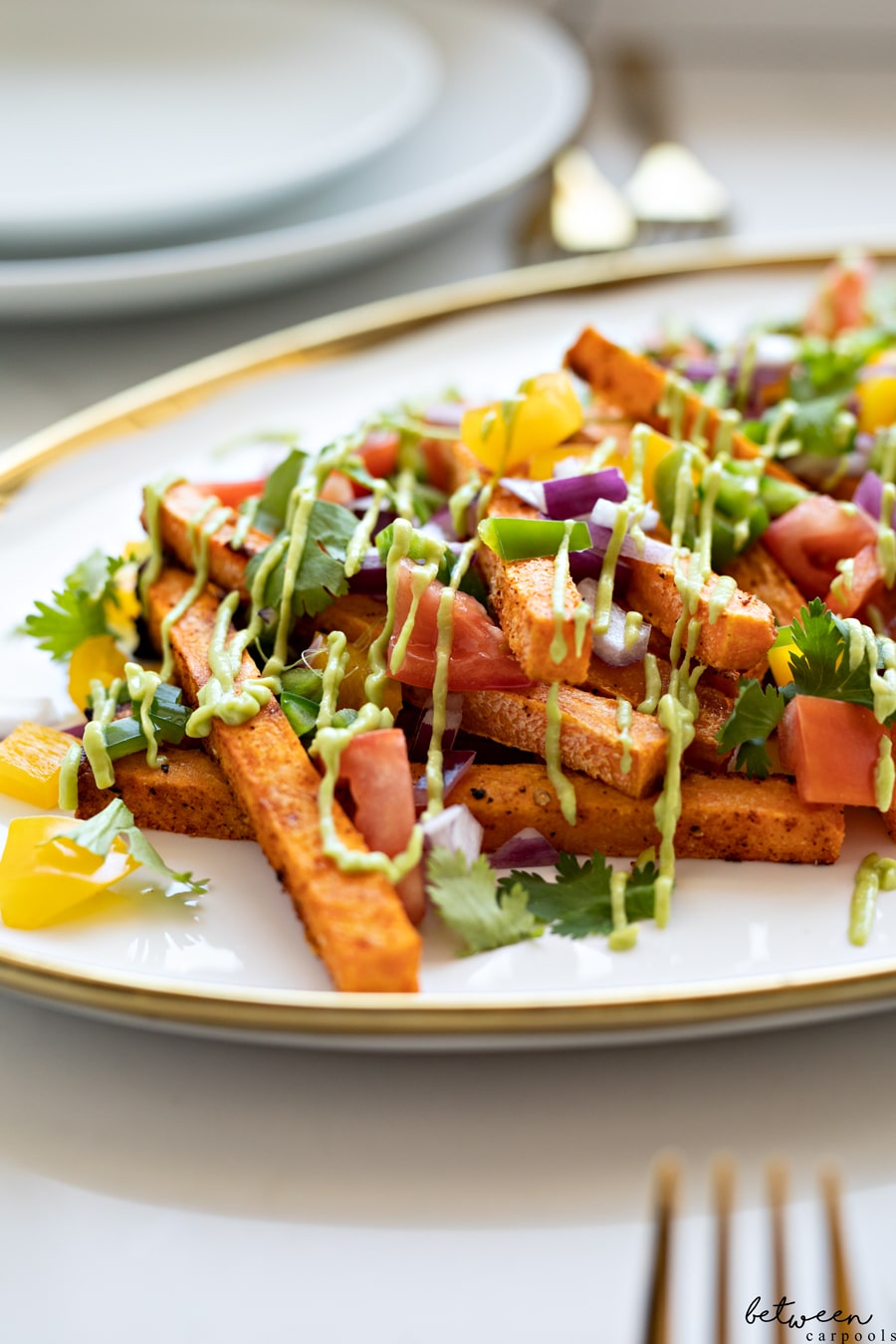 You top 'em.
First things first. For a pretty dish you need perfectly cut fries. That's easy if you save yourself the work and pick up these in the Evergreen product department. This sweet potato dish was actually inspired by the perfectly cut sweet potato fries in the produce section at Evergreen. The pre-produce in their pre-prepped section have the nicest, neatest dices and cuts you'll find anywhere (trust us…we compared!). From perfect fries the prettiest salads…it's all effortless. We all know how difficult it is to cut those sweet potatoes and butternut squash fries so give yourself a break!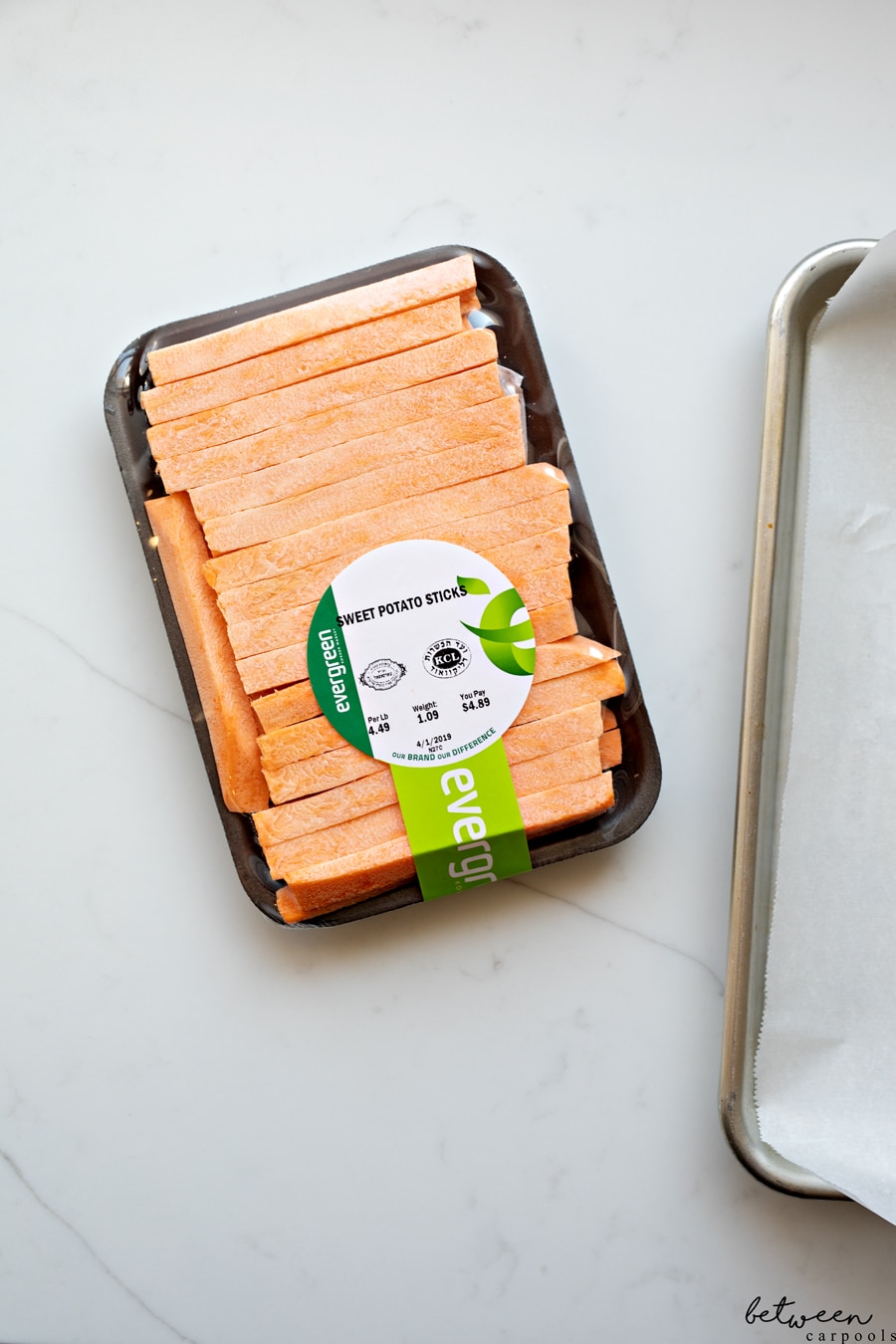 I topped them with nacho-themed veggies that also work on Pesach, like pepper, tomato, red onion, jalapeno (optional) and the finishing touch…an avocado cream.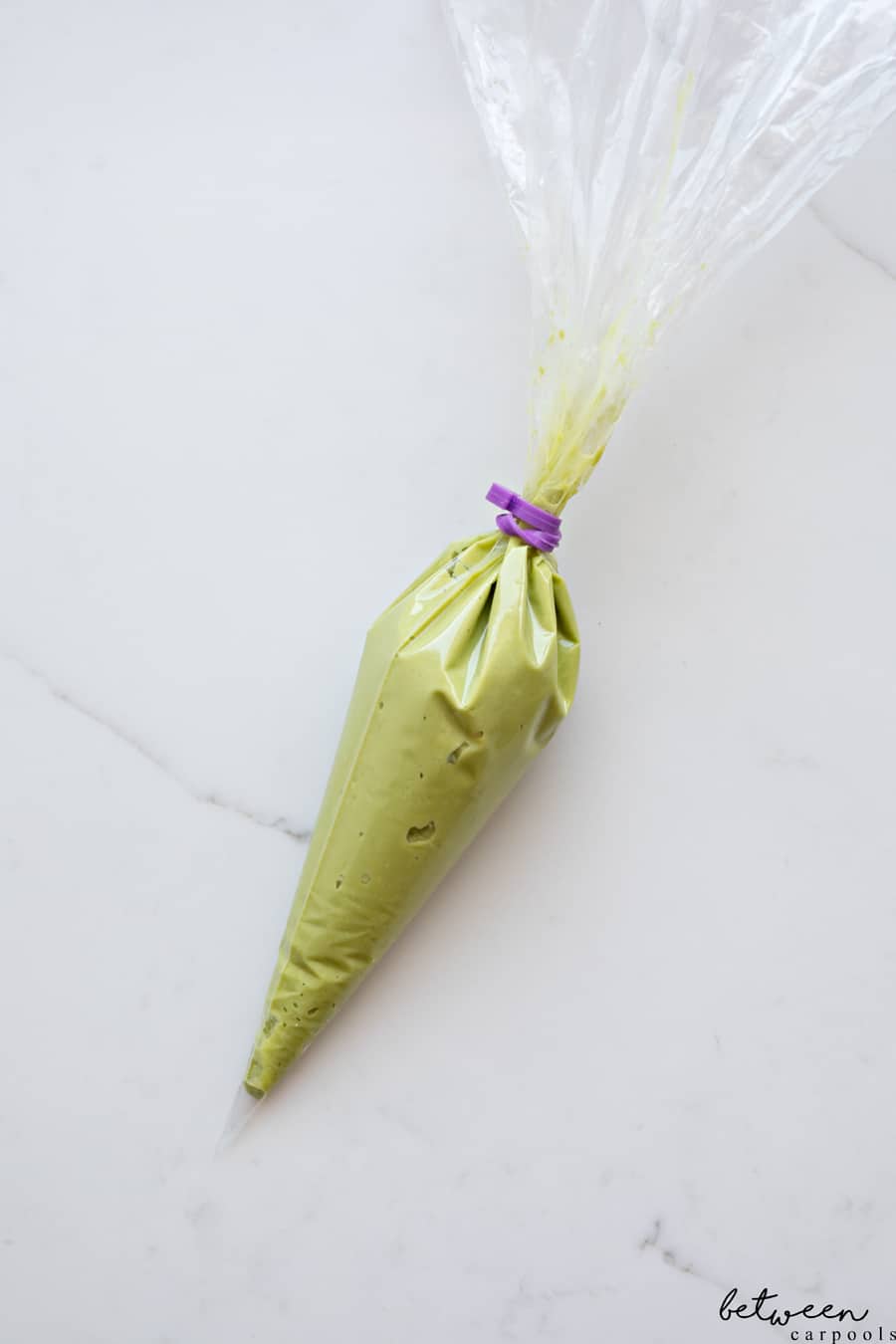 About this avocado cream. I use it on so many things. To make it a day ahead, store it in a sealed piping bag. It's simply avocado blended with lemon or lime and a little salt. We also recommend serving this dish with some extra avocado cream on the side for dipping.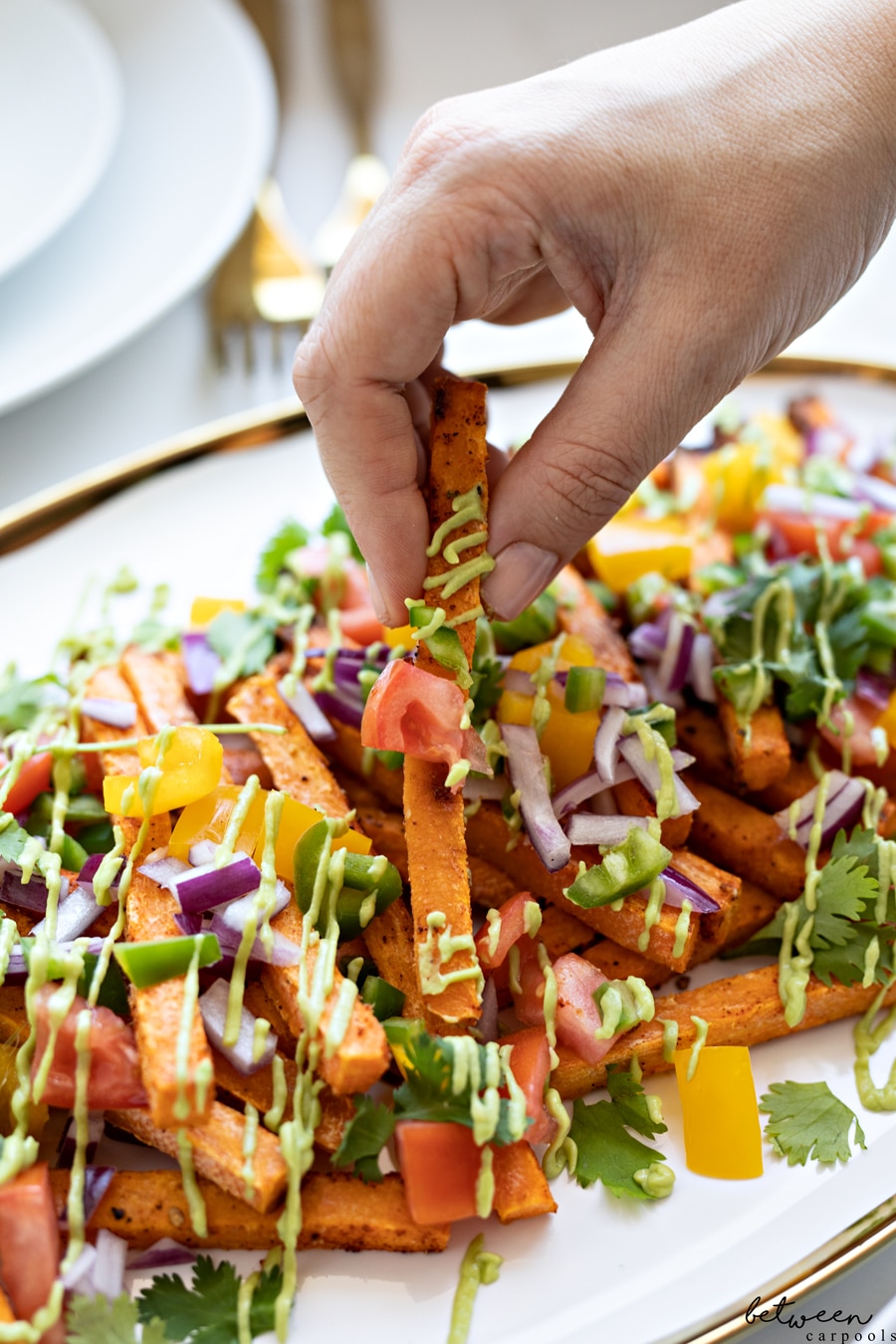 Sweet Potato Nachos
Ingredients
2-3 sweet potatoes, cut into fry shapes
Salt, garlic powder, and paprika, for sprinkling
1 tomato, seeds removed, diced
1 pepper, diced
½ jalapeno, finely diced
¼ red onion, finely diced
Avocado Cream:
1 avocado
Juice of 1 lemon or 2 limes
½ teaspoon salt
Instructions
Preheat oven to 425⁰F.
Grease a lined baking sheet. Toss sweet potatoes with salt, garlic, and paprika and spray with cooking spray. Toss to distribute spices evenly and spray again. Bake for 20-30 minutes (exact time will depend on the thickness of your fries. Thick fries may need longer).
Meanwhile, prepare avocado cream. In a blender or food processor, combine avocado, lemon/lime, and salt. If you're using a blender, the mixture may need a little more liquid to blend completely smooth (if so, you can add a drop of water or more lemon). Add mixture to a piping bag.
To plate, place sweet potato fries on a platter or individual dishes. Sprinkle with tomato, pepper, onion, and jalapeno, if using. Drizzle with avocado cream and serve more cream on the side for dipping.