Put up this brisket ahead of time and it's hot and ready when you need it. 
One of my personal favorite recipes in Dinner Done cookbook is the Oven-Smoked BBQ Brisket (page 130). I've made it so many times I even made a Pesach version (I will share it next Pesach!).
I realized it freezes great as-is, and works really well for Shabbos or Yom Tov morning if you keep your oven on. 
But what if you don't want to keep your oven on?
That's what this version is all about. A few minor changes and suddenly it barely resembles the one in Dinner Done. Buy hey, it inspired me and that's what counts.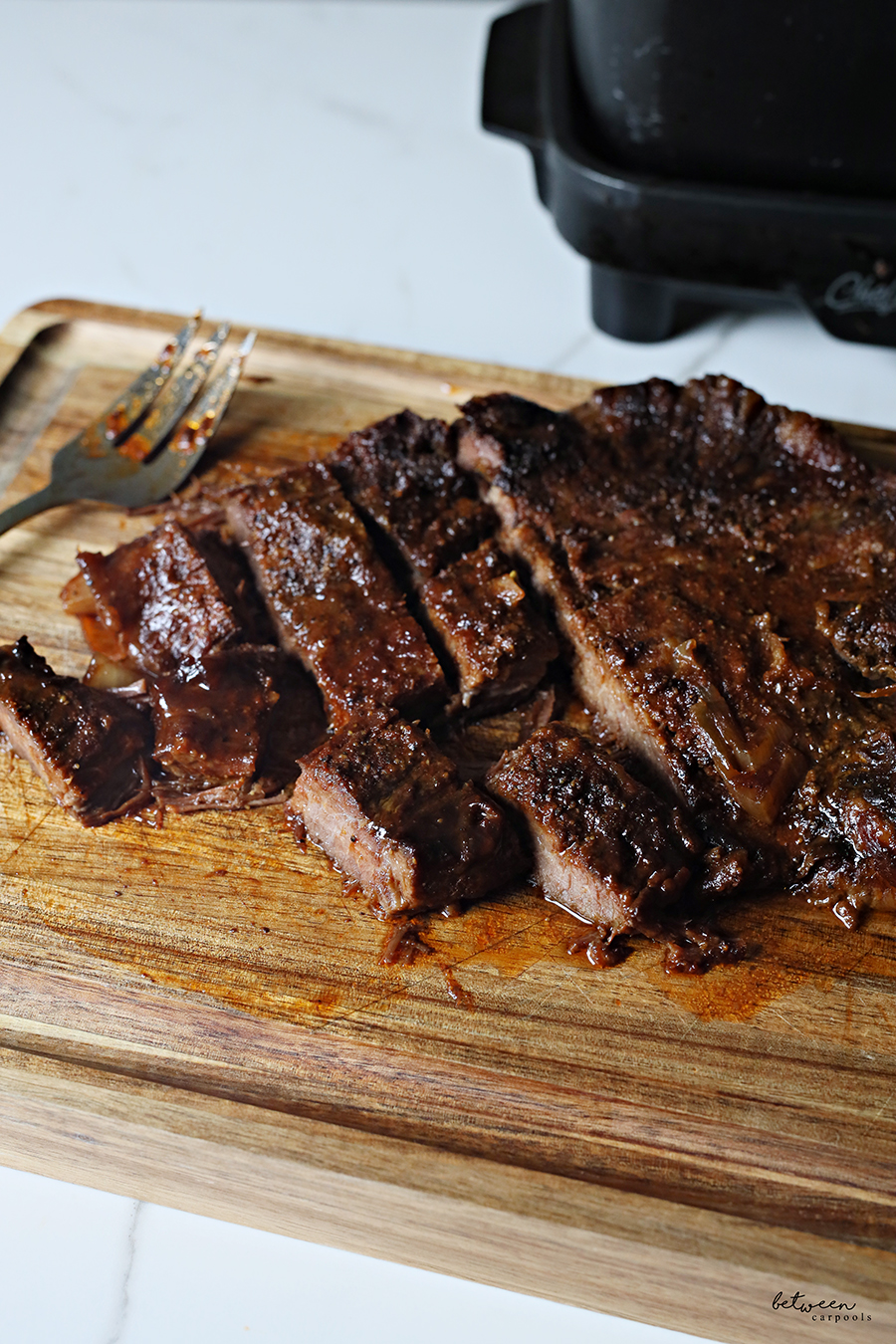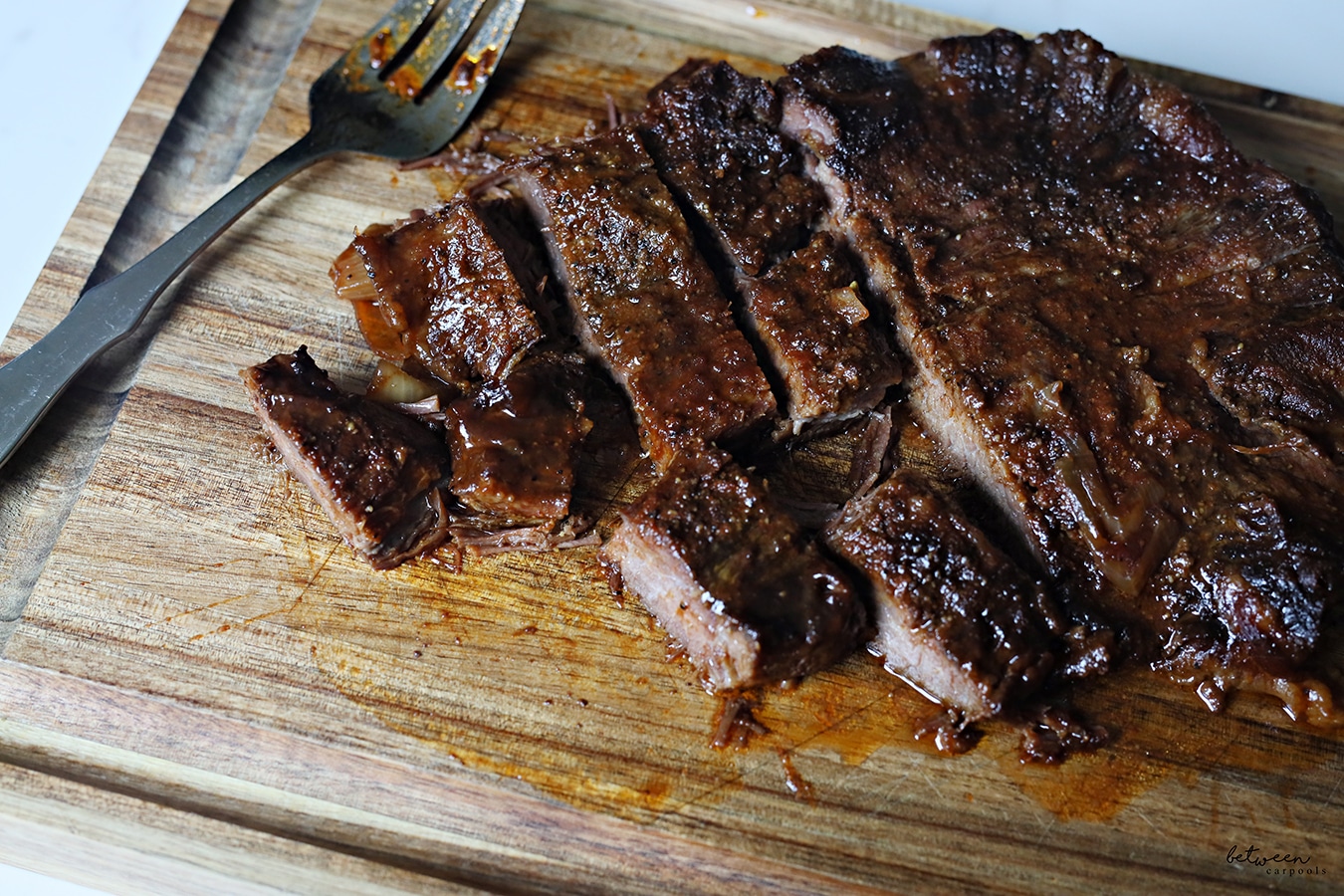 This slow cooker version uses basic ingredients that are pantry staples. It's perfect for Yom Tov, especially Shavuos, when it's hot outside and not everyone wants to keep the oven going through Tuesday. So, you can have your hot main dish even without the oven–being a slow cooker meat, it's also perfect for Shabbos day.
We love it Shabbos morning on the side of cholent (or as a cholent replacement, or simply an extra main if you're having guests).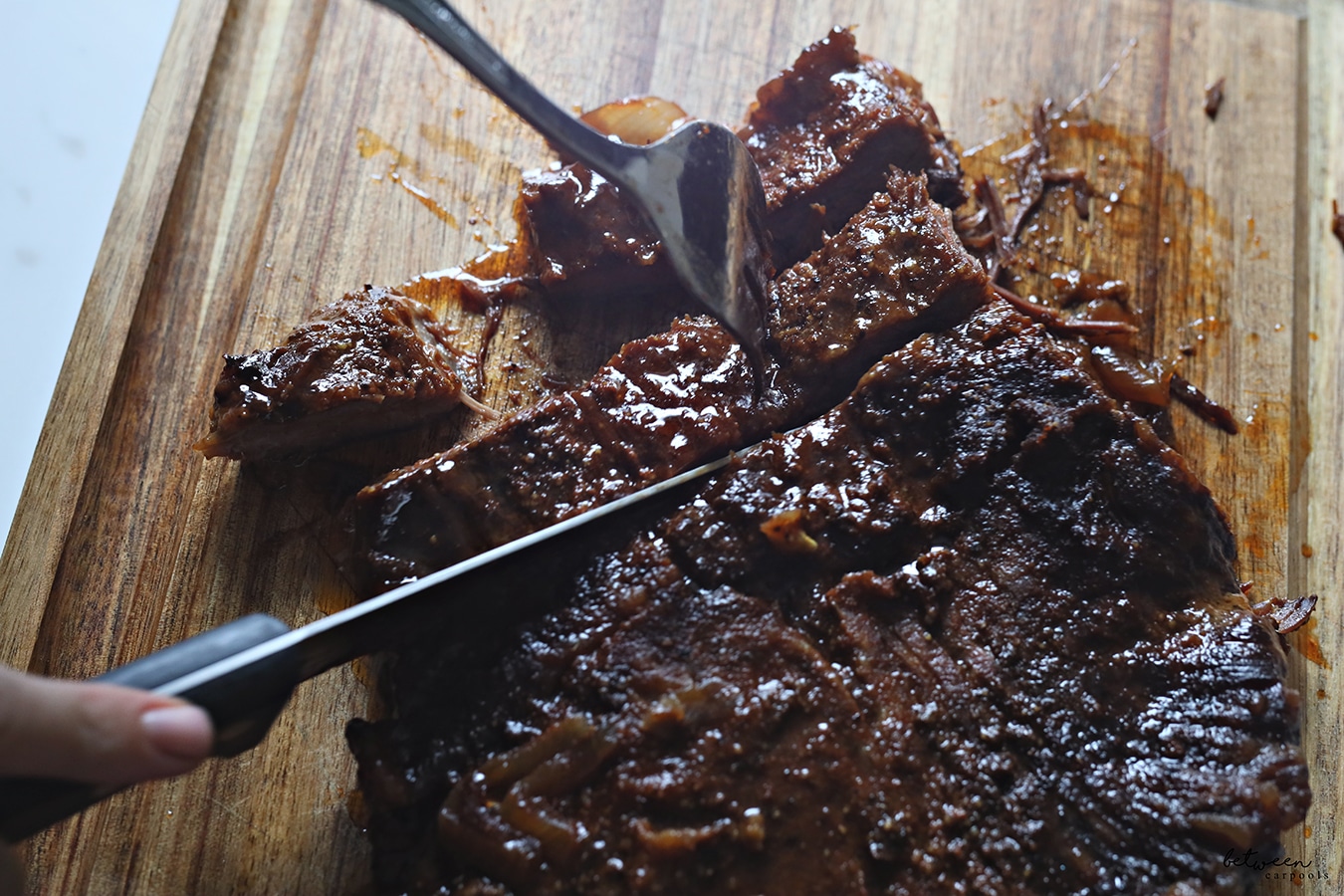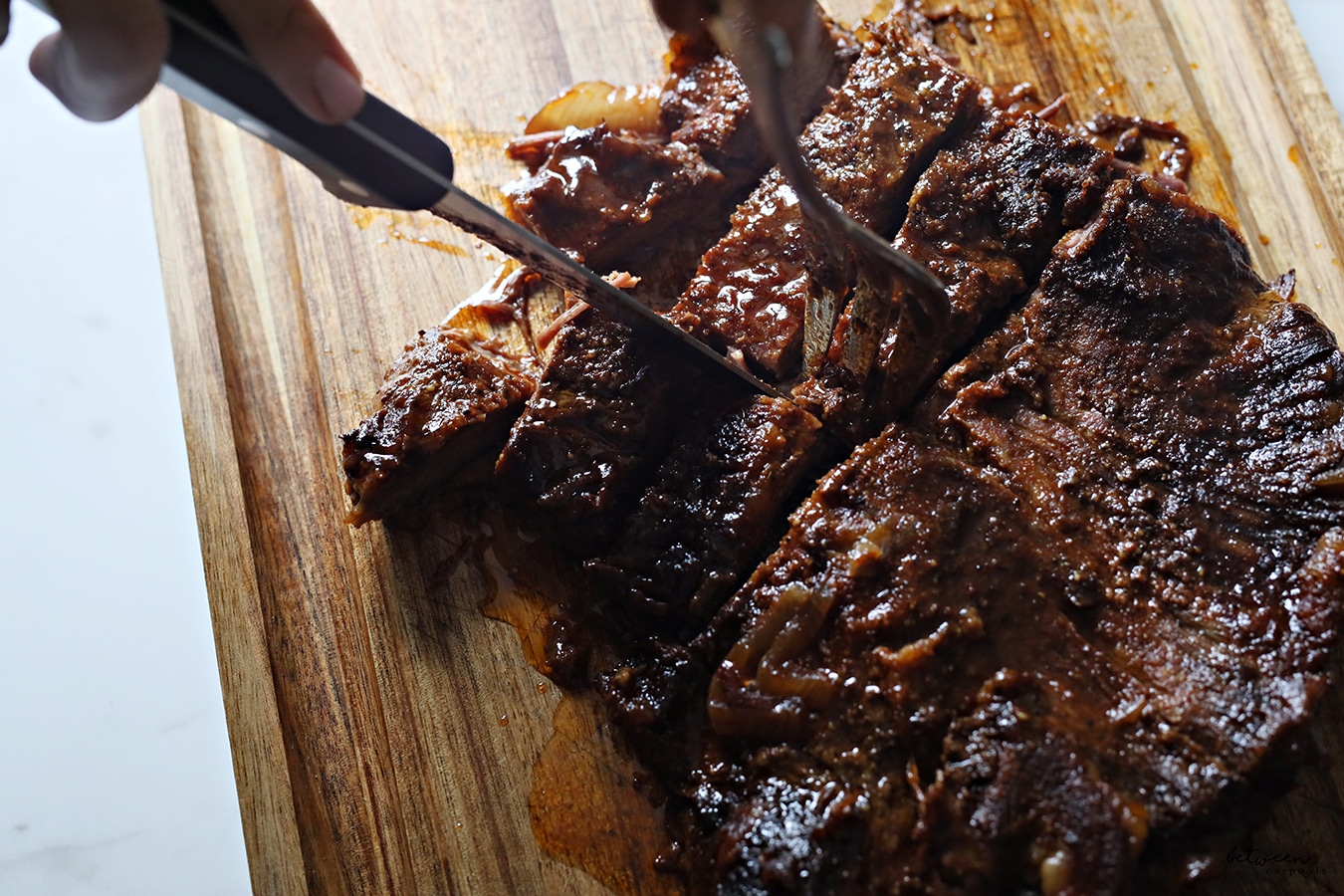 It's also wonderful shredded into chunks, served on charred wraps with avocado and sliced scallions.
We made this recipe 5 times already, testing it out at different temperatures, however each Crock-Pot is different. If you know your crockpot on low is barely cooking, you may need to adjust. The same goes if your Crock-Pot tends to burn food when it's on high.

Crockpot BBQ brisket
Ingredients
2.5-3lb second cut brisket
1 onion, sliced
1 cup bbq sauce (we love Sweet Baby Rays)
½ cup water
2 tablespoon soy sauce
1 tablespoon honey
Rub:
3 tablespoons brown sugar
1 tablespoons paprika
1 tsp black pepper
1 tablespoon salt
1 tsp garlic
1 tsp cumin
½ tsp chili (optional)
Instructions
Place the sliced onion on the bottom of the Crock-Pot. Add bbq sauce, water, soy and honey.
Combine rub ingredients. Rub on both sides. (I rub one side, place it in the Crock-Pot rub side down, then add the rest of the rub on top.)
Place meat on top of onions and sauce. Do not cover the top of the brisket with any sauce.
Cover and cook for 5-6 hours cook on medium, 8-10 hours low-medium, or 18-20 hours on low (add ½ cup bbq sauce if cooking this long). We prefer the low and slow overnight. During the week you can also cook on high for 5 hours and then lower on low for a few hours until you are ready to eat.
Tips:
If you'd like to serve this on the second day of Yom Tov: prep on Erev Yom Tov, keep it in the fridge, and place in the Crock-Pot on the second night.
If your Crock-Pot is very big, you might need another ½ cup bbq sauce. The sauce should mostly cover the bottom before you add in the brisket.