This is my go to salad to send over to anyone hosting – as it's so pretty and can easily be prepared in advance. 
Full of bright and nourishing veggies, this  salad is bursting with a rainbow of colors – it makes the perfect edible centerpiece for Shalosh Seudos! I love that it can be prepared earlier  – I just add the avocado along with the dressing right before serving.
Read how to prepare your grains in the oven (and freeze) and be ready for great salads any time here.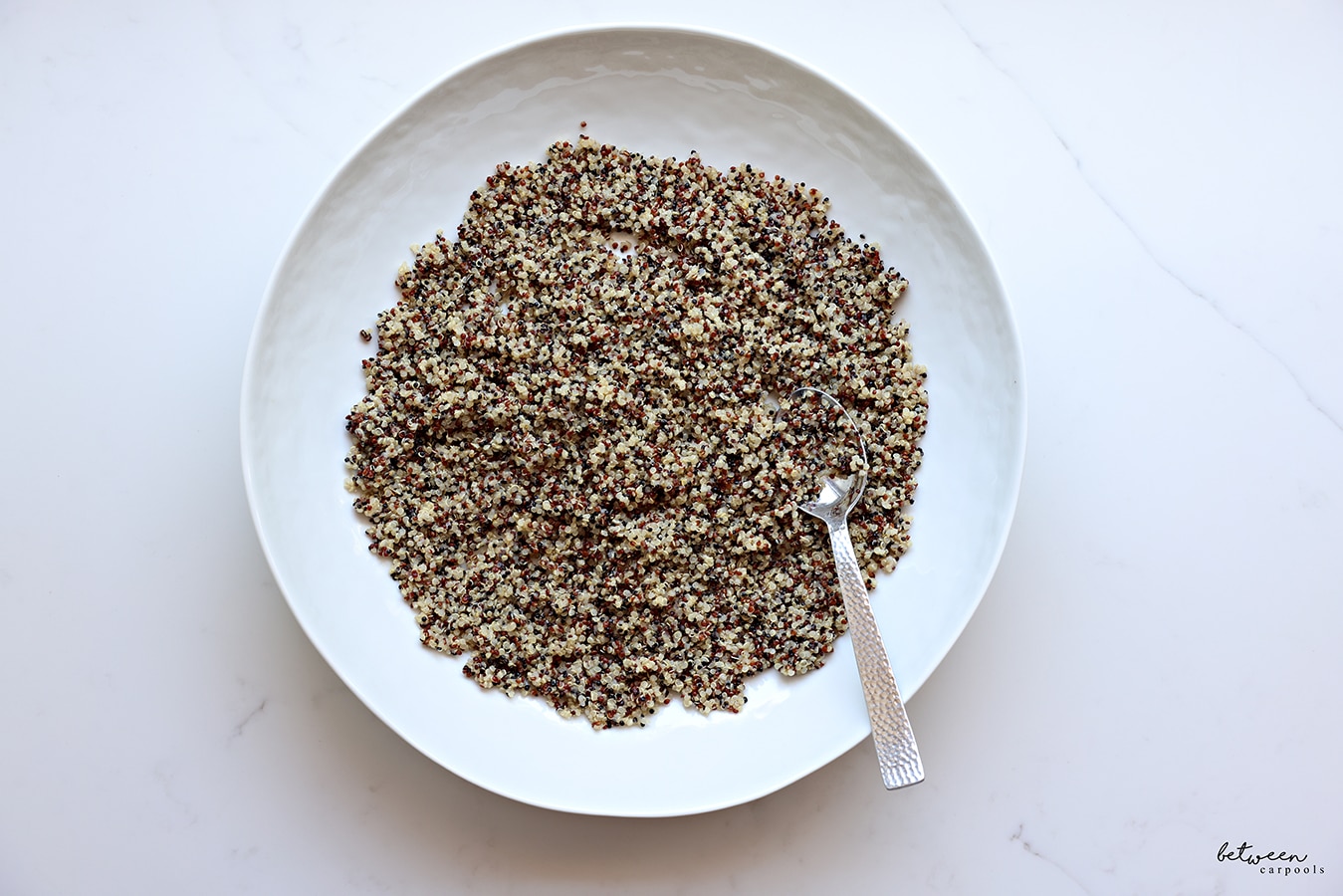 When assembling the salad, start with a layer of quinoa on the bottom (the brown items always go on the bottom!)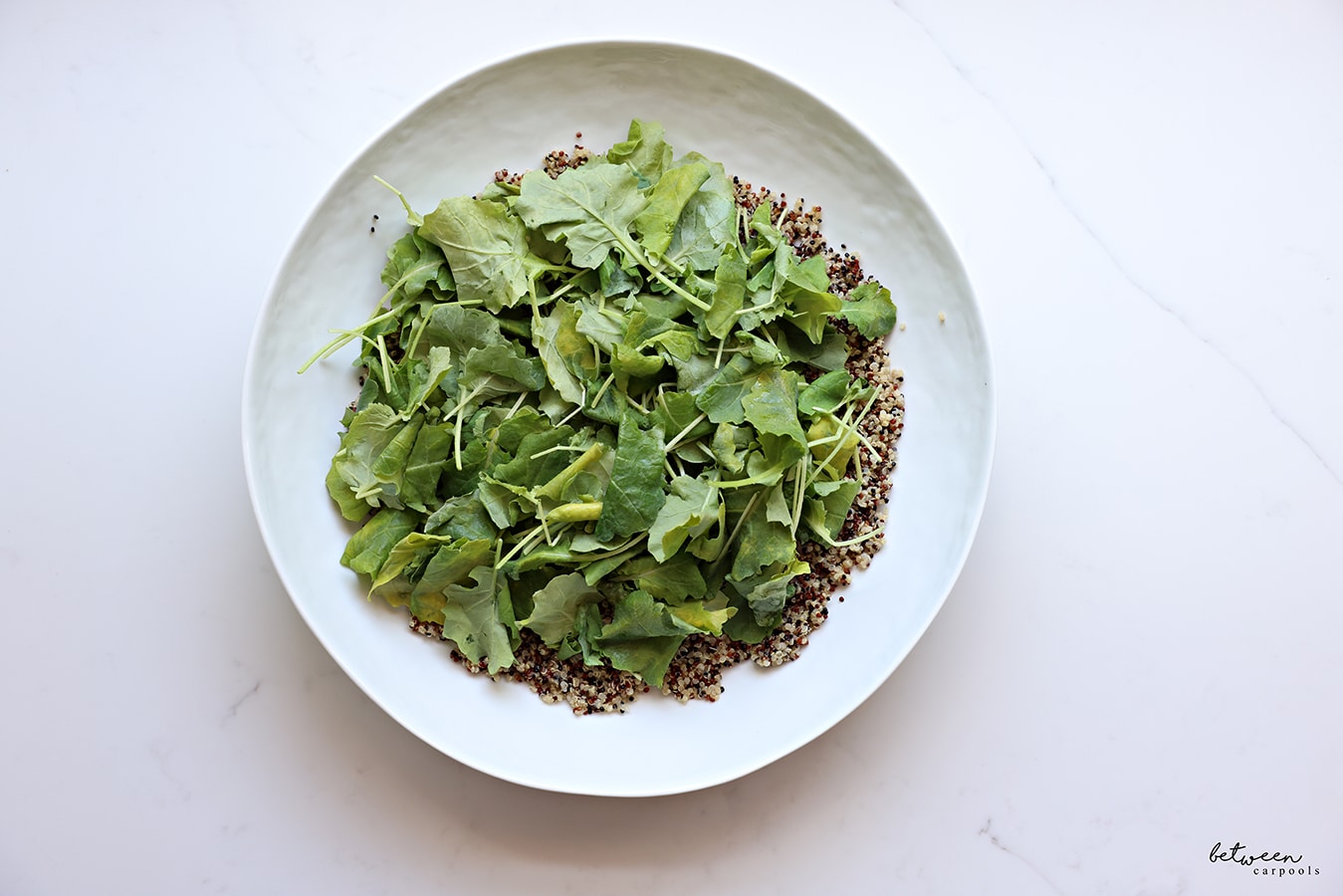 Top with greens.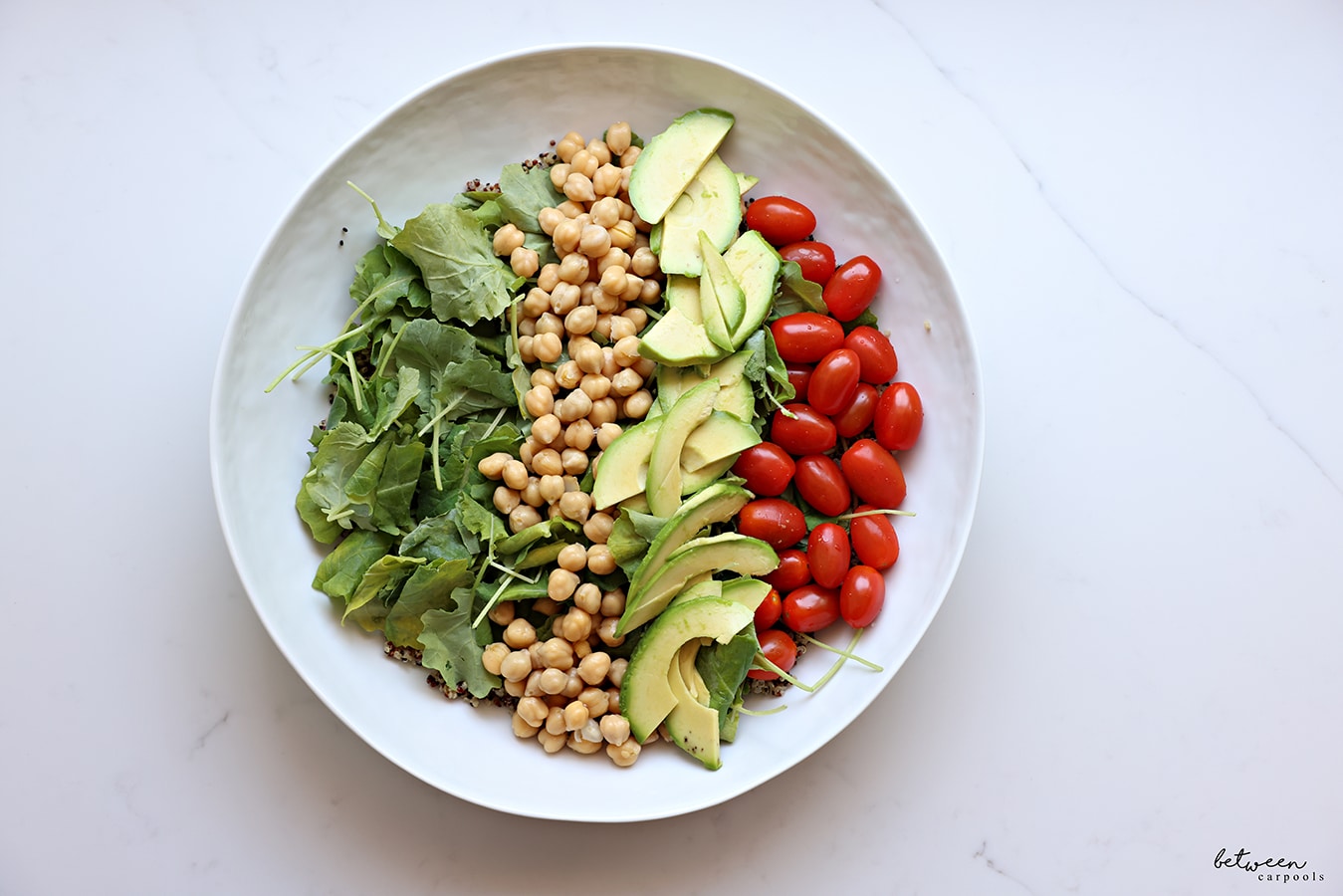 Add rows of chickpeas, avocado, and tomatoes.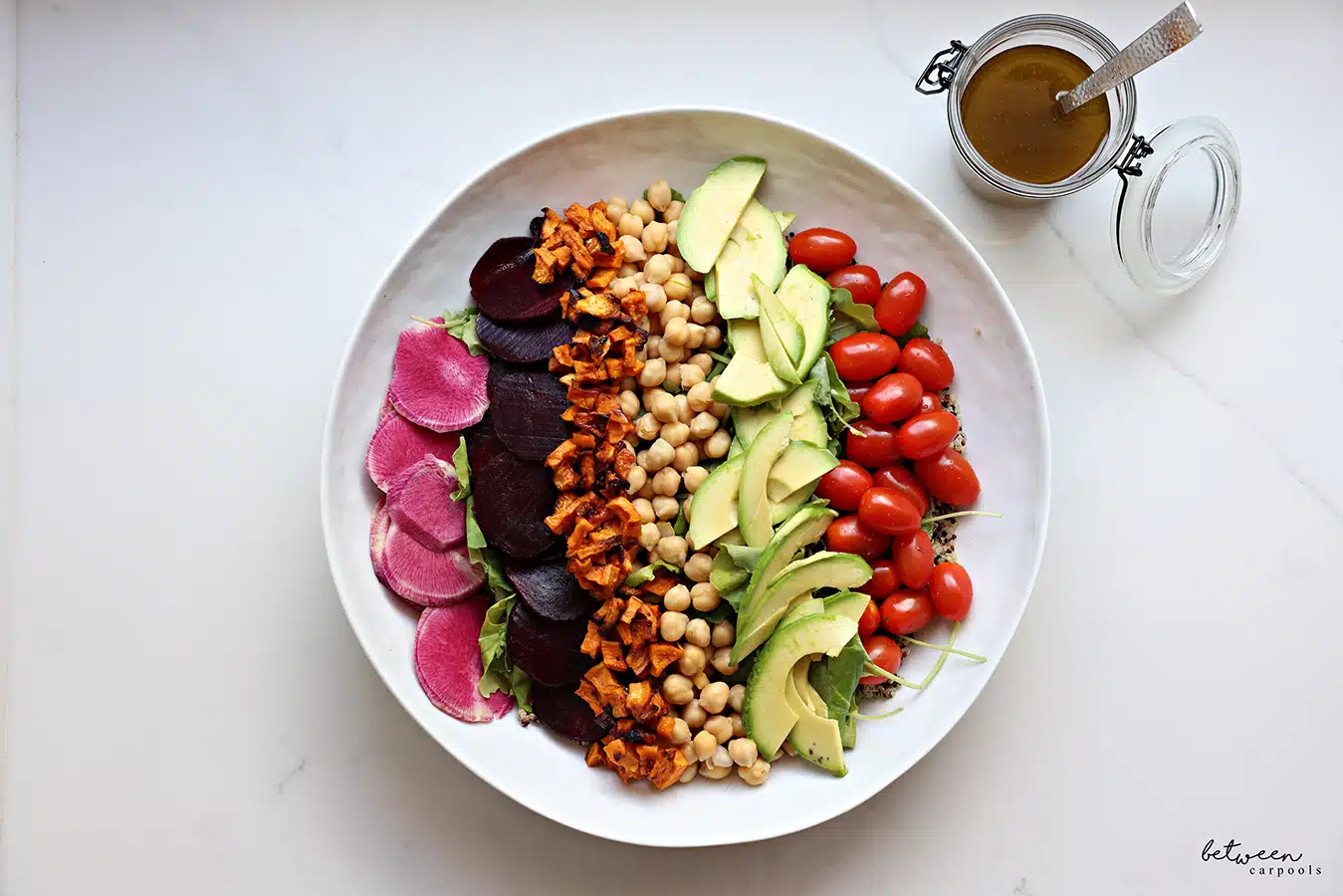 Add your roasted sweet potatoes, beets, and radishes.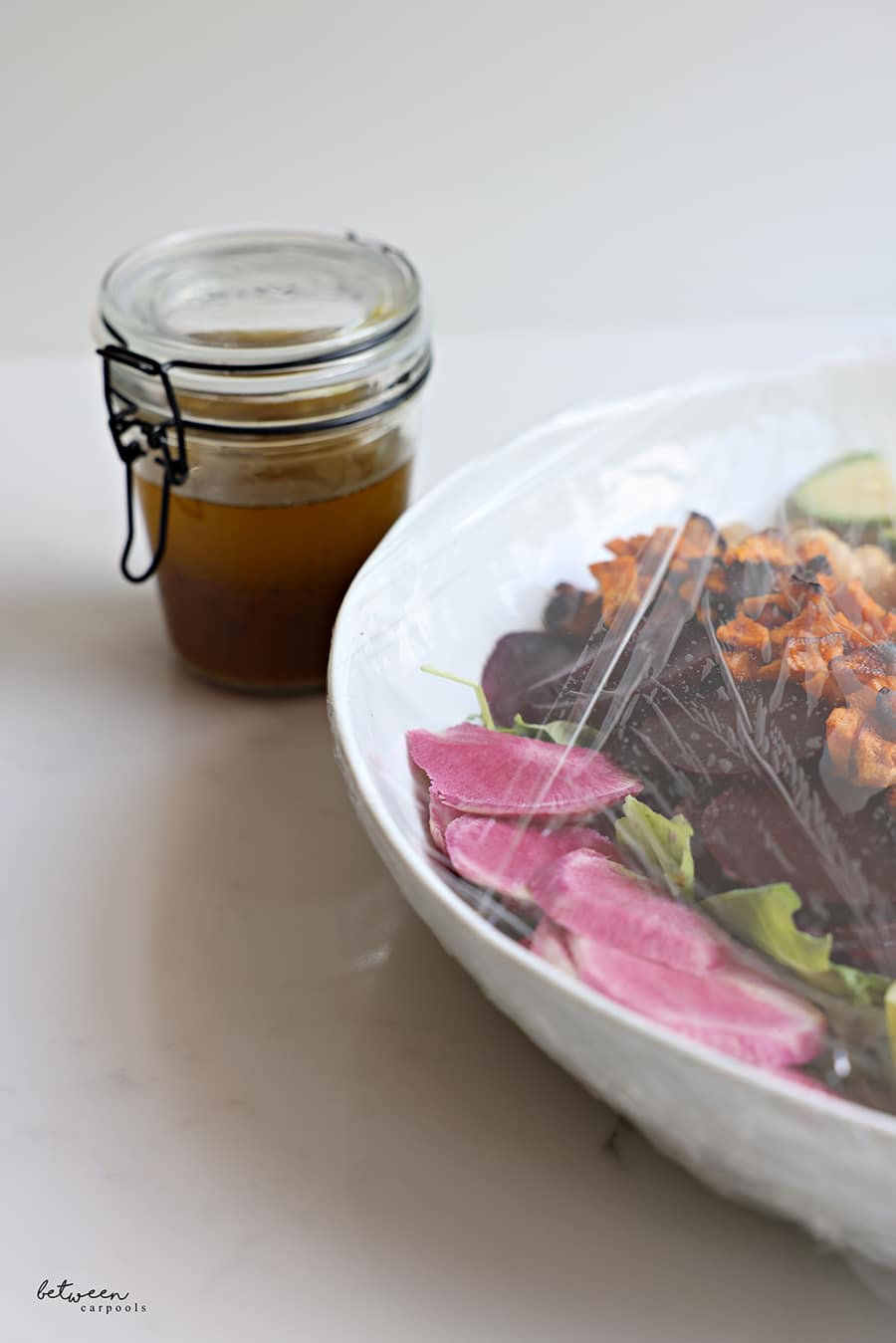 Keep it looking pretty on the table until you're ready to dress and serve!


Drizzle the dressing over the top before serving. Enjoy!


Rainbow Quinoa Salad
Ingredients
1 sweet potato, peeled and diced
1 cup quinoa
2 handfuls greens
1 (15 oz) can chickpeas
1 avocado, sliced
1 cup cherry tomatoes
1 watermelon radish, thinly sliced
2-3  prepared beets, sliced
Dressing:
3 Tbsp Balsamic Vinegar
2 Tbsp Honey
1 Tbsp Mustard
1 garlic clove, crushed
½ tsp dried oregano
1 tsp dried basil
2 Tbs[ lemon juice
3 Tbsp olive oil
Instructions
Preheat oven to 350⁰F. Grease a baking sheet. Add sweet potatoes.
Drizzle with honey and olive oil and sprinkle with salt and pepper. Bake for 30 minutes or until soft.
Meanwhile, prepare quinoa according to package instructions.
Prepare the dressing. Combine all ingredients.
Assemble your salad! Begin by layering quinoa on the bottom, followed by greens. Then add all the veggies in rows. Add dressing before serving.
FOR EXCLUSIVE CONTENT AND A PEEK BEHIND THE SCENES, MAKE SURE TO JOIN OUR WHATSAPP STATUS HERE. JOIN OUR WHATSAPP GROUP AND WE'LL LET YOU KNOW WHEN A NEW POST IS UP!