You just might already have all the ingredients right in your pantry!
This recipe was honestly born the Shabbos right after pesach when my pantry wasn't well stocked. We've all been there. I found a package of mini hot dogs in my fridge and figured, "Let's use this up."
I started just literally throwing things into a small saucepan to create a sauce, next thing I know that "sauce" started looking really promising. Once it came to slow simmer I threw in the mini hot dogs and forgot about it for a bit. Once it was ready I transferred it to a pan and called my husband over to do a little taste test. When I tell you he was blown away, I'm not kidding. Yes, it sounds a little funny that he was impressed by humble little hot dogs. But he immediately told me, "Vera this recipe is a winner. You need to publish it. I quickly wrote it down and stored it away for a rainy day."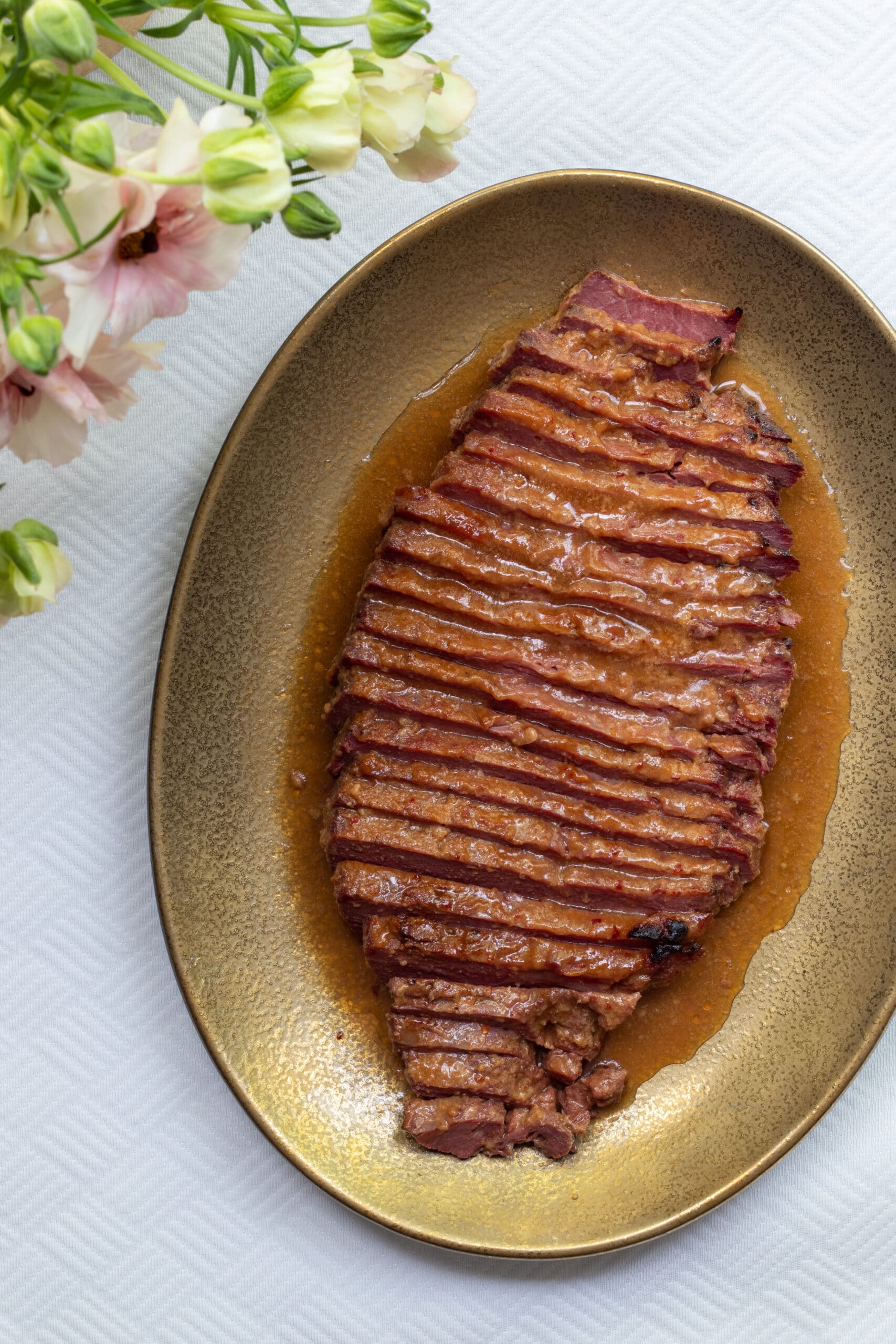 Fast forward to a few weeks ago. I had a beautiful corned beef sitting in my freezer leftover from chag and I decided you know what, let me make that le kavod shabbos. So I defrosted it. When I was ready to cook it the next morning, a little lightbulb turned on in my head and I remembered how delicious that "sauce" that I created out of nothing would probably pair brilliantly with the corned beef.
Well my friends, that idea did not disappoint. Plates licked clean, zero leftovers, I knew it was a double winner. So here I present to you, my corned beef with this brilliant "sauce."

Brown Sugar Glazed Corned Beef
Ingredients
1 (3.5-5lb) corned beef
¾ cup water
Brown sugar sauce:
¼ cup brown sugar
¼ cup honey
¼ cup Dijon mustard
¼ cup sweet chili sauce
2 tbsp ketchup
½ tbsp oil
2 tsp soy sauce
1 tsp garlic powder
Instructions
Preheat oven to 350⁰F.
Remove the corned beef from all its packaging and rinse under cold water to remove any left- over pickling spices stuck to the meat.
Place in a 9x13-inch baking pan, fat side up, and add ¾ cup of water.
In a small bowl, combine the sauce ingredients. Spread ¾ of the mixture over the top of the beef. Cover tightly with aluminum foil.
Bake for 3 to 3½ hours. Remove pan from the oven.
Turn oven to broil. Remove foil and brush the beef with remaining glaze. Return to oven and broil for approximately 5 minutes, until glaze begins to caramelize.
Remove from oven and cool fully before slicing against the grain.
Variation: This recipe works great with mini hotdogs or sliced hotdogs. Add the sauce ingredients to a pot and mix well to combine. Cook over medium-low heat until heated through. Add hotdogs and bring to a simmer. Cover and cook for 10 minutes. Huge hit with the kids!
FOR EXCLUSIVE CONTENT AND A PEEK BEHIND THE SCENES, MAKE SURE TO JOIN OUR WHATSAPP STATUS HERE. JOIN OUR WHATSAPP GROUP AND WE'LL LET YOU KNOW WHEN A NEW POST IS UP!