Three ingredients. Beyond easy. Beyond yum. And so feel-good!
I first served this on Pesach, but they became such a favorite that I now make them all year round – they're really amazing, special, and the perfect thing to keep in the freezer to bring out for dessert.
I love that they're not junky – all the ingredients are natural and wholesome (we're counting the chocolate as wholesome here), but still feel like such a treat.
And, of course, in BCP-style, they're super easy. Just as easy as this date appetizer.
There's not actually caramel in these truffles. But dates do the work of the caramel (and they're even better in my opinion. I love dates.). If you can get your hands on those big, fresh, juicy Medjool dates (I find them in Seasons, or another version at Ouri's), then definitely, use the best dates you can find.
They're still amazing with your standard Medjools too.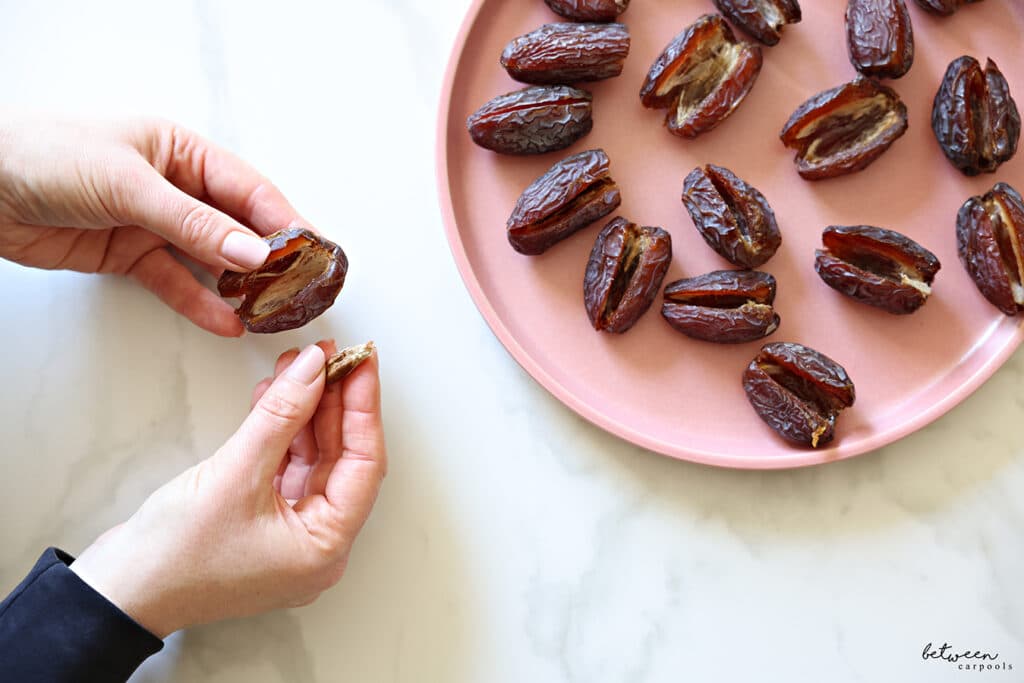 Simply open the dates and remove the pit. Dates need to be checked inside.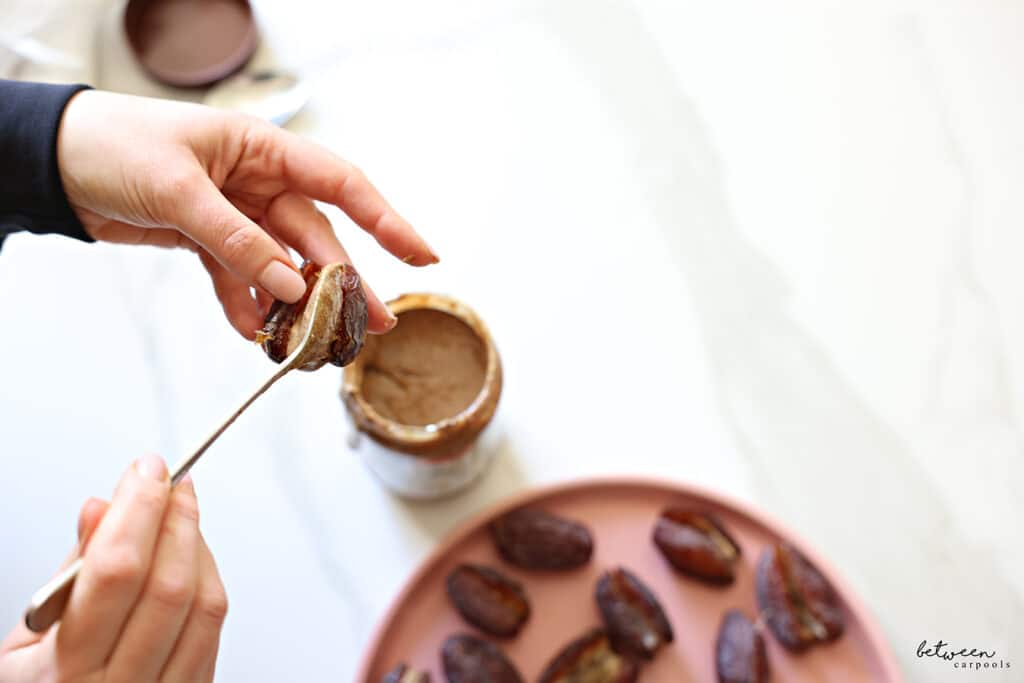 Then, add a spoon of almond butter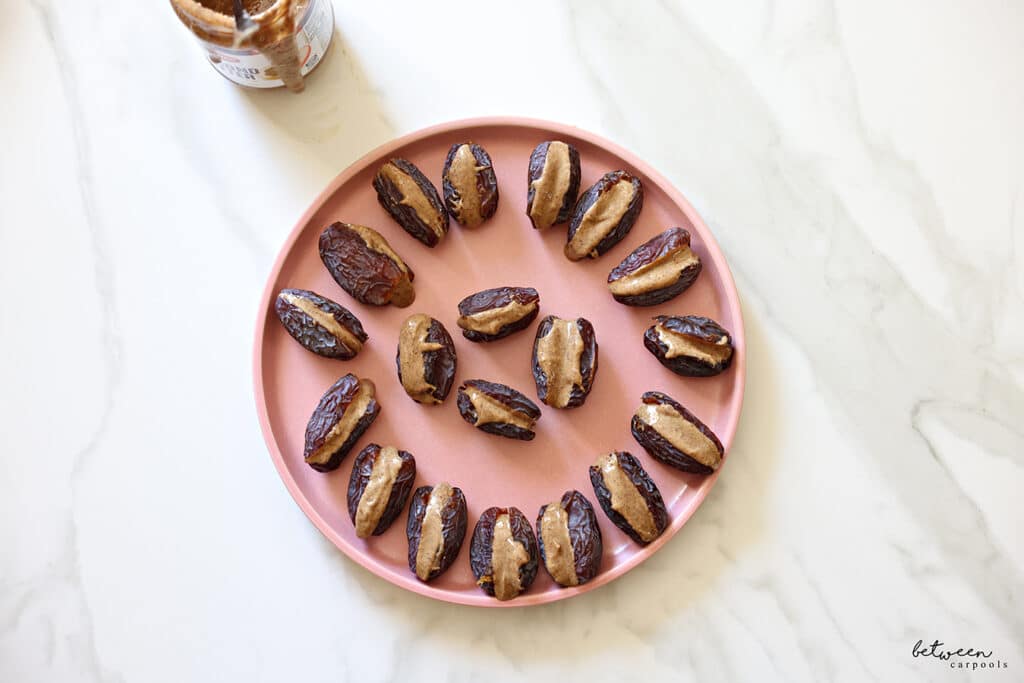 and close it up a bit. Yes, yes, you can use any nut butter you like. I also made these with Lotus butter (and no topping) when I was having guests with nut allergies.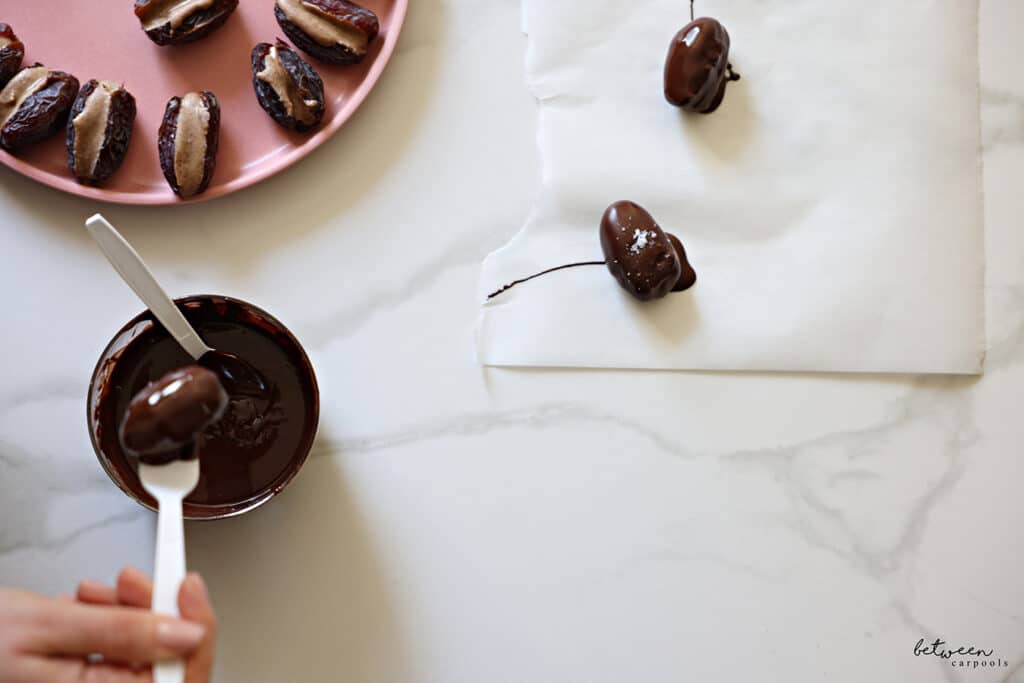 Finally, melt your chopped dark chocolate. And coat those dates.
Sprinkle some candied nuts or salt on top (it's optional, but I think that that crunch on the outside really adds a lot and makes them much prettier and more appealing too. Yes, this would be the fourth ingredient).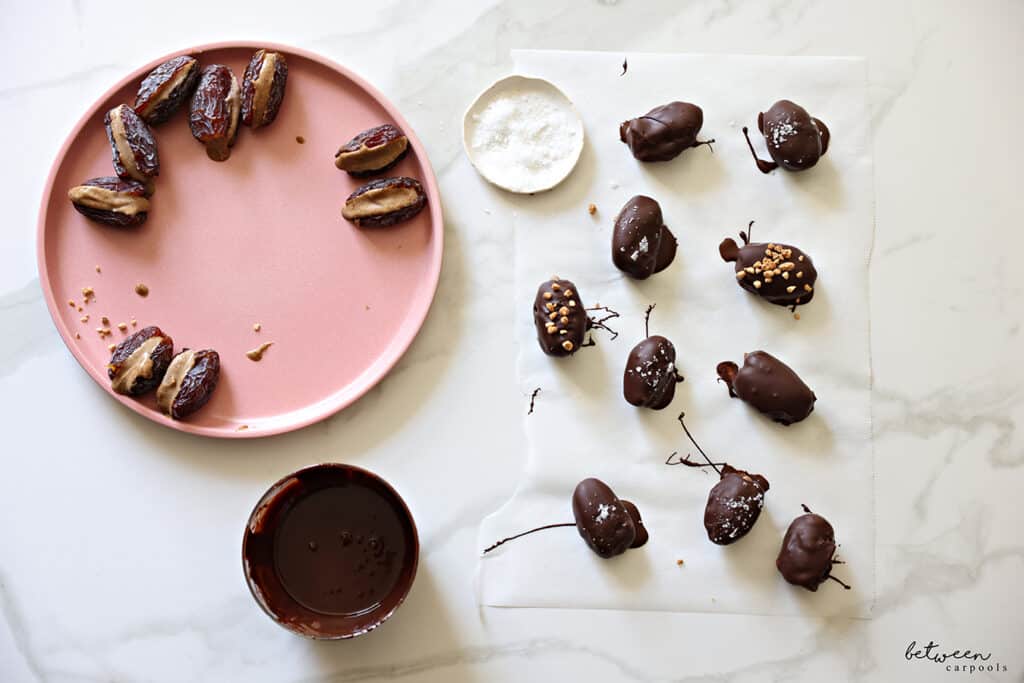 Yup. Feel good and so good.
Caramel Date Truffles
Ingredients
15

medjool dates

(fresh and soft) 

⅓

cup

almond butter 

2

(3.5 ounce) bars dark chocolate,

chopped 

almond/nut crunch, 

optional but recommended. can also be made with any nut butter or Lotus butter
Instructions
Open dates and remove the pit (check dates at this point). Add about a teaspoon of almond butter in the center of the date and close date.

Melt chocolate and coat dates (you can coat them in the bowl or spoon the chocolate over them). Place dates on a piece of parchment paper and sprinkle with nut crunch or salt. Place in freezer to set and keep frozen until just before serving.
FOR EXCLUSIVE CONTENT AND A PEEK BEHIND THE SCENES, MAKE SURE TO JOIN OUR WHATSAPP STATUS HERE. JOIN OUR WHATSAPP GROUP AND WE'LL LET YOU KNOW WHEN A NEW POST IS UP!