These just might be the best and the easiest cookies you'll ever make.
Recently, a friend dropped off a box of these chocolate chip cookies. 
They were big and gorgeous and…the size! How did she get these cookies to be so perfect? I knew these weren't typical cookies. These were special. 
That evening, I had some company over and we finished up all the cookies. Everyone wanted. And the cookies just weren't about good looks. They were amazing. And as we ate the cookies, we sat around discussing how she got them to be so good.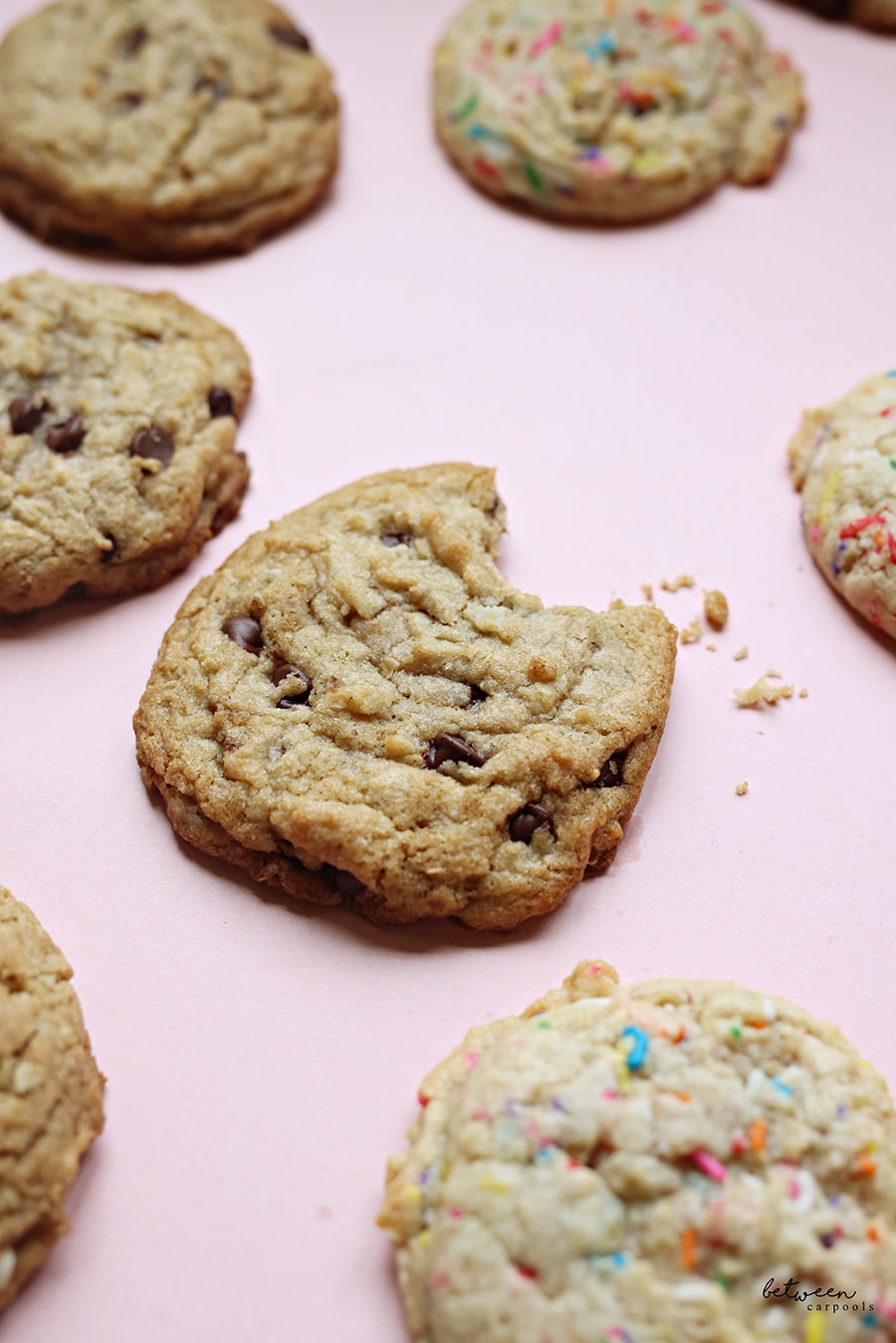 I remember one family member commenting, "For cookies like this, it must be that the margarine and sugar were creamed together very, very well."
Of course, I asked my neighbor for the recipe. It was one of those hand-written recipes that she's been making for 15 years that doesn't have a source (oh, how we love those). But honestly, I didn't even look at the recipe because I didn't think I could make the cookies. I am, after all, currently in between mixers (old one broken, new one on back order).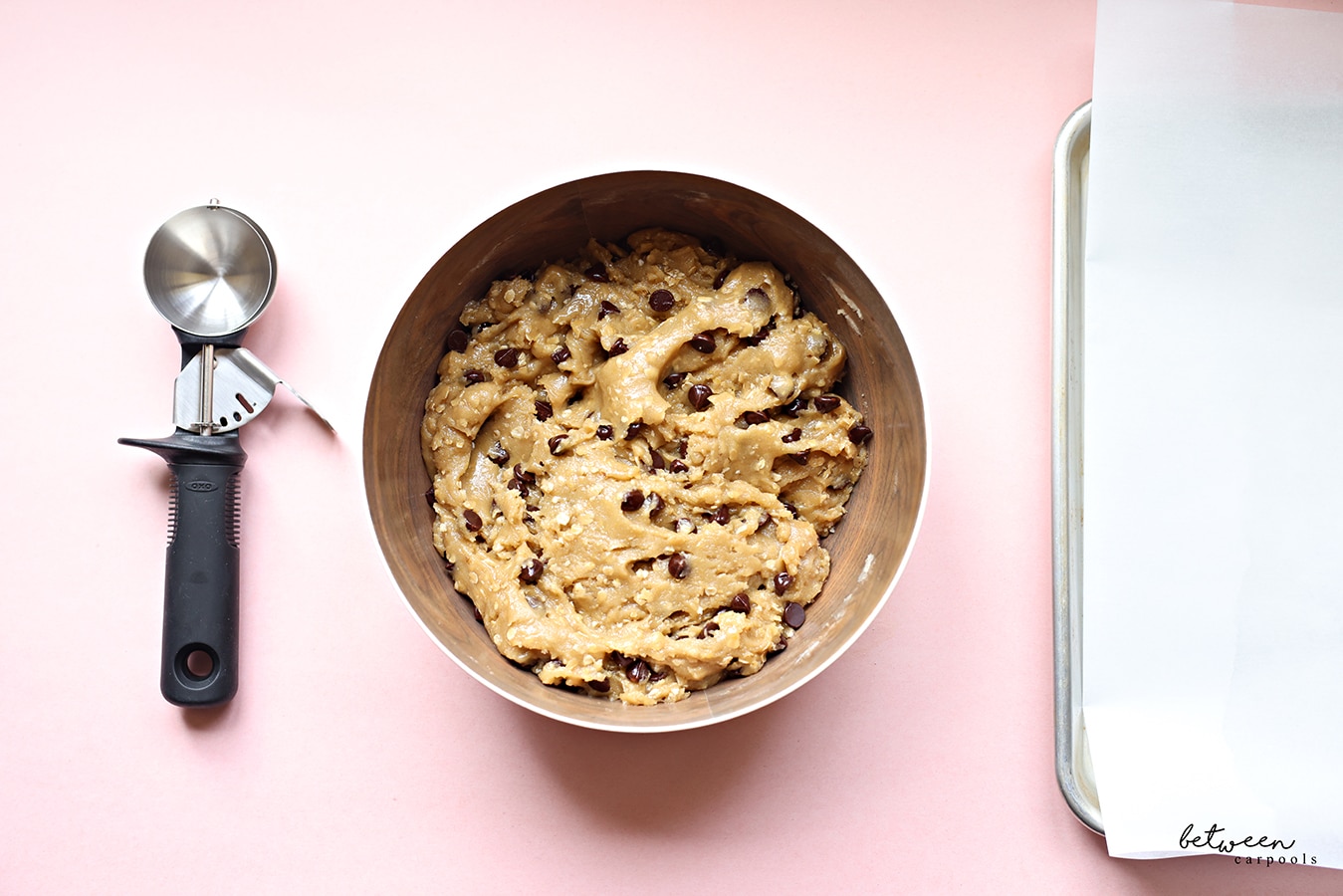 But then I happened to glance at the recipe a couple of weeks later and I saw…oil? Not margarine? I can try to make these without a mixer.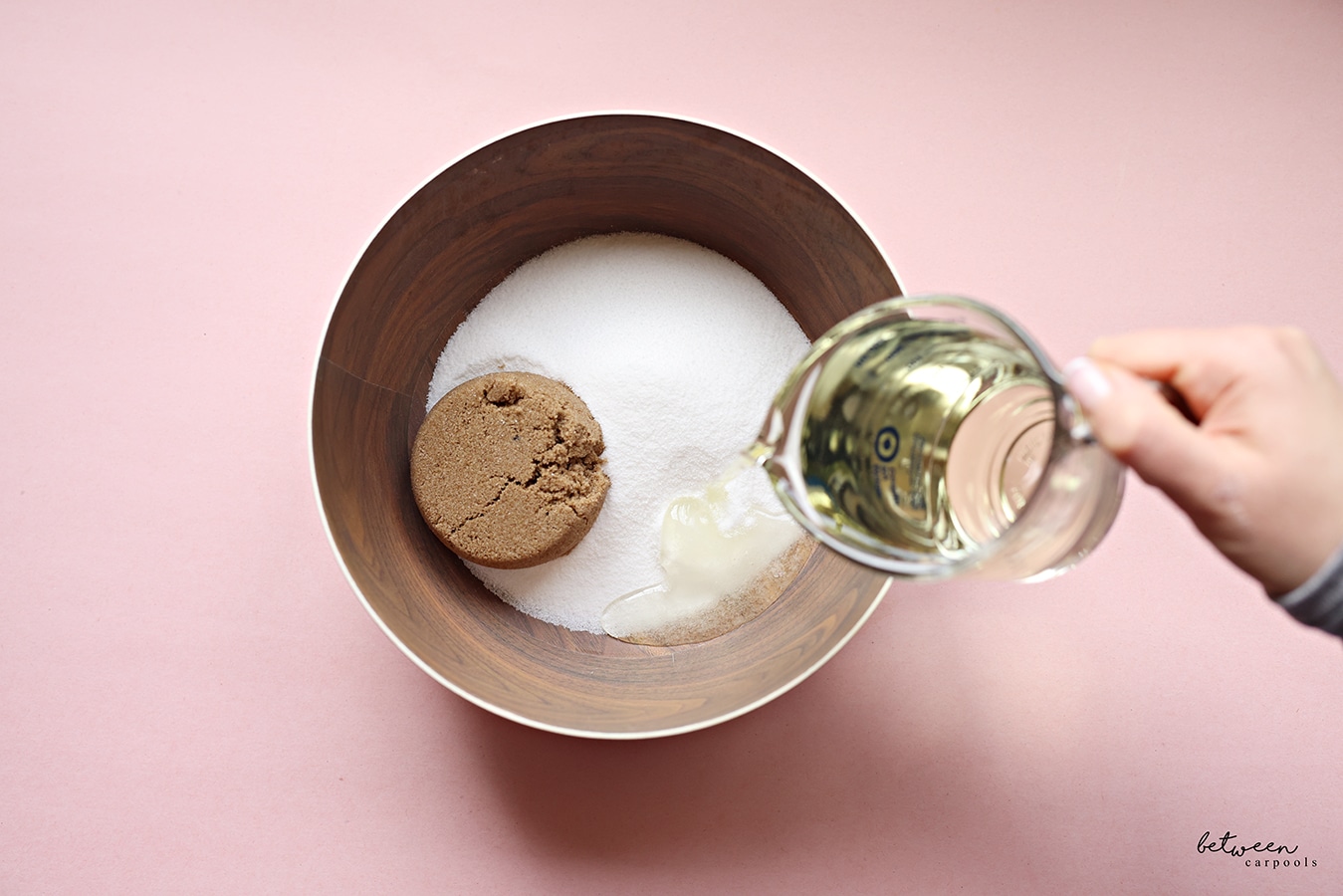 I took out a simple mixing bowl. And a fork, not even a whisk. And I mixed that oil and sugar together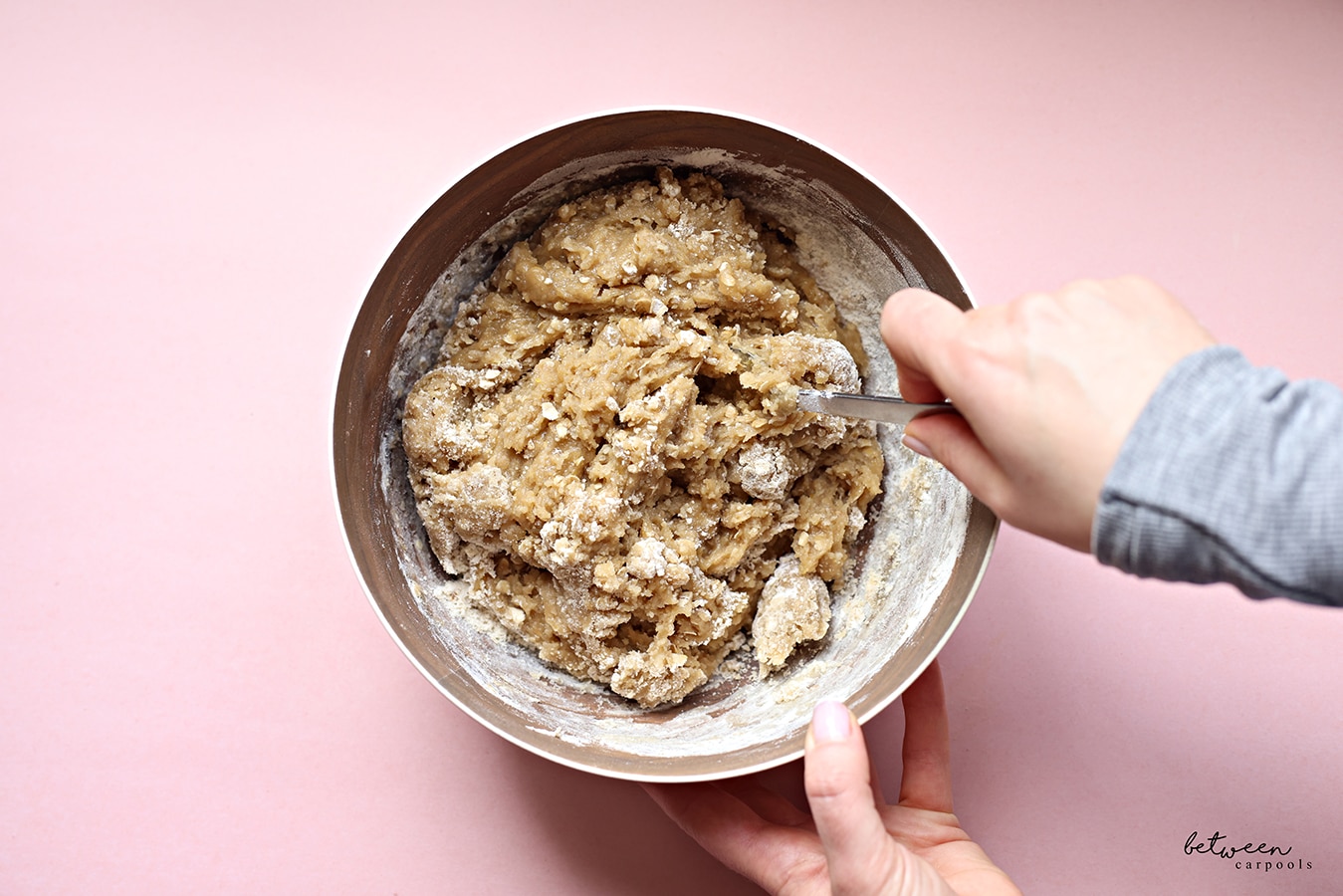 and continued to add in the rest of the ingredients.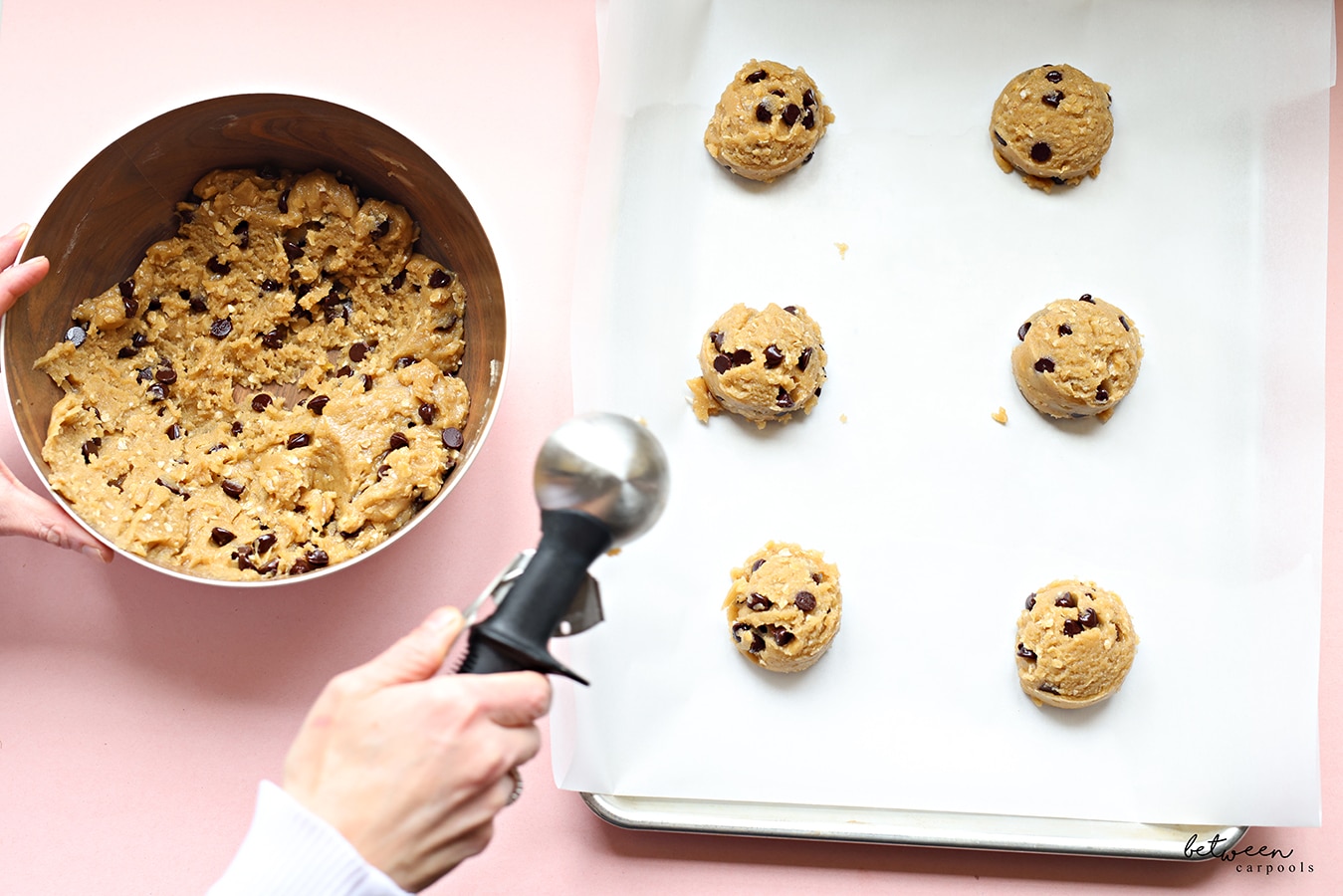 And the results were really amazing cookies.
So much so, that we made another batch with white chocolate chips. And another batch with rainbow sprinkles (our family favorite). We made batch after batch (good excuse: one child was having a birthday party that week) and it was just so easy and they were just so good!
Yes, my friend's cookies came out slightly larger and spread a little more nicely than mine. They do come out prettier and more even when you use a mixer.
But even when made simply with a bowl and fork, these are beautiful and amazing.

The Best Giant Chocolate Chip Cookies
Swap the chocolate chips for any mix-in that you like!
Serves:
About 12-18 cookies, depending on size
Ingredients
1 cup oil
1 cup sugar
½ cup brown sugar
2 eggs
2 teaspoons vanilla extract
2 cups flour
½ cup oats
1 teaspoon baking soda
1 (9 oz) package chocolate chips (or desired mix-in)
Instructions
Preheat oven to 375ºF. Line 2 baking sheets with parchment paper.
In a bowl of an electric mixer OR in a mixing bowl using a fork, beat together oil, sugars, eggs, and vanilla.
Add flour, oats, baking soda, and chocolate chips. Mix to combine.
For giant cookies, you can either eyeball the amount or use an ice cream scoop (not a cookie scoop) to scoop up the dough. You should place 6 cookies on each baking sheet.
Bake for 10-15 minutes. Cookies will still be mostly soft when you take them out but will harden as they cool.
I was always old school when it came to cookies. Sure, I had some recipes like
these amazing oatmeal cookies
that use just a ½ cup oil and come together in minutes without a mixer. But, for the most part, I did believe that the best cookies need a mixer and margarine. I've proven myself wrong. (But, please, no, don't think that these are healthier than regular chocolate chip cookies!).
They're just cookies. Really good cookies. Enjoy!
FOR EXCLUSIVE CONTENT AND A PEEK BEHIND THE SCENES, MAKE SURE TO JOIN OUR WHATSAPP STATUS HERE.