Pick-up foods are always the way to go for the seudah. If you don't love sweet hamantaschen, but love deli, this is the way to go to bring the hamantaschen to the table. 
Since I'm not a fan of sweet hamentashen, I've always found it fun to create savory versions. I shared 4 ways to make hamentashen using pizza rounds here.
This version is inspired from the flavors of a deli roll or sandwich, but it's better since it's fried. Serve this with coleslaw and Russian Dressing on the side.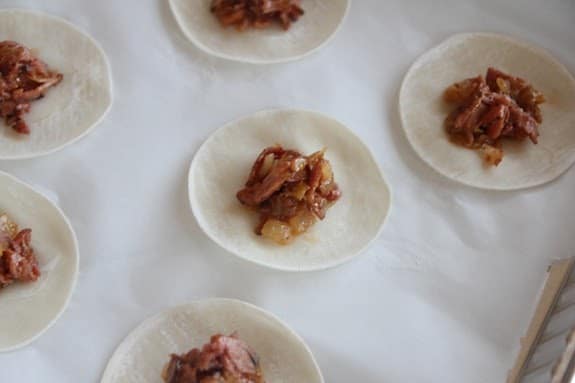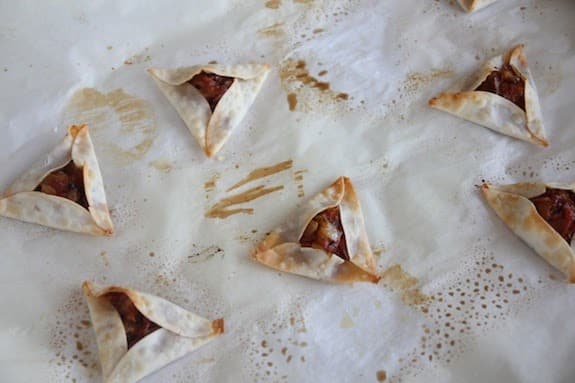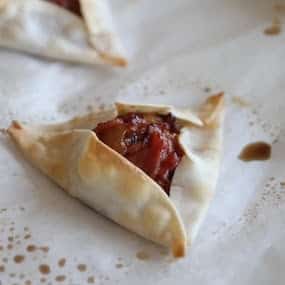 These above are baked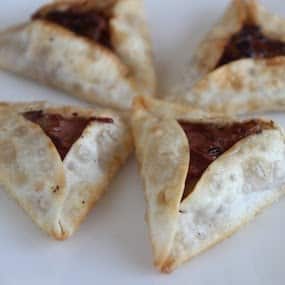 and these above are fried

Savory Deli Hamantaschen
Author:
Originally published on cookkosher
Ingredients
3 tablespoons oil
1 large onion, diced
6 ounces chopped pastrami (or deli of your choice)
1 tablespoon mayonnaise
1 tablespoon ketchup
1 tablespoon honey
1 squirt hot sauce
½ tablespoon soy sauce
20 round wonton wrappers
1 teaspoon cornstarch, dissolved in 3 tablespoons water
Instructions
Heat oil in a saute pan over medium heat. Add onion and saute until extra soft and golden, about 10 minutes.
Add pastrami and saute for 1 to 2 additional minutes. Stir in mayonnaise, ketchup, honey, hot sauce, and soy sauce.
Place 1 teaspoon filling in the middle of each wrapper. Brush cornstarch mixture around the edges (this will help seal the hamantashen). Fold into hamantashen shape.
To bake the hamantashen, preheat oven to 400F. Place hamantashen on a lined baking sheet and spray the tops with nonstick cooking spray. Bake for 8 to 10 minutes.
Alternatively, you can fry the hamantashen (of course, it's much tastier this way and that's the version I prefer). Heat 1 inch oil in a saute pan over medium-high heat. When hot, add hamantashen and fry until golden and crispy, about 3 to 4 minutes per side.