This soup cooks entirely in a 9×13 pan!
You can make this soup in any deep 9 x 13 pan that can work both on the stovetop and in the oven (like the one pictured – don't use a disposable). If you don't have one, make it in a regular pot. 
Like any regular soup, this cooks on the stovetop…but it also spends some time in the oven to get that deeper, roasted flavor.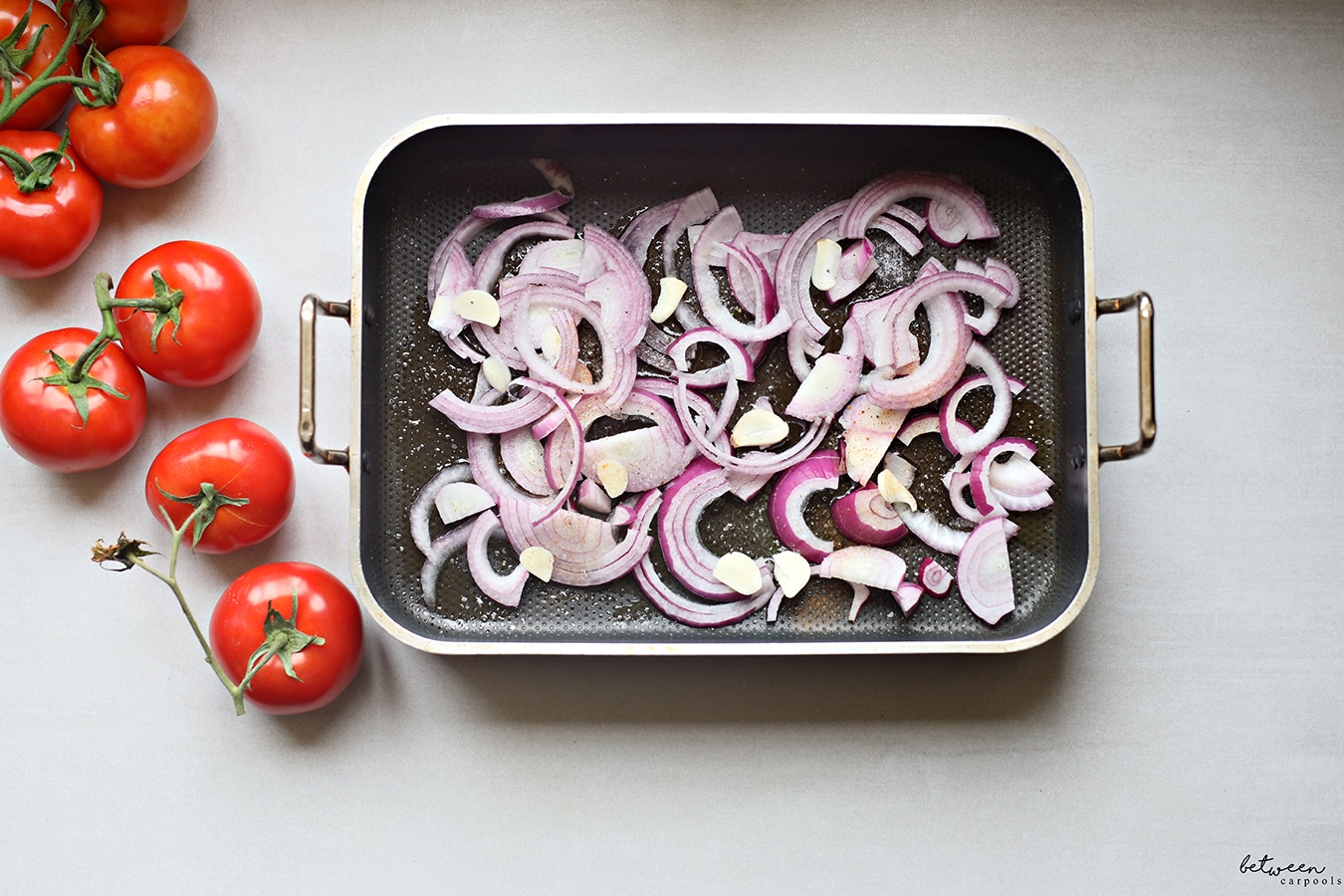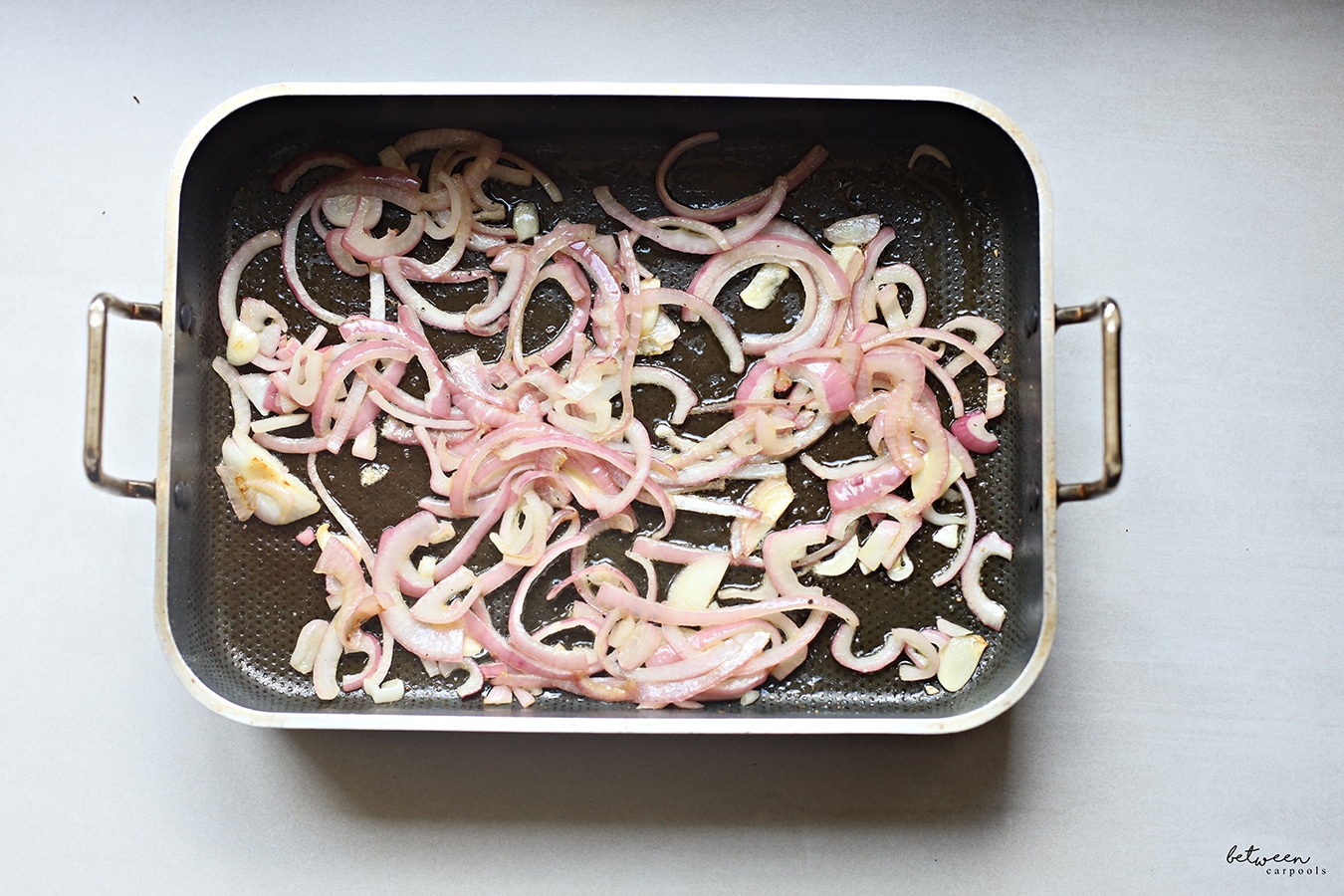 Let's get started with the onion and garlic.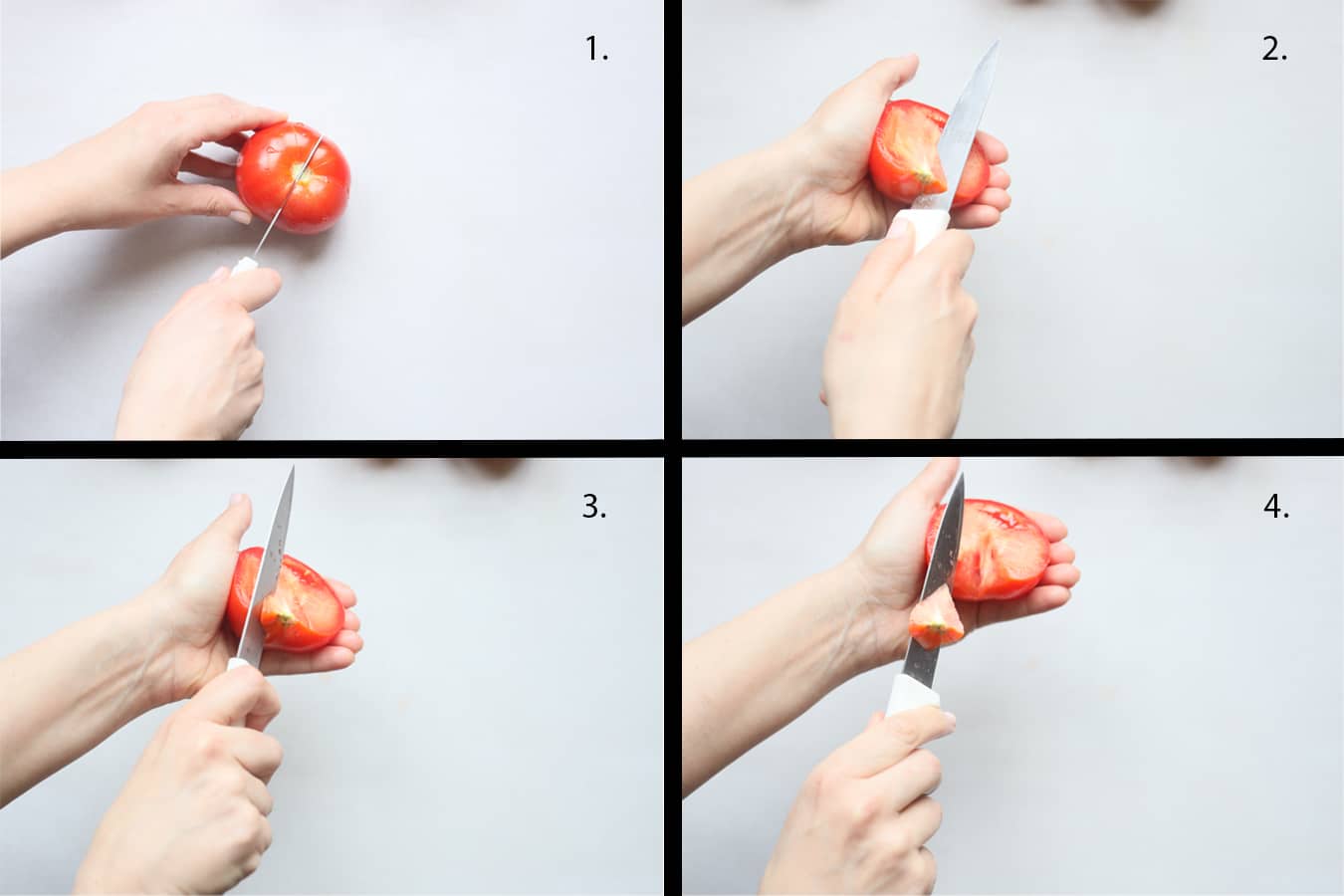 While the onion and garlic are cooking, you'll want to prep your soup by coring your tomatoes like this.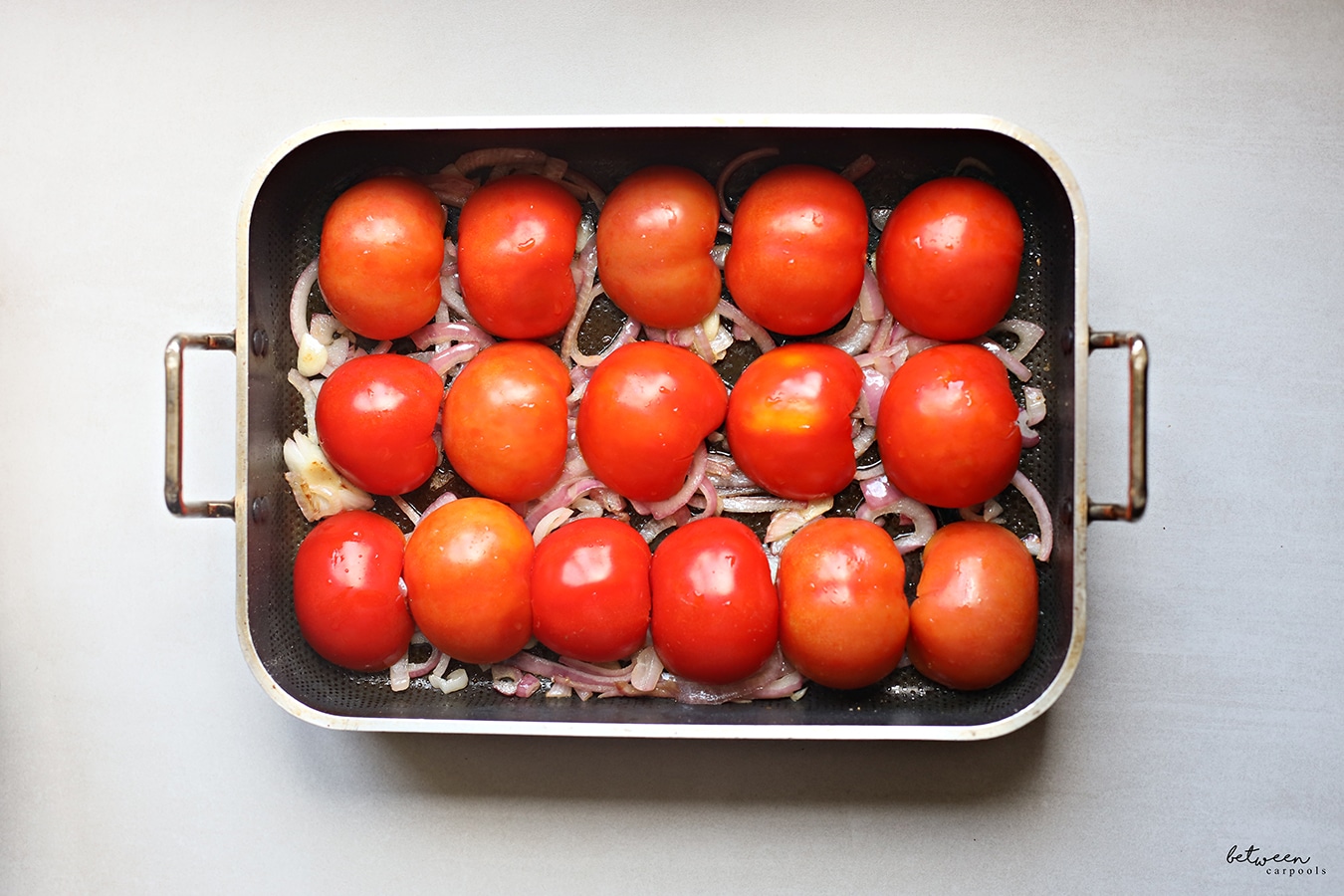 Looks like we're ready… added them to the pan.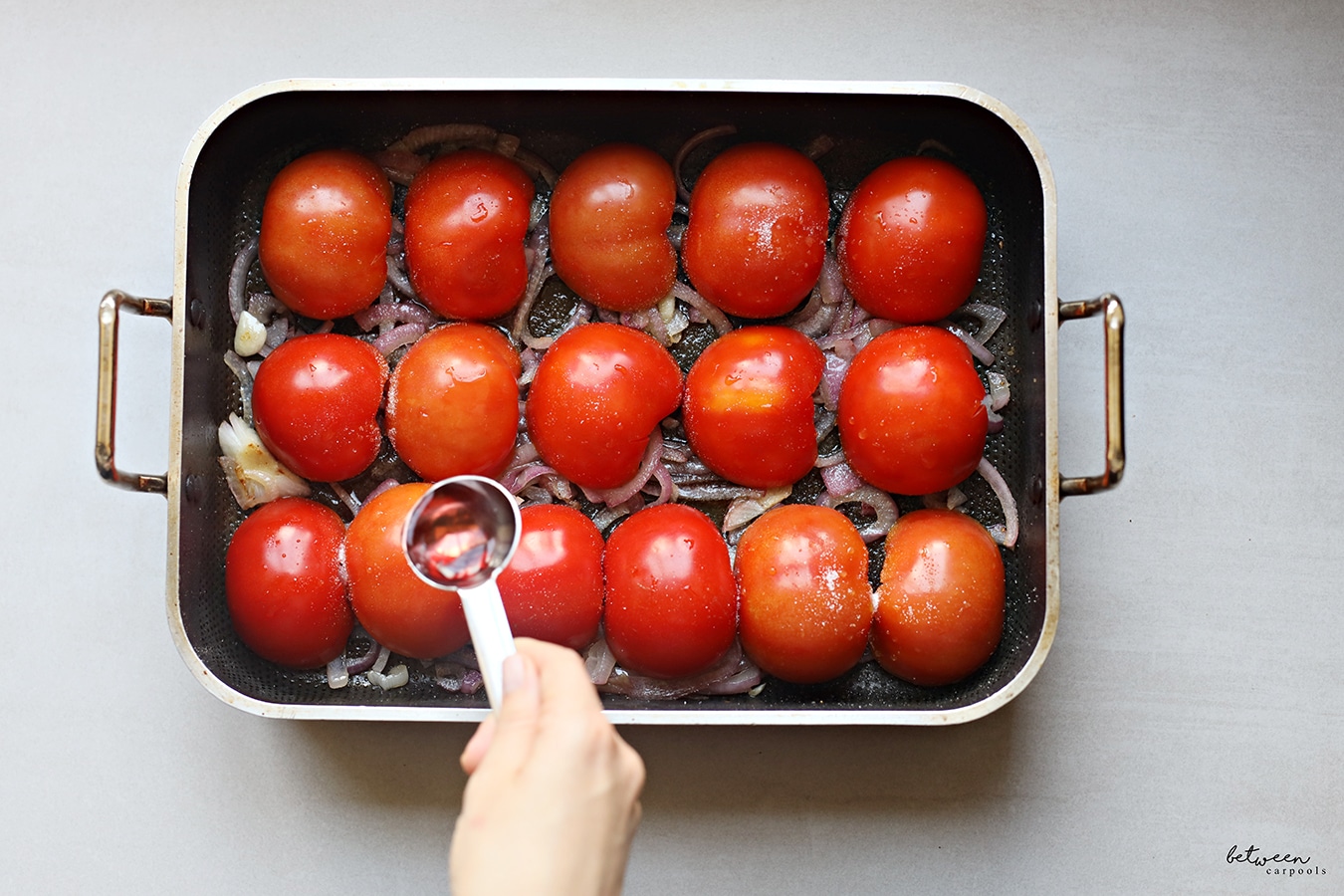 This soup looks really pretty as it cooks. Into the oven at this point.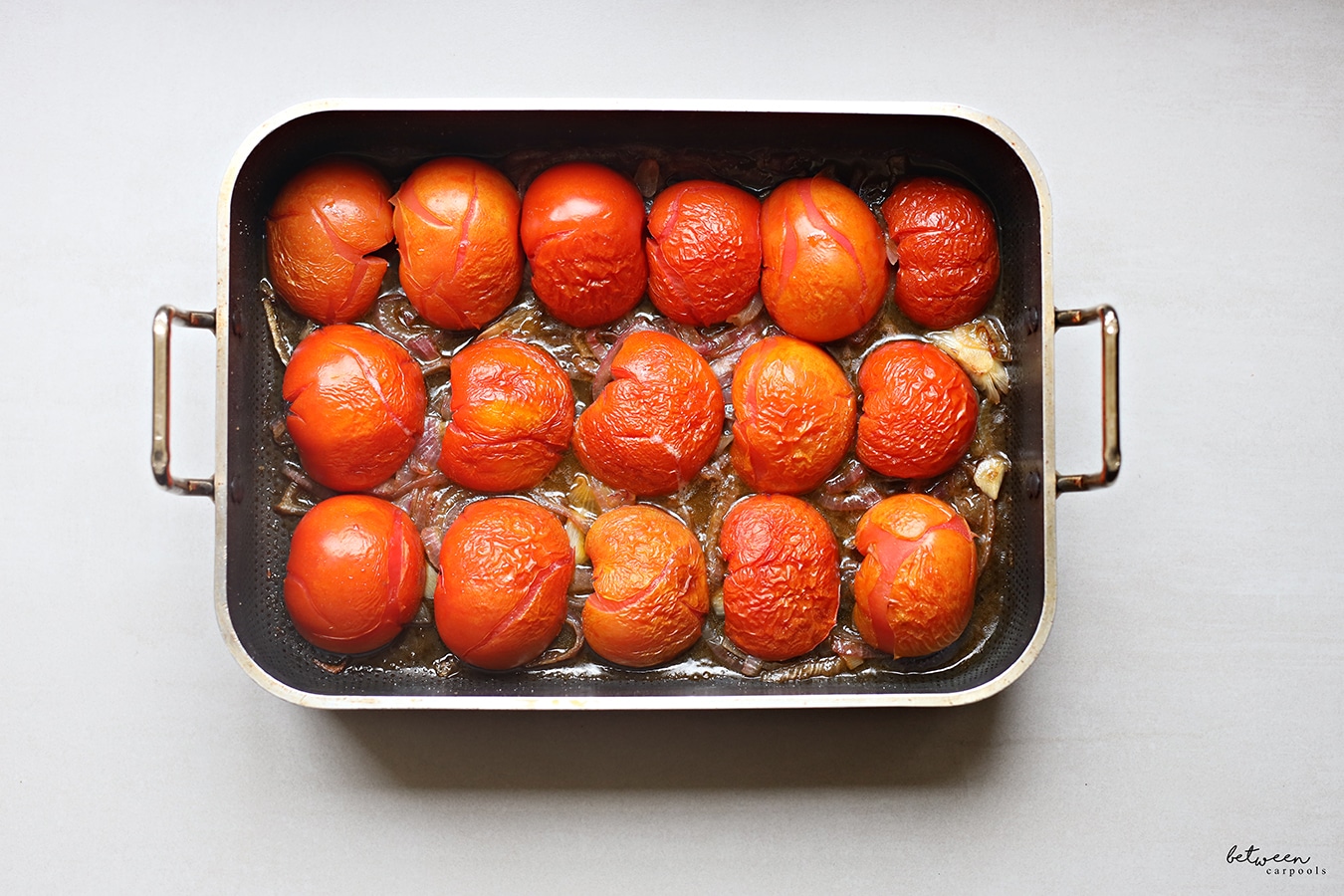 Add stock and boil… add cream and you've got soup.

Roasted Tomato Soup
Ingredients
4 tablespoons olive oil
1 red onion, sliced
2 garlic cloves, sliced
1 teaspoon salt
Pinch black pepper
¼ teaspoon cayenne pepper
6-8 vine tomatoes, halved and cored
1 teaspoon sugar
1 teaspoon dried herbs (such as basil and thyme)
1-2 tablespoons red wine vinegar
3 cups vegetable stock (or consomme) until its halfway up the tomatoes
1 cup creamer or heavy cream
For garnish:
Sundried tomatoes
Fresh basil
Instructions
Preheat oven to 375F.
Add olive oil to pan and heat over medium heat. Add onion and garlic and season with salt, pepper, and cayenne pepper. Cook for 5 minutes.
Place tomatoes, cut side down, in the pan. Sprinkle with sugar and herbs and drizzle with red wine vinegar. Sear on the stovetop for 5 miunutes.
Place in oven for 20-25 minutes, until tomatoes are soft.
Return pan to stove. Add vegetable stock (it should come about halfway up the sides of the tomatoes). Using a spoon, push the tomatoes to help them break up. Bring to a boil.
Using an immersion blender, blend to desired consistency. We left the soup a little chunky.
Stir in creamer and bring to a simmer. Cook for 3-4 minutes. Taste and adjust seasoning if needed.
Serve topped with sundried tomatoes and fresh basil.
Note — If you have a pareve immersion blender, cut your onion/garlic with a pareve knife and blend before adding the cream. If you have a dairy blender then it doesn't matter when you add the cream.