This salad by Daniella Silver in Best of Kosher is one of our favorites… some of us are just addicted.
While we were working on Best of Kosher, we thought that we would find that we were already familiar with all the "favorites!" After all, we're food writers. We should know about all the famous recipes out there? But you know what, we didn't! And we were super delighted to discover some gems that deserved more recognition.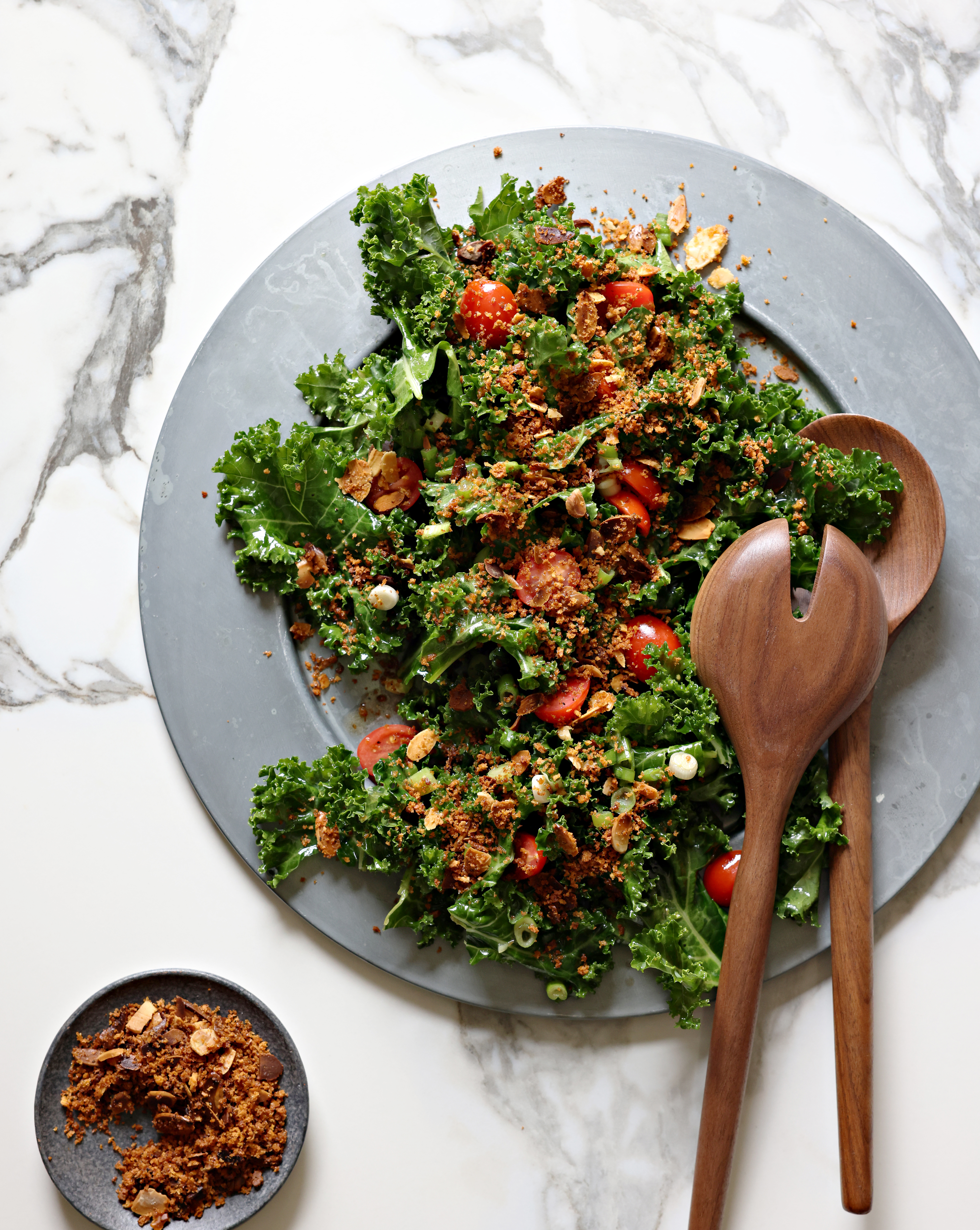 Like this Panko-Topped Kale Salad from Daniella Silver's Variations. Leah keeps the crumbs on hand always (in the freezer) so she can make the salad instantly, any time. She doesn't only make it with kale – with Verdini Summer Crisp, or a mix of kale and summer crisp, or any hearty greens. (Renee Muller has decided that another one of Daniella's recipes has become a must-have. The chocolate chip cookies. She makes the batter on Monday night so they get to rest a good long while before baking on erev Shabbos.)
Panko-Topped Kale Salad from Best of Kosher
Ingredients
1 bunch kale or other greens

4 scallions, thinly sliced

1 cup cherry tomatoes, halved
Panko Topping:
¾ cup unseasoned panko crumbs

¹⁄₃ cup sliced almonds

½ tsp kosher salt

¼ tsp black pepper

½ tsp onion powder

1-2 Tbsp olive oil
Dijon-Honey Dressing:
⅔ cup olive oil

2 Tbsp balsamic vinegar

2 Tbsp white wine vinegar

2 tsp Dijon mustard

2 Tbsp honey

Kosher salt, to taste

Black pepper, to taste
Instructions
Prepare the panko topping. Preheat oven to 350°F. Line a baking sheet with parchment paper.

 In a medium bowl, combine panko crumbs, almonds, salt, pepper, and onion powder. Add oil; mix well. Spread panko mixture in a single layer on prepared baking sheet. Bake, uncovered, for 15-20 minutes, until golden brown.

 Wash and dry kale. Remove and discard tough stalks and ribs. Tear leaves into bite-size pieces. Place kale into a large bowl. Add scallions and cherry tomatoes.

Prepare the dressing. Add dressing ingredients to a jar; seal tightly and shake well.

Shortly before serving, toss salad with dressing. Sprinkle with toasted panko mixture; toss lightly to combine.
Notes
Make Ahead:
The panko mixture can be made ahead and frozen; the dressing will stay fresh in the refrigerator for up to 1 week.
Tip! 
At the photoshoot, Leah was concerned that she had burnt the panko crumbs. Daniella said, "No, this is perfect." Don't be concerned if the panko seems dark — taste it and you'll see that it's delicious. 
"It's the salad that the kids and boys who don't like salad eat, even if it's with lettuce," Leah says.
Anyways, the crunch is amazing and the salad is super easy. Just what we love!
Do you have Best of Kosher yet? Did you discover your own gems? Let us know! Or, get ready to start adding amazing dishes to your repertoire when you get the book.
FOR EXCLUSIVE CONTENT AND A PEEK BEHIND THE SCENES, MAKE SURE TO JOIN OUR WHATSAPP STATUS HERE. JOIN OUR WHATSAPP GROUP AND WE'LL LET YOU KNOW WHEN A NEW POST IS UP!