I probably should have put it into "Our Table," because, after all, if it is on the table, it's deserves to be there.
If you own my cookbook Our Table, chances are you wondered why there is this really appetizing and very Italian looking dish on page 81, front and center, yet….no recipe for it. Well, do you know how sometimes, we get stuck with that thought that something is too simple and therefore not important enough? That's Peperonata for me. Basic and plain.
Big mistake.
Basic, I learned, is what people crave and also what they will attempt to first. My easiest recipes are the ones my readers tried right away. And everyone wanted to know what's that dish with the fettuccine and the peppers all about. "What page is the recipe on?" "I looked everywhere." " What do you mean it isn't in the book? I know I saw it!"
And so on.
I am glad I can share it here, with all of you. Because, frankly, poco ma buono (little but good) is what I long for on lazy, hot summer nights. And Peperonata e Fettuccine is exactly that, little but good. Comfort food, Italian style.
Oh, one more thing. While it's cooking, take a deep breath: close your eyes, take in the aroma, and know that this is what Lugano smells like.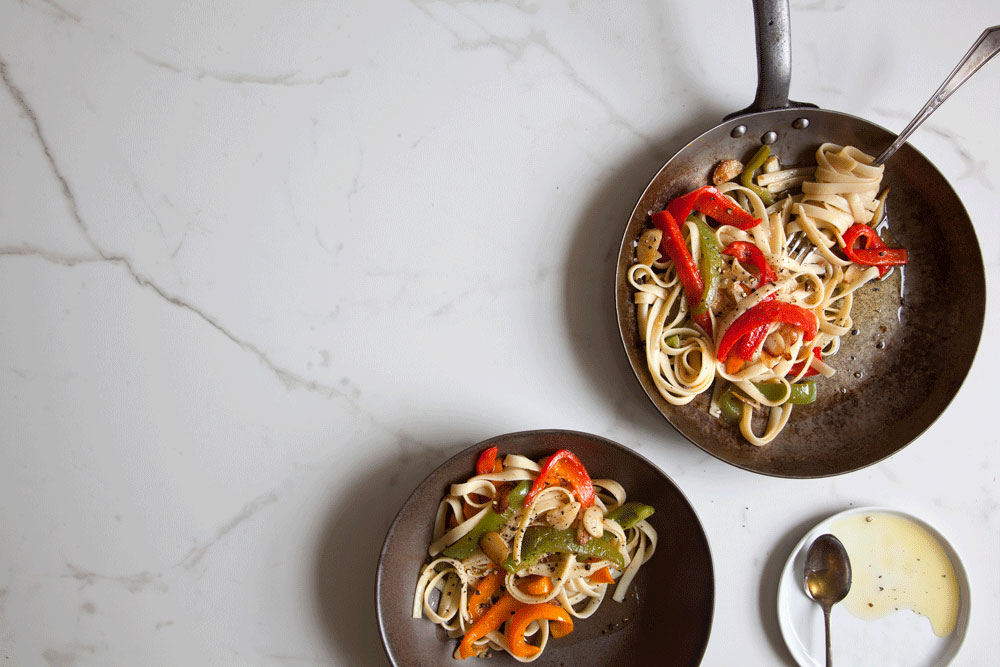 Peperonata e Fettuccine
Serve as a main in a bowl with a sprinkle of Parmesan cheese or as a side dish next to a piece of poached fish.
Ingredients
3 tablespoons olive oil
5 garlic cloves
1 red pepper, sliced into strips
1 orange pepper, sliced into strips
1 yellow pepper, sliced into strips
1 teaspoon salt
Pepper to taste
1 pound fettuccine
Instructions
Mince 2 of the garlic cloves and slice the remaining 3 into thin slivers. Heat oil in a medium sautépan over low heat. Add garlic and peppers. Cover pan, and cook, stirring frequently, until peppers soften and start caramelizing, about 40 minutes. Season with salt and pepper.
Meanwhile, cook pasta according to package instructions. Do not drain. Using a slotted spoon, add the pasta, a little at a time, into the saute pan, until all the pasta is transferred. It's fine, even recommended, if a bit of the pasta water makes it into the peperonata pot. Combine the pasta and the peperonata. Taste and adjust seasoning to your liking.
Serve immediately. Shave some Parmesan cheese over it, if you like.
Read the story behind the book (and how the cover evolved!)
right here.