Want an eggplant with a soft, silky, tender flesh and smoky charred skin? Here's how to achieve it.

Roasted eggplant is one of my staples, and today I'm going to show you the best way to get those eggplants roasted. I use my eggplant boats in lots of different ways – you can stuff them with falafel and Israeli salad, schwarama chicken, marinara and cheese, or they're really great with simply techina and pomegranate seeds.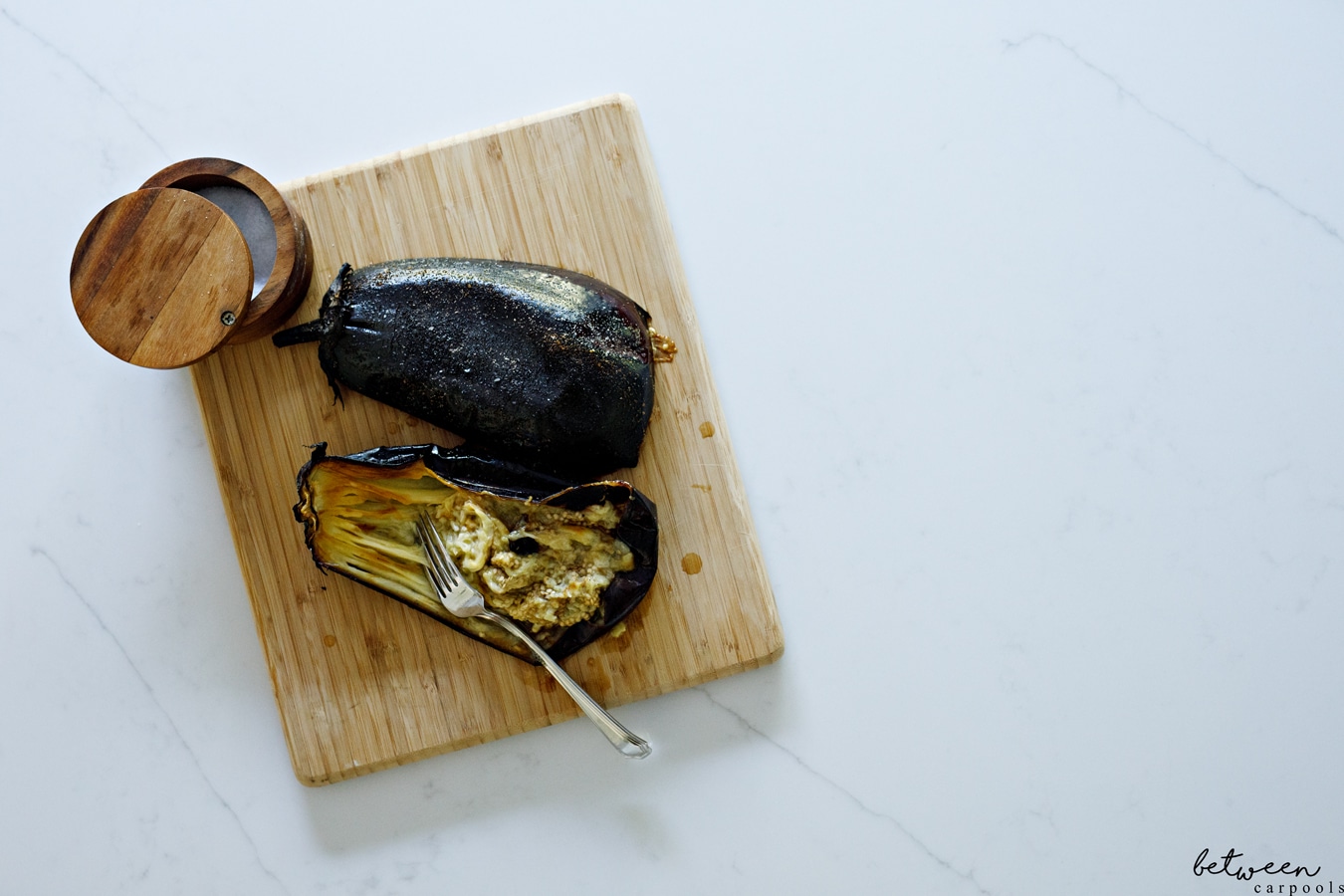 People like to roast their eggplant in different ways. One common way is to cut it in half, make criss-cross slits in the flesh, and roast it cut side up. I find that the flesh doesn't get the most tender that way. My method, though, results in the most tender eggplant with a nice char and smoky taste.
First, you'll need to preheat the broiler setting on your oven on high. It's important it's really hot when your eggplant hits the oven. You also need to have your oven rack on the highest level so the eggplant is really right under the fire. Purists really roast their eggplant right oven an open fire; all the Israelis do it that way. But since it's messy, I like to do it in the oven but it is still super important for the eggplant to be in contact with the open flame.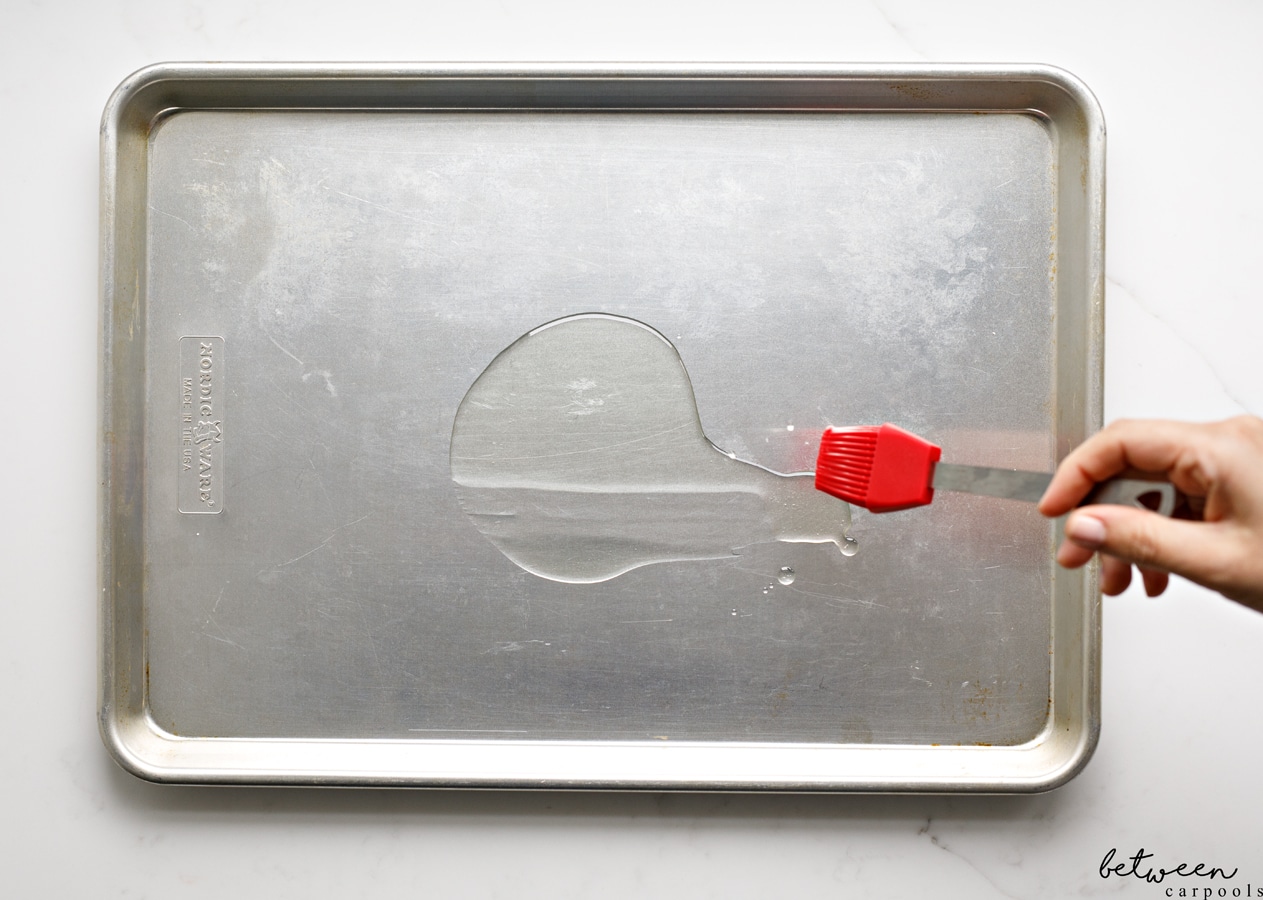 It's important to use a real sheet tray. These are heavy so they'll get really hot and give your eggplant nice color. Grease your baking sheet with a high heat cooking oil, such as grapeseed oil. You need a high heat cooking oil or it'll smoke as the tray is right under the broiler. You can't use parchment paper, obviously, as it will catch fire and burn.
Cut your eggplant in half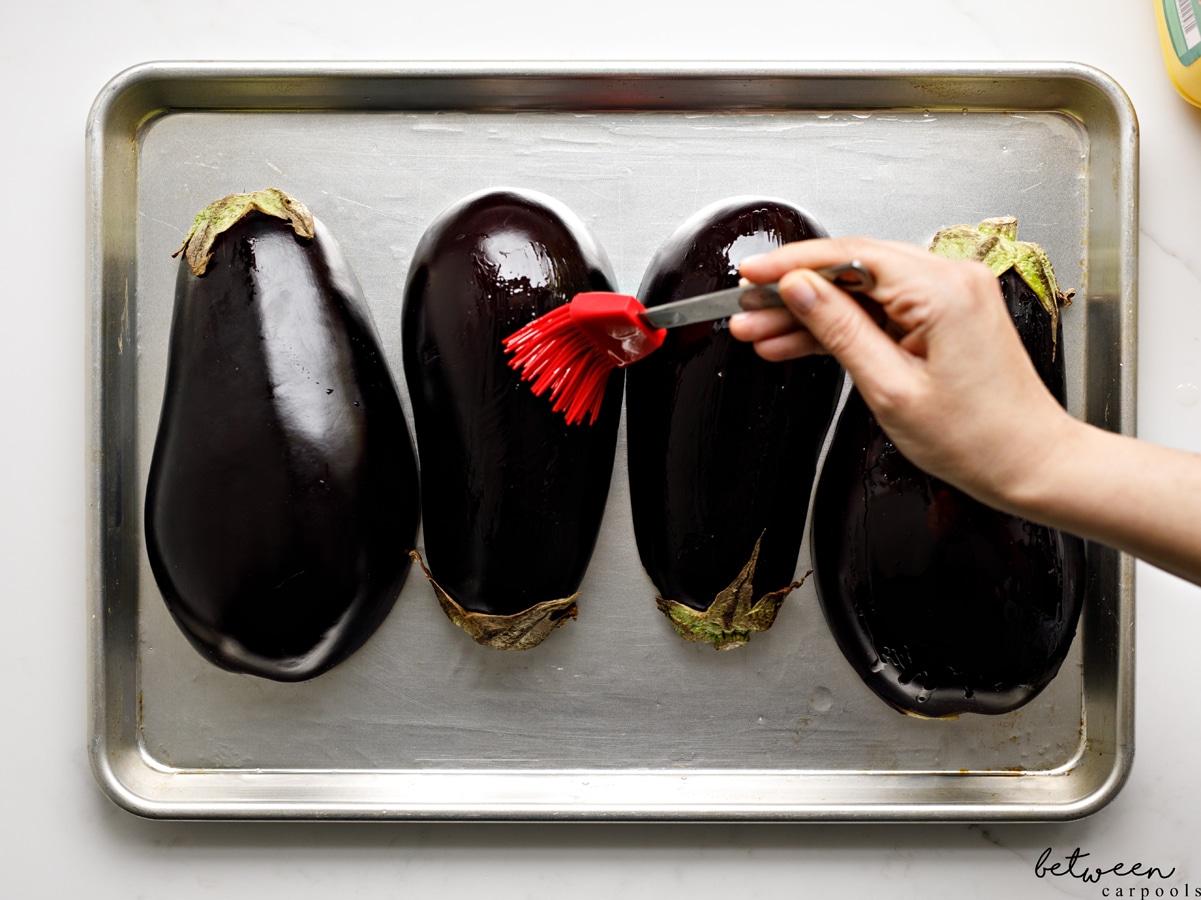 vertically and place the flesh, cut side down, on the baking sheet. I did not salt the flesh because it will draw out the moisture and that will make the eggplants collapse and get flat.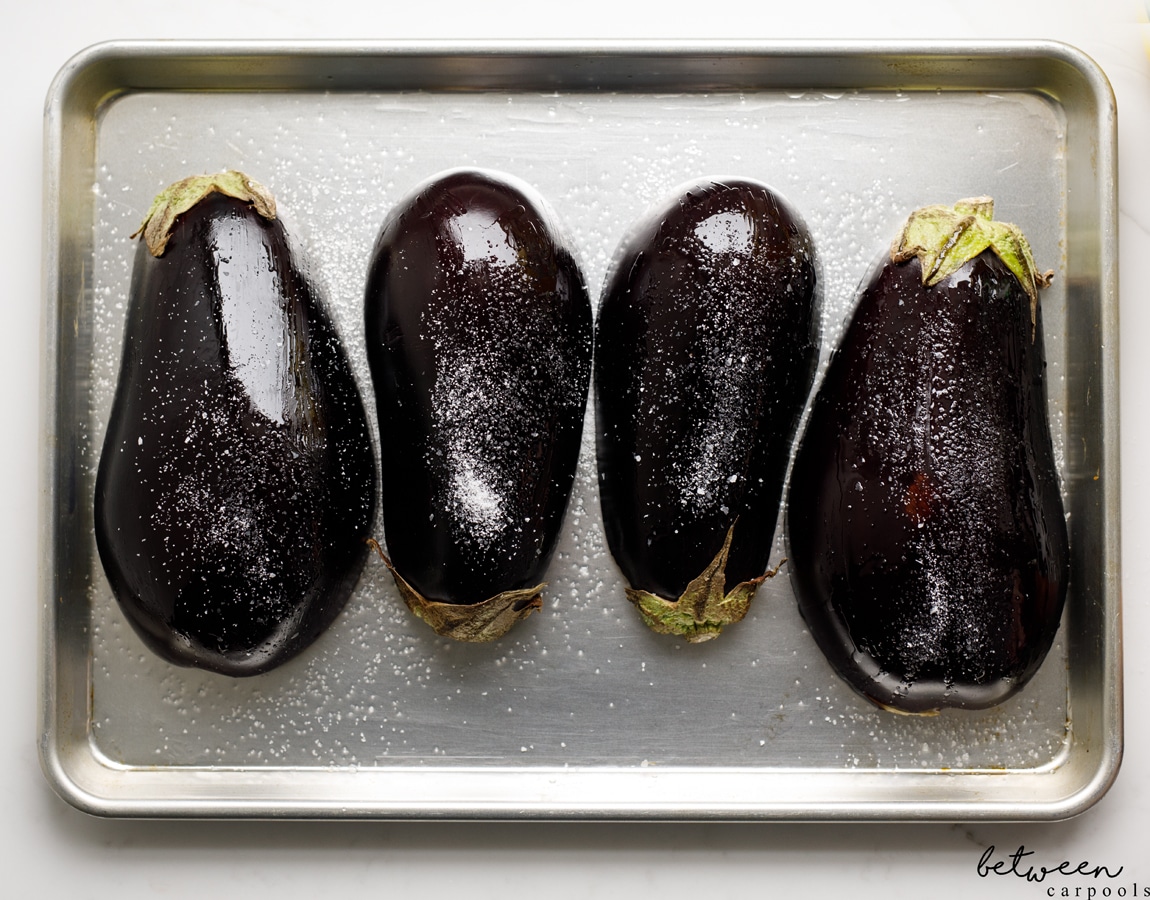 But, you can salt and skin and brush with more oil so it gets nice and crispy on the outside, while the flesh inside steams as it roasts and becomes silky and tender.
Broil for 20-25 minutes, until the skin is nice and charred.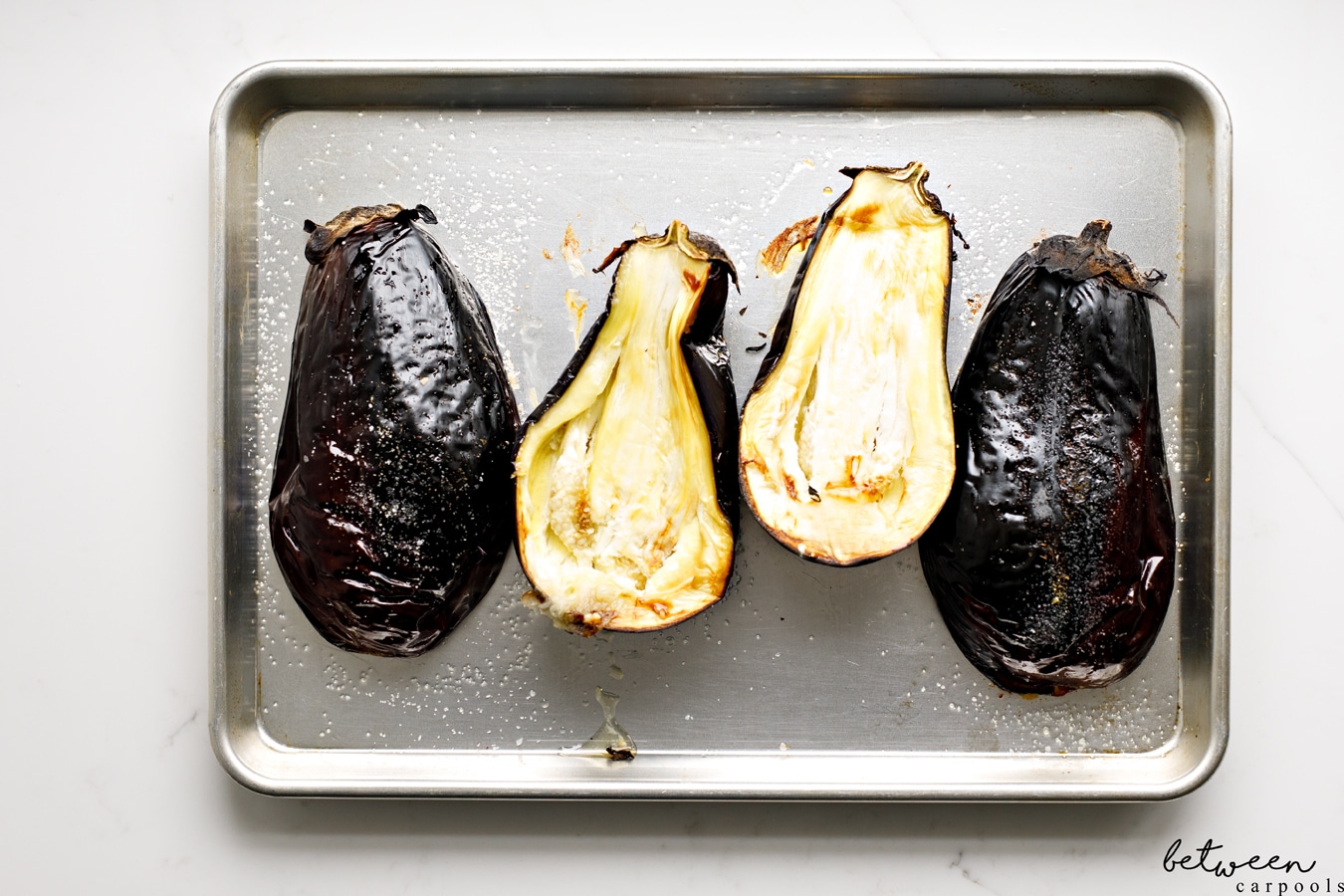 Now it is ready to be topped and enjoyed! 
BCP Tip: Choose eggplants that are smaller and rounder as those tend to have less seeds and are less bitter. Fresher eggplants will also be less bitter.
This originally appeared on our Instagram series, Between Minds, where different popular Instagrammers shared tips in their areas of expertise.
Use it in this eggplant carpaccio recipe.