This is how to take a humble donut from simply "yum" to "Wow!" in 30 seconds.
Decorating donuts has never been easier! Whether you opt for these delicious store-bought fillings (yep, you can order them ready-made!) or this homemade and delectable pastry cream, you will be taking your donuts to a whole new level.
It really doesn't take much. And yes, you can make your own or simply buy plain donuts. It is up to you. (Psssst, you can even prepare the dough in advance (Yes, right this week! And freeze the donuts!). The fun part is setting out all the toppings, the fillings, and the adorable and really-not-necessary but undeniably take-it-over-the-top little pipettes (or liquid injectors) of filling.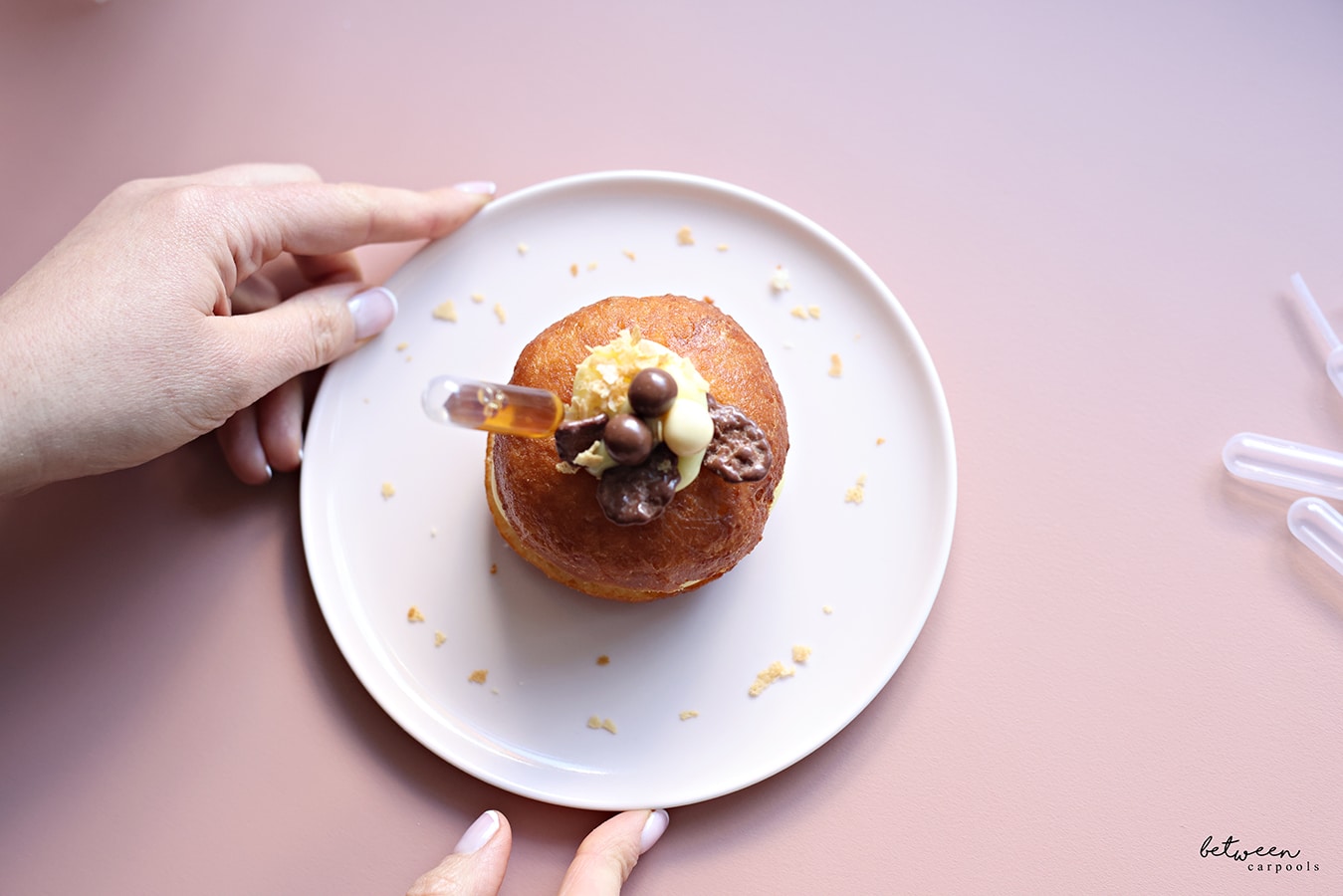 Yes, if you look at these images these might seem elaborate, but, truthfully, they are really not. Like really really not. These are BCP easy-grade. (And if you are here long enough you know that that is a really low bar right there!)
What you will need:
Donuts: like we said, store-bought or homemade
Fillings: store-bought or homemade
Toppings: The sky is the limit. Walk by your candy, baking, or cereal aisle with your eyes open. We will list what we used in each donut below.
Pipettes (or liquid injectors): They are cheap and adorable and make such a statement
Fillings for the pipettes: Maple syrup, chocolate syrup (rather not use a thick type, pick a runny one like Nesquick), strawberry syrup, chocolate liquor, any liquor if you're into that.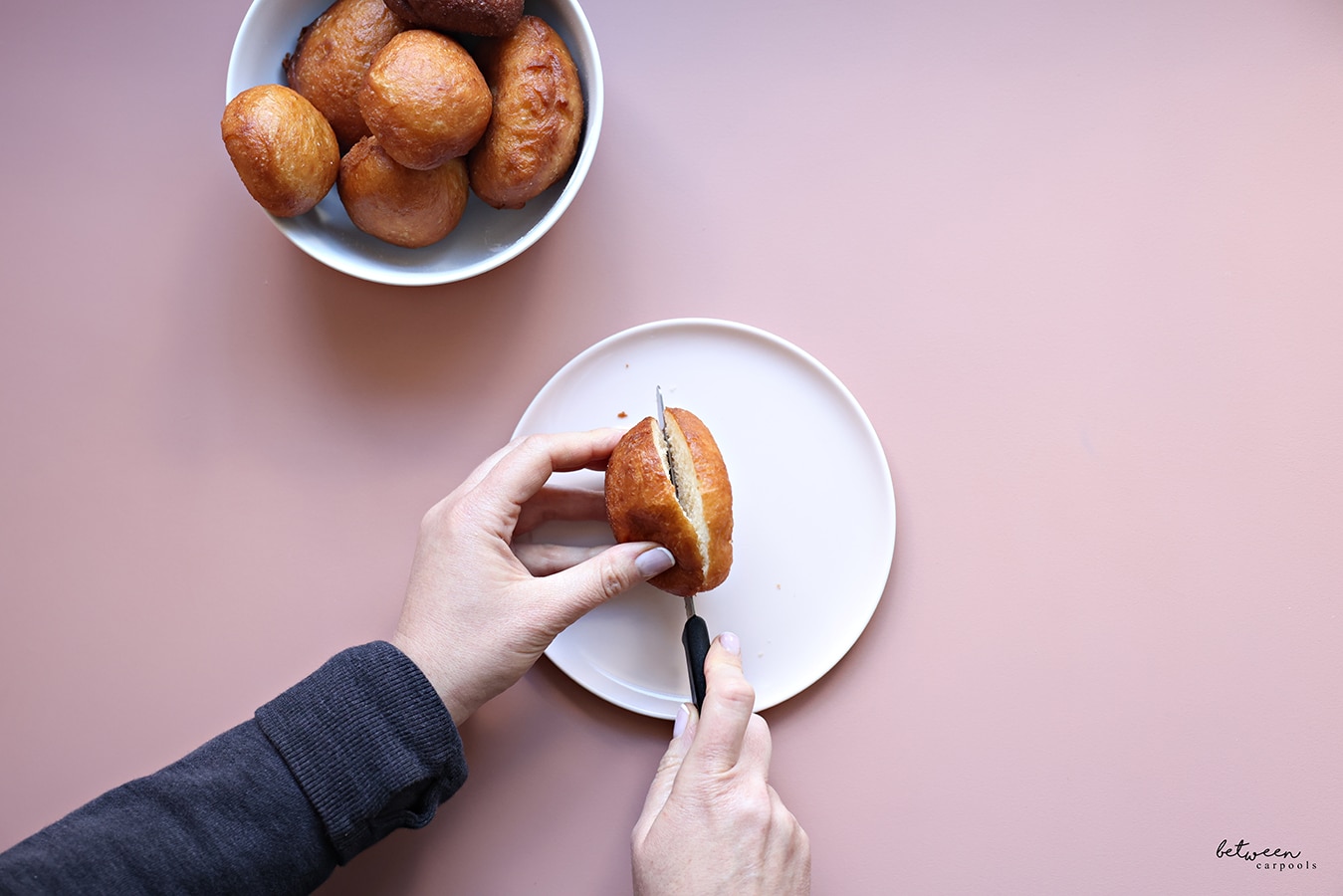 Start by cutting your donut in half. We like that sandwich effect, it's fancier. And you get to really load them up with filling. They might be messier to eat, buy hey, presentation is everything. So get napkins.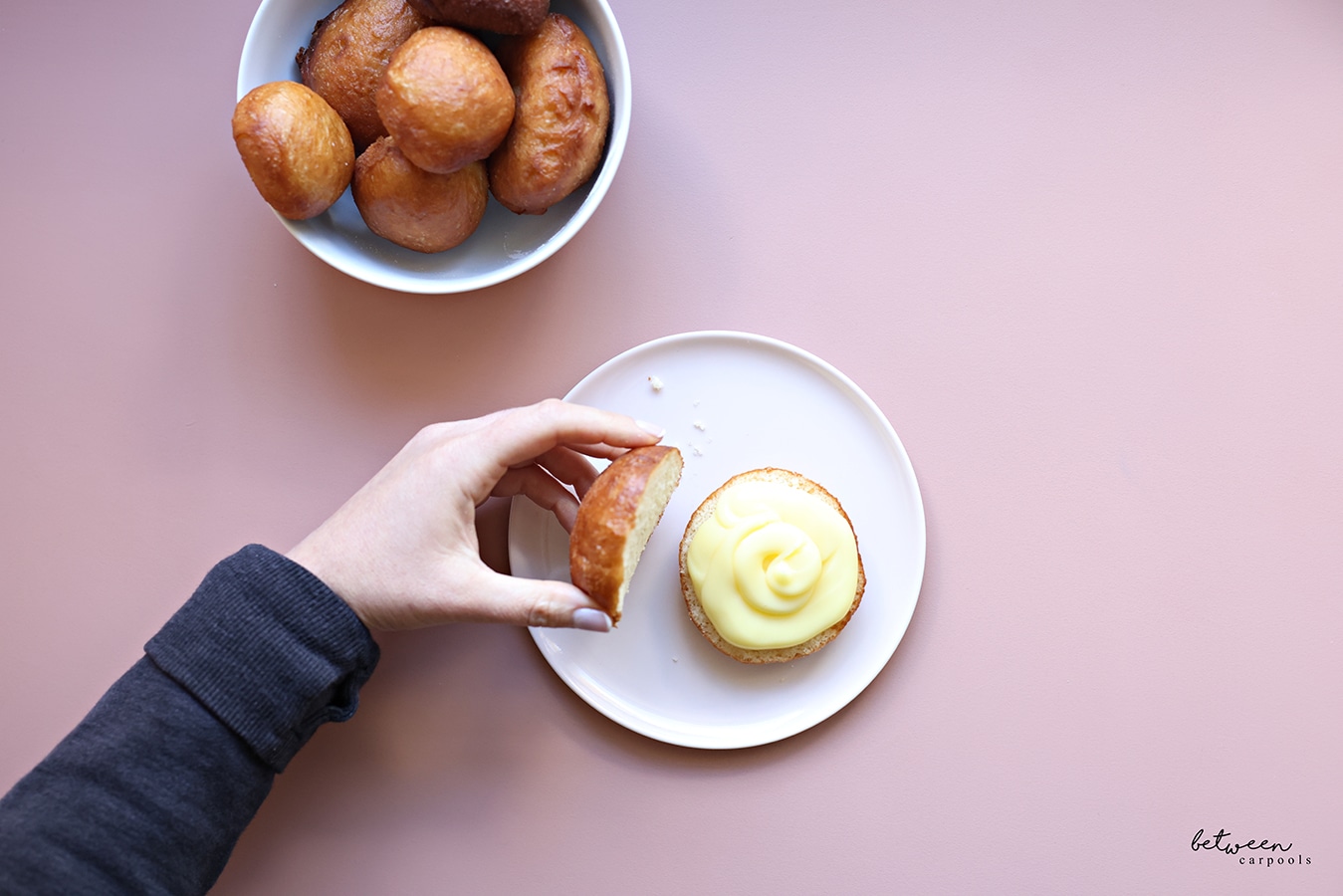 Once you cut your donut, pipe some filling on the bottom half. Be generous. We are all about the looks here.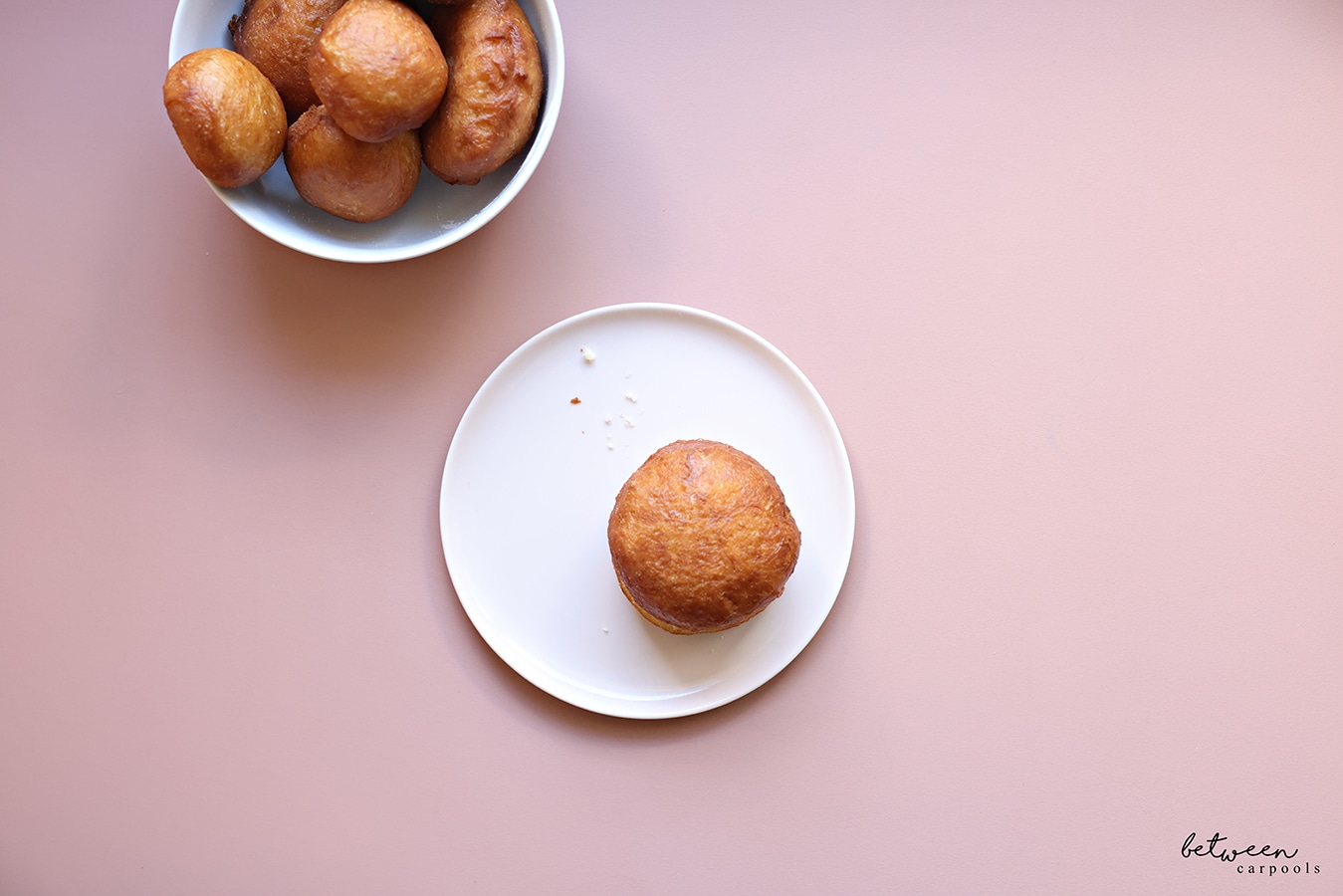 Top with the other half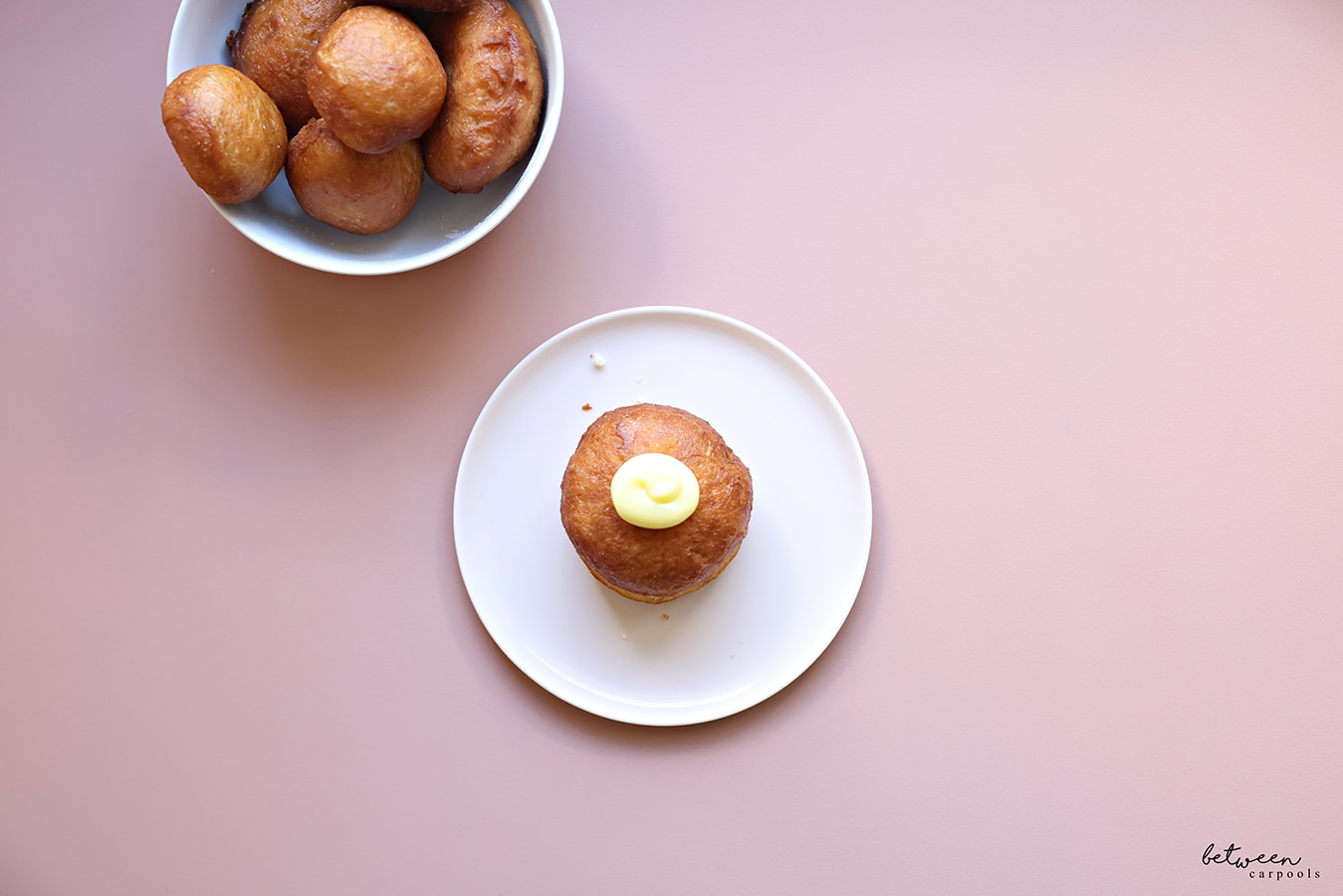 and pipe a small dollop on top, just like this.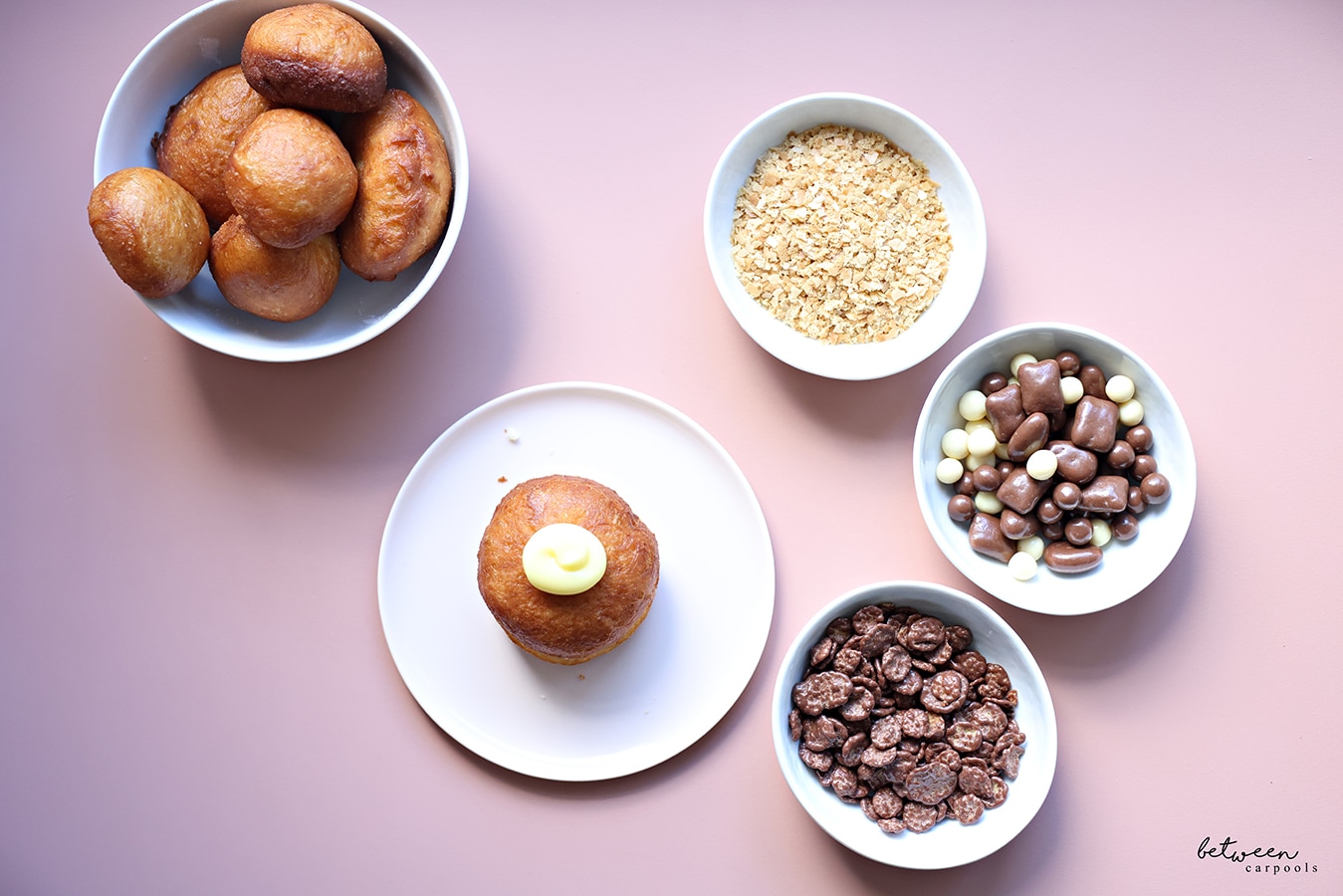 That dollop right on top will serve as your glue; it will hold down the toppings.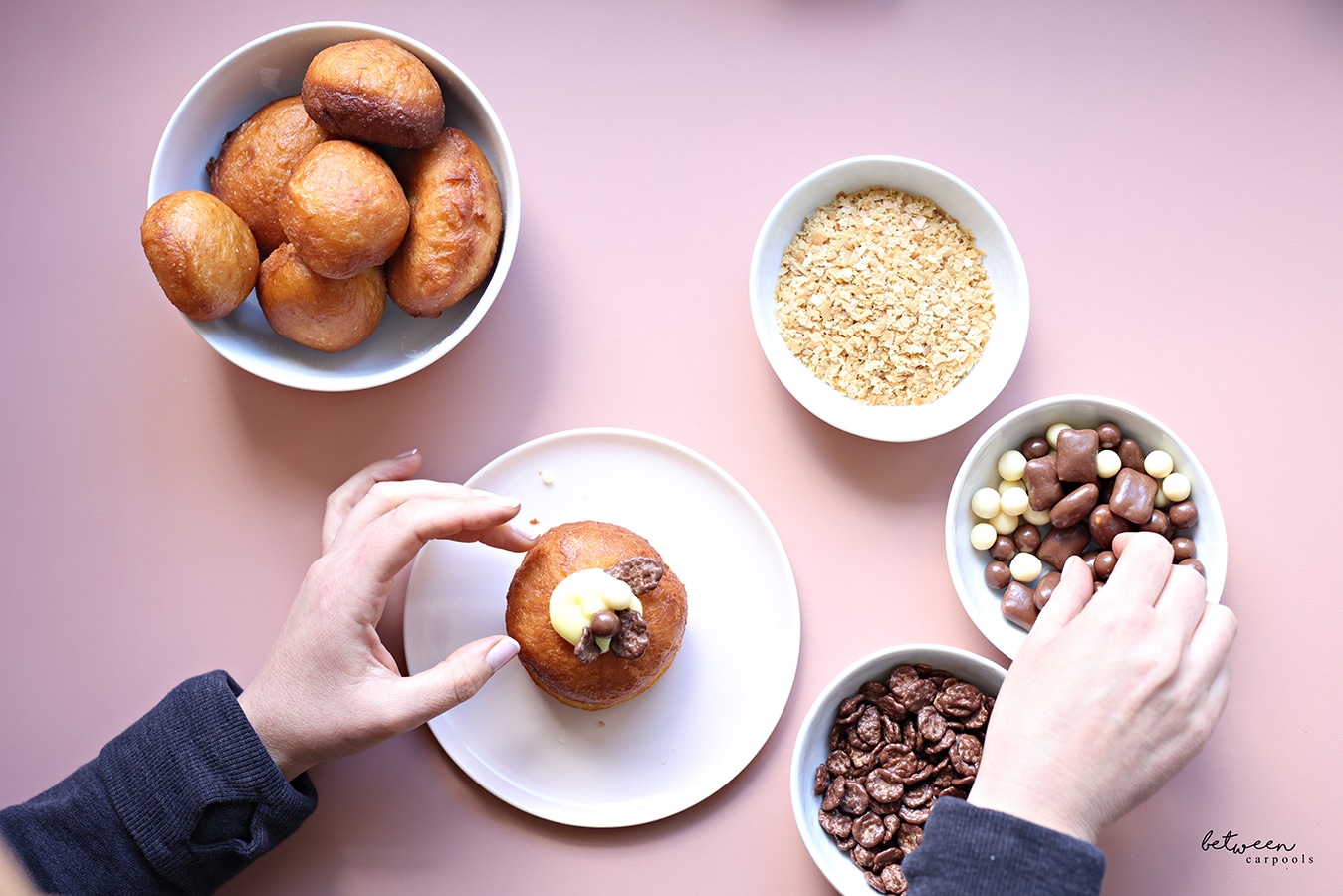 Now have fun adding toppings!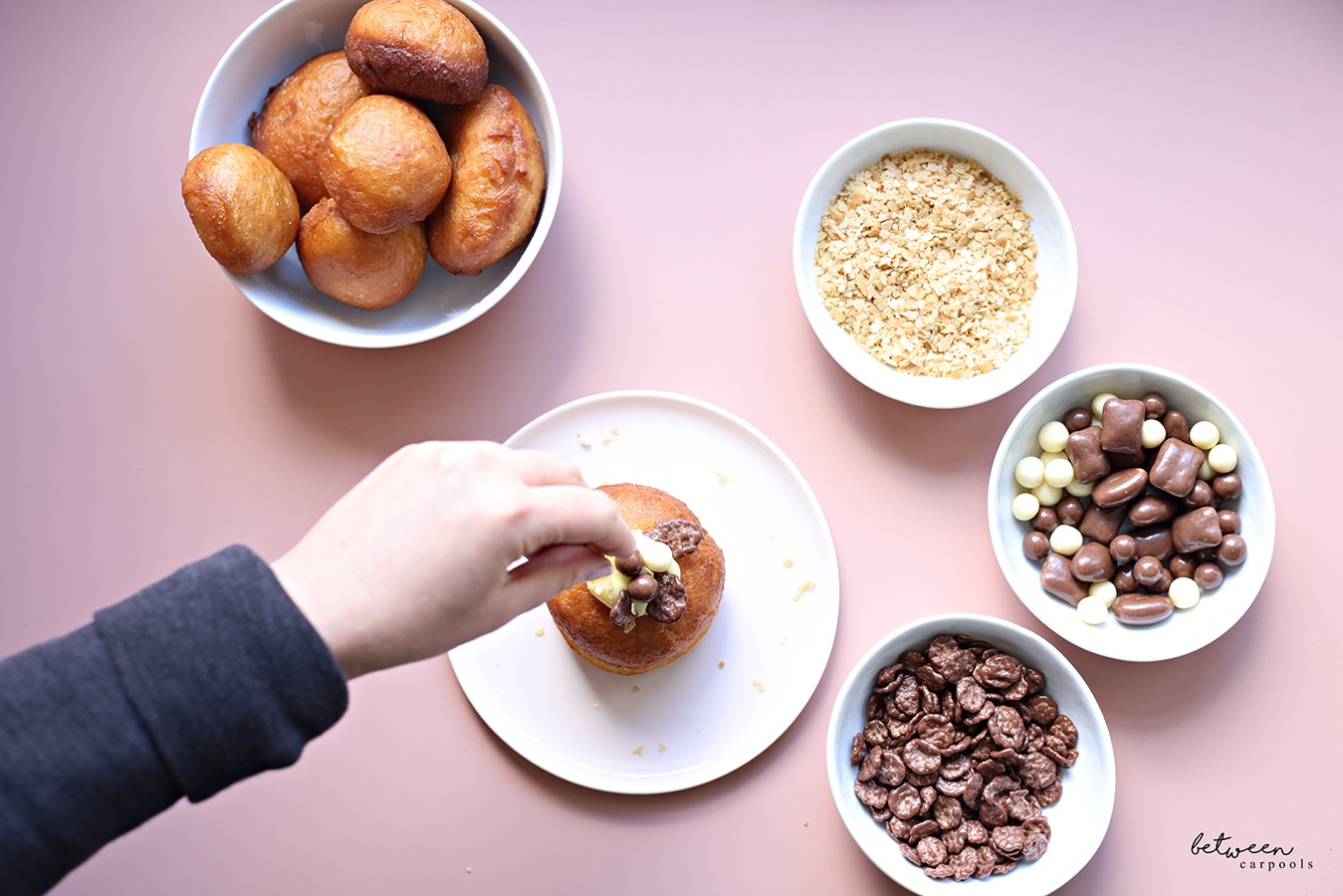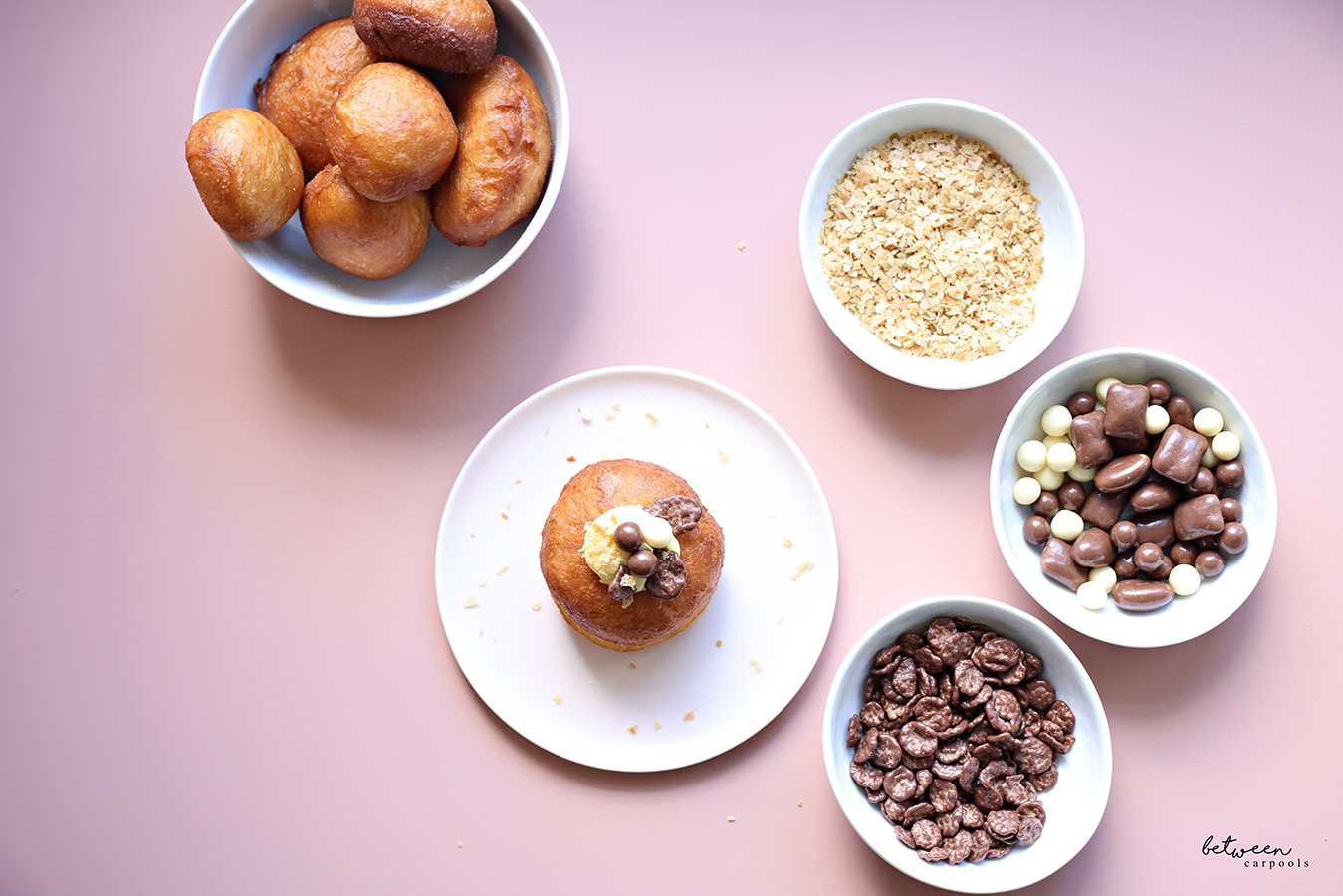 Last but not least, you will add the filled pipettes.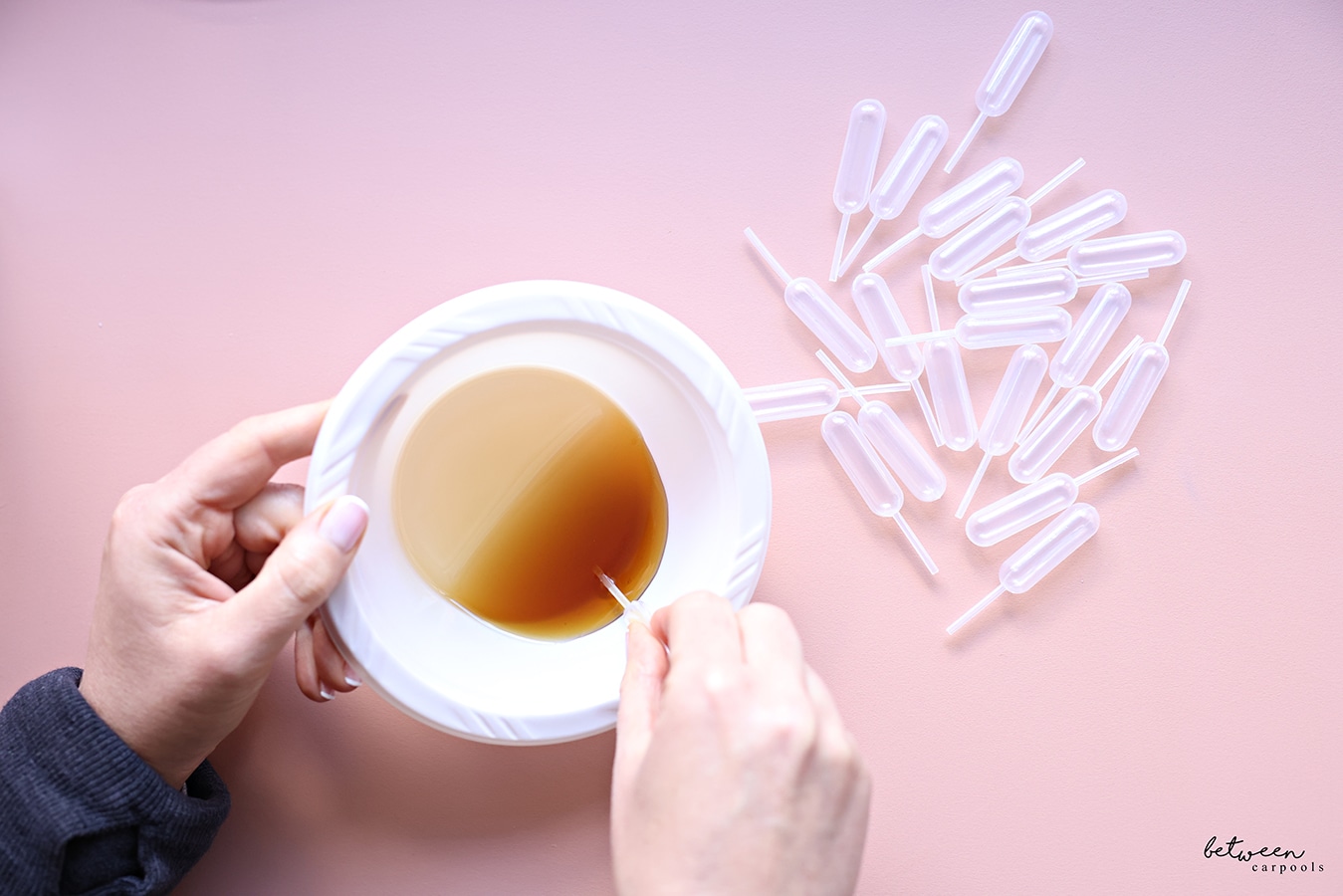 To fill the pipettes, prepare your pipette fillings in shallow bowls. To fill, you need to squeeze the air out of your syringe, as much as possible.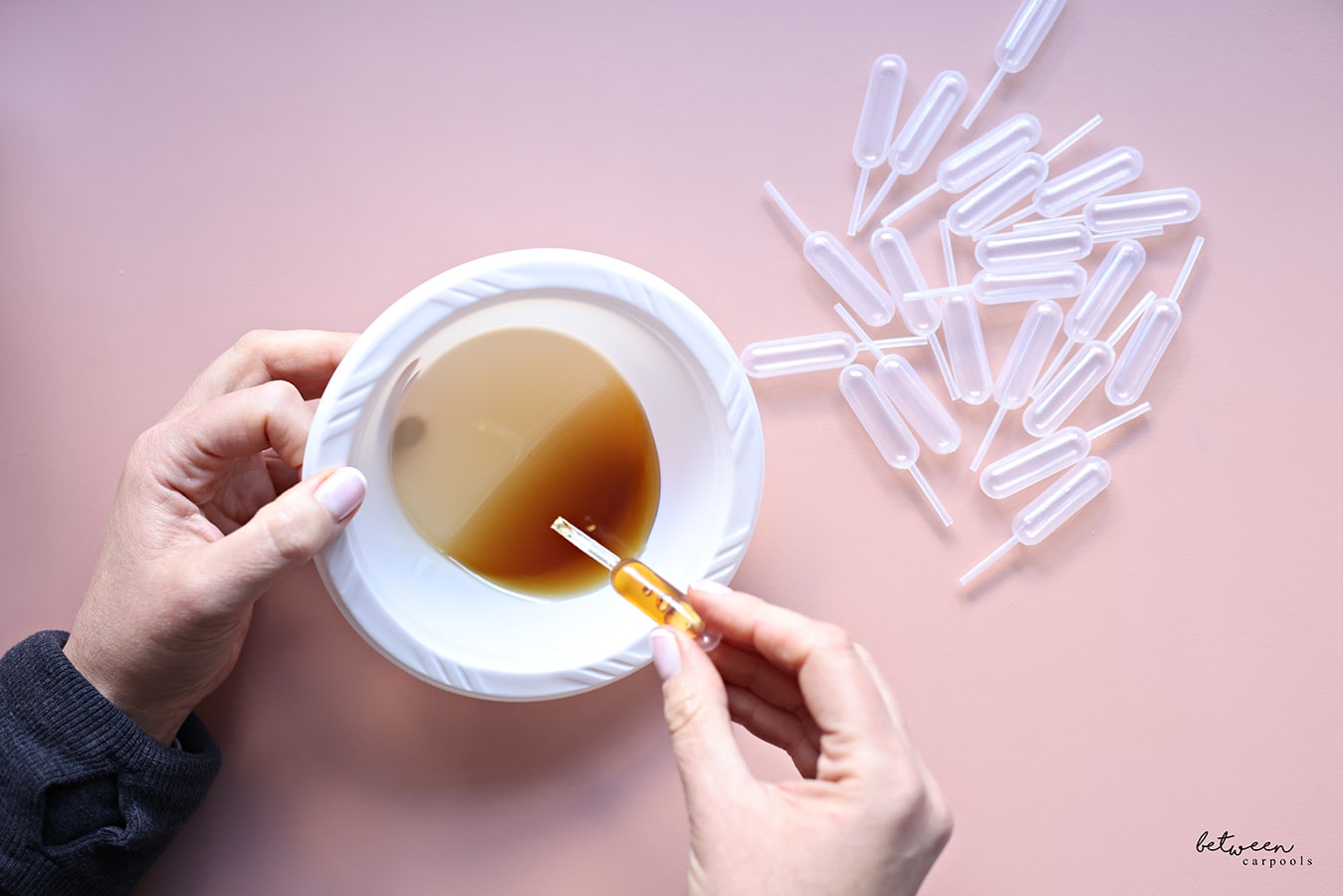 Then, while still squeezing the syringe, place the tip in the bowl and release. The syringe/pipette will fill itself. You will need to maneuver it a bit, massage it if you will, in order to get the liquid in. Practice makes perfect, it's not hard!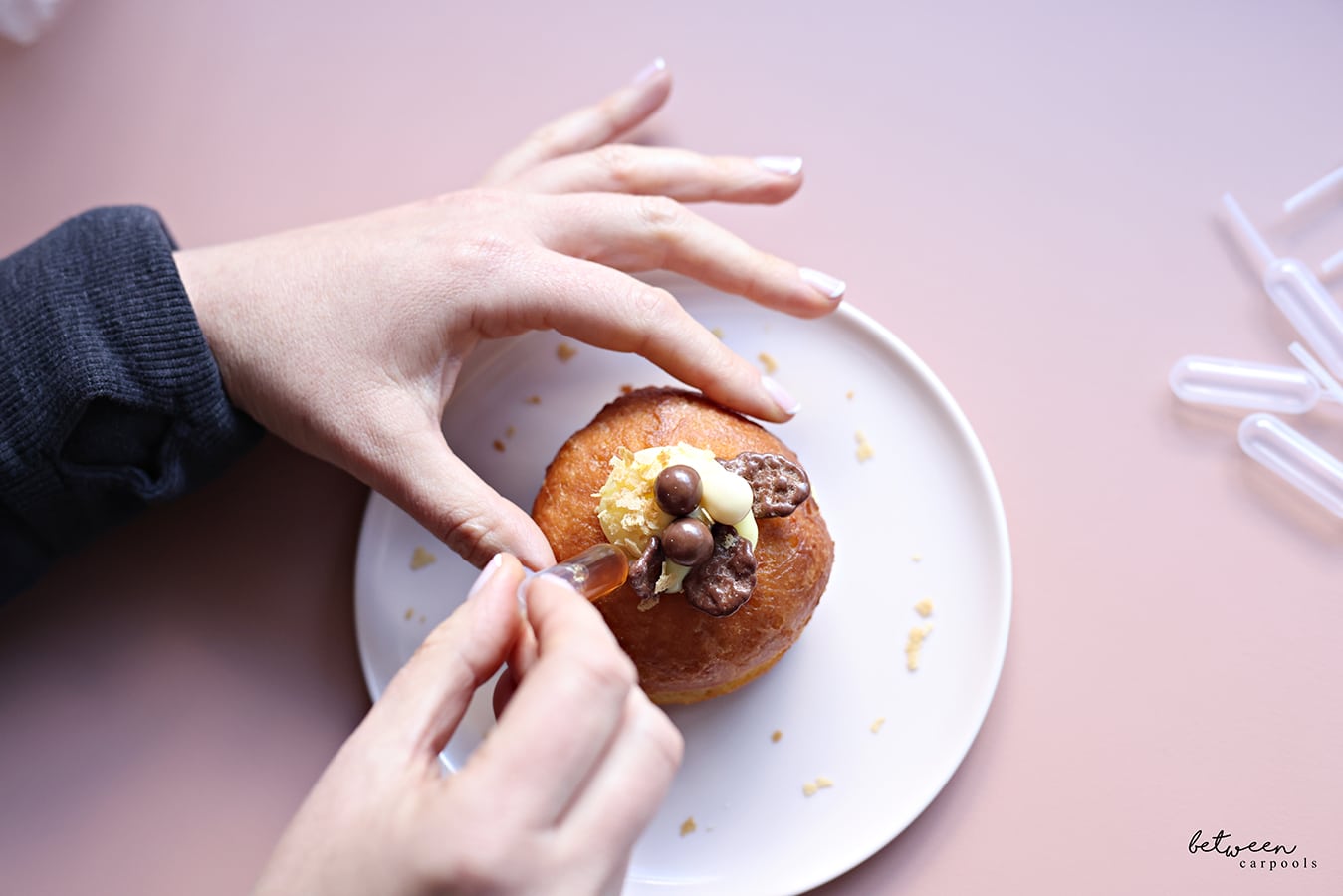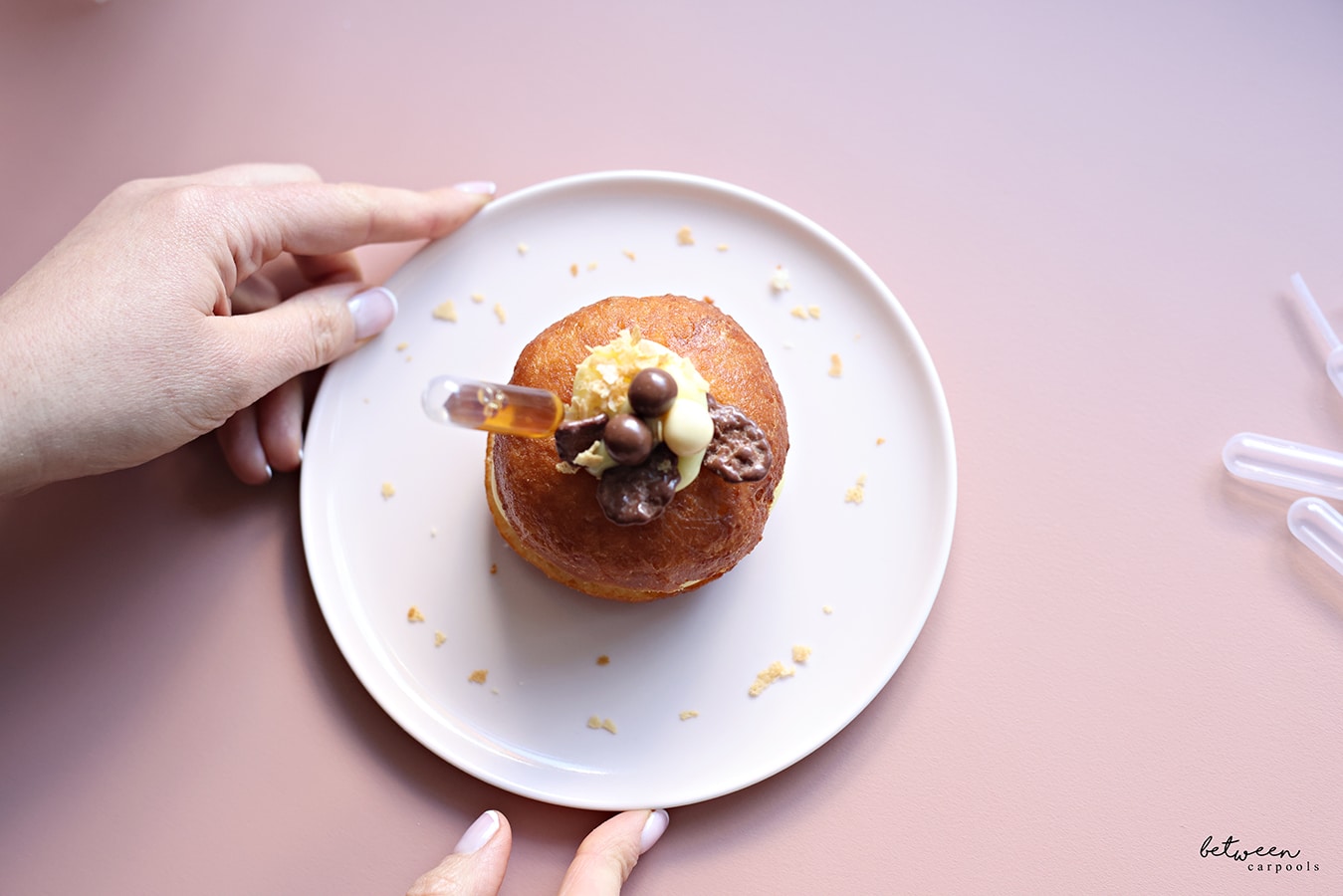 Have fun! Here's what we did: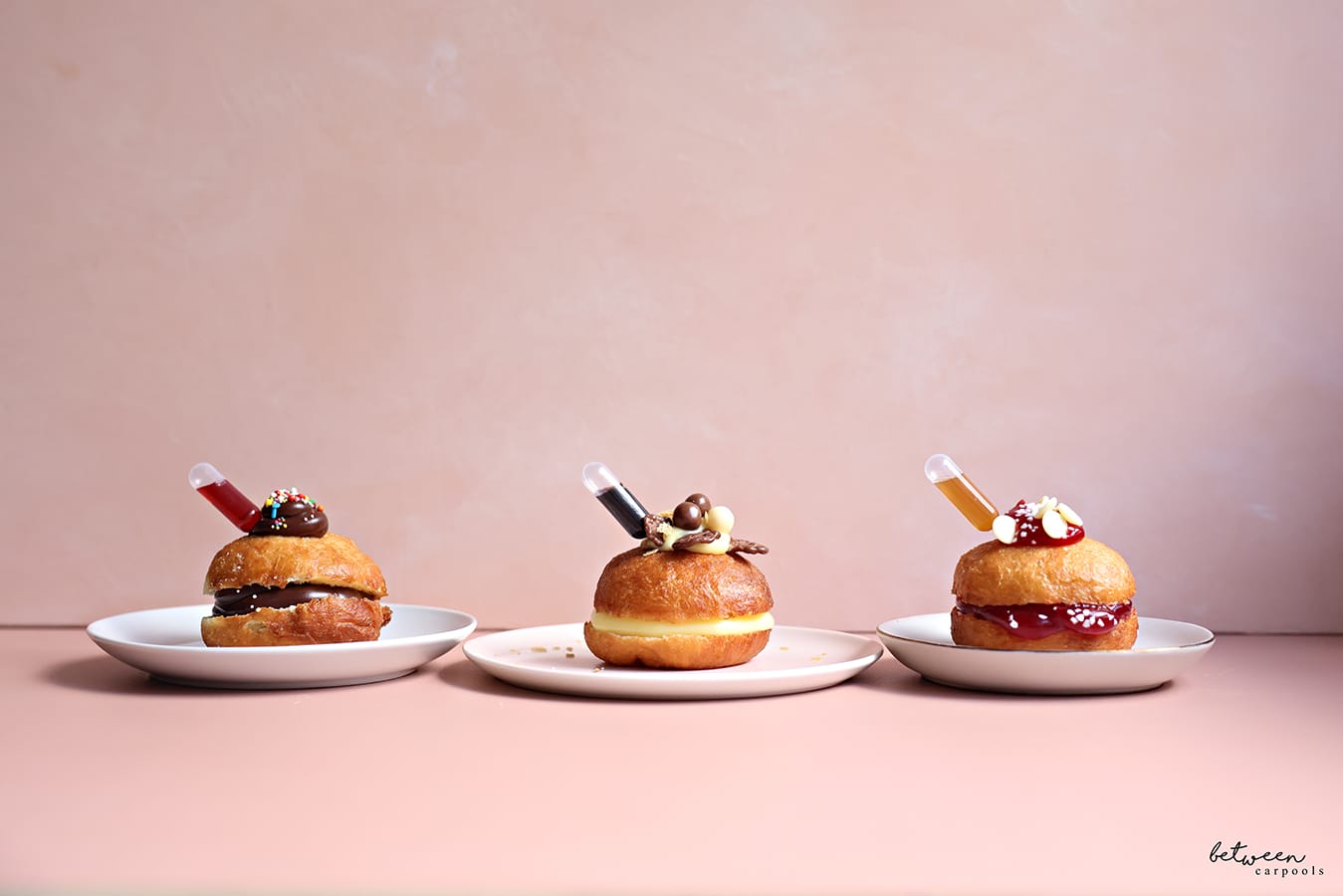 The Kiddie Donut:
Filled with chocolate cream, topped with colored sprinkles and nonpareils, pipette filled with Nesquick strawberry syrup
The Strawberry and Cream:
Filled with strawberry jelly, topped with white chocolate chips and pearled sugar, pipette filled with maple syrup.
The Custard Donut:
Filled with custard cream (you must try this delicious dairy one here) and then topped with Cliks chocolate-covered corn flakes, chocolate-covered wafer balls, and crumbled wafer rolls (yes, it's a thing, try it). The pipette is filled with Misceo chocolate liquor.
FOR EXCLUSIVE CONTENT AND A PEEK BEHIND THE SCENES, MAKE SURE TO JOIN OUR WHATSAPP STATUS HERE.