Make a double batch. Make a triple batch. Just make enough so there's always some of this pasta sauce ready in your freezer. 
There aren't that many recipes that I've been making since I got married without stopping. With so many cookbooks, recipes and food trends, very few have been consistently part of my recipes repertoire. My sister-in-law Devorah shared this pasta sauce recipe with me within a few weeks after I moved near her after getting married and it's been a family favorite since. Similar to a penne a la vodka sauce, this r nm, ose sauce or as my kids call it "Tomato Cream Sauce" is smooth so even the pickiest kids likes it. There's no onions or "pieces" for them to complain about. 
And the best thing about it? It freezes really well. Make a double, triple batch and freeze in containers. Pull out as needed and warm up with pasta. You can defrost it in the fridge overnight or place it frozen in a pot and warm it up on a low flame. Since it's a smooth sauce it works well with any shape of pasta. From spaghetti to elbows, choose the one you love best. 
Tomato Cream Pasta Sauce
Ingredients
¼ cup olive oil
1 clove garlic (crushed)
1 3 ½ oz. can tomato paste
1 16 oz. can tomato sauce
2 tablespoon sugar
½ cup heavy cream (or more to taste)
Italian seasoning
Salt and pepper (to taste)
Instructions
Sauté garlic in olive oil.
Add tomato paste and stir on a low flame for minutes. Add tomato sauce, sugar, Italian seasoning and salt and pepper to taste. Bring to a boil and cook for 10 minutes.
Add dairy cream and cook for an additional 5 minutes.
(You can add more heavy cream if you like the sauce creamier and lighter in color)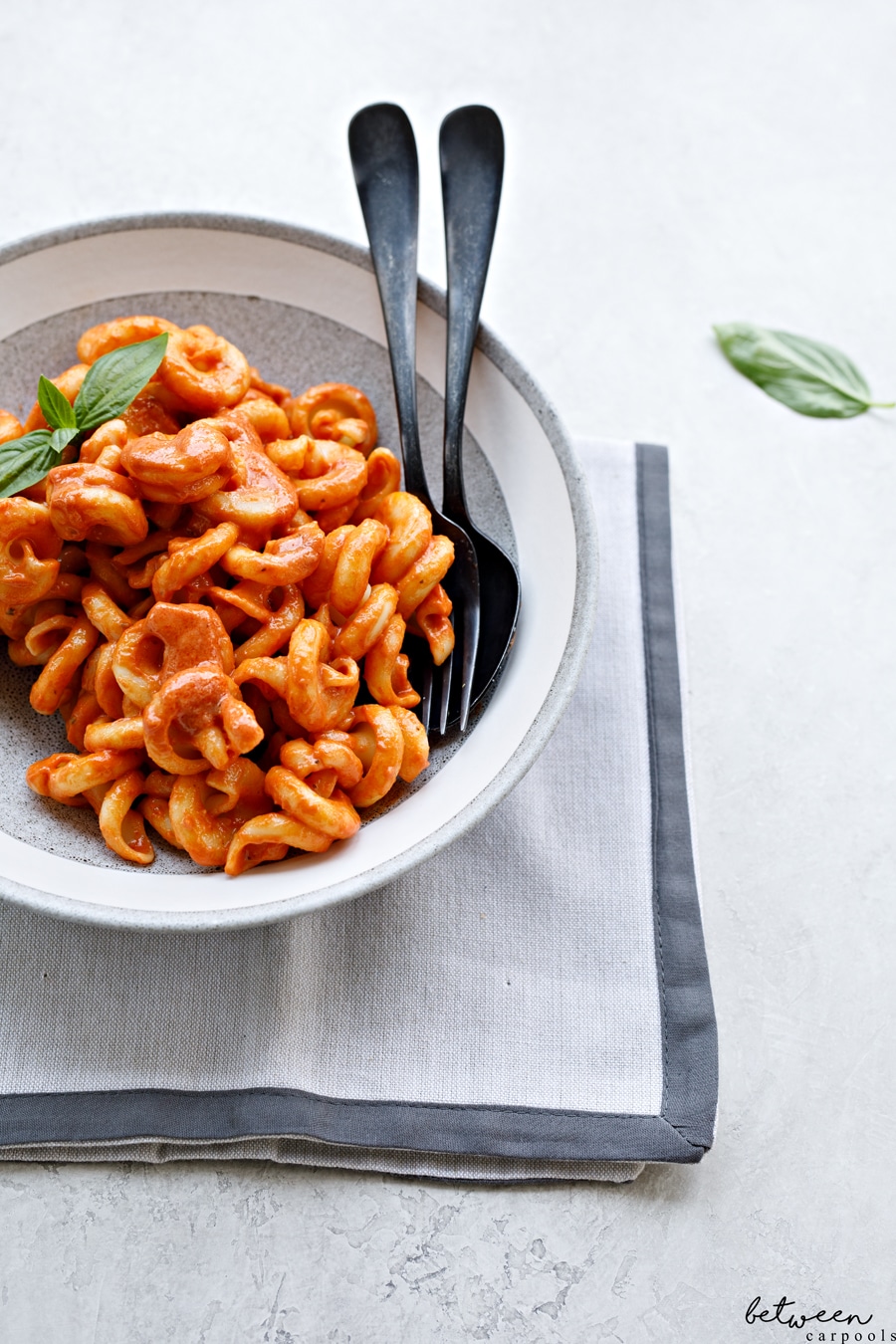 You know those times you buy a heavy cream bottle only to use up ½ cup and let the rest sit in the fridge until it expires? Now you can double this recipes based on how much heavy cream you have. This will last in your freezer for up to 8-10 weeks. You can also freeze heavy cream plain for up to 4 weeks.