You've made sushi salad before. But never like this.
The words "Shabbos Nachamu" might make you think of lots of things. Hoping and praying for redemption. Returning to summer routine. The end of lazy summer days drawing to an end. And…hosting. Or being hosted.
Whatever you are up to, make sure to add this incredibly easy and fabulous recipe to your menu. As a Shabbos day appetizer, a shalosh seudos platter, or melava malka indulgence… you cannot go wrong. Or, bring it to your hostess and guarantee you will get invited again and again. This sushi salad is legendary. Grab a plate fast before it is gone.
Here is the assembly with easy step-by-step images.
I like to prepare the rice and all the components (each one separately in its own container) before Shabbos and then assemble right before serving.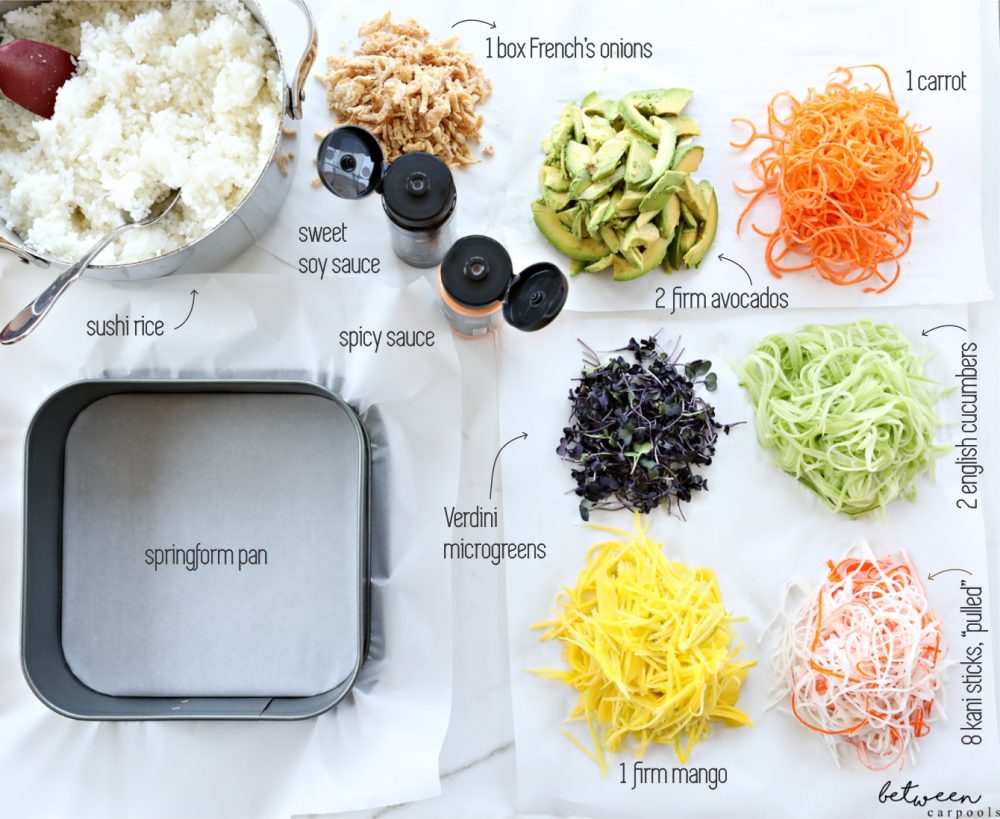 You will need:
cooked sushi rice

1 firm mango, peeled and julienned

1 carrot, peeled and julienned (we have used store-bought spiralized carrots and it worked great)

2 English cucumbers, peeled and julienned up until the core only

8 kani sti

cks, "pulled"

2 firm avocados, sliced

Handful of Verdini microgreens (for beauty and taste)

1 box French's onions

About ½ cup prepared spicy sauce

About ½ cup prepared sweet soy sauce

a springform pan (we used this square  one) or, for the individual plated appetizer version, a clean can that has both tops and bottoms removed and has been cleaned well.
How to prepare the rice:
2 cups sushi rice
3 tablespoons rice vinegar
1 tablespoon sugar
Thoroughly rinse the rice under cool running water, until water runs clear. Drain and place rinsed rice in a pot. Add 2 ½ cups cold water. Heat until boiling. Reduce heat to low. Cover and simmer 20 minutes or so until the water is absorbed.

Remove pan from heat and let stand for 10 minutes covered.

In a small bowl, mix the rice vinegar with the sugar. Fold the mixture into the rice using a spatula or fork. Your rice is now ready.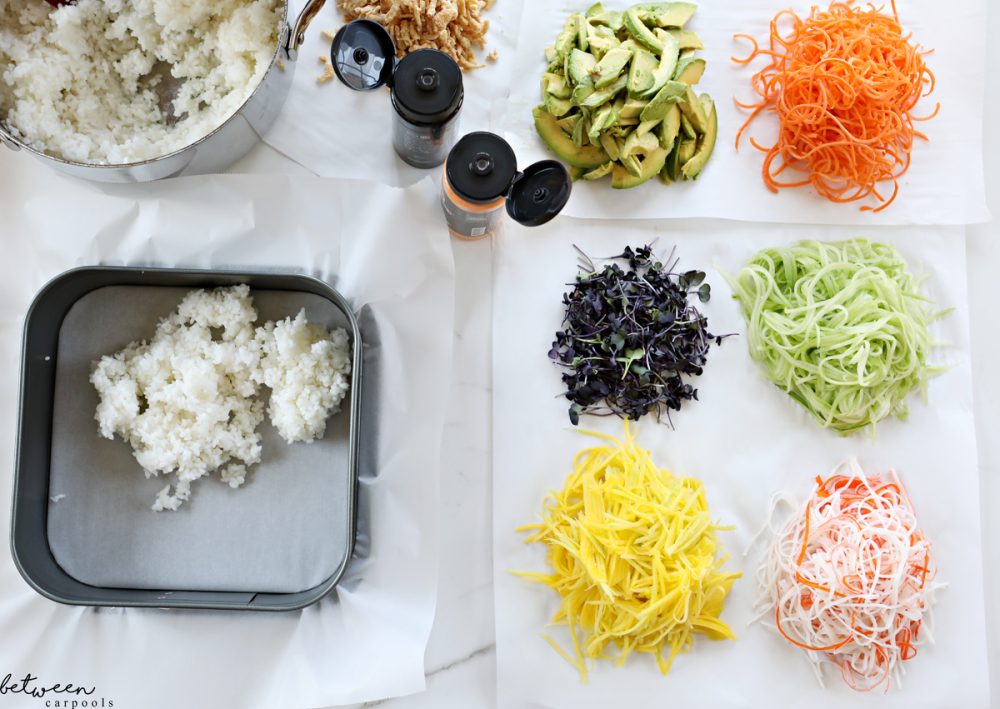 First, start by layering the rice.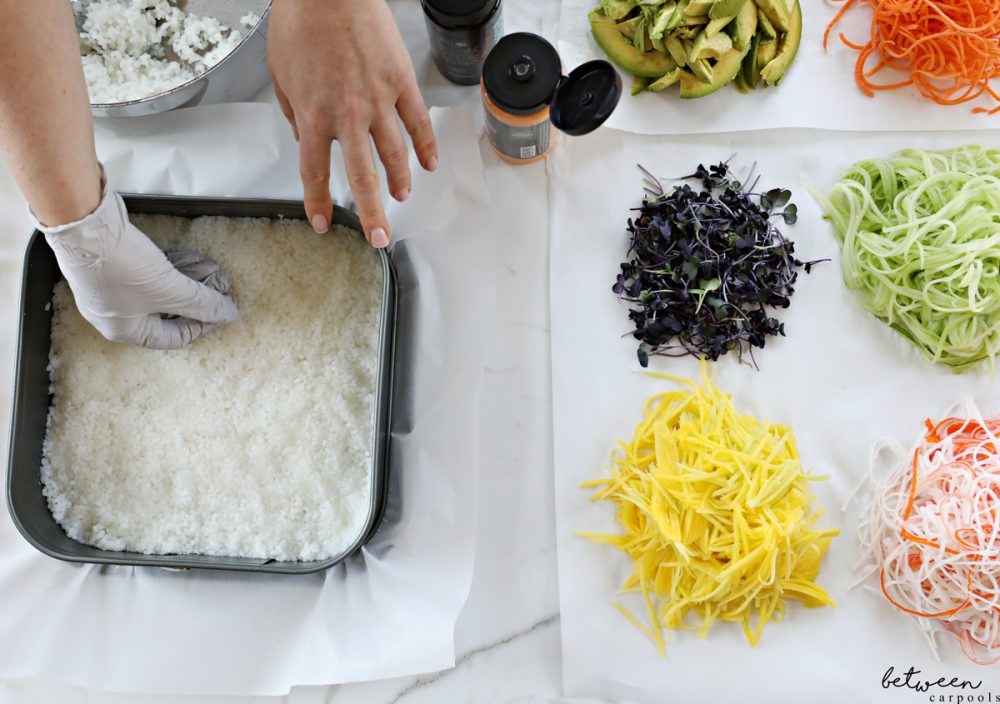 Press it down really well.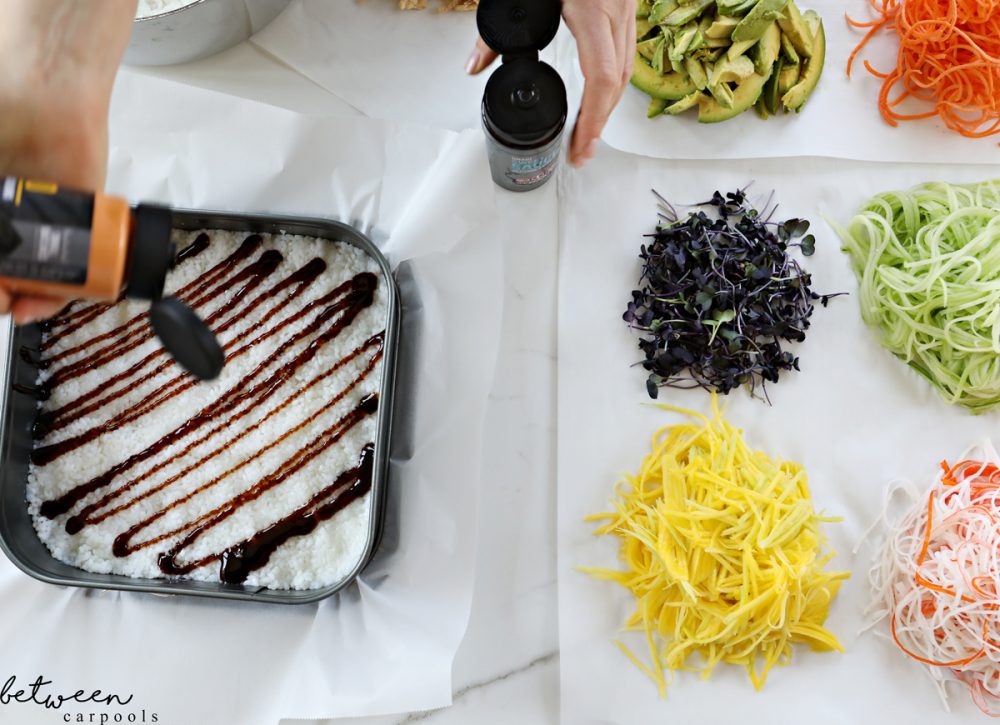 Drizzle both sauces on top.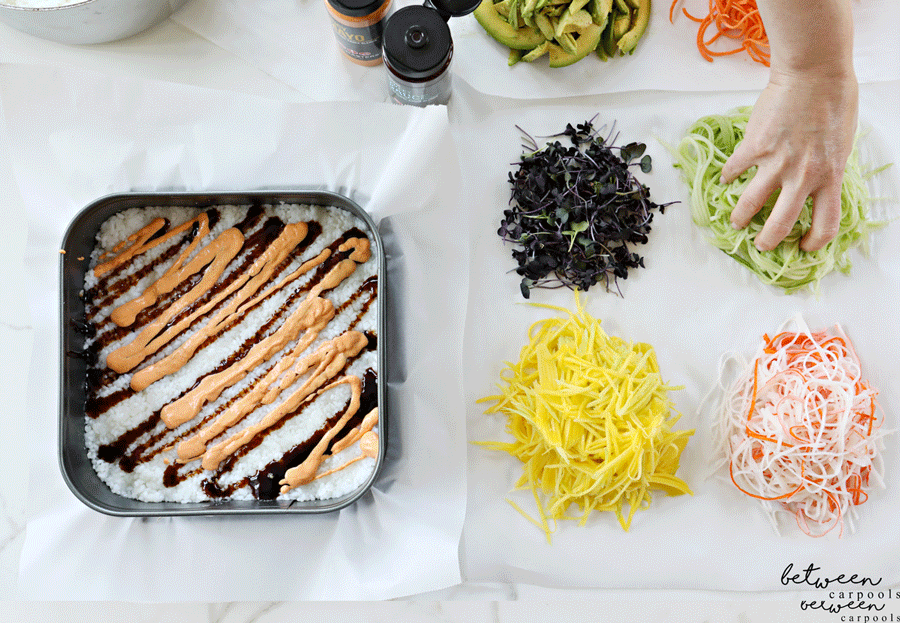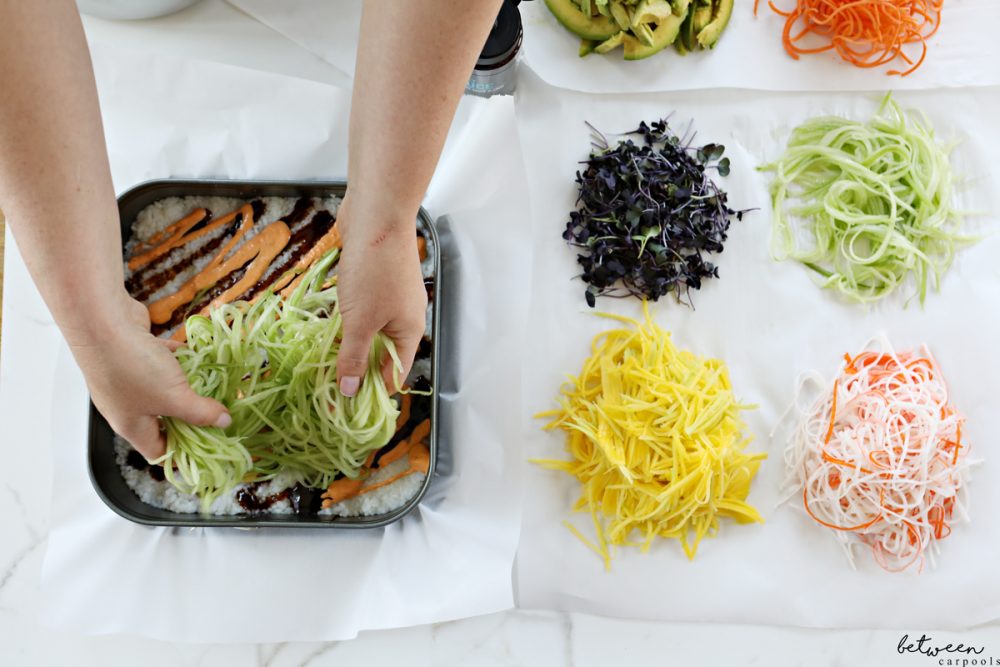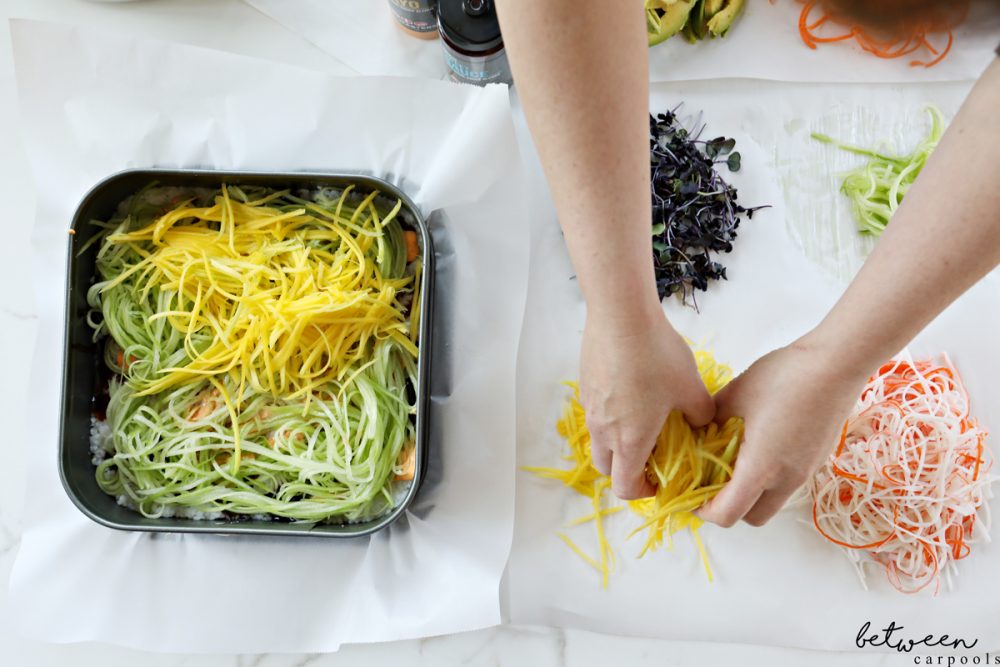 Continue with the cucumbers, then mango, then carrots. Truth is, the order doesn't matter that much.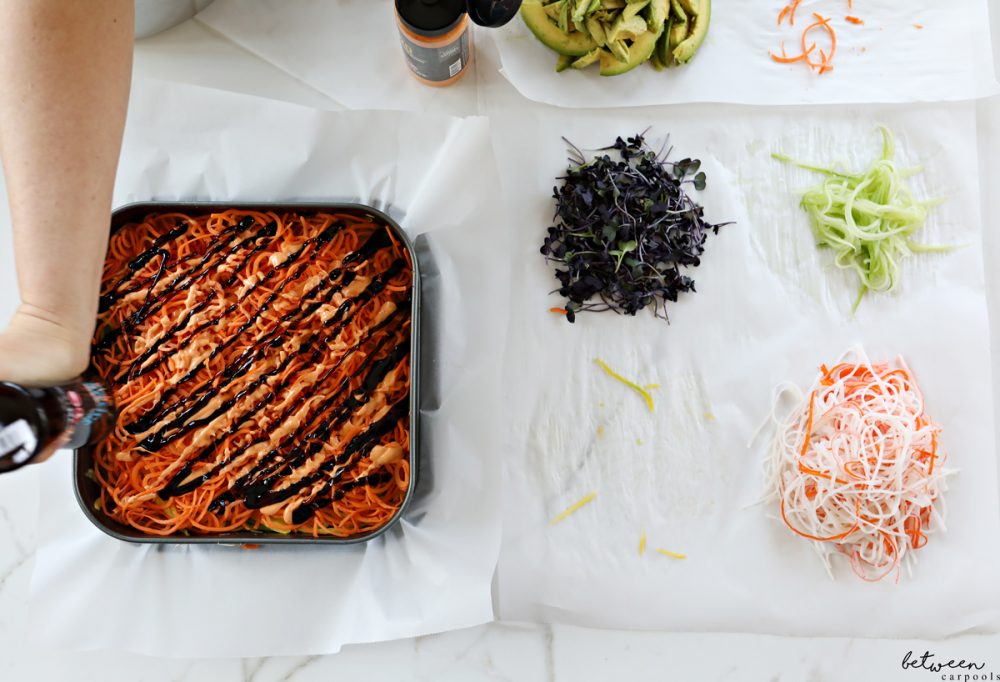 Just make sure to drizzle sauce every now and then between the layers.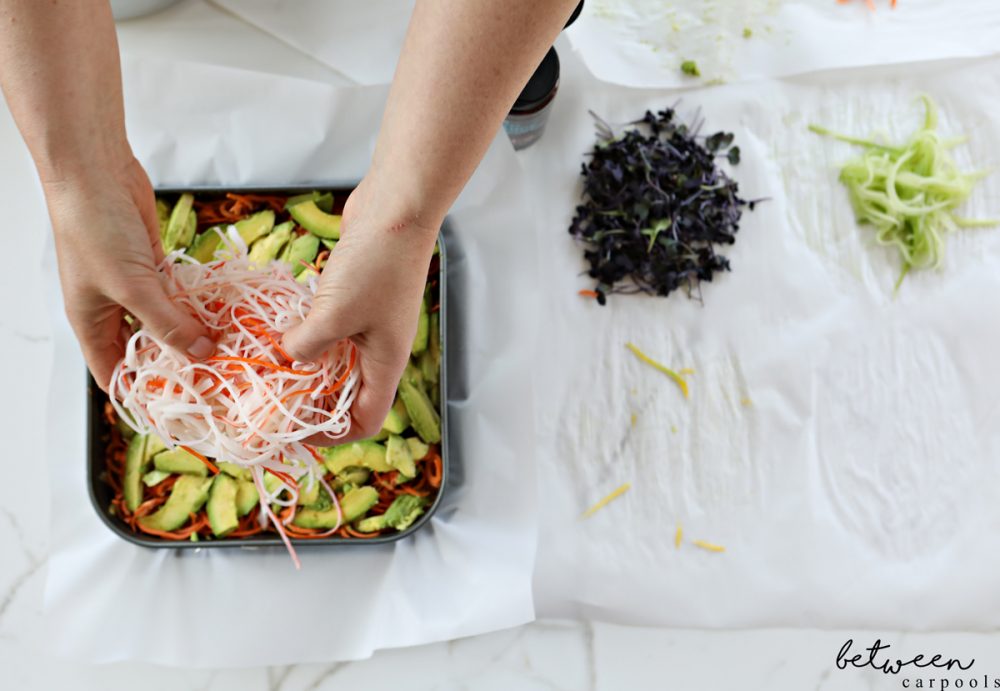 Avocado and kani go next.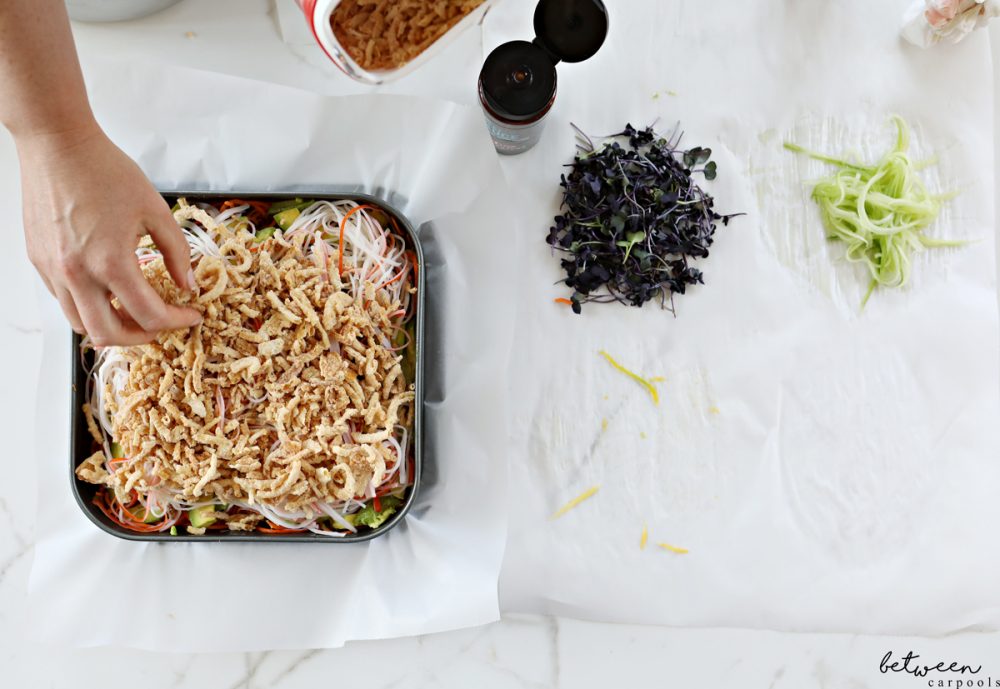 And at the very top, the French's onions.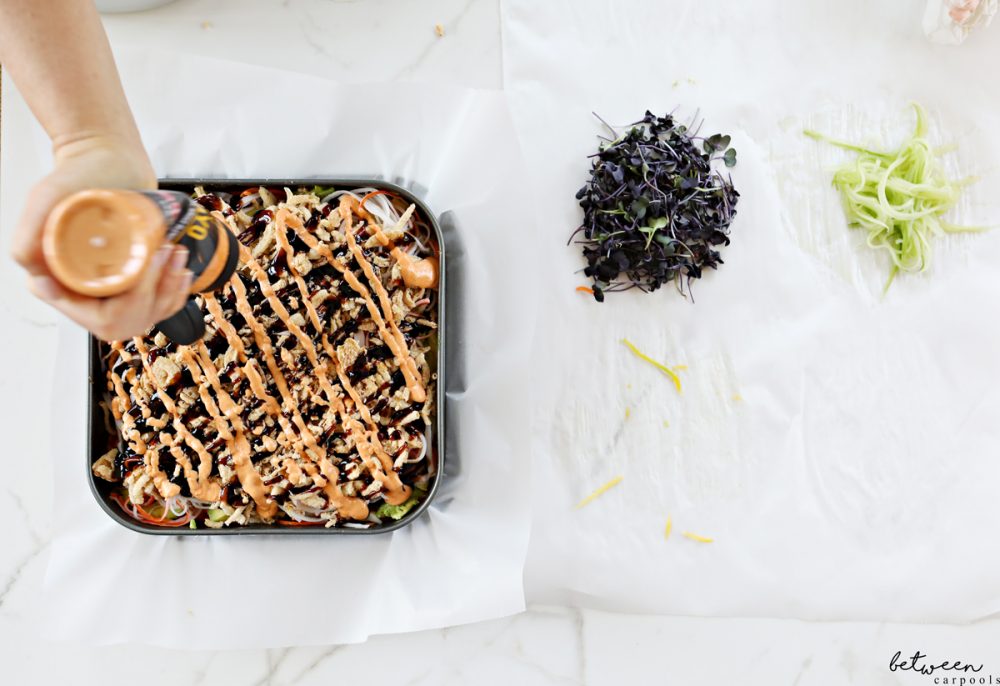 Then, more sauce.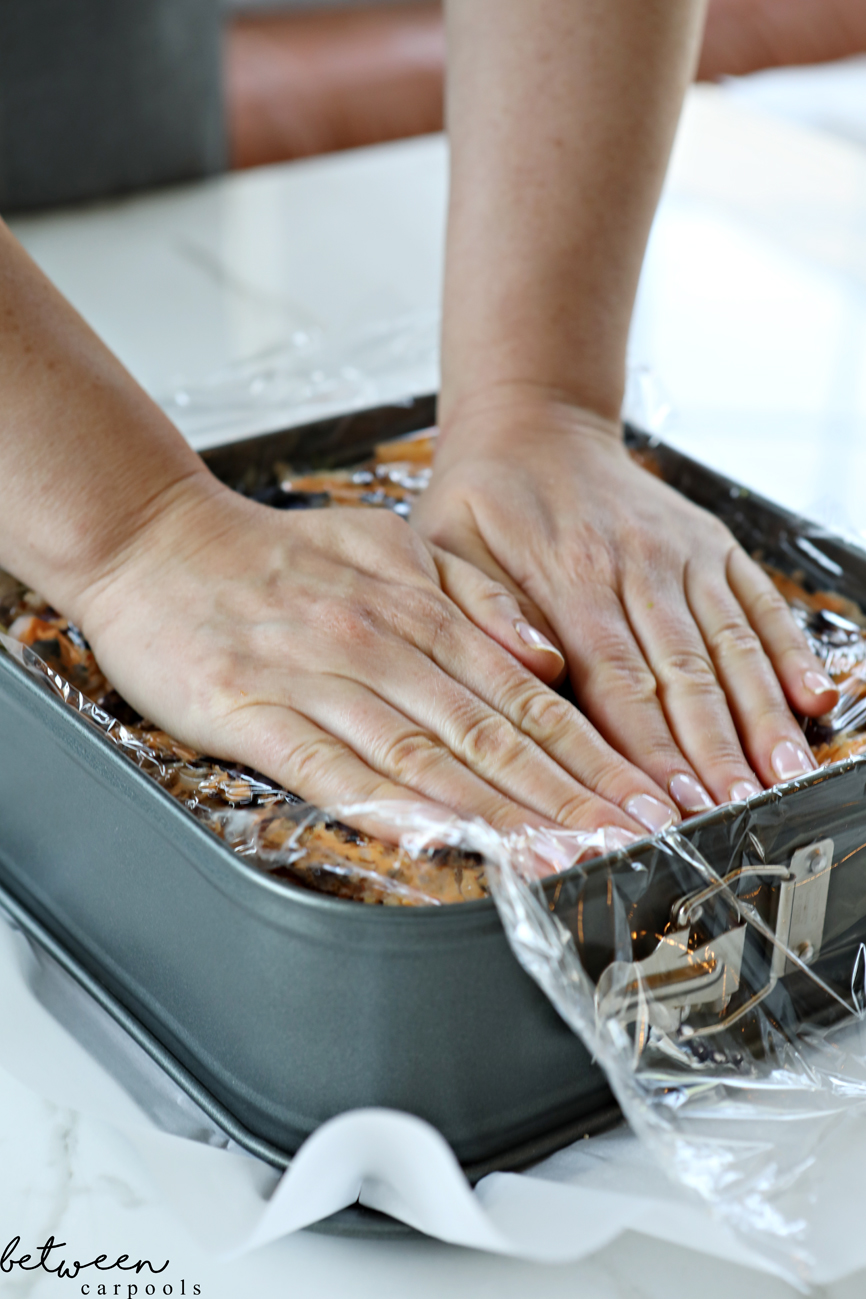 Cut a piece of Saran plastic wrap and cover the salad. Using your hands, gently press down.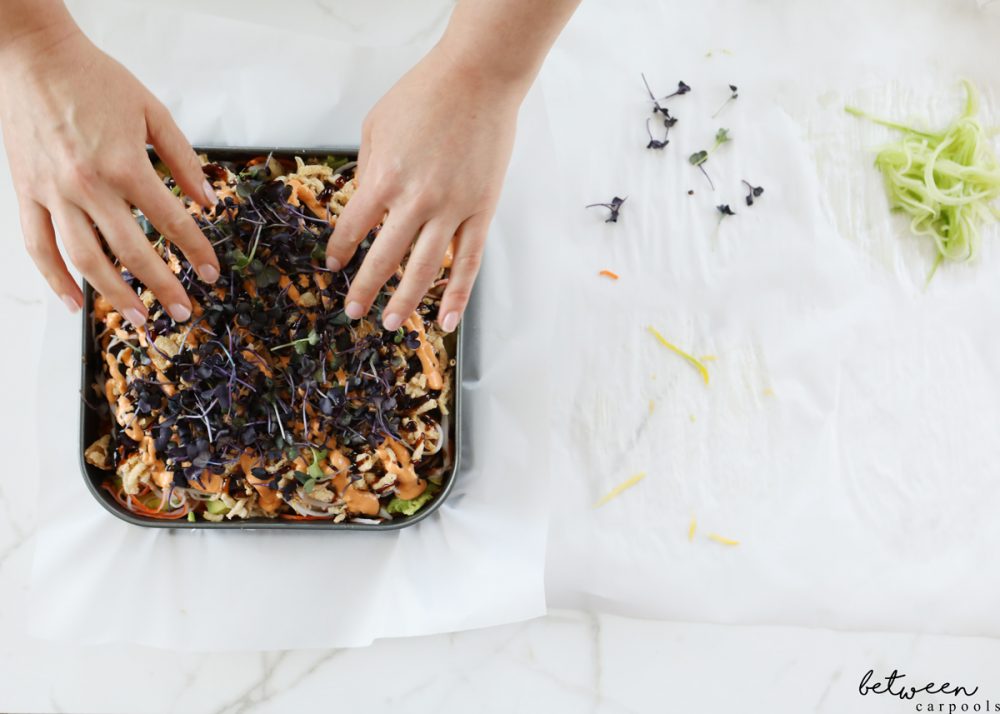 Carefully remove the plastic, top with microgreens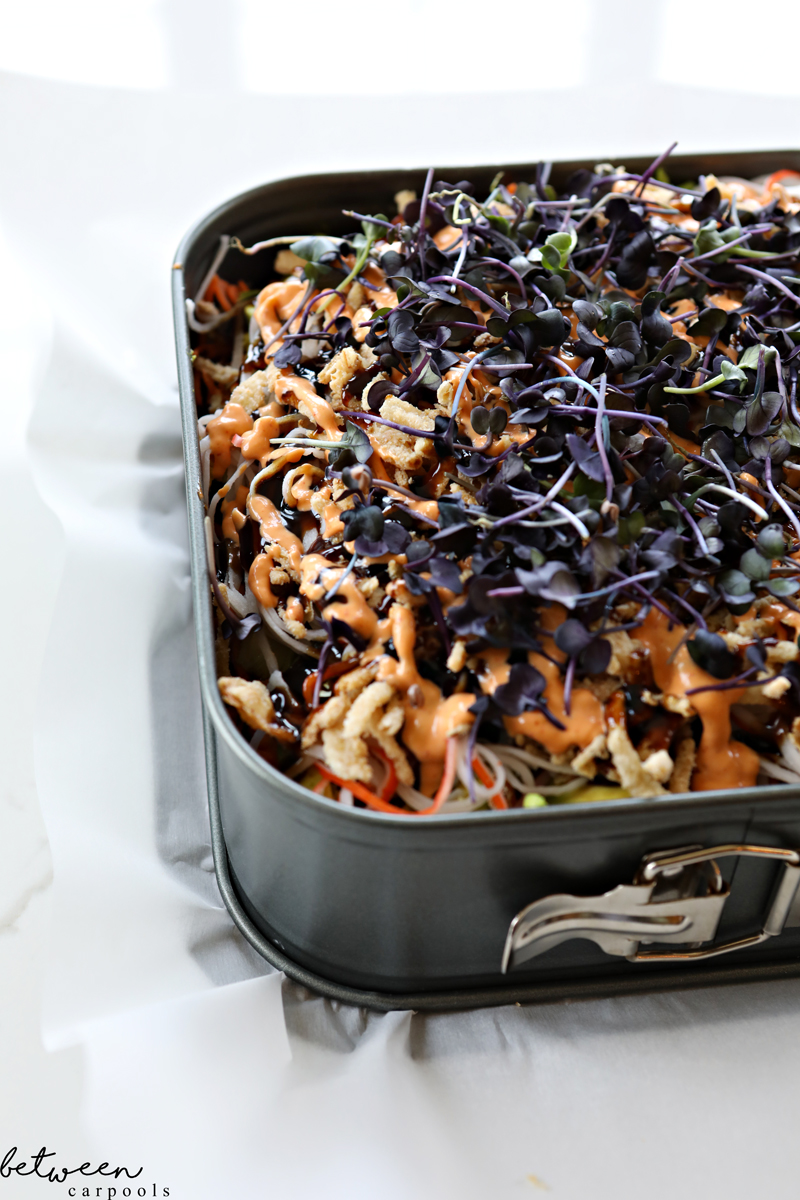 and remove the springform.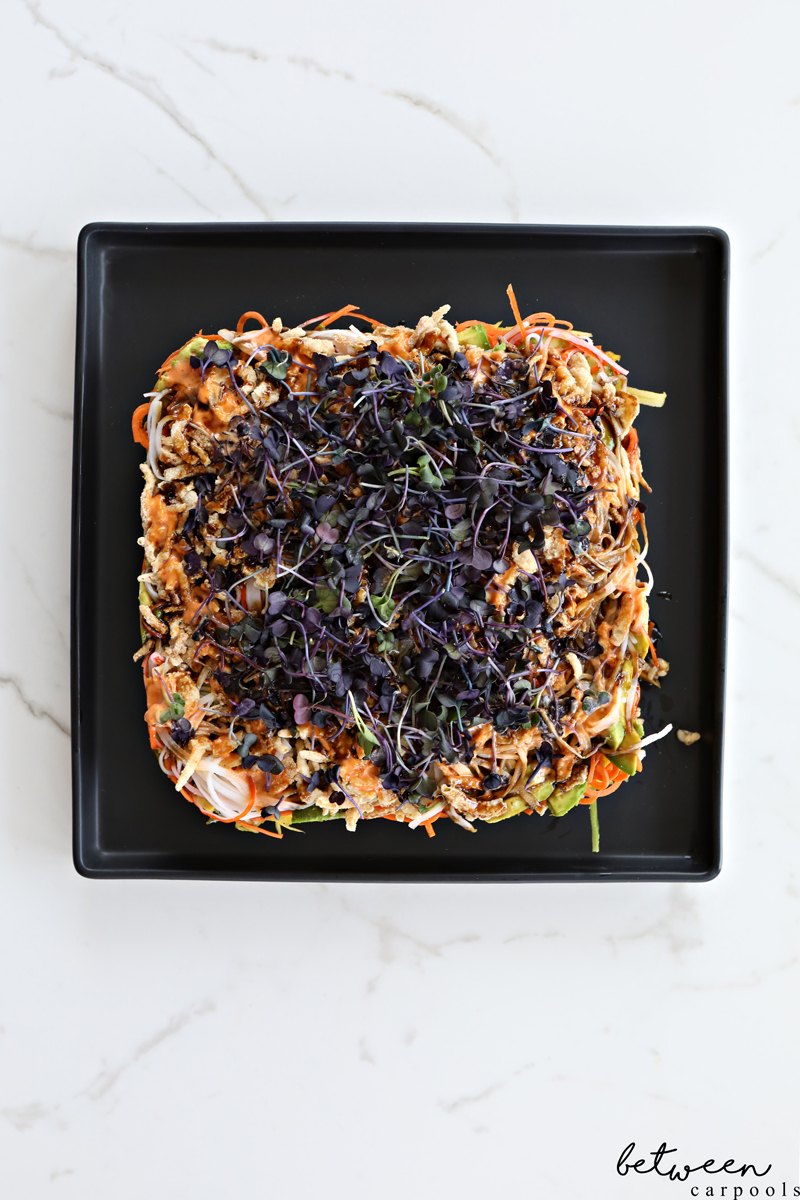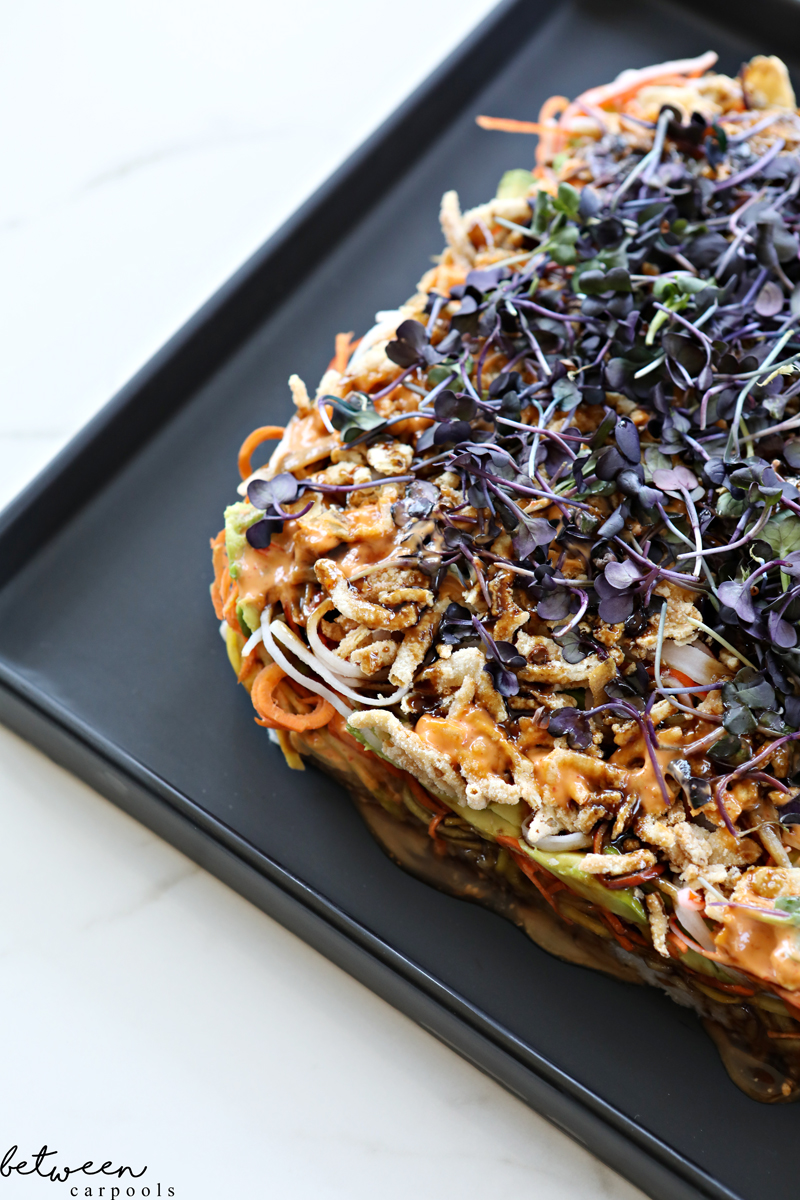 Your salad is now ready to be served.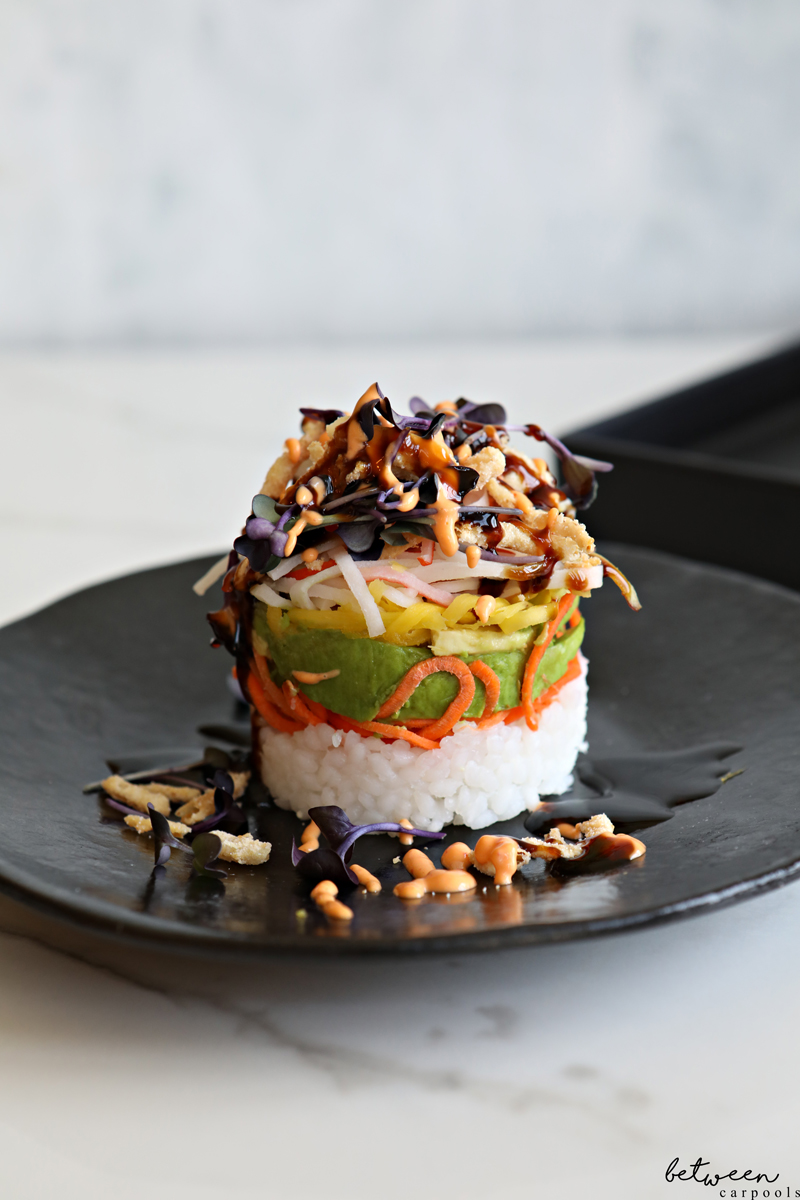 For the individual versions, follow the same steps, using a clean can with the tops and bottoms removed for your mold.