Whether you are serving it for Shabbos lunch or Shalosh Seudos, I can guarantee you will not have a drop left. 
Summer is here and I am not in the mood for cooked fish. Unless it's steaming hot, just-came-out-of-the oven, type of fish. So, Friday night is easy. I usually serve this Moroccan Turbot, and we never tire of it. It goes really well with some hot challah and garlic confit. 
But, Shabbos day? We want something fresh, something bright and light.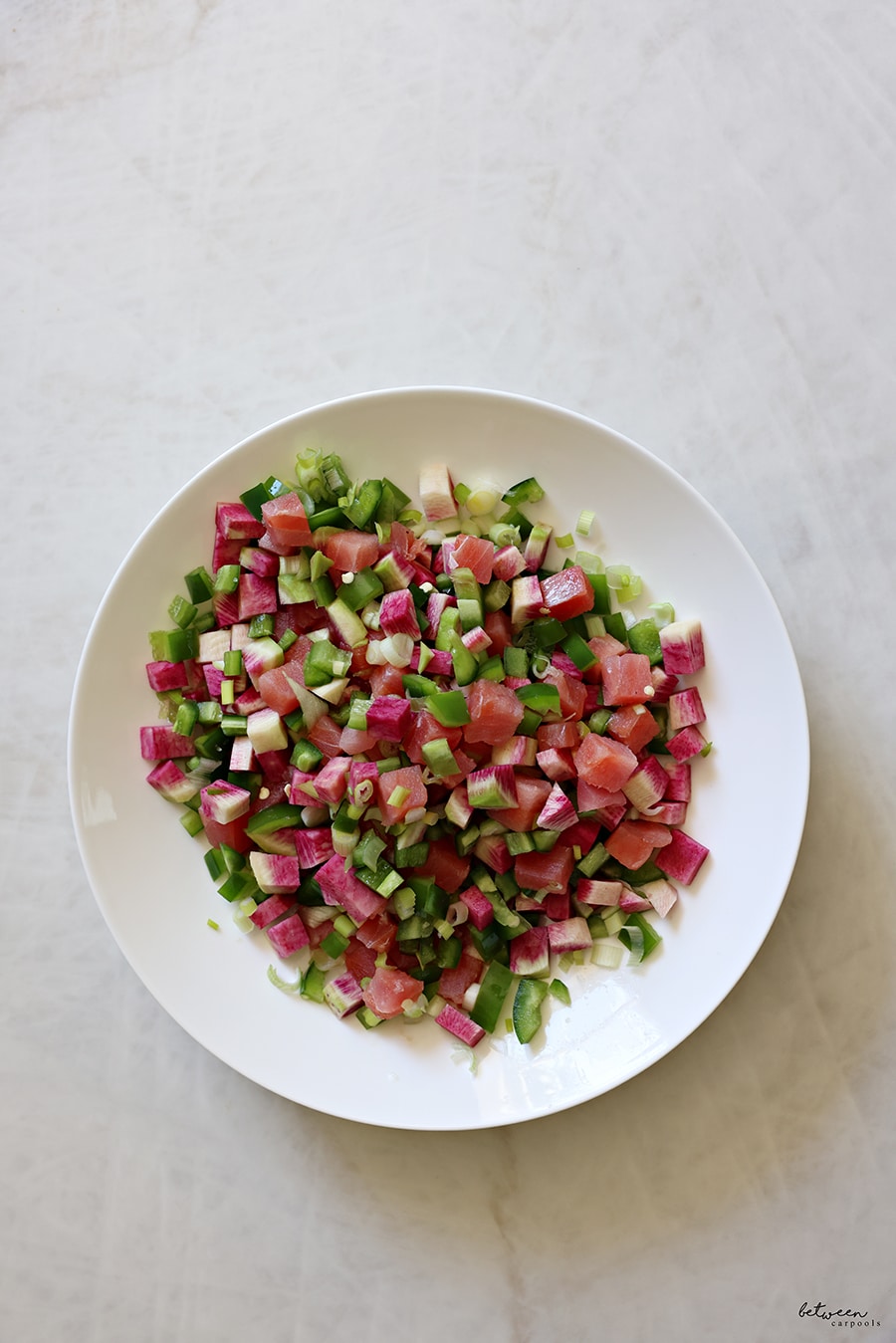 That's how this tuna came about. 
Necessity is the mother of invention, you all knew that. It is also the mother of all good recipes. Because, when you crave something, and you put that craving into a real recipe, that's when a winner is born.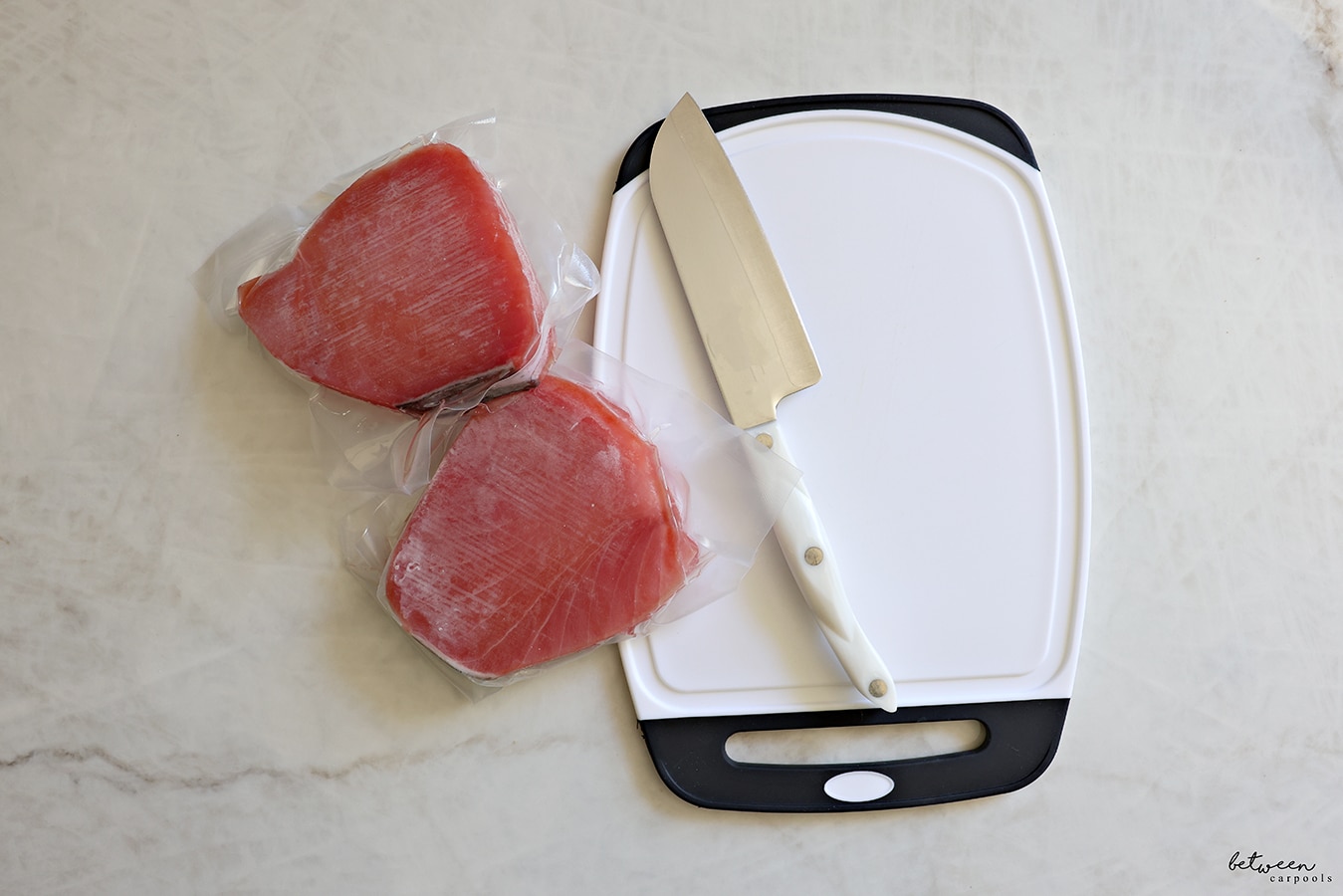 The best part is, there's absolutely no prep involved. You just need to make sure that you have tuna, but that's easy because you can find this vacuumed packed frozen tuna everywhere. Just get a few and keep them in your freezer.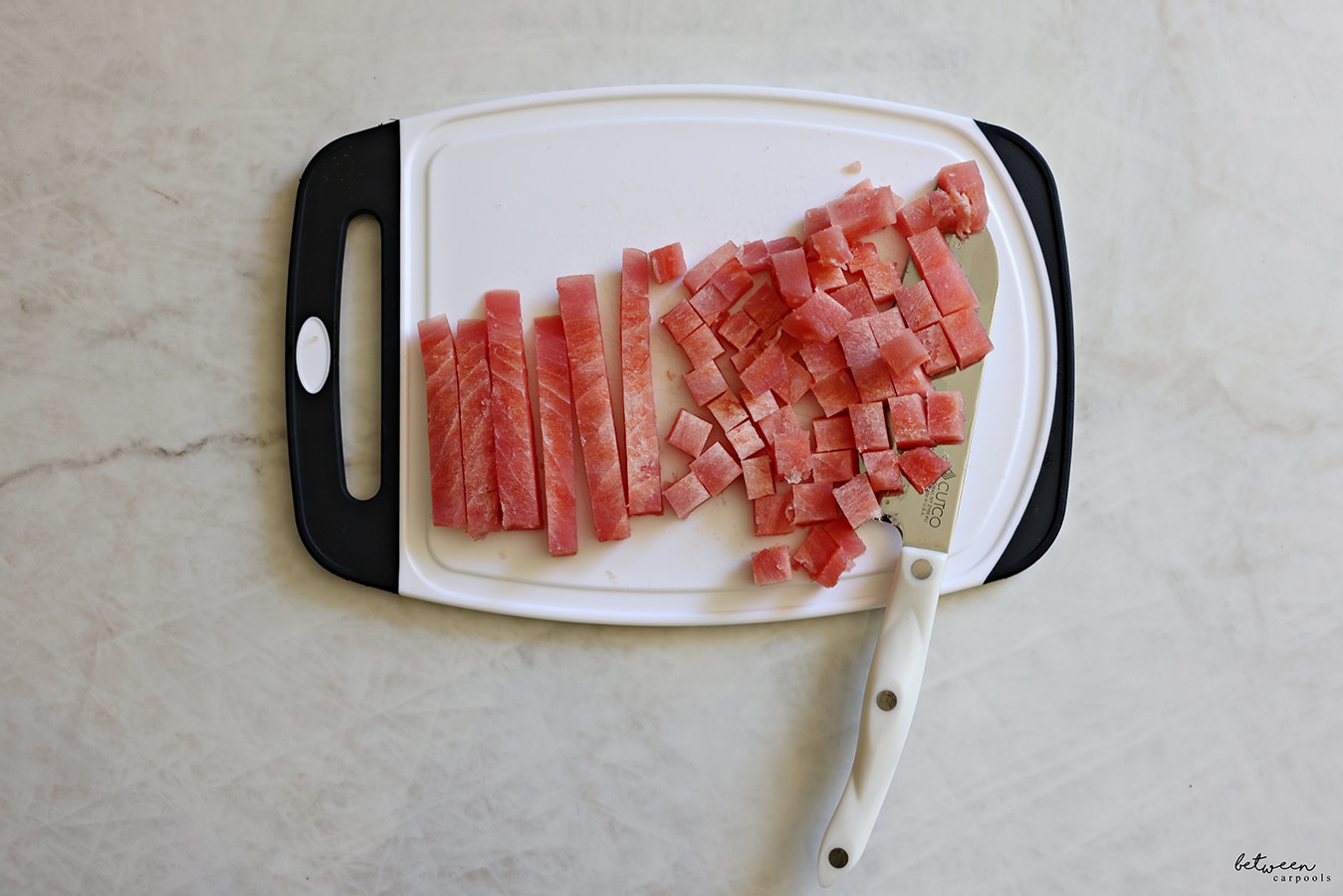 Come Shabbos morning, or, afternoon if it's for shalosh seudos, all you have to do is wait for it to thaw a bit. And cut it into cubes. It actually cuts best while semi-frozen. Obviously, you can use fresh tuna too. But I do find that for this recipe the difference is minimal.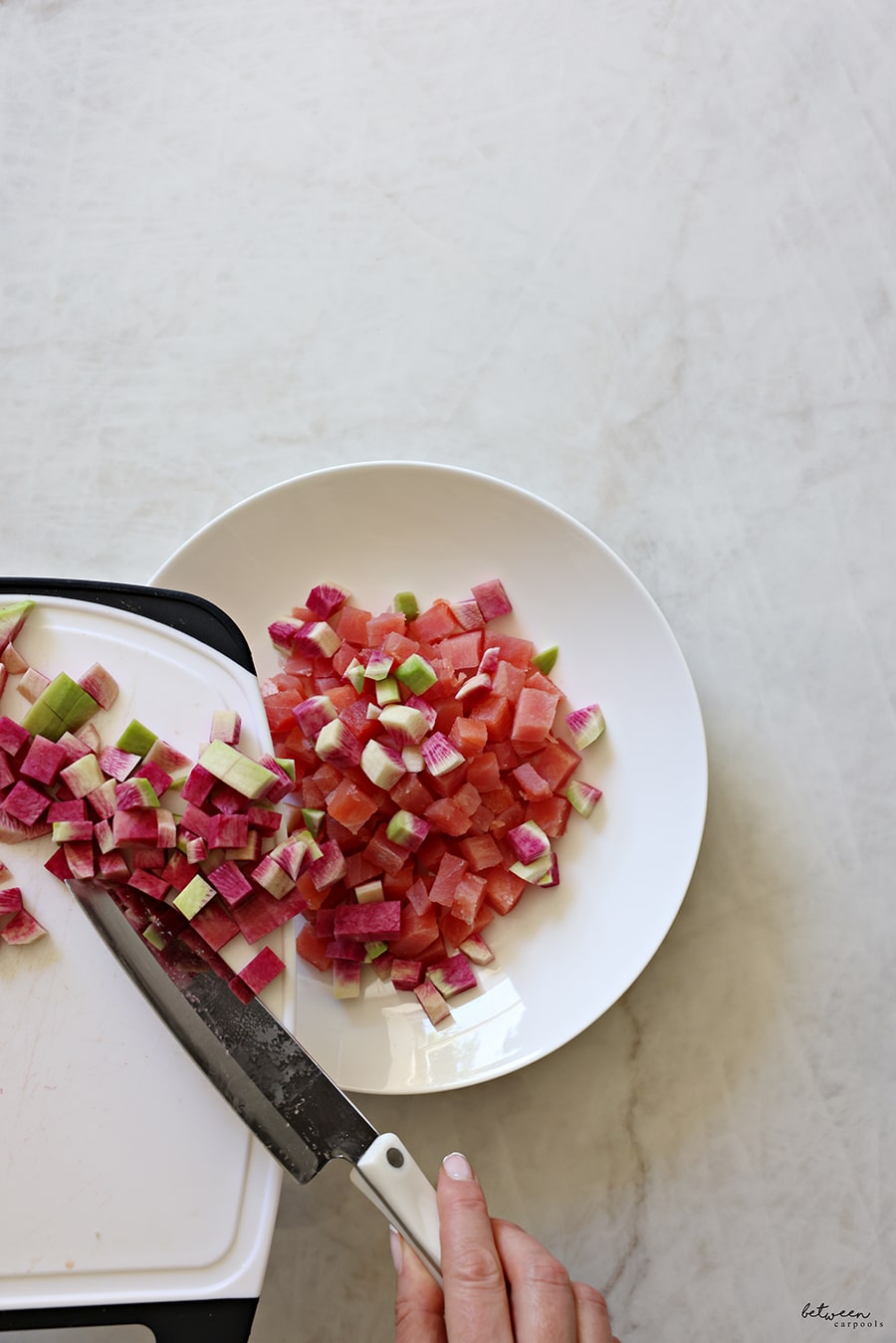 Place all the salad ingredients in a bowl.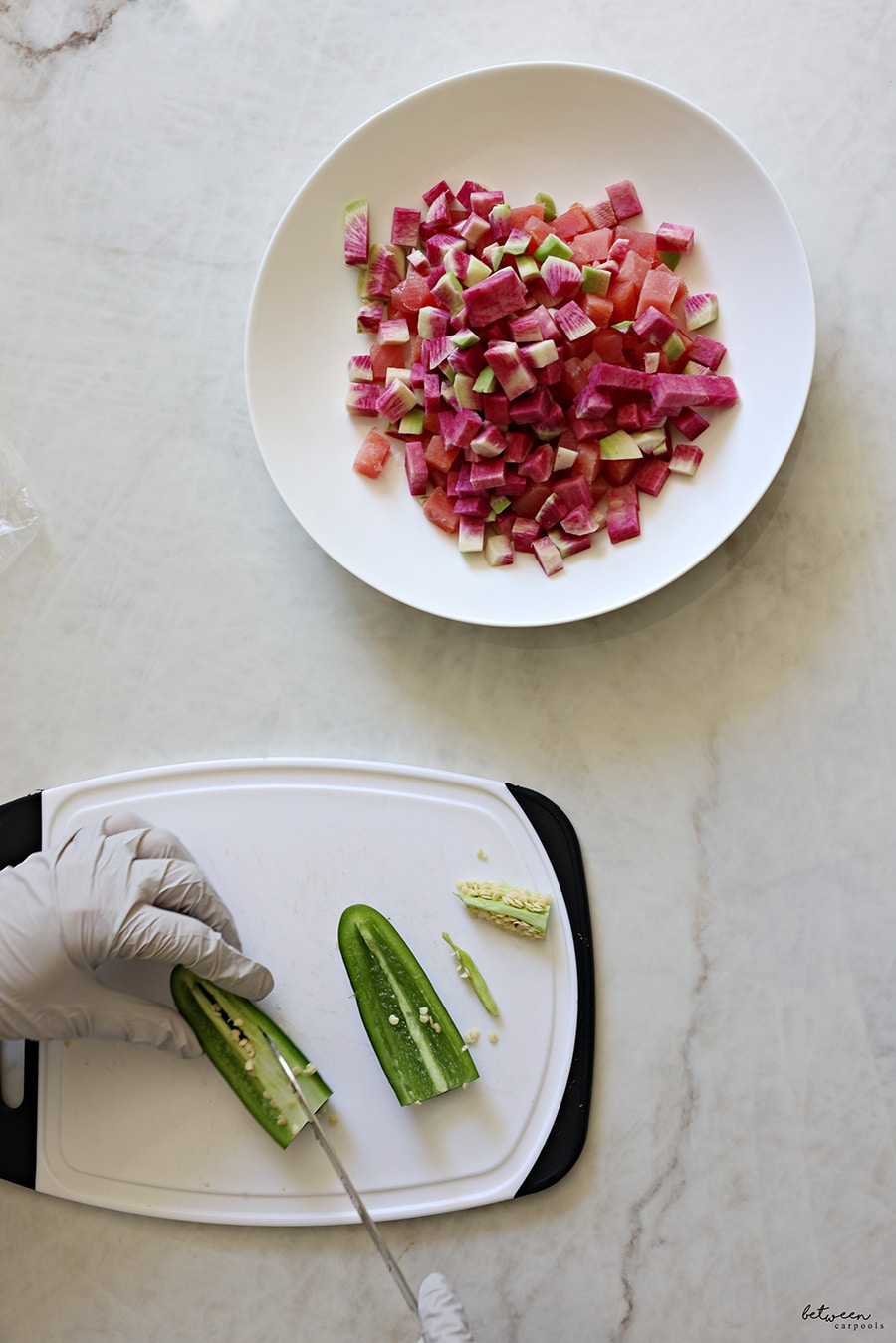 watermelon radish, jalapeños, scallions and black sesame seeds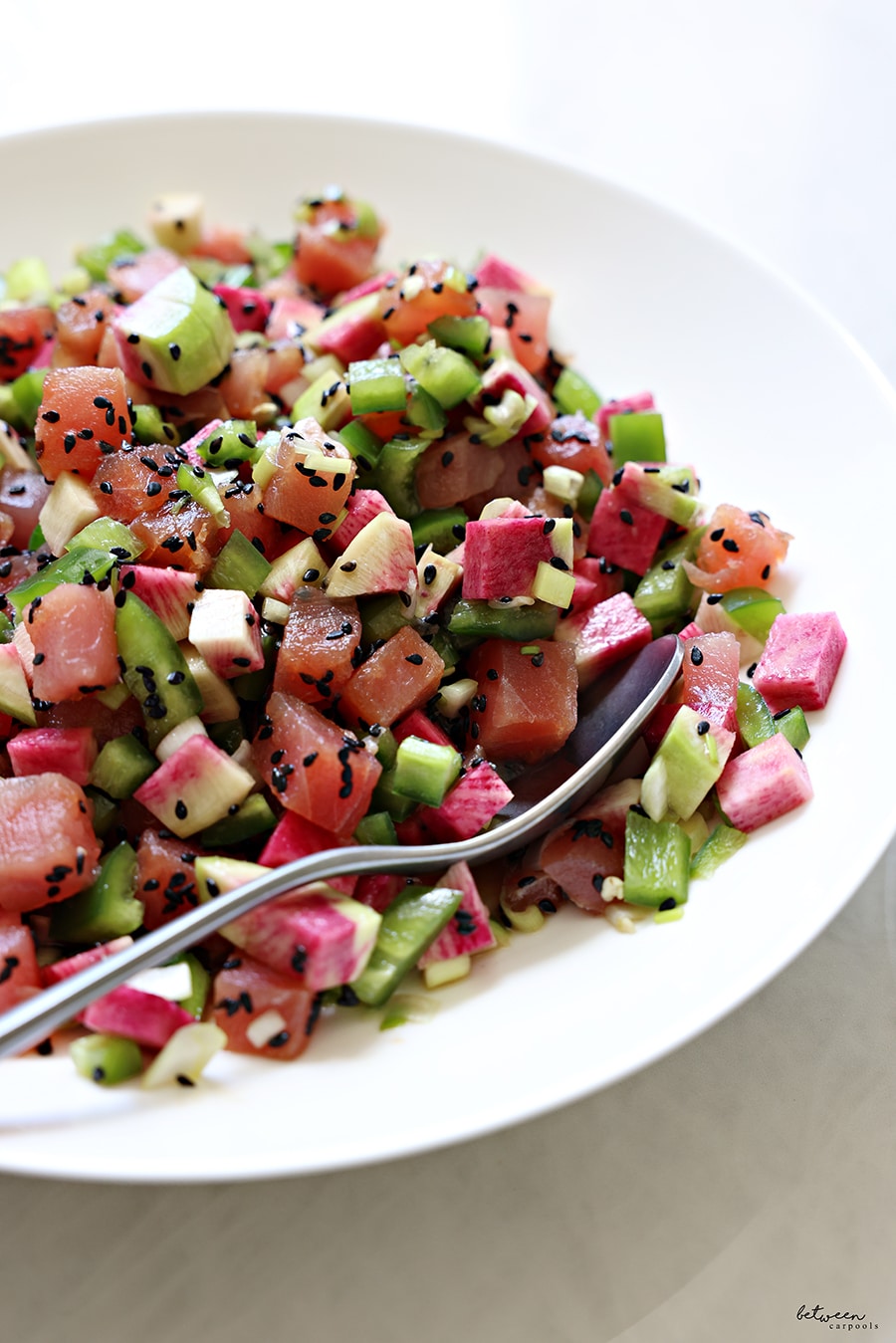 About 15 minutes before serving, dress with dressing ingredients and mix well.

I used to put a diced avocado in the salad as well, but then stopped doing so when one of my children preferred it without the avocado. Now I will usually serve the avocado separately, sliced really thinly, topped with a sliced shallot or onion, and doused with freshly squeezed lemon  juice and sprinkled with a good quality olive oil. Top with Maldon sea salt flakes and black pepper. It goes really well alongside the tuna crudo.

Tuna Ceviche
Ingredients
½ lb tuna steak, 1 inch thick, diced into cubes
1 watermelon radish, peeled and diced (approximately the same size as you cubed the tuna)
2 jalapeños, white membranes removed and diced small
4 scallions, trimmed and sliced
1 tbsp black sesame seeds
For the dressing:
1 tbsp soy sauce or coconut aminos if you prefer that
1 tbsp rice vinegar
1 tsp sesame oil
1 tsp honey
Pinch of chili pepper flakes
Instructions
Place all the salad ingredients in a bowl.
Combine all dressing ingredients. About 15 minutes before serving, dress with dressing ingredients and mix well. Serve with challah, sourdough bread or matzah/crackers.
FOR EXCLUSIVE CONTENT AND A PEEK BEHIND THE SCENES, MAKE SURE TO JOIN OUR WHATSAPP STATUS HERE. JOIN OUR WHATSAPP GROUP AND WE'LL LET YOU KNOW WHEN A NEW POST IS UP!