And it is! Here's the story of how I came to do it right.
Yapchik: literal translation: potato kugel with a layer of meat in it.  Not so literal translation: serious Jewish comfort food.
For years the mere thought of Yapchik made me queasy. I might have tasted one that was way too heavy, or maybe it was mostly the thought of all that saturated fat, soaking my nutritious grated potatoes. Anyone who has ever cooked any type of meat, especially if using flanken, knows how much fat comes up once refrigerated. That white, unsightly congealed artery clogger is the last thing I want to eat. If I put meat in my potato kugel, it will inevitably get soaked into the mixture.
Well, last year, my son went to his classmate for Shabbos. He came back raving about the incredible yapchik Mrs. So-and-So prepared. You had to see his big eyes get even bigger when he described it, in extreme detail. Words like "heaven" and "soooooo yummy" were used. I think there was an "awesome" thrown in for special effect too. "Ma, you must call her!!" he yelled, throwing a phone into my hands  "We need to cook this." Please notice the "we" which really means "you" but is a very creative way for a 9-year-old to get me to believe that I am not in this alone.
So, I relented. I called Mrs. So-and-So and after the usual small talk, asked for her recipe/method and complete yapchik history. I might have called her back 3 times just to make sure I got all the details right. There also might have been a paper and a pencil involved at some point. No, yapchik is not complicated, I just didn't want to mess it up. I took the task seriously.
Nevertheless, mess it up I did. The meat was hard and rubbery, the potato kugel water-logged. I wasn't quite sure what went wrong.
Luckily (for who, I'm not quite sure), that week, there was a siyum in cheder and guess what, one uber-dedicated mom sent a homemade yapchik for all the boys to enjoy. Yapchik Lover came home from cheder and once again and wouldn't stop talking about the feast he had. "Ma, you gotta call Mrs K.!! She's the Yapchik Queen!!" He was getting really creative with the adjectives. So I called the Yapchik Queen and took more notes. I am a Yiddishe mama after all, how could I deprive my children of some good over-the-top calories, right? (insert sarcasm here).
Well, the yapchik was really tasty but I couldn't bring myself to eat any. I knew it was not something I wanted my children to eat either. Even my kids agreed that it was too heavy. So we put yapchik, once again, on the back burner.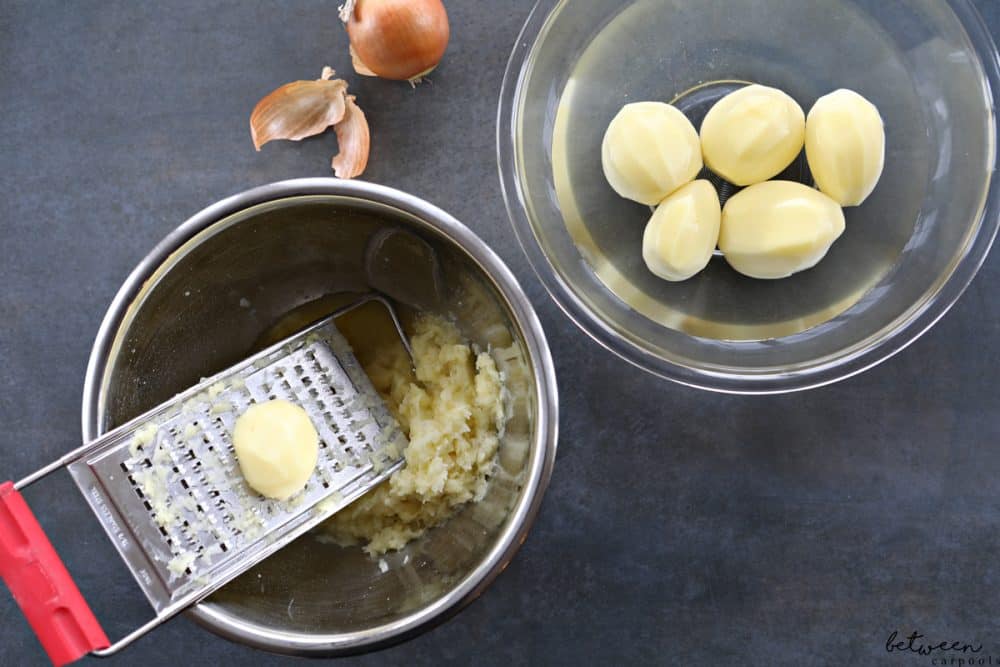 One sunny Friday morning, out of the blue, as I was getting ready to grate my potatoes, I remembered I had some ready-cooked flanken in my fridge. After removing the fat, I cut the flanken meat into small cubes and added it to the potato kugel mixture. I made a small pan, to try. The result was a great success, and I have perfected the recipe since. My "aha" moment was cooking the meat in advance, removing it from its fatty gravy, and cutting it up. This achieved two things: it helped remove a huge chunk of fat, and it rendered the meat super soft.
Yapchik is the ultimate Pesach food. I always find Pesach Shabbos day a difficult meal without the usual comforting cholent. Not everyone likes potatoes. We all miss the beans and the barley.  Yapchik will fill that void really well. Warm and satisfying, there isn't anyone that doesn't love it. And, here is the best part: you can prepare in advance and freeze.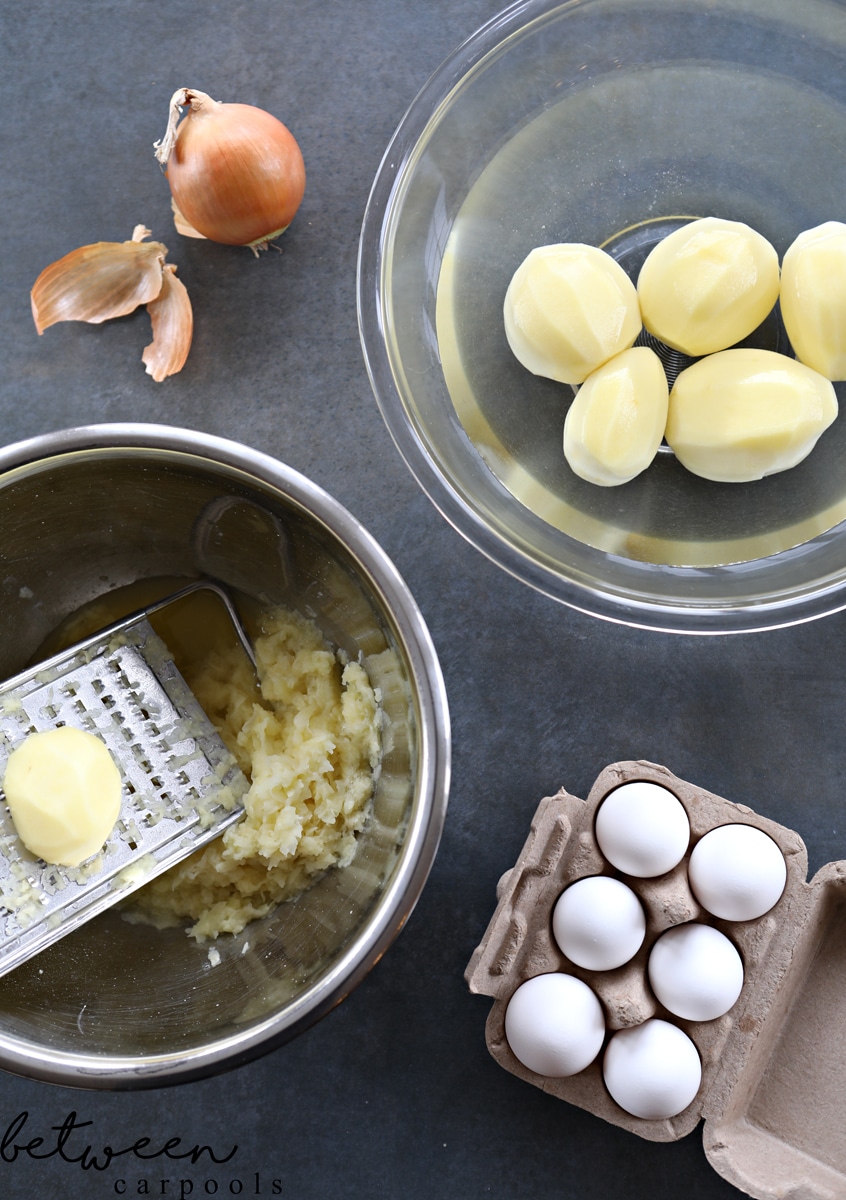 Here's how I did it:
I basically followed Leah Shapira's fantastic potato kugel recipe (what a revelation that was! Yellow potatoes? Total game changer, never going back to my Idaho)
I say "basically" because I changed it  drop just so it works for the two pans I like to use (read on to see what and why)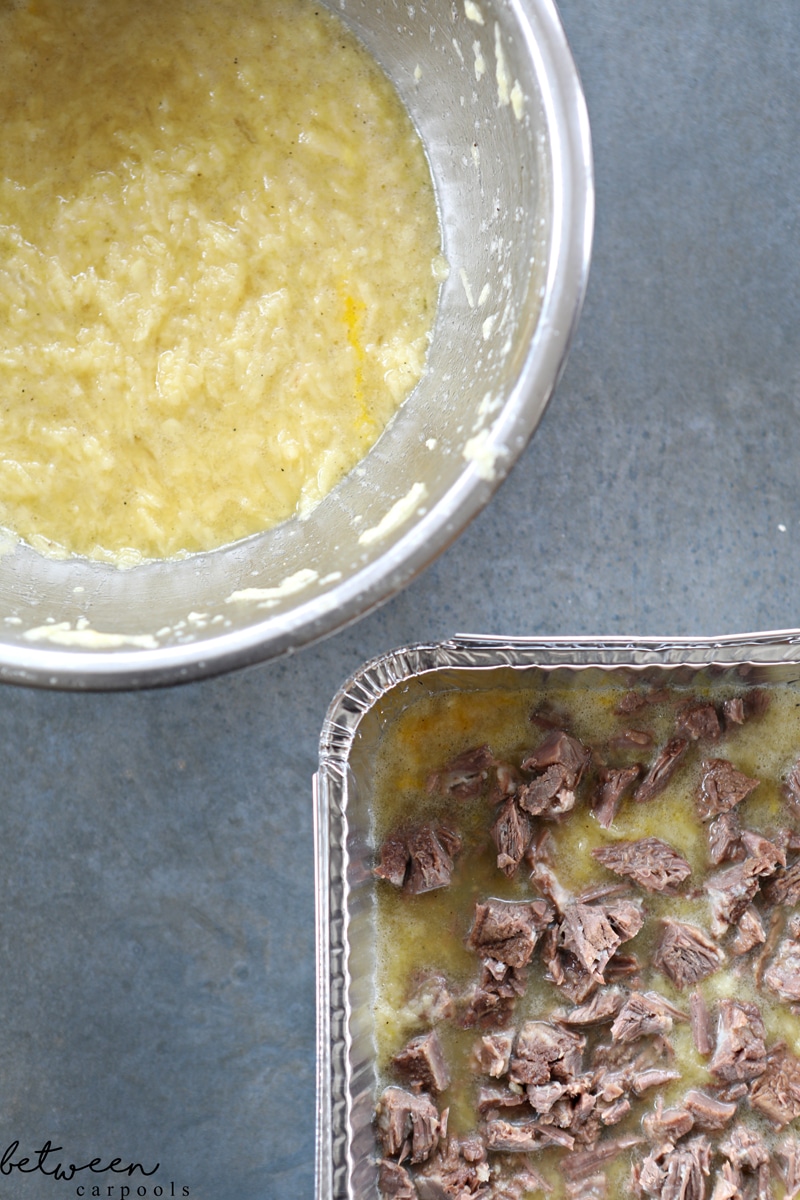 Yapchik
Ingredients
2 to 3 strips of flanken meat (pick pieces that have lots of meat on them and are nicely marbled)
Salt and pepper
5 pounds plus 2 large golden potatoes (such as Yukon Gold)
1 large yellow onion
8 extra large eggs
½ cup oil
1 Tbsp salt
dash of black pepper
Instructions
Preheat oven to 300ºF.
Place meat in a pan. Sprinkle with salt and pepper. Cover with water. Seal tightly with heavy duty foil and bake for at least 6 hours, preferably 7. (Alternatively, place the meat in a 200ºF oven and bake overnight.)
Remove meat from oven, let cool a bit and then refrigerate. Allow enough time for the fat layer to congeal. (I will usually start cooking my meat on Thursday morning then refrigerate it overnight.)
Preheat oven to 450ºF. If your oven has a "roast" setting, use it now.
Peel potatoes and onion.
In a food processor, process the potatoes and onion on medium speed (8 on the Braun). (If the speed is too slow, the kugel is too stringy and vice versa if it's too fast.)
Place the potato mixture in a large bowl. Mix in the eggs and oil. Season with salt and pepper. Mix well.
Pour about 2 cups of potato kugel mixture into 2 9- x 6- inch pans. (Obviously use any size that suits your family, but I like to have two smaller kugels so that one gets eaten on Friday afternoon and one on Shabbos day.)
Remove meat pan from the refrigerator. Remove layer of congealed fat, then proceed to cut out the bones, cartilage and any large pieces of fat. Cut the meat into little chunks.
Evenly sprinkle meat chunks over the layer of potato mixture. Top with remaining potato kugel mixture.
Bake for 1 hour. Reduce oven temperature to 350ºF and bake for an additional hour.
Notes:
Flanken that comes on the bone (that is, not the boneless flanken) works best for this. The meat will be soft, just the way you want it.
Yes, the images show a hand-grated kugel. I do not really believe the grandmother's tale that hand grating improves the taste of potato kugel. I just own an annoying food processor that I am so eager to replace one day with the Braun. In the meantime, 9 times out of 10 I will pull out my trusty grater and get a good workout.
Potato kugel served fresh is incredible, we all know that. What you didn't know (maybe) is that it can be prepared in advance and then frozen. I defrost it a bit and then add about ½ cup of hot water to the pan. Cover tightly with foil, and bake in a 200ºF oven overnight. Comes out amazing!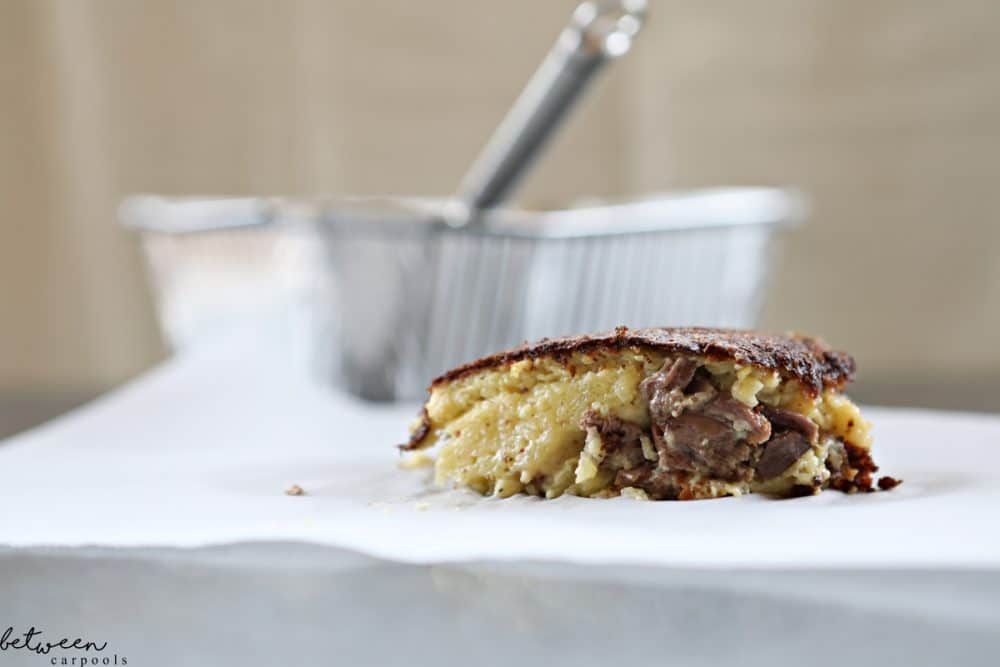 ---
Looking for more Pesach Recipes? Click Here.