If you love split pea, you'll love the amped up flavor of this version even more. 
Soup seasons and Succos are synonymous. There's nothing quite like a piping hot bowl of hearty soup to take the sitting-in-the-sukkah-chill away. Especially this year, as cooler temperatures made an early appearance. 
One of my favorite kinds of soup is split pea. It's hearty, earthy, and flavorful. As a chef I'm always looking to amp up flavor to the maximum level using authentic full-bodied flavors. My secret weapon for this soup is beefy knee and/or marrow bones, both which are powerhouses of flavor! I understand that it can be a little intimidating to use "chef type stuff," especially knee bones which you might have little to no exposure to prior, but once you go there, there's no going back! I took a favorite and elevated it to make an elegant yom tov appearance.  
I know I say some of my recipes are easy, and you kind of roll your eyes at me like, no they are not! With this soup I mean it! Everything goes in the pot and you're done! There's no blending…save your attention for a different dish you're making!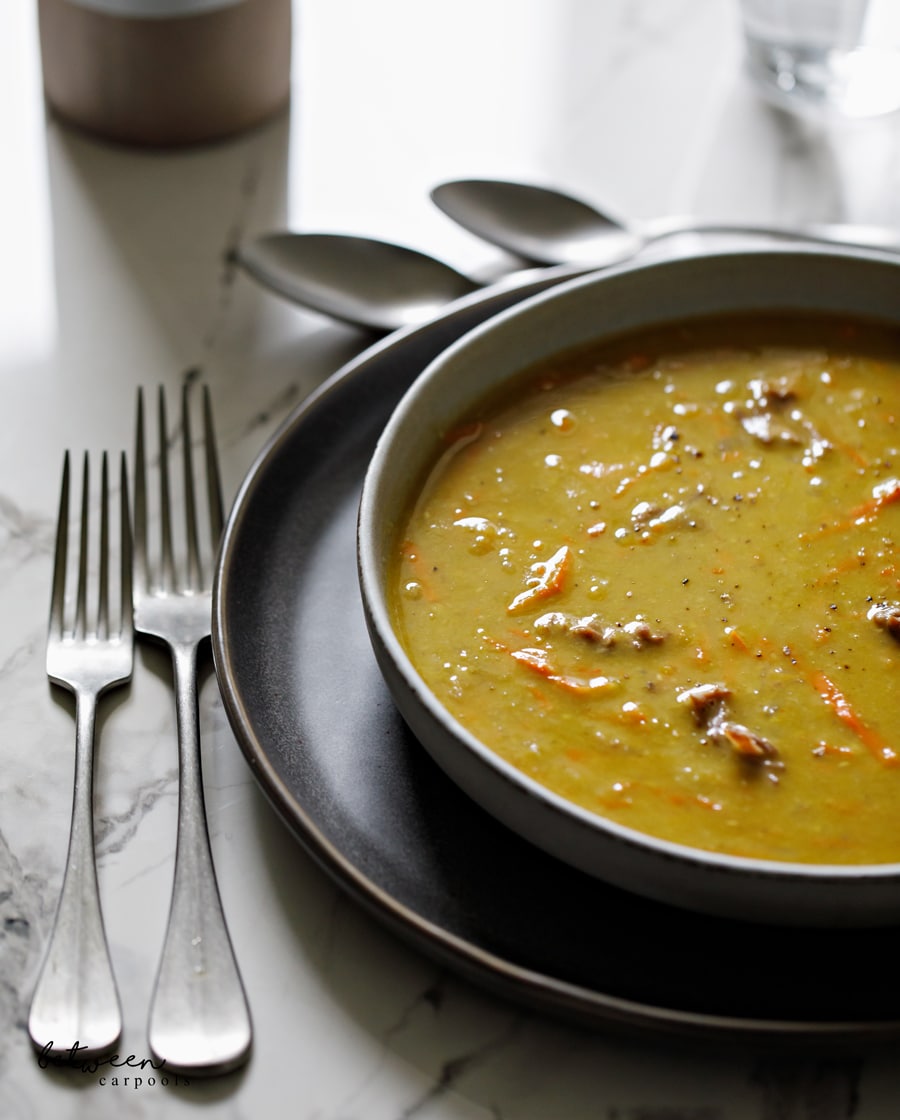 Split Pea Flanken Soup
Ingredients
2-3 knee bones or marrow bones
2 lb flanken on the bone, cut between the bones
1 ½ large or 2 medium Vidalia onions, diced
3 tablespoons olive oil
2 garlic cloves, minced
1 cup carrots, shredded
1 (1 lb) bag green split peas
8 cups of water initially, and additional 2-4 cups more if necessary
2 tablespoons kosher salt
½ tsp black pepper
1 ½ tablespoons garlic powder
Instructions
Preheat a 6/8 quart pot on medium-high heat. Add olive oil and heat until oil moves around like water. Add onion, and sauté for about 5 minutes. Lower heat to medium-low and add garlic; cook an additional 3-5 minutes.
Add carrots, split peas, beef bones, flanken, 8 cups water, kosher salt, and black pepper. Bring mixture to a boil, then lower heat to a simmer. After 15 minutes of simmering skim the scum (white foam) and larger amounts of fat pooled together off the top with a small ladle (don't make yourself crazy to get rid of all the fat at this point, the meat and bones will continuously give off fat as they cook, will get rid of extra fat later).  Allow soup to simmer for 1 ½ hours or up to 3 for the most tender flanken.
Some Notes:
*When the soup is finished cooking and you find it too thick, adjust the consistency by adding between 2-4 cups more hot water (You don't want a baby food texture, nor do you want it too watery, but a sweet spot in the middle). Taste and adjust seasoning, especially if you added more water at any point. 
*An easy way to amp up the soup a touch more is by searing the flanken and bones in the pot before sautéing the onions (then removing the meat and setting aside to make room to sauté the onions). Searing the meat and bones adds color (you would then add the meat and bones back as mentioned in the recipe above). As the onions sauté, they pick up all the flavor that got left behind on the bottom of the pot.
*If simmering soup for 3 hours, be sure the soup is really on a simmer (and not a boil/bubbling) and the pot is covered with a tightly fitted lid so too much liquid doesn't evaporate (if too much liquid evaporates the soup can quickly burn). Every half hour or so, take a look at the liquid level; add more hot water if necessary.  
*To store, Refrigerate in an airtight container for up to 5 days. It will freeze well for up to 3 months.  Keep in mind that the soup thickens within a few hours after cooking  (as it cools) and in the fridge afterwards. Just reheat the desired amount in a pot on low heat while stirring. The soup should slowly return to the original consistency. If not, add hot water to adjust consistency to your liking and don't forget to adjust seasoning as well.