Yes, these chocolate walnut cookies are amazing. Enjoy them as a snack or a complete dessert, served with coffee ice cream.
We first called Chantzy over to the studio to show us how to make our own beef jerky, as featured in this post. First, we need to give you some background. Chantzy is the queen of Pesach. She must really love this Yom Tov. Some people clean and then cook. Chantzy just cooks and cooks (in her Pesach kitchen of course). By the time Yom Tov comes, she has everything set and labeled in her freezer.
She also has very practical Pesach tips. For example, why wait to cut the bread for bedikas chametz into 10 pieces right then? Why don't you simply do it now and keep the bag of 10 pieces in the freezer? Then you don't have to worry about "saving" bread for bedikas chametz or fret about the crumbs that result when you actually do it.
When Chantzy was in the studio, we reminded her that another one of her ideas was making it to the site: her grape juice sorbet, in those little single-serving containers. By while she was there, she kept on telling us about her Pesach chocolate cookies and how amazing they are.
"Well, Chantzy, if they really are amazing, you're just going to have to come back here with them!"
And she did. And they are.
And, of course, she brought the cookies along with some homemade ice cream, because well, cookies, especially when they're warm, just go well with ice cream.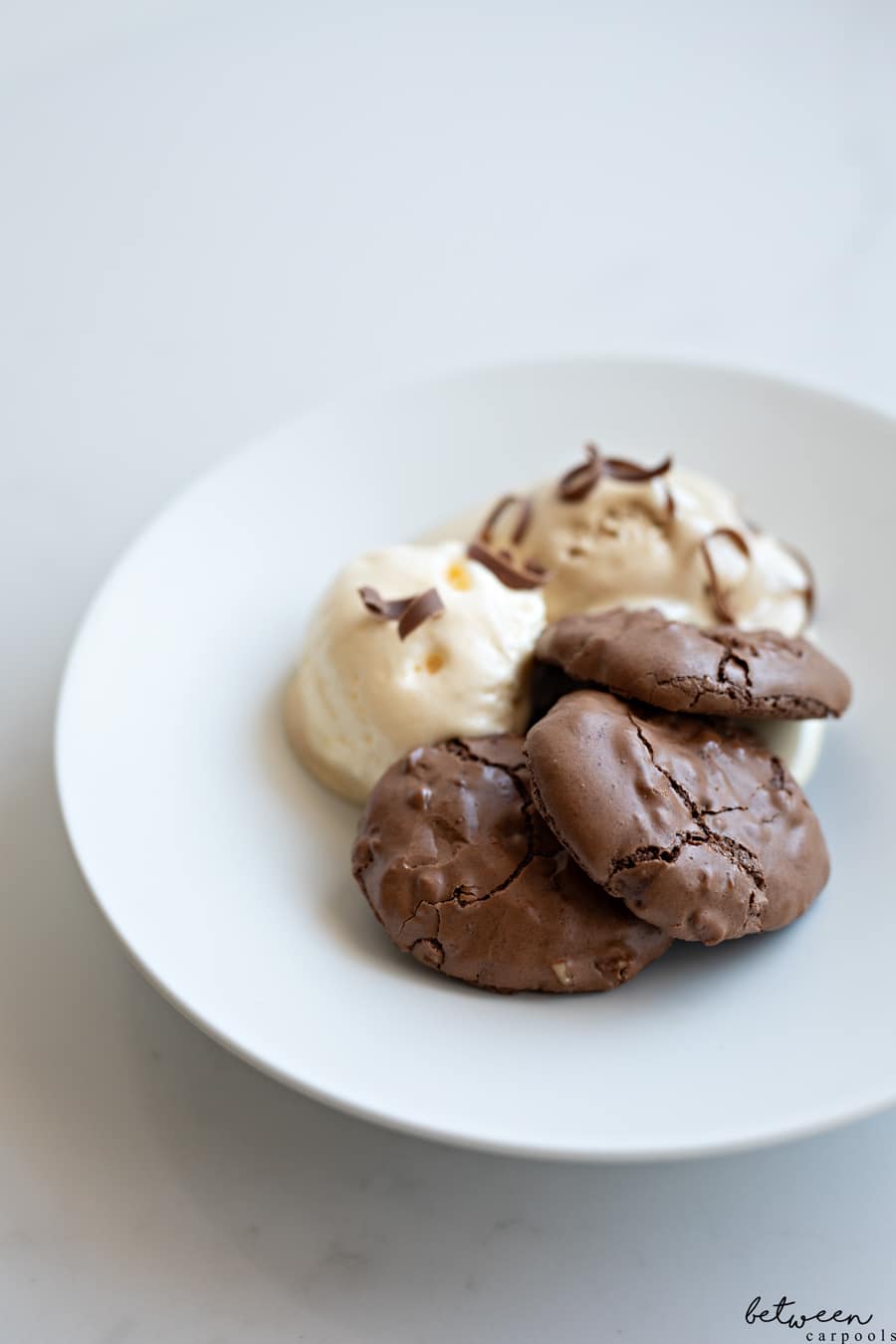 These cookies are one of the best Pesach cookies you will ever enjoy…even better than chametz cookies. Hide them until Pesach starts!

Chocolate Walnut Puffs
Ingredients
6 cups chocolate chips
12 egg whites
¾ tsp salt
3 cups sugar
3 teaspoons vinegar -(optional)
4 cups walnut nibs
Instructions
Preheat oven to 350⁰F.
Melt chocolate chips (I do this in a covered disposable pan in the oven, see note below).
In the bowl of an electric mixer, beat egg whites with salt until foamy. Add sugar and continue to beat until stiff. Add vinegar. Fold in melted chocolate and nuts.
Use a cookie scoop to scoop the cookies onto parchment-lined baking sheets. Bake for 10 minutes.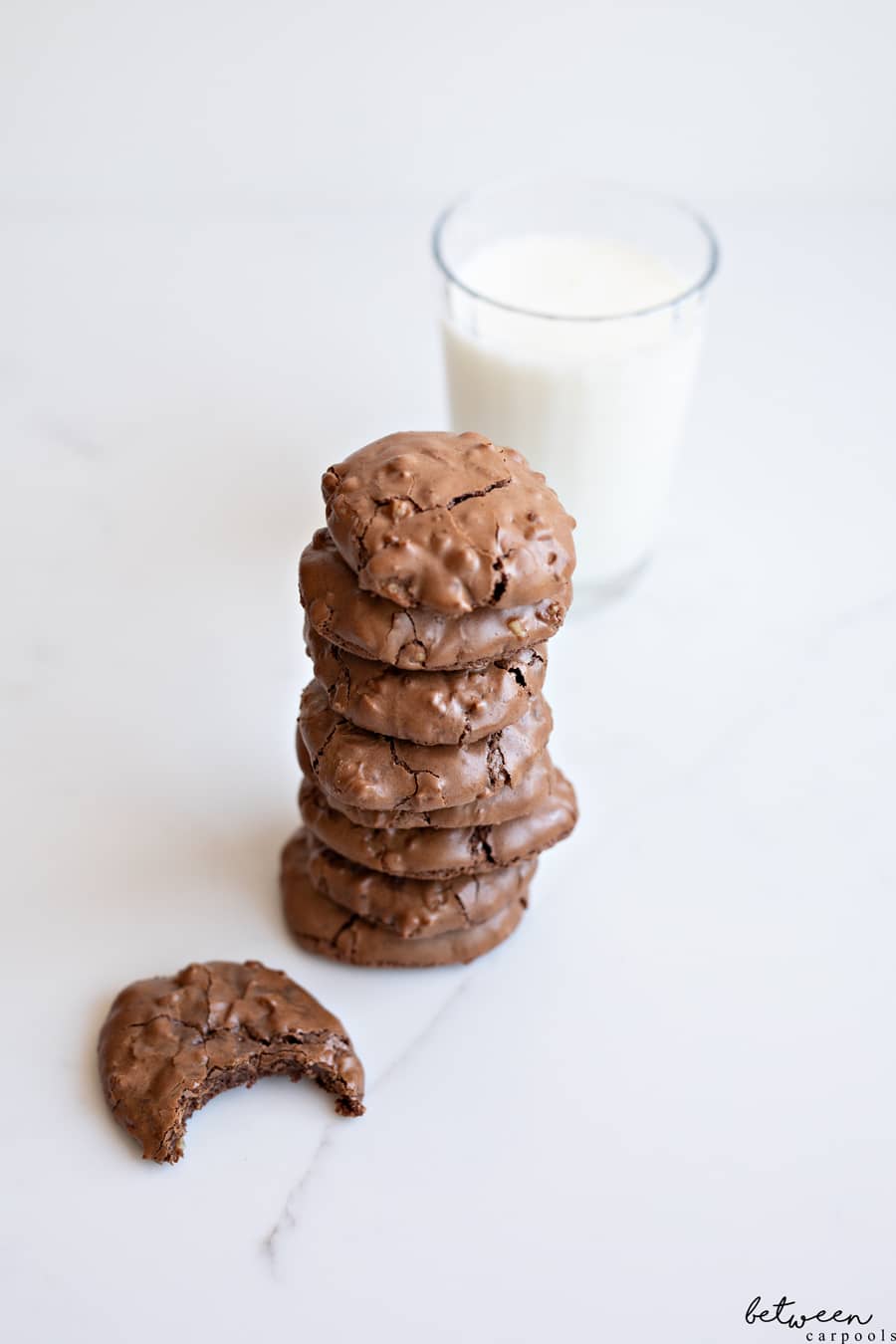 Notes and tips:
*On Melting Chocolate: Since many of us don't use our microwaves on Pesach, what's the convenient, no mess, no pot-to-wash way to melt chocolate? I add the chocolate to a 9×13 pan and cover it. After 20 minutes at 350⁰F, remove from oven and mix until smooth.
*On Scooping These Cookies: Once you start scooping, work as fast as you can since the batter starts to get a little dry. A dry batter won't affect the taste but the cookies won't be as pretty.
*The vinegar just gives the cookies a shine.
*Walnut nibs are smaller than chopped walnuts.
*6 cups of chocolate chips is a little more than 4 bags
*These cookies freeze beautifully and taste awesome straight from the freezer. Enjoy.
And now for that ice cream…..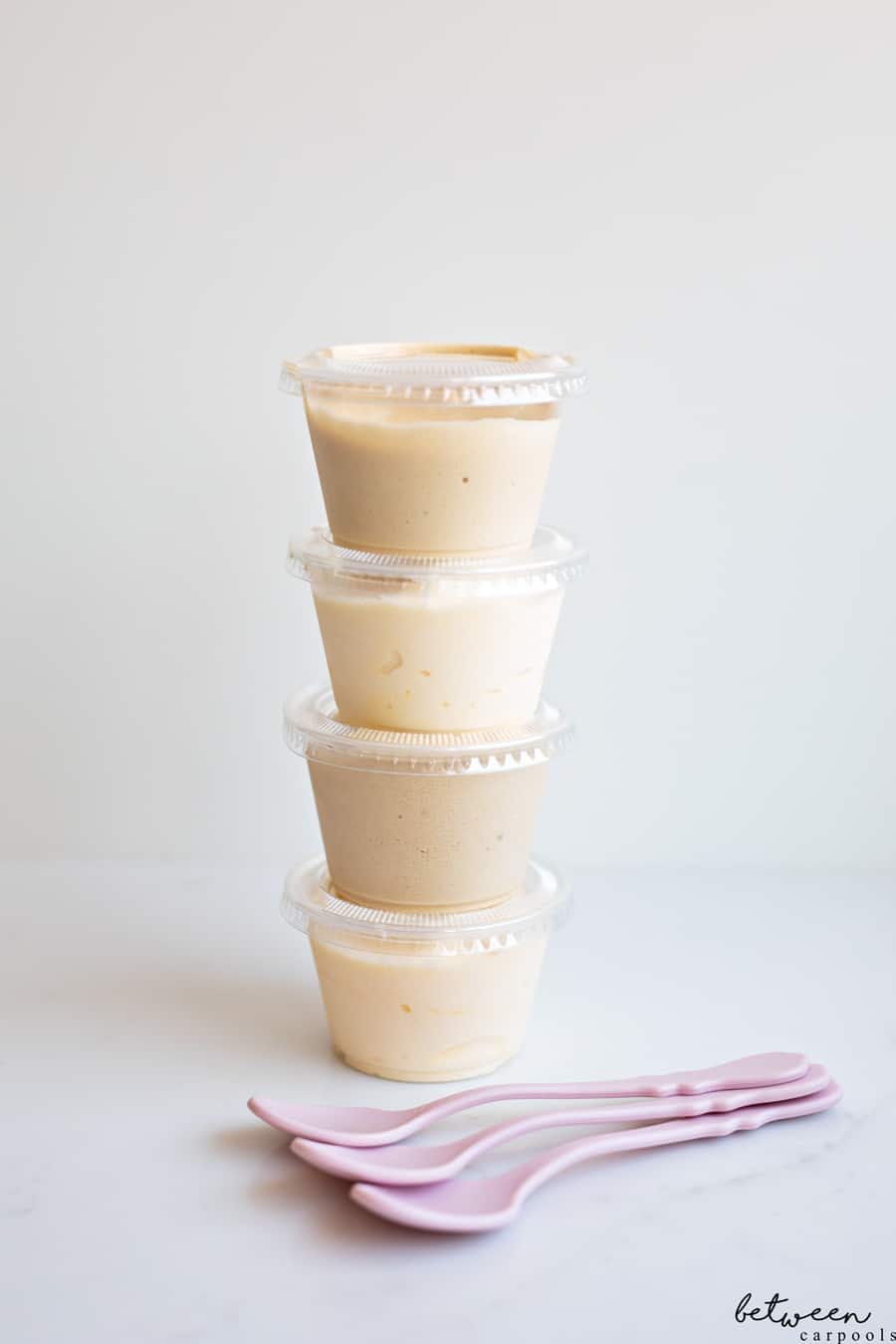 My kids wait for this all year. This recipe makes an very full 9×13 or you can freeze the ice cream in individual portions, as shown above.

Best Coffee Ice Cream
Ingredients
12 eggs separated
1½ cup sugar
2 tablespoons vanilla sugar
5 teaspoons coffee diluted with a little hot water
1 cup oil
Instructions
In the bowl of an electric mixer, beat egg whites until foamy. Gradually add the sugar and beat until stiff. Mix in vanilla and dissolved coffee.
Transfer mixture to a large mixing bowl. Then, in the electric mixer, beat the egg yolks with oil until light and fluffy. Then, very thoroughly fold yolk mixture into egg white mixture.
Pour into a 9x13 pan and freeze.
Notes
Notes:
*For a Vanilla Variation: Omit the coffee and double the vanilla sugar.
*Top with crushed Viennese crunch, mini chocolate chips, or candied nuts