Using this method, you can stretch a tongue and impress your guests with an elegant start to your meal.
When you prepare and serve this way, we found that one tongue is enough for 12-14 appetizers! It'll look super impressive–but is not that hard to prepare. (Let's just say, it's way easier than rolling blintzes!).
Before you get to the recipe, you'll need to have your tongue ready and cooked. Here's the technique:
How to Cook the Tongue:
First, the method. Place the tongue in a deep 9 x 13-inch pan and cover with water. Cover tightly and bake at 350°F for 3 to 3½ hours. Once cooked, remove from oven and wait a bit, until the meat is able to be handled. You don't want the tongue to cool as it will not peel once cooled. But as soon as you can, start peeling it. The skin will come off easily. 
Once peeled you can refrigerate it and cube later, or cube immediately. Once you have cubed tongue, you can make the sauce that goes with it in the recipe below.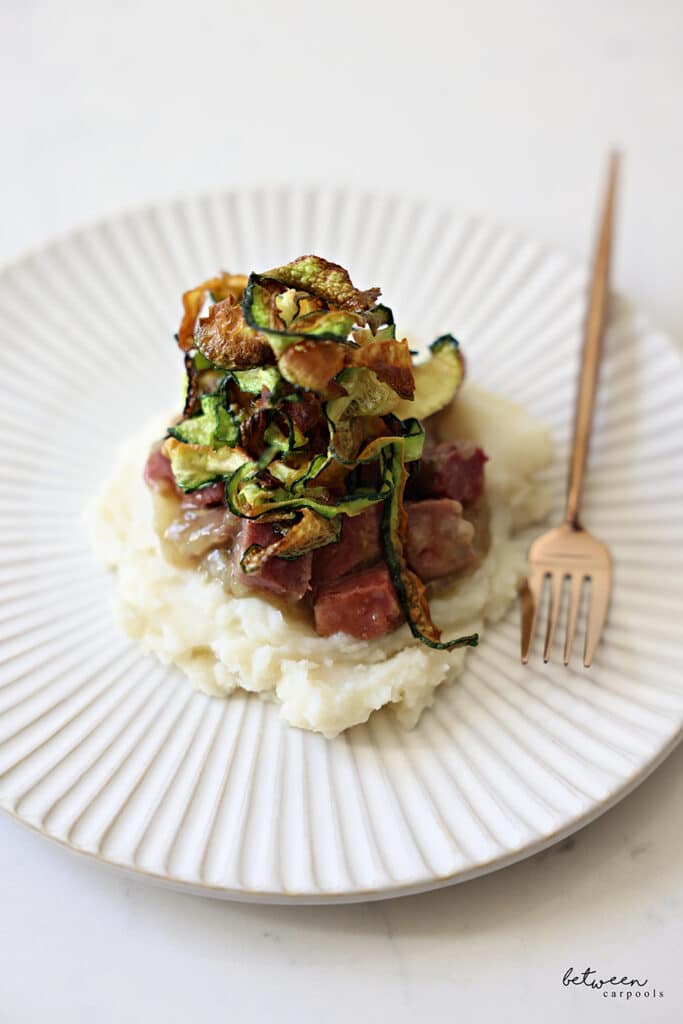 Plating the Appetizer:
We make potato or celery root mash, and top it with some of these zucchini strips. They look pretty but are definitely optional.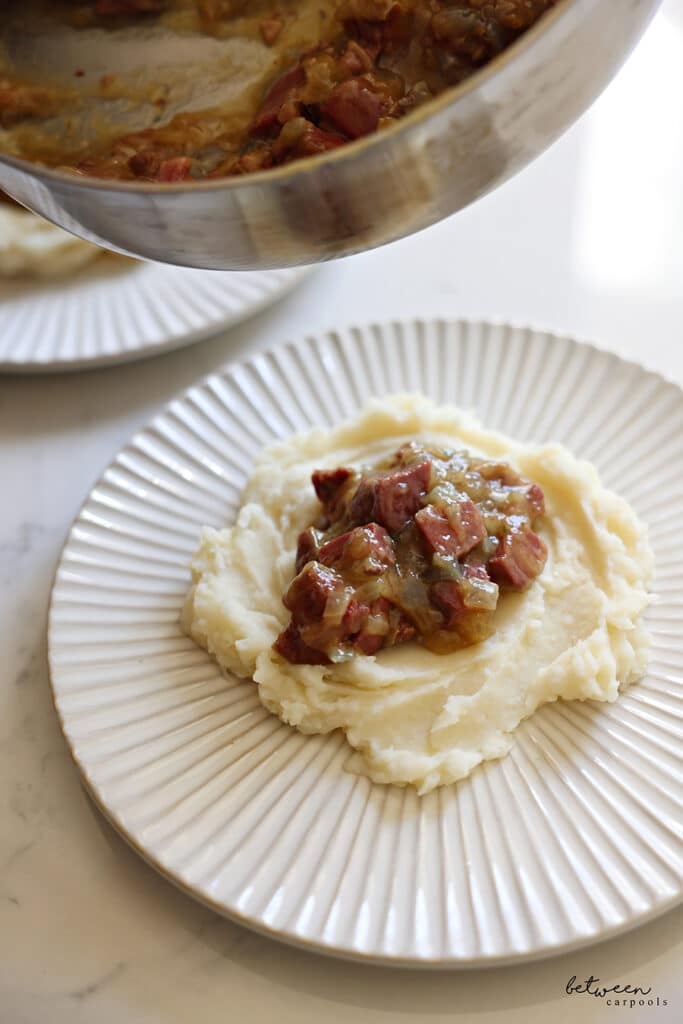 Your guest will love the tongue and potato mash combo just as well. That's all!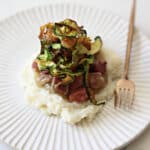 Print Recipe
Sauteed Tongue Over Mashed Potatoes
Ingredients
2

tbsp

oil 

1

red onion,

sliced

1

cooked tongue,

cut into cubes

1

cup

chicken soup or to cover 

2

tbsp

potato starch 

Salt and black pepper,

for sprinkling
For serving:
Mashed potatoes or mashed celery root

Zucchini strips 
Instructions
Heat oil in a frying pan. Add red onion and cook for 10 minutes, until clear.

Add tongue, chicken soup and potato starch. Season with salt and pepper. Cover and cook over low heat for 30 minutes, or until the gravy thickens.

Serve tongue with sauce over mashed potatoes or celery root. Top with zucchini strips, if using.
FOR EXCLUSIVE CONTENT AND A PEEK BEHIND THE SCENES, MAKE SURE TO JOIN OUR WHATSAPP STATUS HERE. JOIN OUR WHATSAPP GROUP AND WE'LL LET YOU KNOW WHEN A NEW POST IS UP!